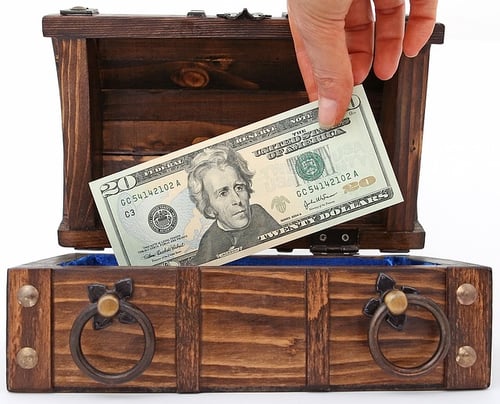 Getting into college is a great feeling — but having to spend money on SAT/ACT test prep? Not so great. Let's be honest: most people would rather put their ACT or SAT money toward something a little more exciting.
But the good news is, you don't need to spend all of your cash on test prep, as long as you know which resources to use and how to spend your money wisely. In this guide, we give you 12 tips and resources that are guaranteed to help you save money on test prep.
How to Save Money on SAT/ACT Test Prep: 7 Key Tips
First off, let's go over the seven key principles you should know in order to maximize the amount of money you save on SAT/ACT test prep.
Tip 1: Get Serious About the Exam
By studying diligently and maintaining a serious attitude toward test prep, you'll save yourself money in the long run. Why? Because the fewer times you take the exam, the less money you'll spend on registration fees (and, by extension, test-prep materials).
Now, this doesn't mean you shouldn't take the SAT or ACT more than once (in fact, we recommend taking your chosen test at least twice!). But by approaching your test prep seriously and having a willingness to put in the necessary time and effort, you won't end up taking the ACT or SAT more times than you really need to.
So make sure you set a goal score and are actively working toward it with a foolproof study plan. Do this, and you shouldn't need to take your test more than two or three times, max.
Tip 2: Customize Your Test Prep
Customizing your test prep allows you to focus on the most difficult content areas for you and spend money only on the resources you actually need. By tailoring your study sessions, you'll have less trouble tackling challenging concepts on test day and won't waste precious time reviewing topics you're already strong at.
To pinpoint your weaknesses, take an official ACT or SAT practice test and time yourself using the same restrictions on the actual exam. Once finished, calculate your section scores, as well as your subscores, to see which areas you'll need to review before test day. These are the content areas you'll want to consider spending your ACT or SAT money on.
For example, if you're a pro at reading comprehension but struggle with math, don't bother forking out hundreds of dollars for a general ACT class. Instead, narrow your prep so that you're opting primarily for math-heavy resources, such as an ACT math book or a tutor who specializes in ACT math.
Tip 3: Decide on a Budget Ahead of Time
A penny saved is a penny earned, which is why you should make a budget ahead of time and stick with it. This way you won't be tempted to spend more than you can afford on test prep. So for instance, if you're looking to spend upwards of $25 on SAT study materials, you could buy a comprehensive prep book, a couple of SAT apps, or even a short stint with an SAT tutor. What you purchase ultimately depends on the specific skills you want to strengthen (see Tip 2).
Just remember that your budget is a maximum, not a minimum, so don't feel pressured to blow all of your SAT money on resources you're not certain you'll actually need. In fact, you may end up needing to spend only a tiny fraction of your budget to get the guidance you're looking for!
Tip 4: Take Advantage of Free and Official Resources
Both the College Board and ACT, Inc., offer loads of free and official resources you can integrate into your studies. Because these materials come from the actual makers of the SAT and ACT, they are far and away your best bets for getting the content review and test-taking practice you need at the price you want.
You can look for resources online at the official College Board and ACT websites. Most free SAT/ACT study materials are available as PDFs in the form of practice questions and full-length tests. We'll explain more about the types of official resources you can use in the following section.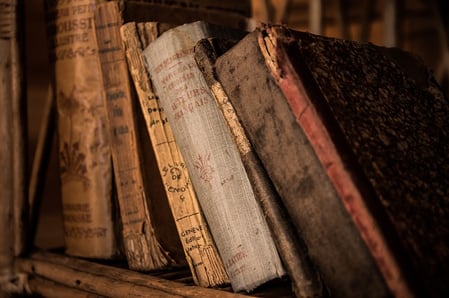 These books aren't just old — they're ancient!
Tip 5: Opt for Used Over New
High-quality prep books are usually worth the money. But to avoid overpaying, I strongly suggest opting for used over new. Used books are almost always cheaper and can still give you the same content and overall benefits of a new book. The only major downside is that used books are often filled with previous owners' notes and markings, making them difficult to read and use properly.
On a related note, you can also look for previous editions of used books. In general, these are even cheaper than used, recently released books. Again, though, there's a caveat: older books are far more likely to contain outdated information, particularly if you're planning to take the SAT. With SAT prep books from 2015 and earlier, it's imperative you understand how the SAT's format has changed before cracking open your book to study.
Used prep books are typically available on websites such as Amazon and eBay; you can also search for them at local bookstores and libraries (as we'll discuss more in the following section). Additionally, it might be helpful to ask friends and family members who've taken the SAT or ACT whether they have any old prep books you can borrow. In this case, you may be able to snag a book for free!
Tip 6: Participate in School-Day Testing (If Available)
Some states and districts offer students the chance to take the ACT or SAT during the school day at their schools. (In some states, testing is actually mandatory for all students.) This is called school-day testing, and what's great about it is that this test is usually free for students!
But that's not the only benefit. With school-day testing, you'll also save money by not having to arrange your schedule to make room for a Saturday test day. So if you normally work a part-time job on Saturdays, for example, you won't need to miss work in order to take the ACT or SAT. Likewise, you won't need to spend money on public transportation or gas to get you to a testing center.
There are a couple of non-monetary advantages as well. First, you don't need to spend an entire Saturday taking the test. Second, you get to work in a familiar environment and with people you know, which can ultimately increase your confidence on test day.
Tip 7: Listen to Your Gut
When it comes down to it, you're the only person who truly knows what you'll need to help you prepare efficiently for test day. So always go with your instincts. If you believe a certain resource will be worth the investment, listen to your gut and buy it. Likewise, if you're not sure about a certain prep book's credibility or its likelihood of getting you the score you want, it's probably best to just walk away.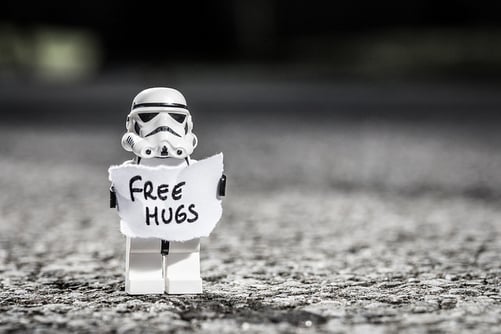 What's better than free hugs? Free test prep! Just kidding, it's actually Legos. Definitely Legos. (clement127/Flickr, resized from original)
Free ACT & SAT Resources That'll Save You Money
The easiest way to spend less of your ACT and SAT money is to take advantage of free, high-quality resources. Here are five excellent options for test prep that won't burn a hole in your pocket.
Online Guides, Questions, & Practice Tests

The internet is home to a plethora of free prep materials that can help you hone your test-taking skills as well as strengthen your strategic approaches and content weaknesses on the ACT and SAT. As I mentioned above, the best online resources are, undoubtedly, official SAT/ACT guides, practice tests, and questions.

You can access all official SAT practice tests in our guide. On the College Board website, you can view the entirety of The Official SAT Study Guide as a collection of downloadable PDFs; you can also practice with an array of sample questions, which include:

all official ACT practice tests here. Like the College Board, ACT, Inc., maintains a ton of free practice questions online, including:


Unofficial tests and questions, too, can be helpful. Unfortunately, most free test-prep websites for the ACT and SAT are relatively low quality and lack realistic questions and content, so it's best to stick with official resources whenever possible. That said, if you're craving a bigger collection of questions, our guides to free online ACT and SAT practice tests can tell you which tests are worth using — and which ones you're better off avoiding.

Through a partnership with the College Board, Khan Academy offers thousands of free, official SAT practice questions, complete with in-depth explanations and robust content review.

With this website, you can learn about new topics through video lessons, take quizzes, and even import your PSAT/NMSQT scores to tailor your SAT study plan to your weaknesses. You must make an account to save your progress, but it's free and definitely worth it for the gigantic stockpile of SAT-style questions alone.

Although Khan Academy doesn't offer an ACT program or ACT-style questions, you can still use its SAT program and subject-based courses to get a rundown of basic math, reading, and English concepts found on the ACT.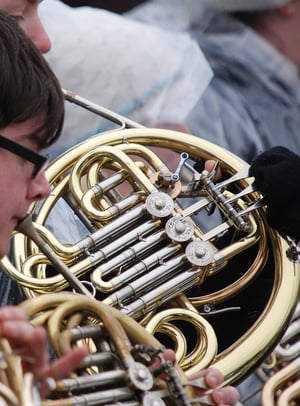 Get ready 'cause we're about to toot our own horn! #hatersgonnahate
If you haven't explored our website already, our PrepScholar SAT/ACT blog offers hundreds of free articles and guides (just like the one you're reading right now!) you can use to prepare yourself for the SAT or ACT. Our best and most comprehensive resources include the following:
SAT
ACT
We also encourage you to browse our blog by searching for any ACT or SAT keywords or concepts you want to learn more about. Chances are, we've got an article about it!
SAT and ACT Apps
Test-prep apps are excellent resources for supplementary SAT/ACT practice. And since many highly rated ACT and SAT apps are free (or available as free trial versions), there's no need to worry about paying a hefty sum for a resource you're not sure you'll actually use.
Some of the best SAT apps you can download for free include Daily Practice for the New SAT — the College Board's official SAT prep app — and Ready4 SAT, which comes packed with more than 1,000 practice questions.
There are also many great ACT apps that won't cost you a cent. These include Ready4 ACT, which contains 1,000+ high-quality practice questions, and Varsity Tutors' ACT Prep, which offers a combination of practice tests and skill-specific diagnostic tests.
Most test-prep apps are available for both iPhone and Android, and you can find more by searching for "SAT" or "ACT" in the iTunes and Google Play stores.
As a reminder, apps should never be your primary test-prep resources. Nonetheless, they can be extremely helpful if used appropriately. I strongly recommend using apps for on-the-go practice and as warm-ups before study sessions.
Local Library
In this digital age, we often forget libraries still exist — but they do, and they likely have a ton of ACT and SAT prep books you can use at no cost to you!
If you're planning to take the ACT, I suggest first browsing your library for The Official ACT Prep Guide, as this official guide will be the best resource you can use for official practice questions, quizzes, and content review. (Remember, The Official SAT Study Guide is available for free online, so there's no point in looking for it at your library!) You should also spend time searching for highly reviewed, unofficial ACT and SAT prep books.
If possible, try to stick with recently published books. For the SAT especially, you'll want to look for newer (2016 and later) prep books, as the SAT underwent significant changes in early 2016. By contrast, most ACT prep books should still be relevant to today's version of the exam (though the Writing section changed format in 2015). In the end, you can still use older prep books, but it's important to know that not all of their content will apply directly to your upcoming test.
If you can't find any quality prep books at your library, ask a librarian whether you can request a specific ACT or SAT prep book to be sent to your library.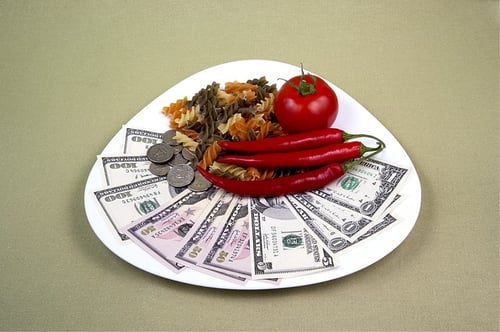 The final rule of saving money: no matter how delicious it looks, don't eat it.
Recap: Spending Less on SAT/ACT Test Prep
Many students believe that to do well on the ACT or SAT, you must have access to the best possible test-prep resources available — many of which cost a pretty penny. But in reality, you don't need to throw all of your money at exhaustive study materials, courses, and tutoring sessions to help you get the score you want on test day. Rather, you just need to know what resources will help you the most and are therefore worth spending your ACT or SAT money on.
Here are the main ideas to taking away from this article:
Tailor your prep. Knowing your weaknesses is a key step toward saving money. By investing in only the study materials you actually need to do well on the exam, you'll not only save yourself cash but also raise your chance of attaining your goal score.
Official is best — and often free. In terms of authenticity, the absolute best resources you can get are those created by the College Board and ACT, Inc. Luckily, both companies offer a variety of free online materials, from individual practice questions to full-length quizzes and tests.
Start with free. The two best resources for free official and unofficial test prep are the internet and libraries. So if you're trying to save money, make sure you exhaust both of these options before making any purchases. If you do decide to buy something, ...
Be smart with your money. Don't purchase any resources you don't need or that are way over your budget. And if you've found something you like, see whether you can get it used since an older copy will be cheaper than a newer one. As with any major purchases, always go with your gut and only buy what you ultimately feel is worth buying!
What's Next?
Looking for more ways to save money? Learn how to get excellent prices on SAT/ACT tutoring and get a rundown of the costs associated with the SAT and ACT.
Not sure you can afford to take a college-admission test? See whether you qualify for an SAT or ACT fee waiver today.
Worried about your finances once you start college? Our guide will teach you everything you need to know about saving money as a college student.
Want to improve your SAT score by 160 points or your ACT score by 4 points? We've written a guide for each test about the top 5 strategies you must be using to have a shot at improving your score. Download it for free now:
Have friends who also need help with test prep?
Share this article!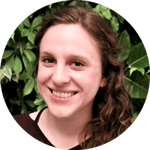 About the Author
Hannah received her MA in Japanese Studies from the University of Michigan and holds a bachelor's degree from the University of Southern California. From 2013 to 2015, she taught English in Japan via the JET Program. She is passionate about education, writing, and travel.
Get Free Guides
to Boost Your SAT/ACT