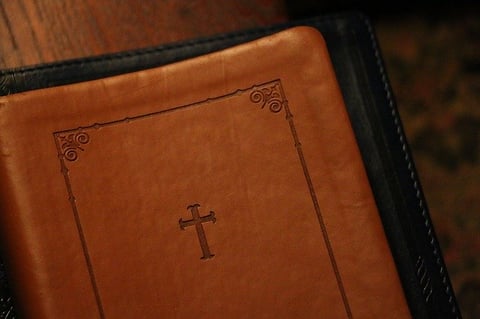 Whether or not you are Catholic, you've likely heard of some Catholic colleges in the United States. These private institutions follow the Catholic intellectual tradition, meaning they promote a liberal arts education, community service, and ethics. While you don't need to be Catholic to attend one of these schools, many Catholic students enjoy having an academic atmosphere that both reflects and supports their faith.
In this guide, we introduce our picks for the 11 best Catholic colleges and offer tips for deciding whether a Catholic college is the ideal choice for you. Before we get into that, though, let's go over exactly what Catholic colleges are and what kind of experience they can offer students.
What Are Catholic Colleges?
Catholic colleges are any institutions that are privately operated by the Catholic Church. Note that there are no public Catholic colleges in the US due to the schools' religious affiliation. Currently, more than 200 Catholic colleges and universities exist in the US alone.
Most Catholic colleges are part of the Association of Catholic Colleges and Universities (ACCU), which acts as a voice for schools that support the mission and model of Catholic higher education.
According to ACCU, Catholic institutions are defined by four main tenets:
Shared Christian vision and goals
Reflection in the light of faith
Fidelity to tradition
Commitment to service
Adherence to these four principles has caused many Catholic colleges to share several traits, such as the following:
On-campus chapel(s) for worship, Mass, and other religious activities
Campus Ministry, which runs all spiritual groups and activities on campus
Strong emphasis on the liberal arts and getting a well-rounded education
Required theology and/or philosophy classes
Numerous opportunities to engage in volunteer service
Emphasis on on-campus living, with residential buildings/dorms typically separated by sex
Catholic colleges can belong to a wide array of congregations, including Augustinian, Christian Brothers, Benedictine, Dominican, Franciscan, Holy Cross, Jesuit, and so on.
Perhaps surprisingly, you don't actually need to be Catholic (or Christian or religious even) to attend a Catholic university. Catholic colleges are very accepting of students of all kinds of faiths and backgrounds, and work to instill in everyone both intellectual and spiritual enlightenment.
So what kind of experience can you expect to have at a Catholic college? Let's take a look.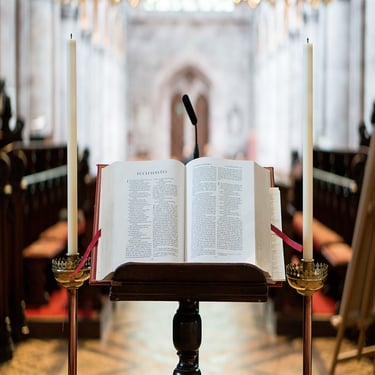 What to Expect at Catholic Colleges
Life at Catholic colleges can be pretty unique.
First, it's important to understand that not all Catholic colleges are the same. Some are a lot more progressive or liberal, while others are clearly more traditional and conservative. (In general, Jesuit colleges are more liberal than other Catholic colleges; this is one reason why we've created a separate guide to the best Jesuit colleges.)
It's not uncommon for some Catholic students to accuse the more progressive Catholic colleges of being "Catholic in name only," or CINO. These universities are often looked down upon by some Catholics for not being Catholic enough and espousing the Catholic intellectual tradition but not much else that has to do with the religion.
Additionally, while a select few Catholic colleges are larger, more prestigious universities, such as Notre Dame and Georgetown, most Catholic colleges are pretty small and not widely known, often with fewer than 10,000 undergraduates in total.
Environment as well can vary a lot, from urban cityscapes to rural and suburban campuses. For example, The Catholic University of America is based in the heart of the nation in Washington, DC, whereas Villanova is located in a suburb of Philadelphia.
What else can you expect with Catholic colleges? Usually a big emphasis on the liberal arts. The Catholic intellectual tradition focuses on intellectual pursuit and the fact that faith and reason can coexist (and don't necessarily contradict each other); thus, students are encouraged to take a wide array of classes and are sometimes even required to take classes in theology and/or philosophy.
Now then, what do students actually think of Catholic colleges?

Many students on Reddit agree that your experience at a Catholic college can really be as religious (or nonreligious) as you want it to be.
Here's what one student wrote about their Catholic college:
"We have a beautiful church on campus and close ties with the Vincentian Order. However, no one is forced to worship. Its [sic] there if you want it, or you can go to a Jewish, Islamic, Protestant or Interfaith service. We have a great LGBT chapter and like, 15 religious clubs."
Here's how another student described their experience at a Catholic college:
"Everyone has to take two theology courses, but they aren't necessarily focused on Christianity and/or Catholicism. There are crucifixes in many classrooms, but no one has ever pushed their religion onto me. As a non-Catholic I'm very pleased with my experiences with religion here."
Unfortunately, because all Catholic colleges are private, they can get expensive. The net cost of attendance (after any scholarships or grants) per year can range from about $7,000 to close to $40,000.
Generally speaking, the smaller, lesser known Catholic colleges will cost a lot less than the more renowned, highly ranked ones. As a result, you'll need to really think about whether the price of the Catholic college you're considering is worth it.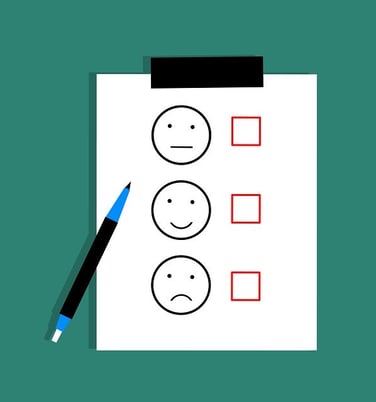 Best Catholic Colleges: Methodology Behind Rankings
Before we introduce the top Catholic colleges, let's take a moment to go over the methodology we used to make our list.
When determining the best Catholic colleges, we mainly looked at the following five factors:
National rankings: We specifically looked at the national college rankings as reported by US News, Forbes, and Niche; the higher a school ranked on these lists, the better it did on our list


Freshman retention rate: Indicates what percentage of freshmen stayed at the school after their first year; the higher the rate, the higher we ranked that school


Graduation rate: The percentage of students who graduated within four years


Student-faculty ratio: How many students per professor there are; the lower the ratio, the better, as this normally indicates smaller class sizes and more opportunity for individualized attention


Median starting salary: The median income of graduates; higher salaries mean the school ranked higher on our list
Be aware that we decided not to include Jesuit colleges on our list of the best Catholic colleges for a few reasons:
We already ha

ve a

separate ranking list of

the best Jesuit colleges


Jesuit schools are usually not as traditional as other Catholic colleges are


If we included Jesuit schools here, they would take up most of this list, since the top Jesuit schools are also ranked highly overall

—

basically, we wanted to shine light on some of the lesser-known, top-quality Catholic colleges that tend to get pushed to the bottoms of ranking lists due to the number of highly ranked Jesuit schools
Now that we've covered the methodology behind our rankings, let's get to the actual list!
The 11 Best Catholic Colleges in the US
Without further delay, here are our picks for the best Catholic colleges in the US. Remember that this list excludes Jesuit colleges, for which we have a separate guide here.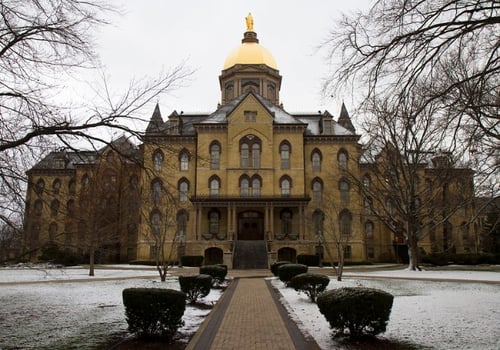 The famed Golden Dome at the University of Notre Dame (Nathan Rupert/Flickr)
Ranked among the top 20 universities nationwide on multiple college ranking lists, Notre Dame is a premier Catholic institution based in the Midwest.
In 2018, a record-breaking 22,200 applicants vied for first-year admission to this ultra-competitive private institution, with fewer than 1 in 5 getting accepted.
Notre Dame's campus is located around 100 miles outside Chicago, but there is still much to do in and around the school. While there's no Greek life, students find it fun to socialize in the residence halls, at football games, and at Legends, an on-campus pub. The Fighting Irish are famous for their NCAA Division I sports teams, particularly their top-ranked football team.
Notre Dame strongly embraces its Catholic identity and constantly encourages students to engage in community service. There are more than 40 Holy Cross priests in residence and over 50 on-campus chapels.
Notre Dame has an extremely high freshman retention rate of 98% and a four-year graduation rate of 91%. Graduates from here also have the highest median salary of those at any top Catholic college: $65,300.
Location: Notre Dame, IN
Acceptance Rate: 18%
Undergraduate Enrollment: 8,617
Popular Majors: Finance, mechanical engineering, political science
A renowned university consistently ranked in the top 100 (top 50 by US News) and located just 12 miles outside Philadelphia, Villanova is the only Augustinian Catholic institution in the US.
Admissions are competitive here, with less than 30% of applicants getting in. Villanova also has a high freshman retention rate of 96%, proving that the majority of students are pleased with their education and experiences here.
The institution was founded in 1842 and strives to help students become ethical leaders who are committed to service and positive change. Villanova is known for its NCAA sports teams and offers more than 250 clubs and student organizations, including a Greek system.
The student-faculty ratio is 11:1, and about 40% of classes have fewer than 20 students.
Location: Villanova, PA
Acceptance Rate: 29%
Undergraduate Enrollment: 6,917
Popular Majors: Business, engineering, communication
Nestled on a bluff overlooking the city of Portland in Oregon, the University of Portland is a highly regarded Catholic university, with an impressive freshman retention rate of 90%. The institution is currently ranked #2 on the US News Best Regional Universities West list.
Affiliated with the Congregation of Holy Cross, UP, as it's called, promotes interdisciplinary studies of the humanities, arts, and sciences, as well as faith and service. The Campus Ministry program offers students the opportunity to engage directly with the Catholic faith, too.
Students here can choose from among more than 40 majors and 30 minors, and have access to a variety of activities, such as sporting events and lectures.
The student-faculty ratio at UP is 12:1, which means that students get a good amount of personal attention from professors.
Location: Portland, OR
Acceptance Rate: 75%
Undergraduate Enrollment: 3,788
Popular Majors: Psychology, biology, marketing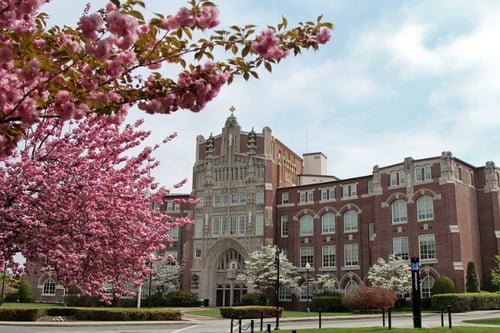 Providence College in Rhode Island (Lawrence OP/Flickr)
Ranked #1 on the US News Best Regional Universities North list, Providence College is the only US college run by Dominican Friars. The freshman retention rate is an impressive 92%, and students have nearly 50 majors and more than 110 clubs to choose from.
The Catholic faith runs deep at PC: St. Dominic's Chapel sits at the center of campus, crucifixes can be seen in most classrooms, and each year many students volunteer through Campus Ministry. All students are also required to take courses in theology and philosophy.
PC has a good student-faculty ratio of 12:1, and more than 50% of classes at the school have fewer than 20 students.
Location: Providence, RI
Acceptance Rate: 49%
Undergraduate Enrollment: 4,379
Popular Majors: Education, social sciences, biomedical science
Although not highly ranked on other Catholic colleges lists, Molloy College is #5 on our list mainly due to its high freshman retention rate (88%), impressive student-faculty ratio (10:1), and high median salary for graduates ($60,900).
At Molloy, students can choose from among more than 50 academic programs and around 60 student clubs. They also have the option of hybrid, online, night, or weekend classes. The school received an A grade for value on Niche, indicating that most students believe their education here is worth the cost.
Rooted in Dominican traditions, Molloy aims to help students become ethical leaders who value the four pillars of Dominican life: study, service, spirituality, and community. The office of Campus Ministries sponsors activities such as spiritual retreats, prayer services, Masses, and volunteer projects.
Location: Rockville Centre, NY
Acceptance Rate: 81%
Undergraduate Enrollment: 3,439
Popular Majors: Psychology, education, nursing
The University of Dayton is ranked within the top 200 universities on several lists, including US News, and has an overall A grade on Niche. Its 90% freshman retention rate and impressive median salary ($55,700) make it a great choice for a Catholic education.
UD is located about an hour from both Cincinnati and Columbus. Students here have more than 80 majors and 200 campus clubs to choose from.
Like many Catholic colleges, UD works diligently to encourage students to perform service projects and volunteer through Campus Ministry. The school also hosts several spiritual retreats.
Location: Dayton, OH
Acceptance Rate: 72%
Undergraduate Enrollment: 8,617
Popular Majors: Mechanical engineering, communication, marketing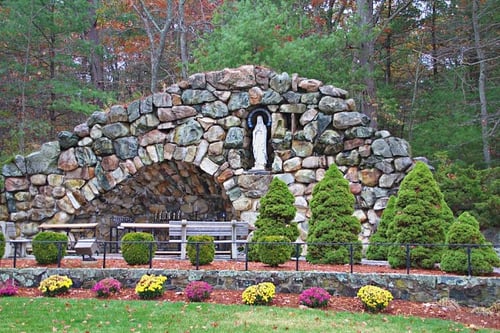 The Grotto at Stonehill College in Massachusetts (Massachusetts Office of Travel & Tourism/Flickr)
Founded by the Congregation of Holy Cross, Stonehill College has a high 88% freshman retention rate and a solid 75% four-year graduation rate.
The college was established in 1948 and encourages all students to not only be passionate about morality, spirituality, and social justice, but to also discover their unique vocation. Diversity is integral to Stonehill and its mission.
With the campus located just 22 miles from Boston and with more than 90% of students living on campus, students have endless opportunities for fun, from campus concerts and field trips to the school talent show. Stonehill also offers spiritual activities, retreats, and clubs for students of all faiths and backgrounds.
Approximately 50 majors are available at this school, with 99% of seniors engaging in some kind of internship, practicum, study abroad program, or other real-world experience. The student-faculty ratio is 12:1, and about 50% of classes have fewer than 20 students.
Location: Easton, MA
Acceptance Rate: 70%
Undergraduate Enrollment: 2,535
Popular Majors: Biology, finance, psychology
Founded in 1889 by the Benedictines, Saint Anselm College comes in at #8 on our list primarily as a result of its excellent 11:1 student-faculty ratio (with no teaching assistants!) and 89% freshman retention rate. Even more impressive, 99% of the class of 2018 was working within six months of graduation.
Here, students have almost 100 majors and minors to choose from and tons of opportunities to do community service. Each year students, faculty, and staff at Saint Anselm donate more than 50,000 service hours to the community. On Niche, Saint Anselm received an A grade for its value, showing that students here typically feel that their money was well spent.
On the spiritual side, the school is served by 24 Order of Saint Benedict monks who live on campus at Saint Anselm Abbey. Saint Anselm also offers several Campus Ministry events, from spiritual retreats to meditation sessions, and daily Mass at The Abbey Church on campus.
Location: Manchester, NH
Acceptance Rate: 77%
Undergraduate Enrollment: 2,050
Popular Majors: Criminology, business, nursing
The Catholic University of America has one of the best student-faculty ratios (7:1) of all Catholic colleges, meaning that students here are guaranteed undivided, personalized attention from their professors, who currently have an A- grade on Niche.
CUA also has a fairly high 86% freshman retention rate and is ranked among the top 150 national universities by US News.
Students at CUA can choose from more than 60 undergraduate programs and 80 campus clubs and organizations. Through Campus Ministry, they can also take mission trips to Central America and volunteer to help the homeless and other disadvantaged groups. CUA offers spiritual retreats, Mass, sacred spaces, and spiritual guidance as well.
Location: Washington, DC
Acceptance Rate: 84%
Undergraduate Enrollment: 3,332
Popular Majors: Architecture, nursing, political science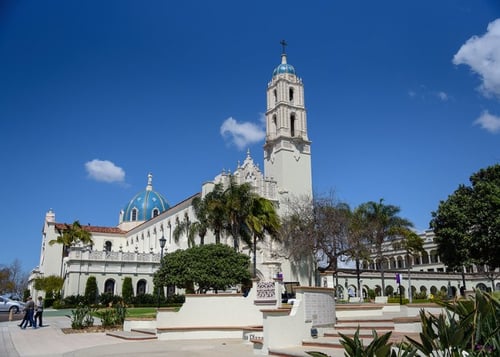 University of San Diego (Loren Kerns/Flickr)
Founded in 1949, the University of San Diego is ranked within the top 150 spots on most college ranking lists, including US News (on which it's in the top 100). The school has a high 89% freshman retention rate and an A grade on Niche, indicating that most students are highly satisfied with their experience here.
Located 15 minutes from downtown San Diego, USD has plenty to offer students, including more than 175 campus clubs, Greek life, and nearby beaches; it's also got more than 40 majors.
The institution readily welcomes students, faculty, and staff of all faiths—all without letting go of its Catholic traditions. University Ministry holds daily Masses and sponsors various spiritual retreats, groups, and volunteer outreach activities.
Meanwhile, the Center for Christian Spirituality puts on lectures and workshops for students, while the Center for Catholic Thought and Culture hosts Catholic-oriented programs and events.
Graduates of USD go on to make a solid median starting salary of $55,900.
Location: San Diego, CA
Acceptance Rate: 53%
Undergraduate Enrollment: 5,855
Popular Majors: Business, social sciences, engineering
With an 88% freshman retention rate and an A- grade on Niche, the University of St. Thomas in Minnesota (not to be confused with the University of St. Thomas in Texas) is a solid choice for a Catholic education. It's currently ranked within the top 150 national universities by US News.
St. Thomas offers a whopping 150+ majors and minors as well as tons of opportunities for cross-disciplinary study. All classes are taught by professors, not teaching assistants.
One great feature of this university is its various connections with big companies, startups, and nonprofits, which help to provide students with internships and real-world training. In fact, 93% of graduates are employed within eight months of graduation.
St. Thomas is committed to the traditional Catholic values of dignity, faith and reason, academic excellence, and gratitude. The Center for Campus Ministry encourages the spiritual development of all students, even those of non-Catholic backgrounds. The school also has an Interfaith Council, which promotes understanding of different faiths.
Location: St. Paul, MN
Acceptance Rate: 82%
Undergraduate Enrollment: 6,395
Popular Majors: Biology, business, philosophy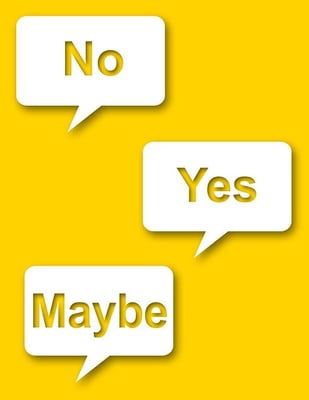 Is a Catholic College Right for You? 4 Questions to Consider
There are many top Catholic colleges out there to choose from, so how can you know whether a particular school will be the right fit for you? Here are four questions to ask yourself before you commit to a Catholic college.
#1: Do You Like the School as a Whole?
First off, think about what draws you to this Catholic school, other than its Catholic affiliation (if that's something you're looking for). What kind of setting do you want? Do you like Greek life?
Here are more specific questions to ask yourself:
Do you like the campus and surrounding area? Some Catholic colleges are based in cities, while others are more suburban or rural. The area around campus can affect your social life as well as your opportunities for internships and work experience. Try to visit the campus to get a feel for the student life and whether you can envision yourself living and thriving there.
Do you plan to participate in any clubs or sports? If extracurriculars are important to you, you should pick a Catholic college that offers a range of organizations and sports you can do. The larger and more renowned Catholic colleges typically have more activities and groups to choose from. Consider, too, whether you would like to join a fraternity or sorority, as some Catholic colleges do not have a Greek system.
Are you looking to develop yourself spiritually? If so, you should try to prioritize Catholic colleges that offer a large array of spiritually oriented activities and events, such as retreats, meditations, study groups, Masses, and so on.
#2: Can You Afford to Attend?
Because all Catholic colleges are private, they can get pretty expensive, especially the more highly ranked and renowned ones.
Here is an overview of the net costs of each of the top Catholic colleges above. Remember that net cost is the total cost to attend after any scholarships or grants. All schools are arranged from most expensive to least.
| | |
| --- | --- |
| Top Catholic Colleges | Net Cost per Year |
| | $38,592 |
| | $36,099 |
| | $35,491 |
| | $35,214 |
| | $35,077 |
| | $33,583 |
| | $33,327 |
| | $31,492 |
| | $31,470 |
| | $27,453 |
| | $26,977 |
As you can see, the cost to attend one of these top Catholic colleges can range from about $27,000 per year to $39,000—that's a big $12,000 difference. And these costs are for after any scholarships or grants are awarded, meaning this is what you can expect to pay out of pocket or with loans each year.
There's no denying that Catholic colleges can get expensive and, in some cases, highly exclusionary of low-income students. Make sure that you and your parents can afford whatever Catholic college you choose well before you make an official commitment to going there.
For help with paying for college, read our expert guides to scholarships for high school seniors and easy scholarships to apply for.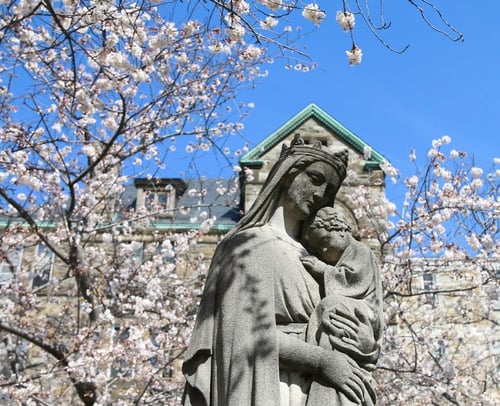 Religious statue at The Catholic University of America (Lawrence OP/Flickr)
#3: Do You Support the Catholic Intellectual Tradition and Principles?
Regardless of whether your Catholic college of choice is more traditional or not, you need to check that you're OK with the overall Catholic intellectual tradition and principles of the school.
In other words, do you support its emphasis on getting a well-rounded education and volunteering in the community? How do you feel about single-sex residential buildings? Are you fine with having a church or chapel (or multiple chapels) and clergymen/clergywomen on campus?
If you enthusiastically support all this, then a Catholic college sounds like it'd be a great fit for you.
If you think you'll have a problem with the Catholic undertones at a school, then perhaps a Catholic school isn't for you. (Don't forget that some Catholic colleges are way more Catholic than others, so it's important to check out the campus to see just how prevalent the religious undertones are.)
If you're looking for very conservative Catholic colleges, check out the Newman Guide to see which schools made the cut.
#4: Does It Have Classes and Majors That Appeal to You?
Lastly, make sure the Catholic colleges you're considering actually offer majors and classes you are interested in.
Some Catholic colleges have a lot more academic programs than others, so if you want a wide range of options, you should consider schools such as the University of St. Thomas, which offers more than 150 majors and minors.
Conclusion: What the Best Catholic Colleges Mean for You
There are hundreds of Catholic colleges in the US, and many of these are part of the Association of Catholic Colleges and Universities, or ACCU. Catholic colleges are privately run institutions that follow the Catholic intellectual tradition of promoting ethics, a well-rounded curriculum, and community service.
However, they can vary significantly in qualities such as what kind of area they're based in, whether they require students to take philosophy or theology courses, and whether they separate buildings and dorms by sex.
Some Catholic colleges are a lot more conservative and traditional than others are. Still, you don't have to be Catholic to attend a Catholic college: as many students on Reddit have noted, you can make your experience as religious or nonreligious as you want it to be.
We looked at different factors to come up with a list of the 11 top Catholic colleges in the US, which are as follows:
University of Notre Dame
Villanova University
University of Portland
Providence College
Molly College
University of Dayton
Stonehill College
Saint Anselm College
The Catholic University of America
University of San Diego
University of St. Thomas, Minnesota
If you're ultimately unsure whether a Catholic college is right for you, then it'll help to ask yourself these four key questions:
Do you like the school as a whole?
Can you afford to attend?
Do you support the Catholic intellectual tradition and principles?
Does it have classes and majors that appeal to you?
Once you've answered these, you'll be on your way to figuring out whether Catholic colleges could be a good fit for you—academically, professionally, and spiritually.
What's Next?
Looking for other Catholic or just Christian schools? Then take a look at our expert ranking lists of the best Jesuit colleges and the best Christian colleges in the US.
Need help with your college application? Don't sweat it. You can learn how to write an amazing college essay and how to put together the most versatile college application with our guides.
Part of getting into a great school—whether that's a Catholic college or not—is getting great SAT/ACT scores. Check out our popular guides on how to get a perfect SAT/ACT score, written by a full scorer!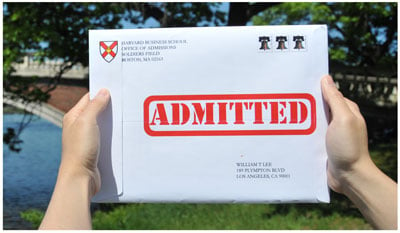 Want to build the best possible college application?
We can help. PrepScholar Admissions is the world's best admissions consulting service. We combine world-class admissions counselors with our data-driven, proprietary admissions strategies. We've overseen thousands of students get into their top choice schools, from state colleges to the Ivy League.
We know what kinds of students colleges want to admit. We want to get you admitted to your dream schools.
Learn more about PrepScholar Admissions to maximize your chance of getting in.
Have friends who also need help with test prep?
Share this article!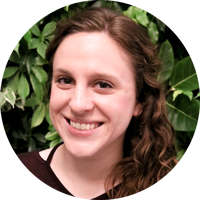 About the Author
Hannah received her MA in Japanese Studies from the University of Michigan and holds a bachelor's degree from the University of Southern California. From 2013 to 2015, she taught English in Japan via the JET Program. She is passionate about education, writing, and travel.
Get Free Guides
to Boost Your SAT/ACT