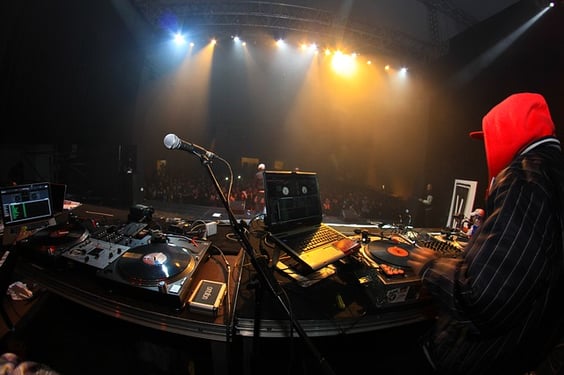 Although widely synonymous with rap music today, hip-hop actually got its start as a full-on cultural movement in the 1970s. For the first few decades that the term was around, hip-hop wasn't just about music: it also referred to art, style, dance, and philosophy.
In this article, we cover the full history of hip hop dance and music and include a helpful hip hop history timeline for reference.
Origins of Hip Hop
Hip hop (or hip-hop, the two can be used interchangeably) began as a culture and art movement in the Bronx, where demographics were rapidly shifting in the early 1970s.
During the 1950s and 60s, many white, middle-class people left the cities to move to the suburbs. The African Americans and Latino Americans that were left behind in cities (or who moved to the cities in the intervening years) encountered many challenges in their neighborhoods, as budgets were slashed and resources diverted to the wealthier, whiter communities.
Faced with a lack of economic opportunity, as well as rising crime and poverty rates, the young people in the Bronx and nearby communities began creating their own kinds of cultural expressions. These forms of expression would come together to form the four pillars of hip hop.
The 4 Main Elements of Hip Hop Music
Most scholars agree that there are four main elements, or pillars, to hip hop music. These pillars originated in the 1970s and continue to represent hip hop culture today:
Deejaying: making music using record players, turntables, and DJ mixers
Rapping: rhythmic vocal rhyming style
Graffiti painting: also known as "graf" or "writing"
Break dancing: a form of dance that also encompasses an overall attitude and style
All four of these elements remain signifiers of hip hop as a larger cultural movement.
Hip hop is typically broken into three phases: old school, new school, and 21st century.
Old School Hip Hop
Old school hip hop typically dates from the origination of the movement in the early 1970s up until the mid-1980s.
The first major hip hop deejay was DJ Kool Herc. Mixing percussive beats with popular dance songs, Kool Herc was instrumental in developing the sounds that became synonymous with hip hop, such as drum beats and record scratches.
Influenced by Kool Herc and his peers, hip hop deejays developed new turntable techniques, like needle dropping and scratching. Kool Herc also popularized rapping, which drew upon the traditions of West African griots, talking blues songs, and black power poetry, among others.
Towards the end of the old school hip hop era, the movement began to gain national recognition. The Sugarhill Gang's song "Rapper's Delight" (released in 1979) rocketed up the national music charts, ushering in a new wave of musicians, artists, and performers, while also introducing people around the world to this new type of music.
New School Hip Hop
By the mid-1980s, hip hop had firmly entered its new school era. The names that headed up hip hop's new school are more recognizable to a contemporary audience: Run-D.M.C, LL Cool J, the Beastie Boys, and Public Enemy. Each of these artists is responsible for making hip hop what we know today.
Run-D.M.C brought hip hop to a larger audience through performances on MTV. The Beastie Boys pushed deejaying further with their digital sampling. LL Cool J and Public Enemy pushed rap in new directions: LL Cool J by bringing romantic themes into hip hop and Public Enemy by using rap to push forward political ideology.
Other artists that came of age during hip hop's new school era include Queen Latifah, who, along with Salt-n-Pepa, brought women into the genre, the Fresh Prince, aka, Will Smith, and M.C. Hammer, all of whom popularized hip hop music even more.
As hip hop grew in popularity, it expanded beyond its regional roots, too. In 1989, N.W.A's Straight Outta Compton became the most prominent hip hop album to emerge from somewhere besides New York City. The East Coast - West Coast divide evolved into a full-on rivalry between the two groups, which ended with the unsolved murders of Tupac Shakur and Notorious B.I.G.
From the ashes of the rivalry between the East and West Coasts came late 1990s hip hop, which saw artists like the Wu-Tang Clan, the Fugees, and Diddy reach new levels of popularity.
Hip hop became a worldwide phenomenon at this point, too, with new audiences and artists emerging in places like Tokyo, Cape Town, London, and Paris. By the turn of the century, hip hop was the best-selling music genre in the United States.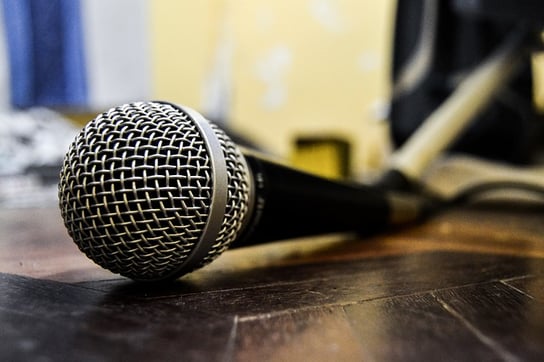 Hip Hop in the 21st Century
The 21st century was a tough time for the music industry. The advent of streaming services affected all genres, including hip hop. Despite the monetary effects of the shift in music delivery, hip hop retains its prominence, influencing musicians of all genres.
Over the last decade or so, hip hop has moved further from its East and West coast roots. New epicenters for the genre have emerged in New Orleans, Atlanta, Houston, and Detroit, as well as in other cities throughout the United States.
Building off of the original four pillars that defined the genre, hip hop artists touch every part of American culture, from dance (think Beyonce's show-stopping productions) to fashion (where artists like Kanye West have launched lines) to politics (Barack Obama referenced Jay Z several times during his 2008 campaign).
While the future of the music industry remains uncertain, one thing's for sure: hip hop is here to stay.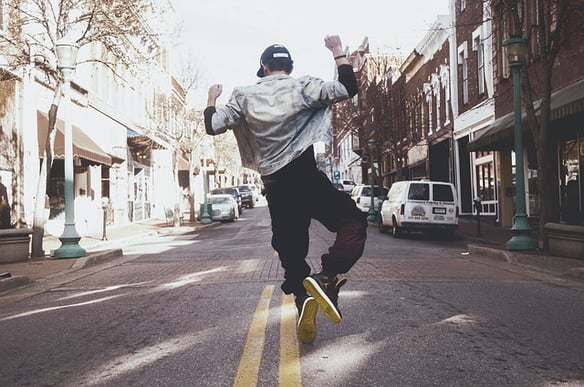 Major Moments in Hip Hop History
Throughout hip hop's history there have been major moments, from the first time a drummer used a break beat on a record to the first time a hip hop album went platinum. Here are some of the major moments in hip hop history.
| | |
| --- | --- |
| Year | Event |
| 1925 | Dancer Earl Tucker (also known as Snake Hips) incorporates floats and slides into his dancing, which would later inspire breakdancing. |
| 1962 | James Brown's drummer, Clayton Fillyau, uses the break beat on the record Live at the Apollo. These beats would later influence break dancers. |
| 1965 | Muhammad Ali delivers one of the earliest rap lines before his bout against Sonny Liston. |
| 1969 | James Brown records "Sex Machines" and "Funky Drummer." Both songs would later influence percussion in hip hop. |
| 1970 | Hip hop first appears in the Bronx. |
| 1973 | DJ Kool Herc deejays his first block party in the Bronx. |
| 1974 | After watching DJ Kool Herc, other DJs start playing in similar styles around the Bronx. DJ Pleaser Lovebug Starski first refers to this movement as "hip-hop." |
| 1975 | DJ Grand Wizard Theodore invents the record scratch. |
| 1976 | DJ Afrika Bambaataa battles Disco King Mario in the first DJ battle. |
| 1978 | The music industry first uses the term "rap music," which shifts the focus in hip hop from the deejays to the emcees. |
| 1983 | Ice T pioneers rap on the West Coast. Michael Jackson does the moonwalk, borrowing from b-boy dance moves. |
| 1984 | The Fresh Fest concert, a hip hop tour featuring artists like Run D.M.C, nets $3.5 million. Hip hop has arrived. |
| 1985 | Salt-n-Pepa enters the scene as one of the first female rap groups. |
| 1986 | The Beastie Boys release Licensed to Ill. |
| 1987 | Public Enemy releases Yo! Bum Rush The Show. |
| 1988 | N.W.A releases Straight Outta Compton. |
| 1989 | A group of friends in Manhattan forms A Tribe Called Quest. D.O.C releases No One Can Do It Better. |
| 1991 | N.W.A sells nearly one million copies of N****z For Life in its first week of release. |
| 1992 | Dr. Dre's album, The Chronic, goes multi platinum. Wu-Tang clan release 36 Chambers. |
| 1995 | Queen Latifah wins a Grammy award from Best Rap Solo Performance. |
| 1996 | Jay-Z releases Reasonable Doubt. The Fugees' album, The Score, wins two Grammys and debuts at number one. Tupac Shakur is fatally shot. |
| 1997 | Missy Elliott releases Supa Dupa Fly. Notorious B.I.G is shot and killed. |
| 1998 | Lauryn Hill's solo album, The Miseducation of Lauryn Hill, earns 11 Grammy nominations and five wins. |
| 1999 | Eminem sells four million copies of The Slim Shady LP. |
| 2000 | Dr. Dre sues Napster. |
| 2002 | Talib Kweli debuts his solo album and introduces himself as a political voice. |
| 2003 | Eminem faces controversy and opens up debate about hip-hop and racism after being caught using the N-word. Federal investigators raid the offices of Murder Inc. |
| 2004 | Dr. Dre gets punched in the face at the 2004 Vibe Awards ceremony. |
| 2008 | Jay-Z becomes the first rapper to headline Glastonbury, the largest greenfield music and performing arts festival in the world. |
| 2010 | Nicki Minaj releases Pink Friday, which hits number one on the US charts. |
| 2018 | Kanye West releases his eighth studio album, Ye, which debuts at number one. |
What's Next?
Looking for more articles about music topics? Learn the difference between a melody and a harmony here. If you're curious about Western classical music, we'll also help you get to know Beethoven's Für Elise and Moonlight Sonata.

If you're looking for something fun to do tonight, this slime recipe might be exactly what you need.
Did you know that water has a very special density? Check out our guide to learn what the density of water is and how the density can change.
Want to know the fastest and easiest ways to convert between Fahrenheit and Celsius? We've got you covered! Check out our guide to the best ways to convert Celsius to Fahrenheit (or vice versa).
Have friends who also need help with test prep?
Share this article!
About the Author
Hayley Milliman is a former teacher turned writer who blogs about education, history, and technology. When she was a teacher, Hayley's students regularly scored in the 99th percentile thanks to her passion for making topics digestible and accessible. In addition to her work for PrepScholar, Hayley is the author of Museum Hack's Guide to History's Fiercest Females.
Get Free Guides
to Boost Your SAT/ACT