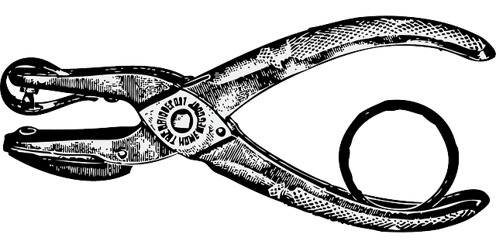 The hole punch was actually invented decades before it became a staple of modern offices. Read this guide to learn more about hole punch history, why the original inventor of the hole punch was contested, and how the hole punch has evolved over the centuries.
Who Invented the Hole Punch?
Who's the original hole punch history inventor? There were two original types of hole punches, and they were created for many of the same reasons hole punches are still used today. One type was used to punch a single hole in tickets to show they'd been used, and the other was used punch identical holes in paper to make it easier to keep them organized in a ring binder.
For such a straightforward tool, hole punch history actually has some controversy. Three men registered patents for hole punches around the same time.
Friedrich Soennecken
Soennecken was a German entrepreneur who invented a number of things, including a new type of ink container, a style of calligraphy, and a pen nib. In 1886, he also invented the ring binder, and soon after, on November 14th, 1886, he registered a patent for a "paper hole maker for folders," or what he called a Papierlocher für Zammelmappen. His hole punch was placed on a desk and used a lever to punch two holes into paper. The paper could then easily be placed in the ring binder.
Benjamin Smith
About a year and a half before Soennecken filed for his hole punch patent, on February 24th, 1885, American Benjamin Smith received a US patent for a somewhat similar tool known as the Conductor's Punch. Although Smith received his patent before Soennecken, he is sometimes not seen as the original inventor of the hole punch because his invention differed significantly from the three-hole punch often seen in offices today. Smith's invention was handheld and used to metal pieces connected to a spring to punch a single hole in paper. It also included a receptacle to hold the small circles of paper it cut out. The Conductor's Punch was used to by railway conductors to punch holes in train tickets (hence its name).
Charles Brooks
In 1893, American Charles Brooks received a patent for the Ticket Punch, an invention similar to Smith's Conductor's Punch. Both had a similar design, but Brooks' Ticket Punch had a larger receptacle to hold paper cuttings, and the receptacle was also removable. Brooks is actually more well-known for a different patent he received, for a street sweeper. The street sweeper remains in use today, relatively unchanged from his original invention.


So who is the real inventor of the hole punch? Most people label either Friedrich Soennecken or Benjamin Smith as the "father" of the hole punch. Soennecken supporters say that, because his invention is much closer to the modern-day three hole punch, he is the original inventor, while Smith supporters say that, because he received the first patent for a hole punch invention, he is the original inventor.
For what it's worth, when Google decided to celebrate the 131st anniversary of the invention of the hole punch, they based the anniversary off the date that Soennecken received his patent, a decision that received mixed opinions online.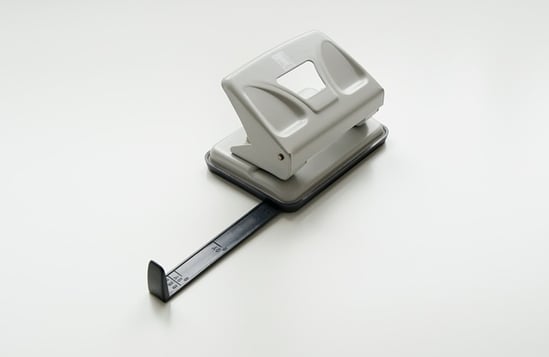 How Has the Hole Punch Evolved?
The original hole punch designs are still used widely today, with only minor modifications. However, other hole punches have been developed in the 20th and 21st centuries. These include three- and four-hole punches, hole punches that can punch through thicker materials such as cloth or thin metal sheets, hole punches that cut different shapes such as stars or hearts for crafters, and electric hole punches.
Summary: 3-Hole Punch History
The hole punch history spans several centuries and countries. The first hole punch inventor was American Benjamin Smith who, in 1885, developed a handheld device that was used to punch a single hole in train tickets. German Friedrich Soennecken is widely seen as the first inventor of the three-hole punch, which he received a patent for in 1886. Since then, the basic design of hole punches hasn't changed all that much, but new features have been added as they continue to be widely used in offices and homes across the world.
What's Next?
Have you heard the stories of camel spiders being fearsome, deadly predators? Is there any truth to those tales? Learn which camel spider myths should be debunked by reading our guide!
What is Stockholm syndrome? Is it actually a real condition? We explain everything you should know about Stockholm syndrome and analyze famous cases.
Love to draw? We've compiled 100 of the best easy drawing ideas to spark your creativity!
Have friends who also need help with test prep?
Share this article!
About the Author
Christine graduated from Michigan State University with degrees in Environmental Biology and Geography and received her Master's from Duke University. In high school she scored in the 99th percentile on the SAT and was named a National Merit Finalist. She has taught English and biology in several countries.
Get Free Guides
to Boost Your SAT/ACT