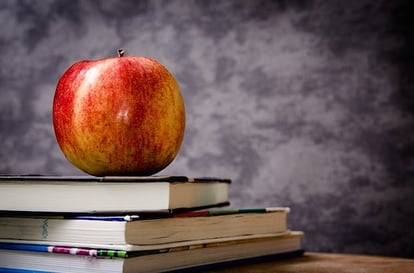 What's more exciting than educating a new generation of students? If you're interested in becoming a teacher and want some information about how to succeed in this profession, you're in the right place. Here, I'll walk you through how to become a teacher, explaining the steps you need to take in high school, college, and beyond.
First, though, I'll touch briefly on the occupational outlook for teachers in the US—this way, you'll be informed about projected job availability and income levels before jumping in.
For the sake of this article, I'm going to focus on K-12 teachers (you can, of course, teach at the college/university level, but that involves a pretty different career path). The steps you'd take to succeed in teaching vary slightly based on which academic grades you're interested in working with. From here on out, I'll be differentiating between elementary, middle, and high school teachers where there might be different steps necessary for success.
Occupational Outlook for Teachers
Before you jump into any career path, it's important to think ahead about more practical things, like expected income and job availability. The US Bureau of Labor Statistics lists important info on pay, necessary education, and job outlook for almost any profession you can think of. High pay and an increase in available positions generally bodes well for people hoping to enter a certain field.
Here are these all-important stats for K-12 teachers in the US:
Kindergarten and Elementary School Teachers
2014 Median Pay: $53,760
Typical Entry-Level Education (the bare minimum you'd need to enter the field): Bachelor's degree
Job Outlook, 2014-2024 (the estimated job growth rate—bigger is better): 6%, which is about average
2014 Median Pay: $54,940
Typical Entry-Level Education: Bachelor's degree
Job Outlook, 2014-2024: 6%, which is about average
2014 Median Pay: $56,310
Typical Entry-Level Education: Bachelor's degree
Job Outlook, 2014-2024: 6%, which is about average
How to Become a Teacher: Career Steps Overview
To become a teacher, there are a few important things you'll need (I'll go into more detail on these steps and more in the following sections):
A graduate degree (depending on your preferred career track and the teaching requirements in your area—it's often not required)
Your teaching certification/license (requirements will vary based on the state)
If you plan ahead, it's possible to start your teaching career very soon after graduating from college.
Now that you have a sense of what you'll need to become a teacher, I'll go into the details of what you should do at each stage of the game—starting with high school.
Setting Yourself Up for Success: 4 Steps to Take in High School
You don't have to make a final decision about a teaching career in high school, but there are some important things you can do to put yourself on the right path.
Decide If Teaching Is the Right Fit
High school is a good time to start thinking about whether you'd be comfortable with the day-to-day realities and responsibilities of teaching.
At all grade levels, teaching involves these important core responsibilities:
Preparing lessons
Grading assignments and tests
Getting kids to behave and participate in class
Filling out report cards and assessments
Meeting with parents
On a personal level, good teachers tend to be:
Good at communicating—The crux of your job as an instructor is getting the class to understand new, sometimes challenging, material.
Patient—You'll have to deal with students who have trouble learning, behaving, or both.
Compassionate—Students (of all ages) aren't always easy to deal with. It will be important for you to be sensitive to challenges they may be dealing with.
Creative—You may have to come up with some unorthodox ways of keeping students engaged and learning.
Hard-working—Your work as a teacher won't end with the bell. You'll have to come up with lesson plans and tasks, meet with students, parents, and administrators, and grade a ton of assignments.
So how do you figure out whether you'd be okay with the responsibilities of working as a teacher? And how do you know whether you have the core characteristics that make a successful instructor?
Here are some steps you can take to determine whether teaching may be a good fit:
Interviews—Talk with your own instructors about their experiences. Why did they become a teacher? What do they like about their job? What don't they like so much?
Shadowing and Observation—Start actively paying attention not only to what your instructors teach, but how they teach it. Are there any teaching methods that you really like? What about methods that aren't as effective? You might also look into opportunities to shadow instructors, especially those teaching in younger classrooms.
Tutoring—This is a bit different than teaching a classroom full of students, but teachers still work with students one-on-one. There might be peer-tutoring services offered through your school, or you might look for a job through some other tutoring service.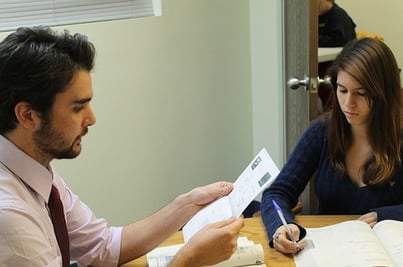 You can start getting teaching experience even in high school.
Focus on Your High School Education
A strong education in high school will serve as the foundation for your education as a teacher. Elementary school teachers in particular need to be well-rounded as they are responsible for covering all subjects with their students.
Need more help with this topic? Check out Tutorbase!
Our vetted tutor database includes a range of experienced educators who can help you polish an essay for English or explain how derivatives work for Calculus. You can use dozens of filters and search criteria to find the perfect person for your needs.
A high GPA and strong ACT/SAT scores will also make you a more attractive candidate to strong teaching degree programs, which brings me to the next step ...
Start Researching Degree Programs
If you've decided to pursue a degree in teaching, by the time you start submitting college applications you'll want to apply to appropriate teaching programs.
First, you only want to look into accredited programs. Access this complete list of all accredited teaching programs for reference.
Second, consider whether you're ready to commit to a particular specialty (e.g. elementary, middle school, or high school education). These specialties will often have different degree requirements—if you already know what you're interested in, you can focus specifically on those degree requirements when you look at schools.
Submit Strong College Applications
If you end up at a school with a strong teaching program, the next steps you'll have to take to become a teacher will be that much easier. Start by checking out the top-ranked elementary and secondary teaching programs in the US (make sure you're only looking at undergraduate rankings—you don't need a graduate program just yet).
You won't necessarily need a degree in teaching—I'll talk more about this in the next section—but if you're sure at this point that teaching is for you, a targeted program might prepare you more effectively for your career.
Early decision applications are usually due October-November of your senior year, whereas regular decision apps are due late December-early January. Learn more about how to apply for college and when to apply here.
Exploring Education: 4 Steps to Take in College
College is where you have to start making big decisions about your teaching career. The good news is that you'll have support along the way, especially if you've decided to attend a program that's targeted towards aspiring teachers.
Here's what you should do in college to succeed as a teacher:
Know Your State's Teaching Requirements
Every state has different rules in place regarding exactly what qualifications you need in order to teach. If you're licensed as a teacher in one state, it's usually possible to become licensed in another, but it's not always easy.
As you enter your degree program, you should figure out the licensing requirements for the state you're currently living in AND any states you anticipate moving to in the near future. This way, you'll avoid any unpleasant surprises—you'll also be able to make sure you take any and all required courses or practicums.
Take advantage of your program's resources to make sure you meet all necessary requirements. First, the program itself should have requirements built in that will prepare you to meet state requirements. Second, career centers and academic advisors can put you on the right track if you're worried about being prepared for a teaching career after graduation.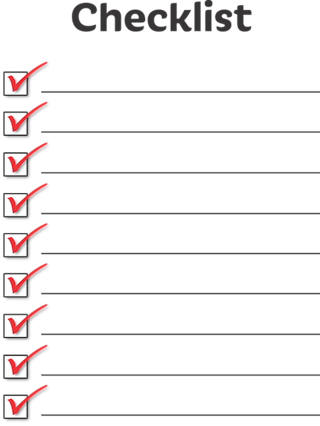 Knowing these teaching requirements at the beginning of your program will help you make sure you don't miss any important steps.
Commit to a Specialty
Once you've committed to a college, one of your next big decisions will be committing to a specialty. You'll have to fulfill different degree requirements depending on your specific educational path—the type of teaching you hope to pursue will dictate what sort of specialty you'll choose. Here are the major teaching programs types to choose from:
Pre-K through 3rd grade
Focus mostly on teaching techniques, curriculum, and lesson planning
College major is usually in education
Elementary Education
Primary grades (pre-K through 6th or 8th grade)
Focus mostly on teaching techniques, curriculum, and lesson planning
College major is usually in education
Secondary Education
6th or 8th grade through 12th grade
Usually requires you to choose a more specific specialty/content area (e.g. English, Math, History)
Teaching techniques, curriculum, and lesson planning are included in the course of study in addition to the chosen content area specialty
Specialty Degrees
Focus on one specific, specialty area (e.g. fine arts, performing arts, physical education)
Other degree options that can be combined with an education degree include special ed and gifted ed
Requirements will vary based on the chosen specialty
You might major in the subject you hope to teach (e.g. English, Math) and supplement your curriculum with courses in education
Administration
Education for leadership within the education system
Usually requires undergraduate (BA) AND graduate (MA, PhD) education
Programs tend to focus on school structure, curriculum, organization, and leadership
Gain Real-World Experience
This is especially important for students who may not be in a dedicated teaching program (e.g. students who want to teach secondary education and are majoring in something other than education). Real-world teaching experience will help you get more comfortable with leading a classroom so that you can hit the ground running when you start your teaching career.
Here are some ways to gain experience, whether you're in a dedicated teaching program or not:
School visits—Observing how teachers work at local schools is a great way to experience a day in the life as a teacher. You may want to check out different grade levels to see if you have any preferences.
Working as a teacher's assistant—There are many teachers out there who would love some extra help! This is definitely more hands-on than just observing a classroom.
Tutoring—Teachers don't just lead entire classrooms—they also work one-on-one with students who want extra help. Tutoring kids of different ages (and even in different subjects) may help you figure out what you like and what you don't.
Volunteer mentorship—This is pretty different from traditional teaching experiences, but volunteering to serve as a mentor for a child or teen may help you develop important leadership skills.
Running an after-school program—Wrangling a group of kids to get them to participate in an organized activity? Not so different from running a classroom. Bonus: after-school activities can be pretty fun—you could help put on a play, coach intramural sports, or lead a club.
Complete Your Education With Student Teaching
Student teaching is where you start to implement everything you've learned thus far in a real classroom. It's an important part of any college teaching program.
Student teaching will work differently based on your college, your teaching specialty, your student-teaching school, and the classroom you work in. Some student teachers may be expected to take over all classroom responsibilities at multiple grade levels fairly quickly, whereas others may only take a few core responsibilities at one grade level. If you have questions about what student teaching usually entails, you should speak with administrators at your specific program.
In general, though, here's what to expect:
Student teaching usually lasts for about a semester. You'll be matched with a particular classroom and teacher, usually at a school that has some sort of partnership with your bachelor's program. Most student teachers start off by observing the classroom (this lasts between a few days or a few weeks) before gradually taking over all teaching responsibilities.
You should expect to be in the student-teaching classroom all day, every day. Although you may just be observing at first, you'll be learning to build and teach lessons, meet with students, and administer and grade assignments—by the end of the semester, you should ideally feel comfortable leading a classroom on your own.
Requirements may be different for those pursuing early childhood, elementary, and secondary education. Each teaching program will have their own protocols—again, it's best to explore any specific questions you have about your own program (or potential programs, if you're still looking at different schools).
Final Steps: Teaching Certification
Getting certified in the state where you hope to teach is necessary if you want to work at a public school. If you're considering private schools, you may not have to get certified, but it's still recommended (you have a lot more flexibility when it comes to jobs that you qualify for).
Here's how you get certified to teach at any school:
Pick a State
Each state has its own requirements for licensing and certifying teachers. If you want to teach in the same state where you went to college, you'll probably already be familiar with these reqs. If you hope to teach in a different state, you'll have more research to do (it's helpful to do this while you're still in school, like I mentioned earlier, so that you can meet all course requirements ahead of time).
Just Google "[state name] teaching certification." Any link that leads to the state's Department of Education is helpful.
One thing to keep in mind: some states pay teachers better than others on average. If you're not rooted to one place, and money is a concern, you may want to learn more.
Register for Exams (If Necessary)
Some states require educators to take licensing exams to prove that they would be competent teachers. Whether these exams are required, how often they're given, and what's actually tested will vary widely by state. It's best to give yourself plenty of time (6 months or more) to register and prepare for these tests.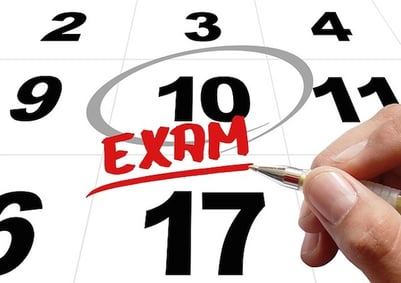 Your teaching program will help prepare you for any necessary certification exams.
Apply for Certification
Once you've met all state requirements, you can go ahead and apply for certification in the state you hope to work. You'll want to do this several months before you hope to start your job search (you don't want to be delayed in case there are any issues with your application, so starting while you're still in college is a good idea). This process might be easier if you're already certified in another state.
Graduate School and Beyond
Some states require teachers (at public schools, at least) to earn a Master's degree in order to qualify for certification. Other states encourage, but do not require, a graduate degree. If you're unsure about the requirements for the state you hope to work in, learn more about individual state certification requirements. Whether you end up getting a graduate degree will also depend on your chosen career path—for example, teachers who hope to work in administration will likely need a Master's or PhD.
Having a graduate degree—even if it's not required—may lead to more job opportunities and a higher salary. If you're interested in graduate programs, check out the top-ranked education programs in the US.
Even if you're certified in a state, you may have to keep up with certification renewals or continuing education requirements—staying on top of this stuff is important when it comes to keeping your license!
How to Become a Teacher: 8-Step Summary
There are quite a few steps involved in becoming a teacher, but here are the main ones you should remember:
Decide if teaching is the right fit
Focus on doing well in high school
Research teaching degree programs
Submit strong college applications
Become familiar with your state's teaching requirements
Get real world experience
Get certified, and keep your certification by staying on top of requirements
What's Next?
As you've read above, one of the best ways to prepare for a career in teaching is making sure you get into a great undergraduate program.
To get into your top choice colleges, make sure you keep your GPA high.
Focusing on extracurricular activities, especially community service work, is also important for applications to teaching programs.
Finally, work on getting great SAT or ACT scores.
Want to improve your SAT score by 160 points or your ACT score by 4 points? We've written a guide for each test about the top 5 strategies you must be using to have a shot at improving your score. Download it for free now:
Have friends who also need help with test prep?
Share this article!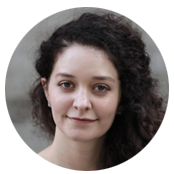 About the Author
Francesca graduated magna cum laude from Harvard and scored in the 99th percentile on the SATs. She's worked with many students on SAT prep and college counseling, and loves helping students capitalize on their strengths.
Get Free Guides
to Boost Your SAT/ACT