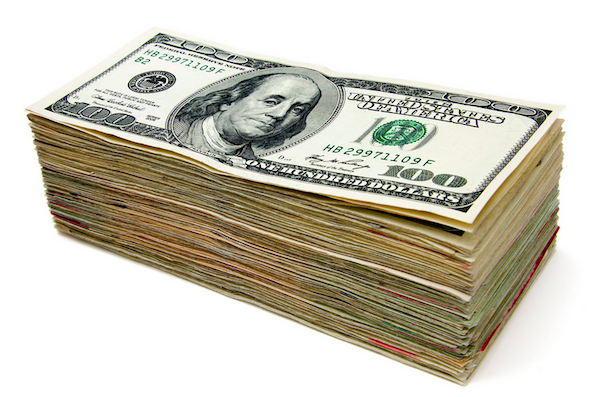 You did all the work of getting into your dream schools - researching the colleges, visiting campuses, getting great test scores, putting together a polished application - and still have to deal with one major obstacle: paying for college. Few students can pay for a full year at college without some assistance, but almost 2 million students graduate with a bachelor's degree each year in the US - they must be paying for school somehow, right?
Whether you're a high school student or a current undergraduate, it's never too early (or too late) to think about minimizing your college costs to make school more affordable. In this post, I'll go through everything you need to know about how to pay for college.
I'll start off by talking about what college actually costs before moving into application strategies, figuring out how much money you need, how much aid you can get, and how much you should actually be paying. We'll cover all the major ways to pay for college that families usually use. At the end, I'll offer some more creative options for closing the gap between your financial need and your actual cost.
First, How Much Does College Cost?
The first step in understanding how to pay for college is having a good understanding of what your expenses will be.
For the 2014-2015 academic year, the average cost of tuition and fees for one year was:
$31,231 at private colleges
$9,139 for state residents at public colleges
$22,958 for out-of-state residents at public colleges
This is the cost that people typically consider when they think of college expenses. Unfortunately, there's a lot more to the picture than just tuition costs - there are also hidden or implicit expenses associated with spending a year at college.
These other annual expenses include:
Room and board - averages $11,188 at private colleges, $8,804 at public colleges
College textbooks - average cost is about $1,200
Travel costs - these will vary widely based on the student
Lab fees and supplies - these will come to about $50 per class if they're not already rolled into fees
Personal expenses - most students budget about $2,000/year to cover personal costs like toiletries and entertainment
Lumping together all of these expenses (if you can estimate travel and personal expenses) will give you a school's real sticker price - the Cost of Attendance. It's pretty easy to get an estimate of a school's CoA- just google "[school name] cost of attendance."
While it's important to know a school's CoA, perhaps a more important figure to know is your "net price" - it's what you pay after all financial aid is taken into account. This is what you actually owe, out of pocket, for a year at school. Want to estimate your net price at a particular school? Just google "[school name] net price calculator" - many schools have tools that will give you an estimate of how much you'll pay out of pocket. These calculators take financial need and sometimes merit-based factors into account.
Minimizing Costs With Your College Applications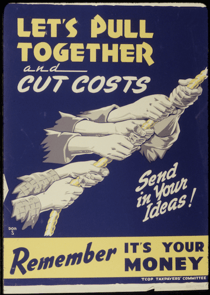 Cutting costs can be as simple as applying to the right schools - make paying for college easier from the beginning.
If you're applying to colleges with price in mind, your strategy should focus on lowest net price, not necessarily lowest sticker price. Apply broadly so that you can consider as many options as possible. You have nothing to lose by applying to a wide range of schools, aside from application fees. If these fees are an issue, ask your guidance counselor about fee waivers.
Once you've been accepted to schools, you'll receive official financial aid packages. You can then determine which packages you're most comfortable with (I'll go through some example financial aid packages at the end of the post).
Once you start looking over different financial aid offers, you might notice that not all types of aid are created equal. Just because a financial aid package will cover all your "unmet need" doesn't mean that it will do so in a way that you'll find helpful (for example, an aid offer might offer large high-interest loans). Look over each package carefully to determine how much money you'll actually pay, both now and in the future.
Example

: A

school that offers you 5k in grants and 40k in high-interest loans (45k total) will have you paying much more in the long run than a school that offers you 25k in grants, 10k in low-interest loans, and 5k in high-interest loans (40k total).
In general, grants and scholarships tend to be better aid options than low-interest loans or federal work-study. High-interest loans are the least desirable forms of aid. You don't have to pay back grant or scholarship money, but you do have to pay back your school loans (and high-interest loans cost you more in the long run than low-interest ones).
How Do You Figure Out How Much You Need to Pay for College?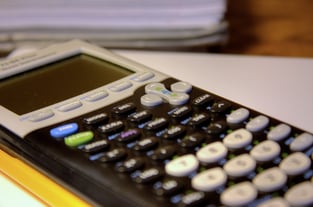 Now may be a good time to whip out your trusty TI-84.
There are a few different steps to figuring out how much aid you'll need in order to afford college:
1. How Much Will School Cost?
Your total expenses will depend on where you decide to go to school, whether you're living in a dorm, and what sort of travel and personal expenses you'll need to account for. Use the info above and this guide to get a good estimate of what your sticker price will be.
2. What Can You Afford?
Your family's idea of what you can afford may differ from what schools and the Department of Education think you can afford. To address this discrepancy, I have two strategies to figuring out what your family can contribute to college costs: an "unofficial" (perhaps more realistic) one, and an official one. The unofficial strategy will tell you what your family can reasonably contribute, whereas the official strategy tells you what you may be expected to contribute.
The "Unofficial" Strategy
Sit down with your parents/guardians and crunch some numbers. Schools often expect families to contribute at least 10% of annual income to college costs, even if schools themselves can't offer enough aid to cover the difference. What would it mean for your family if they had to contribute 10% to your college expenses for four years? What if they were asked to contribute more than 10%?
The "Official" Strategy
Use the FAFSA4caster to estimate your federal aid eligibility. The tool will spit out a number called an EFC, or Expected Family Contribution - this is the figure that the FAFSA4caster has determined your family can afford to pay. The more accurate the info you enter into the FAFSA4caster, the more accurate your EFC will be. When you submit the real FAFSA, the federal government will use the application to determine aid eligibility. Many schools also use the FAFSA to award their own need-based aid.
3. What's the Difference Between What You Can Afford and What You Owe?
The final step in determining how much aid you need is figuring out the difference between your CoA (cost of attendance) and the amount you can comfortably afford. The difference will be the amount that (ideally) you can get covered with financial aid, including grants, loans, and scholarships.

Anything that remains "uncovered" is your responsibility to pay. For example, if a school's CoA is 50k and you get 20k in grants and 20k in federal subsidized loans, 10k will be your responsibility. You can pay the amount that year, take out private loans or PLuS loans, or a combination thereof.
How Much Financial Aid Can You Get?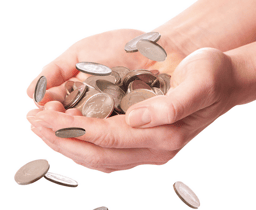 Let's figure out how much money you can get your hands on.
Unfortunately, just because you have demonstrated financial need doesn't mean you can get that need covered at any school you wish to go to. Most college students in the US get some help paying for college, but the amount of money you can get will depend on quite a few different factors. In this section, I'll talk about the main variables that affect how much aid you can get and the different ways to pay for college.
Financial Need
The greater your demonstrated financial need, the more aid you're likely to get. Students with exceptional financial need may be eligible for federal programs like the Pell Grant or Perkins loan. Need-based scholarships, like the Gates Millennium Scholarship program, are also viable funding options. Finally, schools that offer need-based aid will award more funds to students with greater need.
Your Choice of School
Put simply; top-rated schools tend to have more money, which means they can offer more generous financial aid packages. Some schools even claim to cover all unmet financial need.
Whether you attend a public or private college will also affect your net costs. Private schools tend to cost more than public in terms of sticker price, but they tend to have better financial aid programs. Public schools are relatively inexpensive for state residents, but can be very pricey for out-of-state applicants.
Merit
The greater your strengths, the more opportunities you'll have for educational funding.
Merit-based institutional aid is often offered in the form of sports scholarships or academic scholarships (for students with high grades or SAT/ACT scores). Not all schools offer merit-based aid, but some do in order to attract high-caliber applicants.
Merit-based scholarships are also good funding options for ambitious students. Many private scholarships give out awards based on GPA, test scores, community service, and leadership experience. Being a high performer in any of these areas will help your college applications, but they'll also help your scholarship applications.
Initiative
Ultimately, access to many of these financial opportunities comes down to initiative and personal organization. One of the most important ways initiative comes into play is when it comes to keeping track of (and meeting) deadlines - you won't be able to get any forms of financial aid if you don't have an organized timeline. To give you a bit of a head start, I've compiled important deadlines so that you can maximize your aid opportunities:

Federal FAFSA deadline - For the 2015-2016 academic year, the federal FAFSA deadline is June 30, 2016. T

he earlier you apply, the better - you don't want funds for certain programs to run out. For the 2016-2017 academic year, the FAFSA will open January 1, 2016.
State FAFSA deadline - These deadlines vary be state. If you're interested in qualifying for state funding (you should be interested), check the FAFSA deadline for your state.
CSS/Financial Aid PROFILE deadline - The PROFILE is an aid applications that some schools use in lieu of (or in addition to) the FAFSA. Deadlines vary by school, so check with the colleges you're applying to if you know you'll have to submit a PROFILE. Check this list of participating schools and programs for more info.
Scholarship deadlines - Deadlines for different scholarship programs vary widely. If you do plan on applying for scholarships, you may as well go all out and apply to as many as possible. Many scholarships ask for similar things from applicants: a personal statement, transcripts, ACT/SAT scores, letters of rec., etc. Check out our list of top scholarships to get an idea of typical scholarship deadlines.
For more information on applying for financial aid, check out our step-by-step guide.
How Much Should You Pay for College Out-of-Pocket?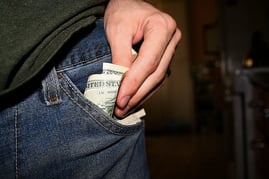 How much is too much to pay in cash and loans?
So we've gone through strategies for minimizing costs, determining need, and calculating likely aid. What we haven't covered yet is perhaps the most important question you should ask yourself before committing to a particular school: how much should you pay, both in cash up front and in loans after graduation, for your education? If you have the opportunity to attend one of your target schools or even reach schools, but the financial aid package isn't as great as you expected, what do you do? Is it worth it to pay more than you can afford to attend that college?
I can't give you a clear answer to these questions, but I can give you some information that will help you figure them out for yourself:
1. Attending a Better School Leads to Better Networking and Career Opportunities
More prestigious or better-ranked schools often have stronger alumni networks and recruiting events. A diploma from a better school is also a better "signal" to future employers or graduate schools. Ultimately, you may earn more money in the long run if you attend a high-ranking college.
There are a few caveats to keep in mind, however. First, you may not equate a higher salary with success, especially if you don't plan on pursuing a high-earning career. Second, a college degree on its own (regardless of where you go to school) is correlated with higher earnings. Finally, income is probably more strongly associated with your choice of career than it is with your choice of college. For example, students who graduate in math/science fields tend to earn more than other students.
2. Student Loan Debt Can Limit Your Future Choices
Loans often have a grace period (a period of time after graduation where you don't yet have to make payments), but after this grace period, looming student debt can limit your career options. Things like travel, unpaid internships, or volunteer work may be out of the question if you have to make hefty monthly loan payments. If you have severe financial problems later in life and declare bankruptcy (where all your debts are forgiven - you start with a clean slate, but your credit is destroyed), student loans are essentially non-dischargeable. Even if you face extreme financial hardships through no fault of your own, student debt is notoriously sticky, and usually, won't be canceled by bankruptcy.
In sum, student debt is a commitment. The more loans you take out, the more your debt will affect the rest of your life choices.
3. Student Loan Debt Can Be Flexible, and Even Forgivable
There are different repayment plan options for recent grads who aren't making much money, including income-based and graduated repayment plans. You pay more in the long run, but monthly payments are smaller when you're younger and aren't making as much money. This affords you a degree of flexibility. Additionally, you usually don't have to make payments on your loans if you are in graduate school.
Finally, some student loans can be forgiven or canceled if you work in certain public service careers. This means you can pursue a (relatively) low-paying career option without worrying about paying back student debt.
How Do You Determine Your Willingness to Pay?
The right amount to pay out-of-pocket for college will depend on what you're ultimately comfortable with. Some questions to consider before deciding what you're okay paying for school, both now (in cash) and in the future (with student loan payments) include:
Will this school offer you unparalleled networking/professional opportunities, or can you get similar opportunities somewhere less expensive?
Does this school offer an especially strong program in a field I want to pursue?
How much do you (realistically) anticipate earning in the 5-10 years after you graduate? Based on your career path, what will you be able to afford in terms of monthly student loan payments?
Are there ways to cut down personal costs/expenses to lower your cost of attendance? What sacrifices are you willing to make, and what sacrifices are out of the question?
Can you get a student job to mitigate some of your costs? Would getting a student job negatively impact your studies?
Last, but not least: how does this amount of debt or expense make you feel? If you anticipate burdened or overwhelmed to the extent that your quality of life is negatively affected, is the expense worth it?
Only you know the answers to these questions. I encourage you to be thoughtful and honest with yourself - the costs and benefits of attending a particular school are long-lasting and far-reaching. Paying for college is an investment in yourself and in your future, but you want the investment to be premeditated and purposeful.
If you're dead-set on attending a particular school that's a little pricier than you'd like, read on for tips on making college a bit more affordable.
Creative Ways to Pay for School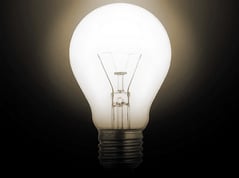 Let's get the creative juices flowing.
There are other ways to get money for college besides federal and institutional financial aid. If you have a bit of time on your hands, these next options could help you make college more affordable.
Scholarships
You can start applying for scholarships any time - you don't even have to be in high school! Many of the bigger scholarships, though, are targeted towards graduating high school seniors. Before you even apply to colleges, start checking out scholarship options, ideally sometime during your junior year. There are so many scholarship options out there - big and small - that could make a world of a difference.

To start your scholarship search, check out our guides to the top awards for high school juniors and high school seniors.
Student Jobs
This won't be right for everyone, but a student job can be a practical (and sometimes even fun) way to cover some of your expenses. Students with federal work study awards, in particular, will have plenty of on-campus job options. Ideally, you can get both professional career experience AND some extra cash.

Paying for College: Real-World Examples
Now that we've gone through everything you need to know about paying for college, from cost-minimization strategies to creative cost solutions, we can put everything together to see examples in action. I'll present two different examples to reflect two different, but realistic, situations. For each example, I'll walk through different payment options for each (hypothetical) student.
Example 1
In this example, a high-achieving Arizona student from a relatively wealthy family has received a financial aid offer from Arizona State University. Remember when we went over factors that affect aid? We know that she's applied to an in-state public school, she's high-merit, and she has relatively low financial need. The first two factors will positively affect the amount of aid she receives, whereas the last factor will negatively impact her aid. Here's an idea of what her aid offer would look like: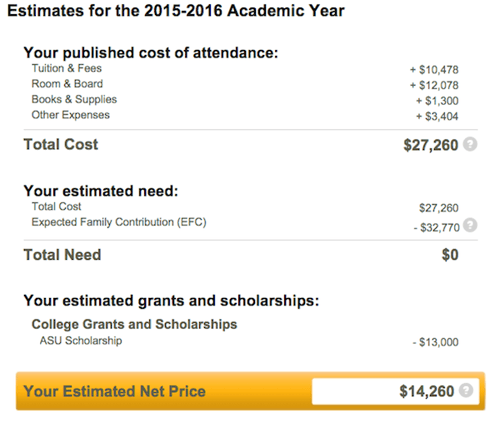 Her net price - what her family would have to pay out-of-pocket for all expenses - comes to $14,260 for the year. She's responsible for paying this entire amount if she wants to register for classes at ASU. She has a few options when it comes to tackling this expense:
If her family can afford to do so, they could pay the entire $14,260 for the year. This would be less expensive than taking out loans in the long run because the student wouldn't be responsible for accruing interest charges.
The student could take out the entire amount in loans. If she did this for all 4 years of college, her debt would come to about $60,000 - more than twice the average amount of US student debt. She may be able to take out some low-interest federal loans to mitigate these costs.
The student's family could pay some amount in cash, and the student could take out the remaining balance in loans.
The student could apply for merit-based scholarships, and get part or all of her net price covered. If a balance remains after winning scholarships, the student could pay with cash; she could take out loans, or she could cover the balance with some combination of cash and loans.
The student could get a student job and pay down some of her net balance while she's in school. It would be very difficult, however, to earn almost 15k/year while shes's also a full-time student - 2-3k would be a reasonable goal.
Keep in mind that if this student were not high-achieving, she likely wouldn't have earned the ASU scholarship. Her net price would have been $27,260 instead of $14,260 - her good grades and ACT/SAT scores saved her $13,000 in her first year of college.
Example 2
In this example, a high-achieving California student from a relatively low-income family has received a financial aid offer from Stanford University. We know that he's applied to a top private school with a high sticker price but a generous financial aid program, he's high-merit, and he has high financial need. All three factors will positively impact the amount of aid he receives. Here's an idea of what his aid offer would look like: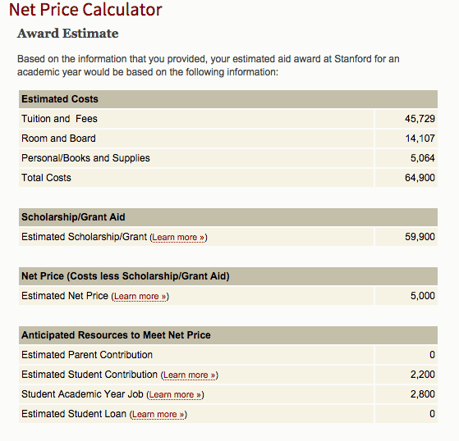 His net price comes to $5,000 a year, even though the total cost of attendance is a staggering $64,900. He has a few options when it comes to paying this annual expense:
His family may pay part or all of his net cost. Given that he comes from a lower-income family, however, they may not be able to afford this.
He could apply for need-based or merit-based scholarships. Even if he got several smaller scholarships, he could cover a significant part (or even all) of this annual cost.
He could get a student job to cover these expenses. If he got paid work during the summer and the school year, it wouldn't be unmanageable to pay 5k per year.
He could take out student loans to cover part or all of his expenses. Given that his family is low-income, he would likely qualify for low-interest federal loans. Even if he took out 5k loans for 4 years of college, his student debt at graduation would be lower than that of the average US graduate.
What's Next?
Excited to start budgeting for college? Of course, you're not - it's like the least fun part. Even though it's not exactly thrilling, it doesn't have to be painful. Your first stop should be our clear guide to what college actually costs.
Your next stop should be prepping for financial aid applications. Read our guides to applying for financial aid and submitting a FAFSA.
Ready for something a little more fun? Check out our guides to the top scholarship programs for high school juniors and seniors.
Want to improve your SAT score by 160 points or your ACT score by 4 points? We've written a guide for each test about the top 5 strategies you must be using to have a shot at improving your score. Download it for free now:
Have friends who also need help with test prep?
Share this article!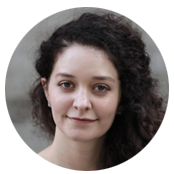 About the Author
Francesca graduated magna cum laude from Harvard and scored in the 99th percentile on the SATs. She's worked with many students on SAT prep and college counseling, and loves helping students capitalize on their strengths.
Get Free Guides
to Boost Your SAT/ACT