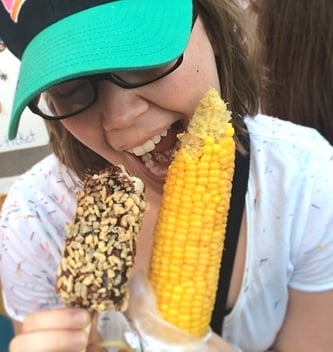 The SAT and ACT may both be college entrance exams, but the way they test students on their college readiness is subtly different. Most students will do better on one test than the other, so why would you want to go through the hassle of taking both exams? And is it even feasible to do so? We'll answer those questions in this article.
Feature image credit: Double fisting at niosa!/used under CC BY 2.0/Cropped and color-adjusted from original.
Why Take Both the SAT and ACT?
First and foremost, it must be emphasized: the default should be to take either the SAT or ACT, not both. Students sometimes think the more the merrier, or that a consistent score across the tests is more impressive than a high score on just one. This is just plain wrong - taking both the SAT and ACT is usually unnecessary, and trying to do so can negatively affect your scores on both exams.
Even though most students will only ever need to take one exam or the other, however, there are a few cases where it makes sense to take both the SAT and ACT.
1. You're Applying to One Program That Favors the ACT and Another That Favors the SAT
Colleges accept the two tests equally at this point, but different score thresholds may still be in play that make it more advantageous to use one test for one school and another test for another.
If you compare percentile ranks of the scores of accepted students at School A, for instance, you may find that the middle 50% of students at School A have 90-99%ile ACT scores, but only 85-95%ile SAT scores. ACT percentiles may be skewed by the (comparatively) large number of students for whom the ACT is a high school graduation requirement (even for students not going on to four-year colleges), but this still means that you can get admitted to School A with a lower score, percentile-wise, on the SAT than on the ACT. Read more about this discrepancy and what it means for you with our article about what Ivy League schools think about the ACT.
It should be noted that often the differences between admitted students' SAT and ACT percentiles at a school are not large enough to warrant taking both tests; any slight advantage you might get from having two scores will likely be cancelled out by your scoring lower on both tests than you would've had you taken only one or the other. As a good guideline, if the percentiles of a schools' middle 50% of ACT vs. SAT scores are less than 10 points apart, it's not worth taking a second test you weren't planning on taking in an attempt to game the system.
2. You're Evenly Balanced in the Two Tests and Have an Excess of Time to Study
This scenario applies if you've taken realistic SAT and ACT practice tests and gotten equivalent percentile scores. There is some score variation from between different test dates, so if you have a good day with one test and a bad day with the other, you could potentially score better on one on test day. This strategy is only useful if you have excess time to study, however; otherwise, the time you spend trying to keep up both your SAT and ACT scores could be better spent nudging your higher score towards perfection.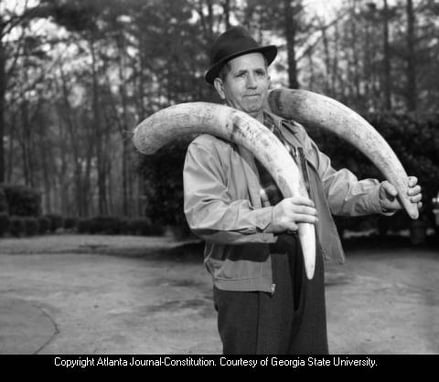 African safari hunter holds up two ivory tusks, 1962/Copyright Atlanta Journal-Constitution/used for educational purposes.
Don't worry about unevenness (in your test scores).
3. Your Score on One Test Has Plateaued and You Have a Lot More Time to Study
Further score increases can be difficult for students who have managed to improve low ACT or SAT scores, but can't seem to move their scores up to the next level. Whether they want to accomplish this for specific college applications or just for their own personal satisfaction, it can be highly frustrated to get stuck with a score that won't seem to budge, no matter what you do.
If you have plenty of time left to study, you might want to consider at least trying out a practice test for the exam you're not planning on taking. For example, if you've been studying for ACT but can't seem to crack a 28 on ACT Science, taking the SAT may be to your advantage because of the differences in format between the two tests.
How to Take Both the SAT and ACT
Your first priority should be the test you're better at, since you want to put in the most effort where you'll get the most reward.
We recommend against studying for the two tests at the same time, but given many students' busy schedules this may be unavoidable. If that is the case, then you need to focus your studying. Spend 60-90% of your time on the test you're better on, or an even higher percentage if you're studying more overall.
You should also allocate at least 20 hours of studying to your secondary test. Keep in mind that this includes taking full-length practice tests, which each eat up 3-4 hours of time, so this isn't as daunting as it might appear.
What's Next?
If the SAT and ACT are both the same as far as college admissions goes, then why take one over the other? Read our analysis on whether or not the ACT is easier than the SAT here.
Want an overview of the ways in which the two tests differ? Then be sure to look over our complete breakdown of the new SAT vs. the ACT.
Curious about the details of the differences between the SAT and ACT? We've got articles that cover the specific differences between SAT and ACT Math, SAT and ACT Reading, and SAT Writing vs. ACT English.
Want to improve your SAT score by 160 points or your ACT score by 4 points? We've written a guide for each test about the top 5 strategies you must be using to have a shot at improving your score. Download it for free now:
Have friends who also need help with test prep?
Share this article!
About the Author
Laura graduated magna cum laude from Wellesley College with a BA in Music and Psychology, and earned a Master's degree in Composition from the Longy School of Music of Bard College. She scored 99 percentile scores on the SAT and GRE and loves advising students on how to excel in high school.
Get Free Guides
to Boost Your SAT/ACT