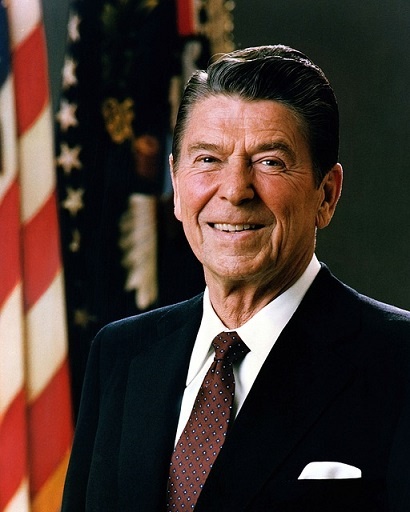 If you hold strong political beliefs, you may want to go to a college where the students, faculty, and administration share your values. You'll be more likely to find student groups that are aligned with your interests and beliefs. Additionally, it's more likely that the values of the college will coincide with your own, which means you'll probably have a more enjoyable college experience.
In this article, I'll give you the names of over 70 of the most conservative colleges in the United States. Furthermore, I'll detail the traits of conservative colleges, explain the possible advantages and disadvantages of attending a conservative college, and advise you on how to find a conservative college that's a good fit for you.
Traits of the Most Conservative Colleges
For the purposes of this article, we're defining "conservative colleges" as those that are politically right-wing. The students who attend these institutions tend to favor conservative positions like outlawing abortion, reducing the size of government, and protecting gun rights. The Princeton Review has ranked the top 25 colleges with the most conservative students, and we'll use these schools as examples when outlining the traits of conservative schools.
Christian colleges are often both politically and socially conservative. Many Christian colleges adhere to more traditional social views and rules that attract conservative Christian students and faculty.
Furthermore, conservative colleges are more strict and regimented than liberal colleges. Conservative religious colleges like Brigham Young University (BYU) and the College of the Ozarks have strict rules that all students must follow. (For instance, at BYU, male students can't have beards or long hair.) These colleges are also much less tolerant of alcohol and drug use than liberal colleges.
Also, the armed service academies are known for being conservative. They have many more rules than the average college regarding personal appearance, behavior, and conduct. These rules can also apply to students participating in ROTC at U.S. Military Colleges, too. The goal is to help students prepare for military life, which is governed by rules and regulations.
Finally, the most conservative colleges often reflect the political leanings of their locations. Many of the most conservative colleges are located in conservative states. Examples of conservative colleges in conservative locations include Clemson University (South Carolina), The University of Utah, and Baylor University.
However, there are conservative colleges in liberal states, such as Wheaton College in Illinois and Thomas Aquinas College in California. Despite their locations, they both lean conservative because they're Christian colleges.
Possible Advantages of Attending a Conservative College
If you're a self-described conservative, you may be more comfortable and happy at a college with many other conservative students. At very liberal colleges, students may be less accepting of conservatives and conservative beliefs. If you attend a conservative college, you're more likely to meet people who share your political and social views, which can help you make stronger connections within your campus community.
Also, at a conservative college, the faculty and administration are more likely to accept or believe in conservative values. Studies have shown that college faculty tend to identify as moderate to liberal, so if you're a conservative student, you may not prefer having your opinions evaluated by a professor who doesn't align with your political beliefs.
Additionally, conservative colleges often align with religious Christian values. While not all Christians identify as conservatives, the truth is that a majority of Christians tend to lean toward the political right. Keep in mind that not all conservative colleges are Christian, however. If attending a Christian school is important to you, make sure you're checking colleges' religious affiliations before you apply.
Lastly, conservative colleges are more likely to stress discipline. For instance, the service academies require students to follow many rules regarding conduct and appearance.
While young people often abhor rules, the discipline of service academy graduates may facilitate their success. The US Naval Academy and West Point both finished in the top 10 in Payscale's rankings of the best colleges and universities by salary potential. Similarly, the College of the Ozarks makes all students work, but it's a tuition-free college.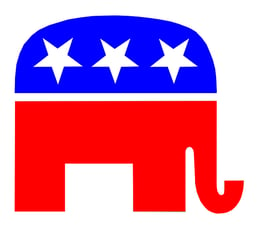 While some people might love their time at a conservative college, for others, it might be an uncomfortable experience. Here are some possible downsides of attending a conservative university.
Possible Disadvantages of Attending a Conservative College
Depending on your beliefs and your ideal college experience, conservative colleges may not be a good fit for you.
On issues of sexuality, conservative colleges are less likely to have resources for and be accepting of LGBTQ+ students. Similarly, the students at conservative colleges are more likely to be opposed to gay marriage. If you are looking for a college where LGBTQ+ students are welcome, we recommend you research for schools on this list instead.
Conservative colleges also tend to have more structure. If you prefer more freedom and independence in your education and social life, then you may feel restricted by the discipline of conservative colleges. For instance, some colleges have harsh rules regarding when you can have visitors in your dorm and whether you're allowed to drink alcohol. If those types of regulations rub you the wrong way, then a conservative university might not be right for you.
Finally, if you want a college where a wide range of students attend and where you can have your beliefs more regularly challenged, conservative colleges may be too homogeneous for your tastes. Conservative colleges tend to attract like-minded students who share political and religious beliefs. If you want a more liberal environment or a wide representation of beliefs and ideas, then you should consider attending a more moderate or liberal institution.
List of the Most Conservative Colleges
We used the list of most conservative colleges that Niche came up with. Niche is a website that provides reviews, rankings, and statistics about neighborhoods and schools. It provides many different college ranking lists from the overall best colleges to the top party schools. If there's a specific college criteria you're interested in, Niche probably has a list that covers it.
The Niche rankings of the most conservative colleges are based on a political poll of 50,000 students from 747 colleges. A full 80% of the rankings is based on student survey responses regarding the students' personal political leanings. The remaining 20% is based on student survey responses regarding the political leanings of other students at the college.
Below are the top 70 most conservative colleges according to Niche, with #1 being the most conservative. For each school we've also included its location and its acceptance rate. There is a high percentage of private Christian colleges on the list. Most of the public colleges, such as the University of Mississippi, are located in conservative states.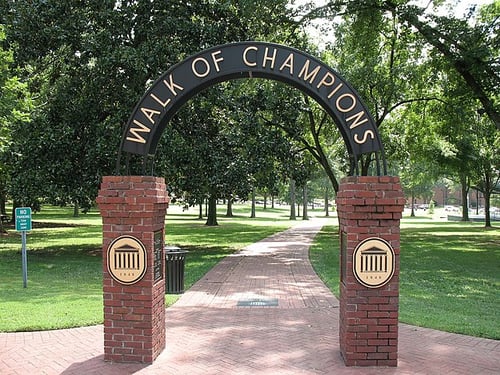 Walk of Champions at the University of Mississippi
(Allstarecho / Wikimedia)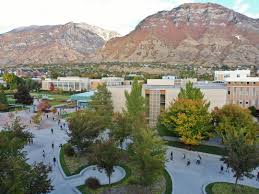 Brigham Young University
Student Reviews
Niche also offers over 500,000 student reviews of colleges. Here are some comments written by students of some of the most conservative colleges in the United States. I tried to include positive and negative aspects of each school related to its very conservative environment.
University of Mississippi
I love the University of Mississippi. When I first came to this school, I was alone and I didn't know anyone here. This caused me to spend my first semester in my room after every class and I instantly wanted to transfer to a school closer to home. My second semester was totally different, [and] I started to get more involved in different organizations and I made friends. The students here are very friendly and they love to include you in everything that they do. (Source)
Let me start off by saying I'm from the Chicago metro area, and I would strongly advise prospective students from areas similar to these to not go to Ole Miss... [T]here is no diversity, and I'm saying this as a Caucasian from a middle class family. And when I say "diversity" I don't mean just black and white. I mean there are no Americans with ethnic backgrounds. I found this stifling. (Source)
Brigham Young University
I love attending Brigham Young University because it provides a learning environment that is compatible with my religious beliefs. The surrounding mountains are spectacular, and there are plenty of museums, theaters and libraries nearby. (Source)
I hate the lack of diversity. I feel like although my classes are amazing, I'm not learning real life lessons because I'm in a Mormon bubble. However, there are a lot of cool opportunities. I love my professors and it's easy to get involved. (Source)
US Military Academy
Excellent options. You'll be making a lot of money. And people will want to hire you after the army. (Source)
Drug tests are monthly, no civilians are allowed in cadet area, you cannot leave post hardly ever unless you are a senior, and you better drive the speed limit on post or you'll get pulled over. (Source)
Grove City College
My school has high academic, extracurricular and moral expectations. While others may dislike the high pressure to excel in multiple areas, Grove pushes us to do our best - to strive to reach our potential. In addition, Grove has a close-knit community. The school promotes and provides many opportunities for forming close connections with others. The campus is beautiful and the professors are superior. Grove City is a great college. (Source)
Inter-visitation hours (where boys can go into girls dorms and vice versa) include Wednesdays from 7-10 PM, Fridays from 7PM-12 AM, Saturdays from 1PM-12AM, and Sundays from 1-10PM. While a boy/girl is your room, the door must be open 4 inches and a light other than the TV has to be on. You may think that those are just rules and people probably don't follow them. You would be wrong. Everyone follows them.... Time limits are strict too; you gotta have them out right on time or the RA will kick them out. (Source)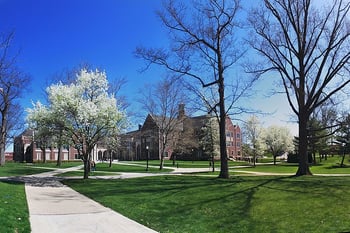 Grove City College
(Mark Schelhase / Wikimedia)
How Should You Use This List of the Most Conservative Colleges?
If you want to go to a very conservative college, you should research the colleges that interest you on the above list to determine if they're good schools for you.
There are many factors to consider to determine if a college is a good fit for you, including location, selectivity, support services, and the academic majors offered. Look at the school's website, and use guidebooks, college finders, search websites, and other ranking lists to help you in the college selection process. If possible, consult with teachers, counselors, parents, current students, and alumni before you make your final decision.
What If You Want to Go to a Conservative College, but a School You're Considering Isn't on the List?
Just because a school didn't make the list doesn't necessarily mean that it's not conservative. Look at the school's website to see if there are student groups that are aligned with your political and social views. There may be student groups for Republicans, conservative politicians, or members of the NRA. Sometimes there will be an organization contact email address listed on the website. If so, you can contact a representative of the organization and ask about the atmosphere on campus.
Also, you can consult other sources that evaluate or grade how conservative a college is. On the Niche profile for each college, under "diversity" for each school's guide, there is a category called "political activity" that describes the political activity on campus. For example, this is how Duke's political activity is described:


Duke, like most universities, has a strong liberal streak, but conservatives have made their voices heard, as well. There are a variety of political organizations on campus that are populated by a significant percentage of the student body. Students advocate for a wide range of political causes, and the University regularly schedules guest political speakers, which are usually very well attended. For example, in 2010, more than 1,000 tickets to see Al Gore lecture sold out in a matter of minutes. (Source)

Also, on the College Stats college finder, you can select that you're "only interested in schools with a very conservative climate" and search for colleges that fit that criteria. You'll also see that there are 20 other search categories to help you narrow your college search.
Finally, remember that the political leaning of a college is often reflective of the area where the college is located. For example, colleges in the Northeast tend to be more liberal, and colleges in the South tend to be more conservative.
You can determine if a specific city or town is liberal by looking up the candidates it supported in the last election and its views on various political and social issues. Keep in mind that there are conservative cities in liberal states and vice versa. Also, Christian colleges and service academies are typically more conservative regardless of their locations.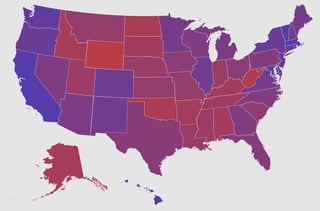 Based on the 2020 presidential election, the reddest states are the most conservative.
(Adam Grant/Twitter)
What's Next?
Because Christian colleges tend to be conservative, you may be interested in checking out my post on the best Christian schools. If you're applying to college soon, learn everything you need to know about the college essay.
Finally, if you need to raise your SAT score to get into the college of your dreams, check out our 15 SAT tips to improve your SAT score. If you're taking the ACT, here are our tips to improve your ACT score.
Want to improve your SAT score by 160 points or your ACT score by 4 points? We've written a guide for each test about the top 5 strategies you must be using to have a shot at improving your score. Download it for free now:
Have friends who also need help with test prep?
Share this article!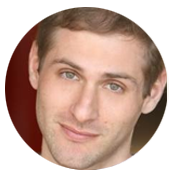 About the Author
Justin has extensive experience teaching SAT prep and guiding high school students through the college admissions and selection process. He is firmly committed to improving equity in education and helping students to reach their educational goals. Justin received an athletic scholarship for gymnastics at Stanford University and graduated with a BA in American Studies.
Get Free Guides
to Boost Your SAT/ACT