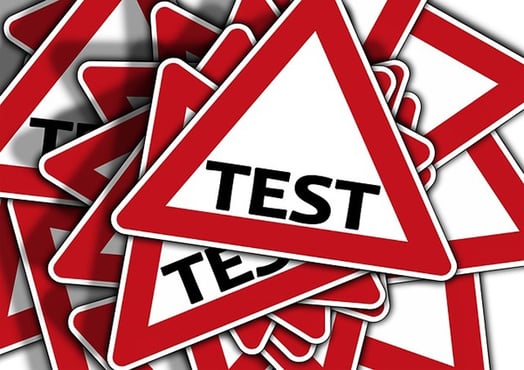 Not sure whether it's a good idea to register for the next SAT or ACT test date? You should consider how many times you've taken the test before, how busy your schedule is right now, and how much you've prepared for the test before making a decision. We'll explain why.
Here are a few questions you need to ask yourself before signing up for the next date.
Have You Taken the SAT or ACT Before?
Whether it's your first or fourth time taking the test, you should think critically about when you sign up so that you're making the most of your time and registration fees. It's important to maximize the utility of every test session and give yourself enough chances to improve before you send in college applications.
First Time Test Takers
We recommend taking the SAT or ACT for the first time during your junior fall. If it's your junior year and the next test date is the September ACT or October SAT (the first fall testing dates), it's a good idea to sign up for that date.
As a general rule, if you're a rising junior or older and haven't taken either test yet, you should aim for the next test date.
If you're still a sophomore, it's fine to wait until the beginning of your junior year to start taking the tests. You'll have more than enough chances to improve on your scores later on if you start there. But make sure you prep before your first test date!
Often, ordering the Question-and-Answer Service for the SAT is a good idea if it's your first time taking the test. The Question-and-Answer Service provides you with a copy of your test booklet as well as a breakdown of the types of questions, their difficulty levels, and your answers versus the correct answers. The ACT also offers a similar service called the Test Information Release. These materials can be very useful for studying if you are planning on taking the SAT or ACT again.
I mention this because the Question-and-Answer Service is only available with October, January, and May SAT testing dates; and the Test Information Release is only available with December, April, and June ACT testing dates. This is another factor you might consider in deciding whether the next test date is best for you.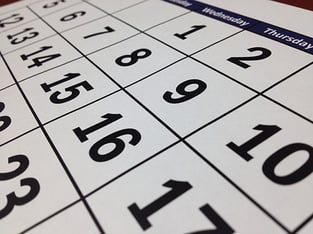 As this point of view shot demonstrates, you can also pick your first test date by slamming your face into a calendar at random and seeing which test date is closest to your eye.
Repeat Test Takers
If you've already taken one or both of the tests, it's sometimes difficult to decide when to sign up for them again. The next date won't necessarily be the best one. It's important to consider how many times you have already taken the test and how much time you have left before application deadlines for colleges and scholarships.
Junior Year
It can be a good idea to take the SAT or ACT again after winter break your junior year if you just took a test in the fall. However, if you feel you haven't made significant studying gains between the fall test and winter test, it might be better to wait until spring.
Shoot for both if you feel confident your abilities have improved each time, but don't waste money and time on a redundant test session.
Senior Year
This is when college application and scholarship deadlines really come into play. If you're still planning to take the SAT or ACT again after your junior year, it's safest to take the test as early as possible in senior fall. This leaves you more time to work on college applications later. It also means you'll be able to submit your scores with Early Decision applications, which usually accept November test scores (at the latest - check with your schools!).
As we'll see in the next section, the only reason the next test date might not be best during your senior year is if you're especially busy and stressed at that time. Otherwise, go for it!
Do You Have a Lot of Other Commitments Right Now?
If the thought of taking the test at this point overwhelms you, you should consider waiting until you feel less stressed.

Junior year can be very academically demanding, and it's not easy to fit in standardized testing alongside those expectations. Junior year is also not as critical of a time to take the test because you aren't worried about application deadlines yet, so you shouldn't put too much pressure on yourself.

Not everyone can or should take three standardized tests during their junior year. Decide what's comfortable and practical for you.


That being said, if you can't manage the next test date, try to go for the one after that. You'll thank yourself later if you end up not having to take the test again as a senior.

Senior year is usually pretty stressful in terms of navigating college applications and last chances on standardized tests. This is why it's better to take standardized tests as early as possible in senior fall - this is when there is going to be the least pressure from your other responsibilities related to college.

Be aware of your deadlines and avoid test dates that might coincide with other high pressure scenarios. The last thing you want is to be distracted by anxious thoughts about other things while you're trying to take a test.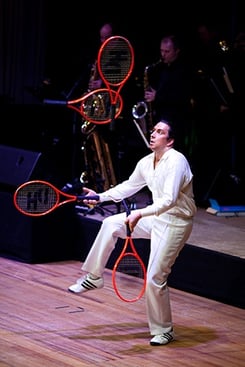 Is this you? Don't take the test again until you have all your tennis racquets under control.


Are You Prepared?
This might seem obvious, but it's often tempting to sign up for the next test date just to get it out of the way (especially if you're an anxious person like me!). Make sure every test you take is worthwhile and that you have a good shot at improving your scores each time.

The only time you shouldn't worry too much about preparation as a factor is if you're taking the test for the first time or hoping for a very slight improvement on your previous scores (0-50 SAT points, 0-1 ACT points). If you're applying to school that superscores the SAT or ACT (meaning they take your best score ever for each section and compile them into one glorious SUPERSCORE), you might also take the test again without much preparation because you just need to improve one of your section scores a little bit.

But if you still have a ways to go before your scores are up to muster, you should make sure you are studying before each test date. You want to be in a position where you are improving consistently every time you take the SAT or ACT. Otherwise you're stressing yourself out, spending too much money on registration, and sacrificing your Saturdays to the Testing Gods.

If you haven't studied between the last time you took the test and the next upcoming date, you should either reconsider registering or make a quick study plan that you'll execute in the few weeks you have left before the test. Even just a few hours of focused studying can make a difference!


What's Next?
Still not sure whether you should take the test again? Use this three step process to find out. Also check out these articles detailing how many times you should take the SAT and the ACT.
If you need more resources to help you choose a date, here are a couple more in-depth guides for senior year and just choosing test dates in general.
For more advice on how to structure your studying, take a look at our complete study plans for the SAT and ACT.
Want to improve your SAT score by 160 points or your ACT score by 4 points? We've written a guide for each test about the top 5 strategies you must be using to have a shot at improving your score. Download it for free now:
Have friends who also need help with test prep?
Share this article!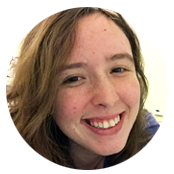 About the Author
Samantha is a blog content writer for PrepScholar. Her goal is to help students adopt a less stressful view of standardized testing and other academic challenges through her articles. Samantha is also passionate about art and graduated with honors from Dartmouth College as a Studio Art major in 2014. In high school, she earned a 2400 on the SAT, 5's on all seven of her AP tests, and was named a National Merit Scholar.
Get Free Guides
to Boost Your SAT/ACT