After considering the quality of academics at a college, you should also look at the pros and cons of living in the area where the school is located. You don't want to be stuck somewhere that's unfriendly to college students or has zero entertainment options. Being able to eat off-campus is also important for when you get sick of the dining halls! I'll give you a list of the best college towns in the country so that you can learn more about some of the great places that you might have the opportunity to call home for the next four years or more.
What Is a College Town?
For the purposes of this article, a college town is a small to medium-sized town or city (I have cities with up to almost a million residents on this list) where one or more colleges are located, and the college student population is high enough to make an impact on the culture as a whole. This means that the population is fairly young on average, and there are many entertainment and dining choices that cater to the college crowd. In other words, the university(s) are a big part of the economy and energy of the town; it's hard to mention these towns without also mentioning their corresponding colleges!
The Best College Towns
This list is based on a combination of the quality of life in the town and the overall quality of the university or universities in the surrounding area. Looking across a bunch of different ranking lists, these were the towns that came up most frequently as the best for college students. All of the towns in this article were mentioned two or more times on ranking lists and are associated with high-caliber, competitive universities.
I put the especially great combinations of universities and towns in the top ten section. These towns were mentioned three or more times by ranking lists. In the following section, I've listed thirteen more towns that were mentioned at least twice by town ranking lists. The towns are listed alphabetically within each section. I didn't rank them more specifically because they're all so different; whether you like one over the other mainly depends on personal preference!
Top 10 College Towns
Ann Arbor, MI; University of Michigan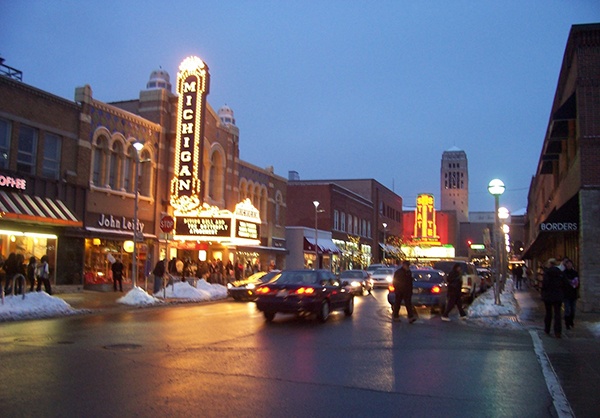 Traveler100/Wikimedia Commons
Total Population: 113,934
Student Population: 43,625
What's So Great About It?
University sporting events are a huge part of the entertainment culture because the student to resident ratio is so high.

A major attraction is the Michigan Theater, a glamorous, old-fashioned movie house that shows unique films.

Main Street has an exciting and eclectic mix of locally owned boutiques and restaurants.

The city is well-planned to offer a high degree of walkability and bikeability.

A few prominent employers are located in Ann Arbor, including Google's AdWords headquarters.
Berkeley, CA; University of California – Berkeley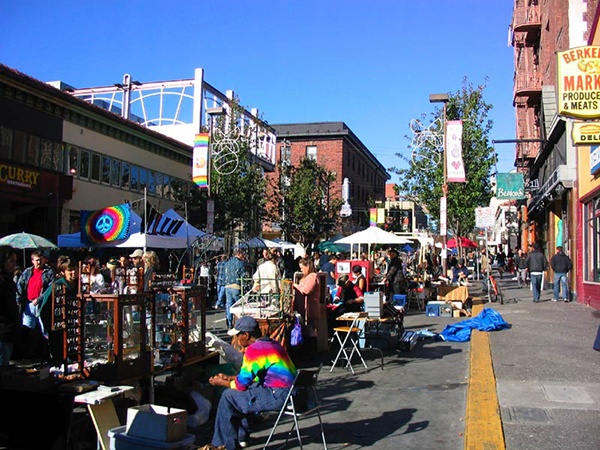 Wikimedia Commons
Total Population: 110,000
Student Population: 37,581
What's So Great About It?
Life in Berkeley is centered around the university, so it's a quintessential college town.

The population of Berkeley is young, diverse, and highly invested in education.

The downtown has a huge selection of great restaurants, breweries, concert venues, theaters, and coffee shops.

You'll also have access to prime hiking spots and beautiful parks, which you can take advantage of year round because of the perfect weather.

Silicon Valley is nearby, so if you're looking for a job in the tech sector after college, you won't have much trouble networking.
Boulder, CO; University of Colorado – Boulder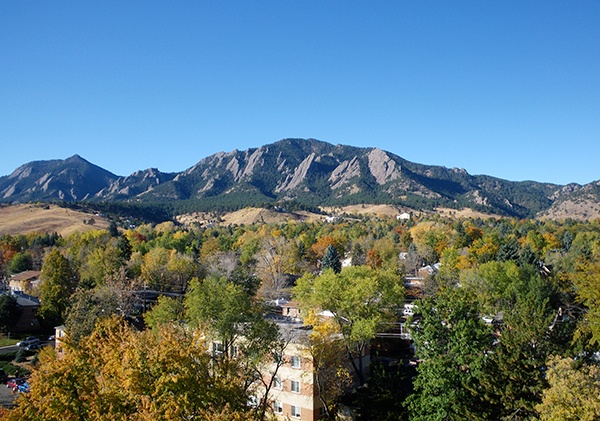 Eddyl/Wikimedia Commons
Total Population: 97,385
Student Population: 32,080
What's So Great About It?
Boulder has beautiful scenery and tons of opportunities for outdoor activities (hiking and skiing in the Rocky Mountains, anyone?) combined with a prominent art scene and spectacular shopping and dining options.

It's surrounded by a greenbelt, which is a swath of preserved natural land just outside the city limits.

It's an open-minded, creative community of highly educated people and highly high hippies (not that the two are mutually exclusive).

There are strong bonds between students and the community - many volunteer programs exist that students to help people in the surrounding area

It has great weather! Boulder is sunny almost all year.

Public transportation is high-quality, and the city is very walkable overall.

There are many post-grad job opportunities.
Cambridge, MA; Harvard University and MIT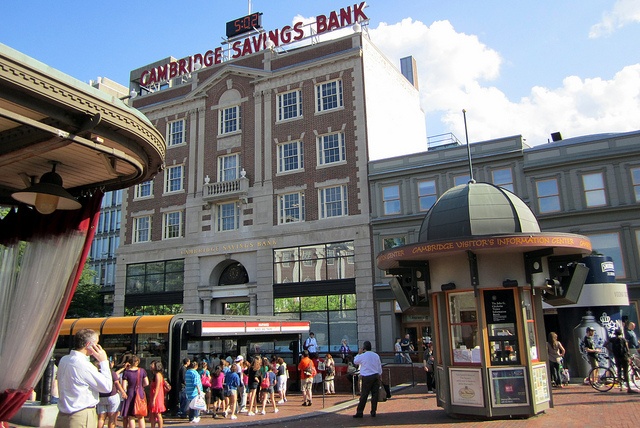 Wally Gobetz/Flickr
Total Population: 105,162
Student Population: 35,833
What's So Great About It?
Cambridge is an extremely friendly area for college students because its residents and economy are closely tied to higher education (no surprise considering two of the most prestigious schools in the country are located here!).

It's a great place to find a job after college or get experience in a research lab.

The more tech-oriented side of Cambridge is balanced out by a healthy dose of bohemian vibes, so you get the best of both worlds.

It's a very walkable area with lots of quirky, unique shops and restaurants that will appeal to college students.

Boston is easily accessible via subway, so you'll have the opportunity to see famous landmarks, meet other college students in the area, and attend fun events.
Chapel Hill, NC; University of North Carolina – Chapel Hill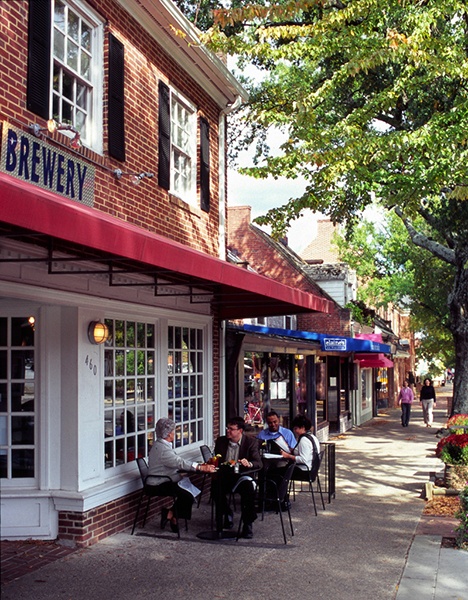 townofchapelhill/Flickr
Total Population: 58,424
Student Population: 29,135
What's So Great About It?
There is so much to do here: food festivals, performances, bars, shopping, art shows, and hugely popular sporting events.

Chapel Hill is sometimes described as one big food festival because of the quality of its culinary scene.

Cute cafes and public art are fixtures of the town.

There are over 700 acres of parkland for outdoor fun.

It's a good place for sports fans because of the reigning enthusiasm for the North Carolina Tar Heels basketball team.
College Station, TX; Texas A&M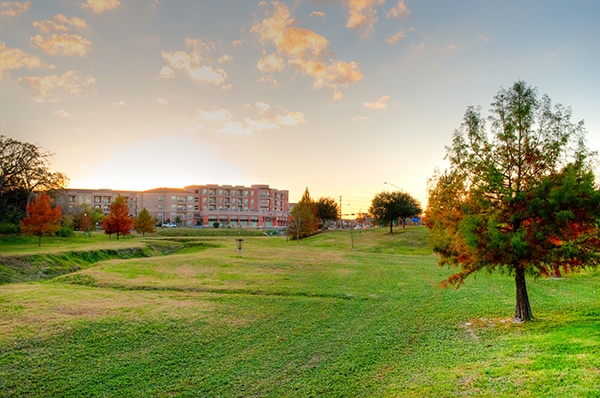 Pmelton87/Wikimedia Commons
Total Population: 97,801
Student Population: 61,263
What's So Great About It?
You'll get access to Historic Downtown Bryan, where you can have a unique shopping experience with many local craft and artisan shops.

There's a vibrant night life with many dance clubs, bars, and live music events.

There are a wide variety of dining options (the barbecue here is a particular point of pride).

College Station is home to nine museums including the George Bush Presidential Library and Museum, the Brazos Valley African American Museum, and the Brazos Valley Museum of Natural History.

Students dominate the social and cultural scene; College Station is affectionately called "Aggieland" because of the overwhelming number of Texas A&M students (Aggies) that live there.

College Station is ranked as the most educated city in Texas.

You'll find lots of research opportunities and a strong economy.
Columbia, MO; University of Missouri and Columbia College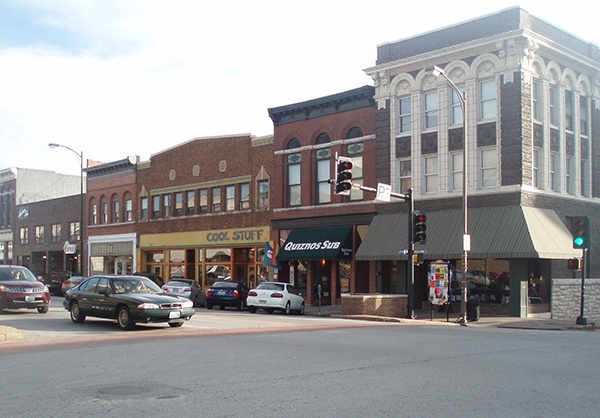 lronski21/Wikimedia Commons
Total Population: 115,276
Student Population: 50,131
What's So Great About It?
Columbia combines affordable costs of living with a high population of college grads and a strong economy.

It has an overall cool, youthful vibe with great music and art scenes.

Arcades, art galleries, popular restaurants and pubs, street fairs, museums, and many more attractions add to Columbia's fun ambiance.

There are plenty of nearby hiking trails, campsites, and lakes for outdoor activities.

The city also has tons of recreational centers and is highly walkable.
Madison, WI; University of Wisconsin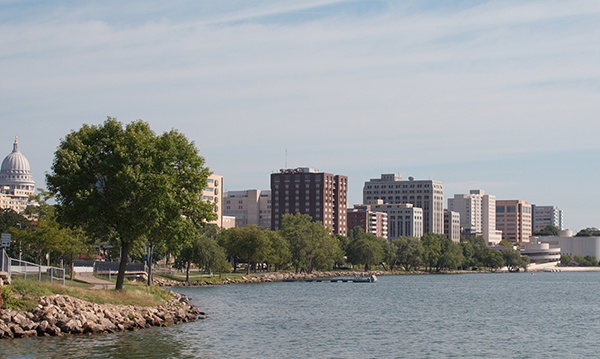 Dori/Wikimedia Commons
Total Population: 240,013
Student Population: 66,533
What's So Great About It?
Madison is located on an isthmus between two lakes, so there are great opportunities for boating and swimming and awesome scenery.

Downtown has an eclectic mix of local businesses along with an exciting nightlife that includes a famous Halloween celebration.

There's even a bar where you get to drink for free on your birthday, so you can celebrate your 21st for cheap.

Farmers markets and restaurants are plentiful.

The economy is doing well, and it's a great place to start your career.
San Luis Obispo, CA; California Polytechnic University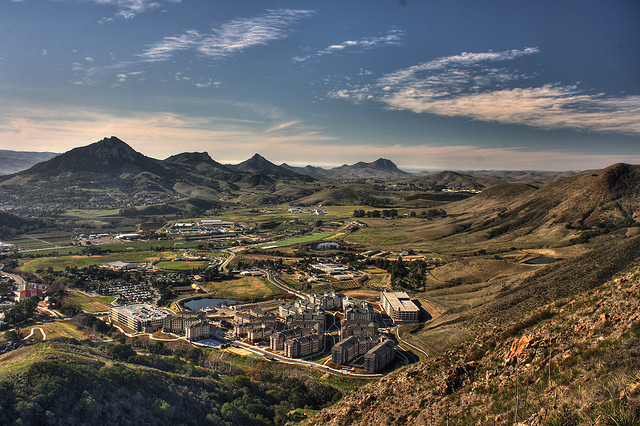 Rob Bulmahn/Flickr
Total Population: 45,119
Student Population: 20,186
What's So Great About It?
You'll see tons of cool historical sites and beautiful mountain views.

There are beaches close by and great weather year round!

Activities like hiking, kayaking, and surfing are easily accessible.

You'll get to experience free outdoor concerts in the summer and an international film festival in March.

It purportedly has some of the best coffee in the country (critical for college).

There's a maze of old tunnels underneath the city - awesome

and

creepy.
State College, PA; Penn State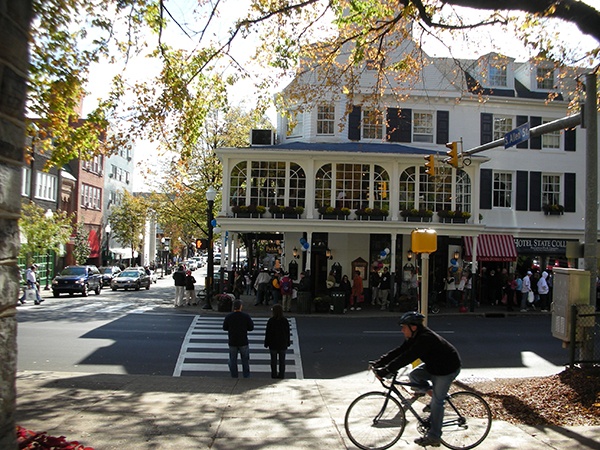 Total Population: 41,983
Student Population: 47,040 (this is larger than the total population because it's the student enrollment for the Penn State campus, technically located next to State College in University Park)
What's So Great About It?
State College is one of the safest and smartest towns in the country.

There's an awesome live music scene; a pub called Phyrst has live music every night along with a host of other fun gimmicks, and there's a long list of other places in State College where you can catch some live tunes or perform yourself at open mic nights!

You can easily get out of the downtown center and experience nature in the countryside.

The town's culture is centered around Penn State.
13 More College Towns to Check Out
Ames, IA; Iowa State University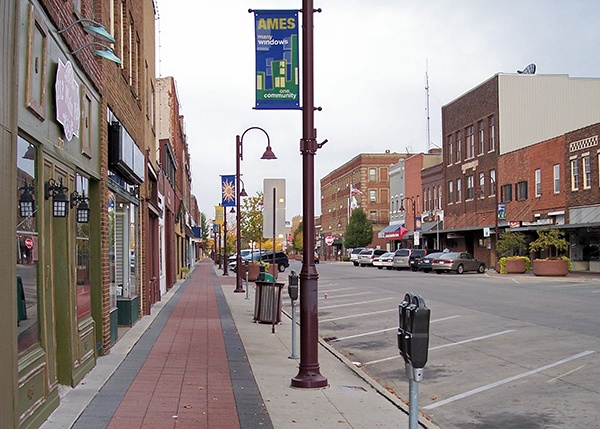 Tim Kiser/Wikimedia Commons
Total Population: 58,965
Student Population: 34,435
What's So Great About It?
A very young population gives the town a fun atmosphere and a thriving nightlife.

There are great employment opportunities with national companies that exist alongside a pleasant small-town vibe.

Ames has a thriving arts culture with lots of museums and libraries.
Amherst, MA; Amherst College and UMass Amherst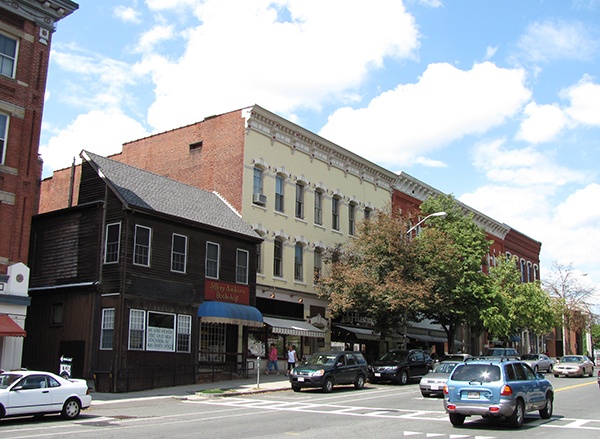 John Phelan/Wikimedia Commons
Total Population: 37,819
Student Population: 31,827
What's So Great About It?
Amherst is home to many prominent artists and writers, so it's a very diverse, creative, and intellectual environment.

It's a super liberal place, which appeals to many college students.

Fifty percent of the population is employed in the education sector.

The quality of the surrounding colleges (which include Smith College, Hampshire College, and Mount Holyoke College, as well as those mentioned above) arguably makes it one of the smartest towns in the country.
Athens, GA; University of Georgia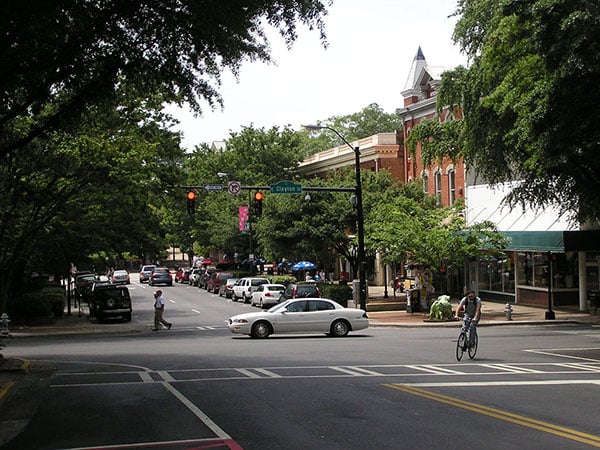 Total Population: 119,980
Student Population: 35,197
What's So Great About It?
Athens has low costs of living and a vibrant, intellectual culture.

It boasts one of the best music scenes in the country (Neutral Milk Hotel and R.E.M. came out of Athens!) and great overall artistic and cultural life (of which the summer Arts Festival is a highlight).

Athens is dotted with an assortment of restaurants, bars, and coffee shops that will appeal to college students.
Austin, TX; University of Texas - Austin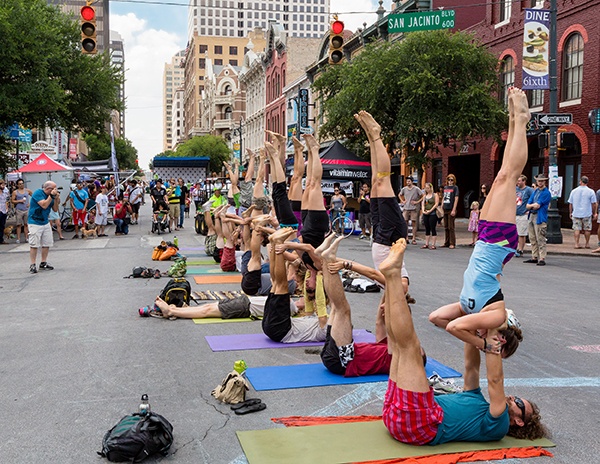 Earl McGehee/Flickr
Total Population: 885,400
Student Population: 56,643
What's So Great About It?
Sixth Street is a famous spot for great bars and nightlife.

The city is super bikeable.

Austin has nice weather all year and access to many outdoor recreational activities.

It's easy to find part-time work because there are so many small businesses.

Likewise, there are tons of opportunities to get professional experience.

Austin has a very open-minded culture - "Keep Austin Weird" is its motto!

The food is great (especially the barbecue, since it's Texas).

It's right in the middle of Texas, so you can get to a lot of other cities pretty easily.
Bozeman, MT; Montana State University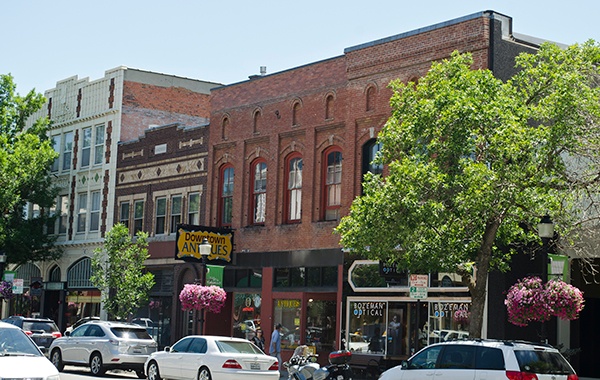 Tim Evanson/Flickr
Total Population: 39,860
Student Population: 15,294
What's So Great About It?
You'll have unparalleled access to great outdoor recreational activities including spelunking and rock climbing.

Yellowstone National Park is easily accessible along with a few ski areas.

Even though it's kind of small, Bozeman has a respectable assortment of coffee shops, restaurants, art galleries, and performance events connected to the University.

It also hosts a bunch of tech startups, so it's an overall youthful, fun atmosphere.
Champaign, IL; University of Illinois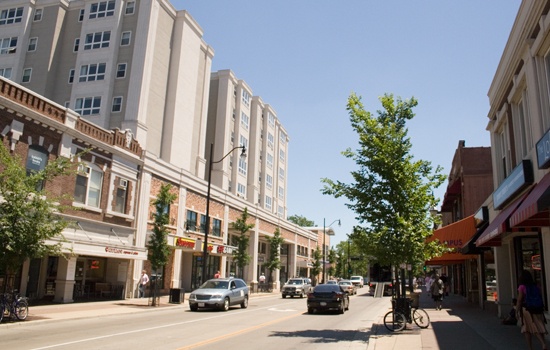 Herschman321/Wikimedia Commons
Total Population: 231,891
Student Population: 43,603
What's So Great About It?
Bozeman has a mixture of an urban and suburban atmosphere that provides many of the benefits of a big city with fewer of the drawbacks.

Museums (Krannert Art Museum), concerts, and other events abound in the city.

The Downtown Festival of the Arts is a highlight along with classic theaters like The Art Theater and The Virginia Theatre (made famous by the renowned critic Roger Ebert, who was a resident of the area) that show unique films.

Cultural life revolves around the University; Memorial Stadium is a big draw for football fans.

You can also get outside and visit some of the area's numerous parks, orchards, and vineyards.
Charlottesville, VA; University of Virginia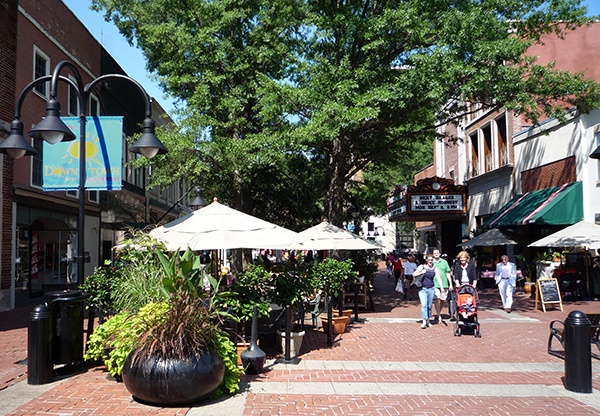 Bobak Ha'Eri/Wikimedia Commons
Total Population: 43,475
Student Population: 21,238
What's So Great About It?
Charlottesville has pretty natural surroundings including vineyards and rolling hills.

There are historical landmarks close by (Monticello is right outside the city).

It has tons of art galleries and performance events.

The Heritage Theater Festival happens every year.

UVA is one of the best public universities in the country.
Corvallis, OR; Oregon State University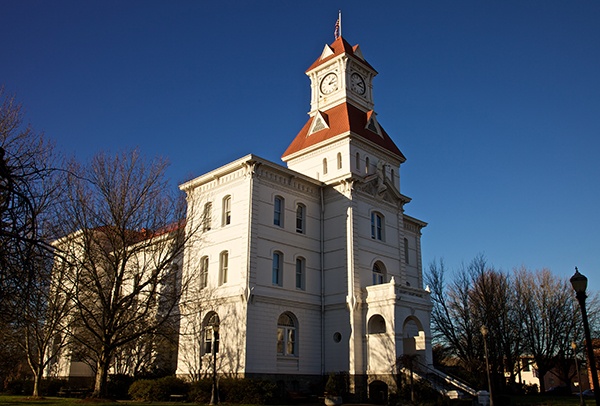 Gregkeene/Wikimedia Commons
Total Population: 55,055
Student Population: 28,886
What's So Great About It?
It has a beautiful setting with great views of the Cascade Mountain Range.

There is an extremely high quality of living overall, with environmental consciousness and an outdoorsy, active feel.

There are lots of parks throughout the area.

You'll have access to a ton of research opportunities - Oregon State gets the most funding by far of any higher education institution in Oregon.
Gainesville, FL; University of Florida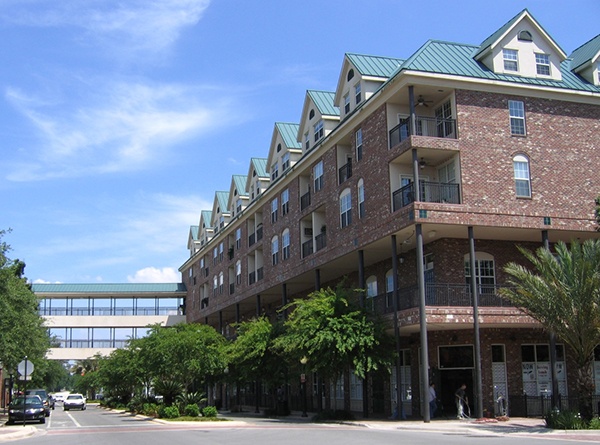 Douglas Green/Wikimedia Commons
Total Population: 126,047
Student Population: 51,725
What's So Great About It?
There are many opportunities for outdoor activities, especially water sports like kayaking, snorkeling, and fishing.

The nearby parks are also great for hiking.

The Downtown features the Hippodrome State Theater, many restaurants and local shops, and an array of craft breweries.

It has a prominent art scene and is home to some awesome museums including the Florida Museum of Natural History and Harn Museum of Art.
Iowa City, IA; University of Iowa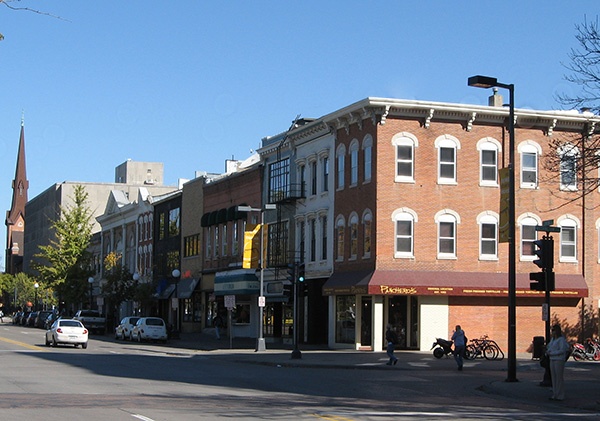 Billwhittaker/Wikimedia Commons
Total Population: 70,133
Student Population: 31,387
What's So Great About It?
There is a strong literary scene associated with authors including Kurt Vonnegut and Robert Frost which is bolstered by the Iowa City book festival and the best creative writing MFA program in the country (the Iowa Writers Workshop — sadly, I only know about this from watching the show Girls).

It has a great nightlife with lots of dining options.

University of Iowa itself is ranked among the top party schools in the nation, but the community is also very focused on giving back in the form of fundraisers for local hospitals.
Lincoln, NE; University of Nebraska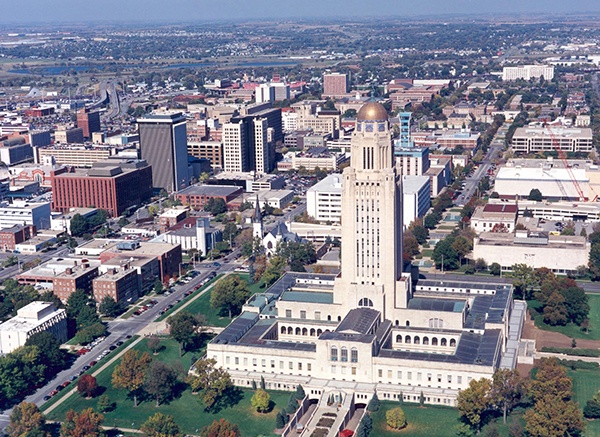 Total Population: 295,404
Student Population: 24,202
What's So Great About It?
There's a low cost of living.

It has a great restaurant scene.

Lincoln is very walkable and bikeable (lots of sidewalks and paths and few hills) - no car necessary!

There's a large assortment of pubs, clubs, and entertainment venues close to UN's campus.

It's home to expansive parks that accommodate a variety of outdoor activities.

Lincoln is currently experiencing exciting economic growth as more and more businesses are drawn to it for its central location.
Minneapolis, MN; University of Minnesota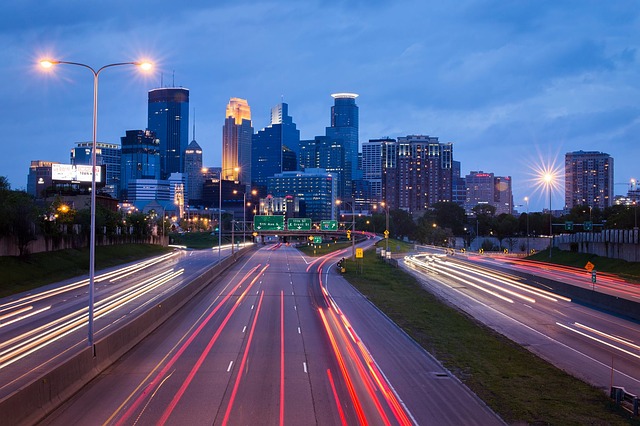 Total Population: 400,070
Student Population: 70,143
What's So Great About It?
Almost 20 percent of the city is made up of parks.

It has the most theaters per capita of any city besides New York.

There are lots of great bike paths.

It's a big-ish city with a smaller city feel.
Tempe, AZ; Arizona State University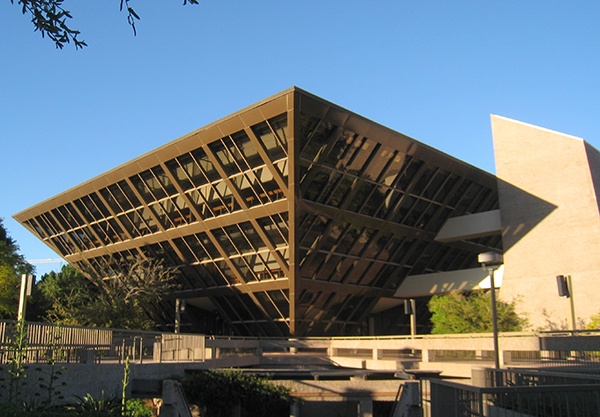 Total Population: 168,228
Student Population: 50,358
What's So Great About It?
It has great shopping, recreational facilities, and overall economy.

Bars feature local craft brews and lots of live music.

The Tempe Center for the Arts includes many art galleries and theaters.

There are a few water parks to keep you cool.

It's a great place for biking and hiking.

Cold Stone Creamery started here! What more can I say?
Which Town Is Right for You?
Now that you know about all these cool places, how can you decide where to go? There are so many great options! First off, think about where in the country you want to be for college. If you're hoping to stay relatively close to home, you should focus on college towns that are in your region of the country. You should also consider the sizes of the towns. Some of these "towns" are actually decent-sized cities. Living in Minneapolis is going to be a lot different from living in Amherst. You can read more about the differences between rural, urban, and suburban college environments and which might suit you best in this article.
You'll notice that many of these college towns are centered around large, public universities, which might not be representative of the types of colleges that interest you. Your primary concern should be whether you're interested in the educational opportunities a college offers, not how many entertainment options and food festivals there are in the area. If you'd prefer to attend a small school for a more personalized educational experience, you should prioritize that over how exciting the town is. Students always find ways to have fun, even at colleges that are virtually in the middle of nowhere!
What's Next?
Curious about one of the best college towns? Consider taking a college tour to experience the campus in person.
Can you still get a great education at a school with a reputation for a crazy party scene? Read about the best colleges where students work hard and play hard.
If you don't know where to start in the college search process, read my step-by-step guide for how to do productive college research!
Want to improve your SAT score by 160 points or your ACT score by 4 points? We've written a guide for each test about the top 5 strategies you must be using to have a shot at improving your score. Download it for free now:
Have friends who also need help with test prep?
Share this article!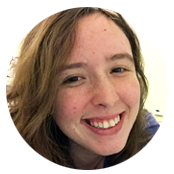 About the Author
Samantha is a blog content writer for PrepScholar. Her goal is to help students adopt a less stressful view of standardized testing and other academic challenges through her articles. Samantha is also passionate about art and graduated with honors from Dartmouth College as a Studio Art major in 2014. In high school, she earned a 2400 on the SAT, 5's on all seven of her AP tests, and was named a National Merit Scholar.
Get Free Guides
to Boost Your SAT/ACT