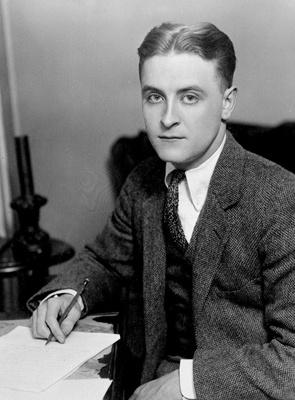 Curious about the man who created The Great Gatsby? Did you know that some of the events of this novel are actually based on things that happened to F. Scott Fitzgerald himself? This article will give you a broad overview of Fitzgerald's life, with a focus on the autobiographical details that he later worked into The Great Gatsby.
Use this background on The Great Gatsby author to further deepen your understanding of the novel, to connect it with the historical period that it's describing, and to better analyze the motivations of the characters.
Fitzgerald's Early Life: Echoes of The Great Gatsby
Fitzgerald was born in St. Paul, Minnesota, in 1896. When he was 15, Fitzgerald was sent to the Newman School, a prestigious boarding school in New Jersey. He stayed on the East Coast to attend Princeton University, an Ivy League school.
Fitzgerald was popular at Princeton. He did lots of creative writing for various student publications, including articles for the Princeton Tiger humor magazine and scripts for Triangle Club musicals. However, Fitzgerald's extracurricular commitments caused him to neglect his studies, and even be placed on academic probation.
Traveling home to St. Paul from Princeton in 1915, Fitzgerald met socialite Ginevra King. Beautiful, wealthy, and effortlessly charming, Ginevra was arguably the primary inspiration for Daisy Buchanan. Indeed, a recently unveiled collection of letters reveals how much Ginevra cared for Scott, but also knew that she couldn't marry a middle-class boy. In 1917, Fitzgerald dropped out of Princeton completely to join the army and fight in World War I (although he never actually saw action). A year later, Ginevra King wrote him a letter to tell him that she was engaged to marry another man.
Fitzgerald was stationed in Camp Sheridan near Montgomery, Alabama. That's where he met and fell in love with Zelda Sayre, the daughter of an Alabama Supreme Court judge. Zelda was another popular socialite, a free spirit who loved dancing, swimming, and partying. She also cared for Fitzgerald, but, like Ginevra, was wary of marrying a middle-class man without much money.
The war ended in 1918 before Fitzgerald was ever deployed to Europe. He moved to NYC hoping to have a successful career in advertising and make enough money to convince Zelda to marry him. A few months later, he went back to St. Paul to work on a novel. He also took a job repairing car roofs to help pay the bills.
Fitzgerald's first novel, This Side of Paradise, published in 1920, was a semi-autobiographical account of his Princeton years, featuring the main character Amory Blaine, who is rejected by two wealthy girls. The novel was an overnight success, making 24-year-old Fitzgerald one of the country's most promising young writers.
With his novel published and income assured, Scott married Zelda in NYC. They had a daughter named Frances soon after, in 1921, who would be their only child. Zelda remarked upon her birth "I hope she's a fool, a beautiful little fool."
Scott loved his new celebrity status and started living a really expensive lifestyle, which included lots of partying and traveling. In October 1922, the Fitzgeralds moved to Great Neck, a town on Long Island which served as the inspiration for West Egg in The Great Gatsby. Their neighbors were also wealthy, famous, and very "new money." Their contrast to the families in Port Washington, which sat across the bay from Great Neck, gave Fitzgerald the idea for the contrast between West Egg and East Egg in the novel.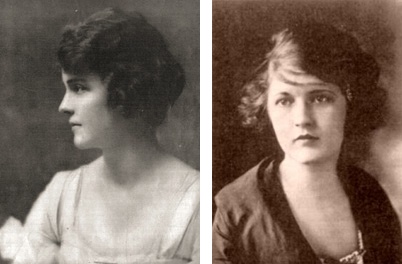 Ginevra King (left) and Zelda Fitzgerald (right)
Biographical Similarities to Events in The Great Gatsby
Like Fitzgerald, the novel's narrator Nick Carraway also grows up in the Midwest and then goes to college to an East Coast Ivy League school (although in Nick's case, it's Yale). Fitzgerald wrote for humorous publications at Princeton, while Nick describes a series of "solemn and obvious editorials for the Yale News" (1.12).
Gatsby's initial romance with Daisy is almost exactly what happened to Fitzgerald and Ginevra King. Gatsby meets Daisy Fay, a wealthy socialite, is unable to marry her because he is too poor, and leaves to fight in WWI only to have her marry Tom Buchanan. However, the way that Gatsby meets Daisy is similar to the way Fitzgerald met Zelda - while stationed at a military camp awaiting transfer orders to Europe.
Unlike Nick and Jay, Fitzgerald never actually experienced fighting in WWI.
After the war, Fitzgerald spent several months in New York trying to make it in the advertising business before coming back to St. Paul to write. Similarly, Nick spends a summer in New York trying to make it as a bond trader before coming back to the Midwest to write his memoir about Gatsby.
Fitzgerald worked as a car mechanic while writing his first novel, which may have given him some insight into what George Wilson's life might be like.
Zelda's comment on the birth of Frances Fitzgerald became one of Daisy Buchanan's most famous lines in The Great Gatsby almost verbatim: "I'm glad it's a girl. And I hope she'll be a fool - that's the best thing a girl can be in this world, a beautiful little fool." (1.118)
Fitzgerald's life on Long Island had shades of Gatsby's parties and extravagant lifestyle, as well as his feelings of inferiority when thinking about the old money crowd across the bay in East Egg.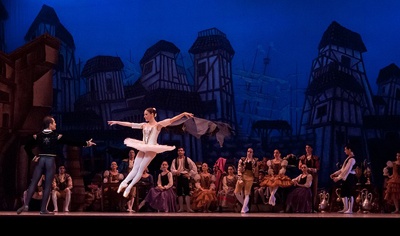 Remember: art only imitates, but doesn't duplicate life.
The High Life: Writing The Great Gatsby
Fitzgerald continued to work on his novels in between partying and writing short stories. In 1922, he published his second novel, The Beautiful and the Damned, about a socialite waiting to come into his fortune. This novel, with its meditations on morality, love, and decadence, officially marked Fitzgerald as one of the great writers of the wealth, ambition, and extravagance of the Jazz Age.
Fitzgerald began work on The Great Gatsby, his third novel, in June 1922. However, he was slowed down by debts, a move to the French Riviera, and conflicts with his wife. He really buckled down in 1924, telling his editor that Gatsby would be "a consciously artistic achievement" and a "purely creative work."
During this period, Fitzgerald fell in with a famous group of modernists in Paris, including the novelist Ernest Hemingway and writer Gertrude Stein.
The Great Gatsby was finally published in 1925. Despite Fitzgerald's efforts, it was not as warmly received by critics as his previous two novels. It also failed to take off commercially. (Read our history of The Great Gatsby for more on how Gatsby was received in the 1920s.)
End of Life: Fitzgerald's Unraveling
After the publication of The Great Gatsby, Fitzgerald suffered from alcoholism, something he had struggled with since Princeton, and writer's block. Meanwhile, Zelda suffered from mental health problems and was often institutionalized. (She was diagnosed as schizophrenic, though many modern historians believe she could have also suffered from bipolar disorder.)
In 1934, Fitzgerald finally published Tender is the Night, his fourth novel, about an American psychiatrist living in Paris. He continued to struggle with alcoholism and depression. In 1937, he moved to Hollywood to be a screenwriter and revive his career. Though he made some money, he was never a critical success (there aren't any must-see Fitzgerald films).
Fitzgerald began the novel Love of the Last Tycoon while in Hollywood but died in 1940, at age 44, from a heart attack, before he could finish it. An unfinished version was eventually published in 1941.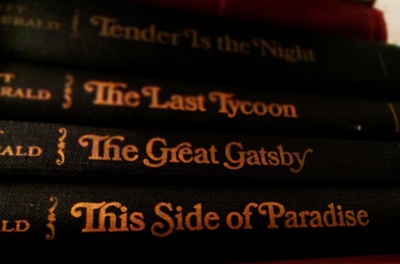 What to Take From the Life of The Great Gatsby Author
If you've already read The Great Gatsby, you'll notice pretty big parallels in the story to Fitzgerald's real life: the Midwestern upbringing and education of Nick, with the military experience and love life of Gatsby.
Fitzgerald makes Nick Carraway the narrator, not Gatsby. This may suggest that Fitzgerald saw himself as someone like Nick – someone observing a much more extravagant lifestyle from the outside, rather than participating like Gatsby.
It's also important to understand Gatsby was written during the precarious peak of Fitzgerald's life – while he was famous and living an extravagant lifestyle but before the most serious struggles with alcoholism, depression, and debt. You can't really tie any of Fitzgerald's (or Zelda's) most intense struggles with alcoholism or mental illness to Gatsby – you'd have to focus on Tender is the Night or Love of the Last Tycoon to do that.
Instead, Gatsby is the book that came at the height of the 1920s and Fitzgerald's life before he began to seriously struggle with alcoholism and depression – but it still has a melancholy undertone that strongly hints at the struggles to come.
Further Reading
What's Next?
Learn more about how The Great Gatsby was received when it first came out, and also read up about the 1920s so you can understand the economic, political, and cultural context of Gatsby.
Excited to dive in? Check out our articles on Gatsby's title, its opening pages and epigraph, and its first chapter.
Or, zoom out first to a summary of The Great Gatsby, along with links to all our great articles analyzing this novel!
Want to improve your SAT score by 160 points or your ACT score by 4 points? We've written a guide for each test about the top 5 strategies you must be using to have a shot at improving your score. Download it for free now:
Have friends who also need help with test prep?
Share this article!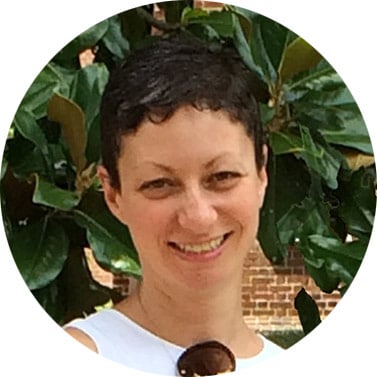 About the Author
Anna scored in the 99th percentile on her SATs in high school, and went on to major in English at Princeton and to get her doctorate in English Literature at Columbia. She is passionate about improving student access to higher education.
Get Free Guides
to Boost Your SAT/ACT