As you study for the ACT, it's easy enough to calculate your ACT composite target score. But where does your essay score fit into all this? What's a good ACT Writing score? Read on to find out how to figure it out!
Feature image credit: Had a Good Boogie Lately? by Jocelyn Kinghorn, used under CC BY-SA 2.0/Cropped from original.
How Do You Figure Out What's a Good ACT Writing Score?
A good essay score depends on what your goals are. These goals should be concrete and determined by the colleges you're applying to. Find out more about why this is the only factor that truly matters in our article on what a good, bad, and excellent ACT score is.
So how do you figure out your target ACT Writing Score?
Step 0: Is ACT Writing Required?
Especially now that the SAT essay is no longer mandatory, many schools have been reevaluating their stance on whether or not to require the ACT essay (since schools generally like to have a consistent standard across the two tests).
Some colleges are ACT Writing-optional, while others don't consider it at all. Use our complete list of which schools require ACT Writing to figure out where the schools you're applying to stand on the issue.
Step 1: Use Our Worksheet
We've created a handy worksheet to help you figure out your target ACT score. For now we'll be adapting the worksheet to figure out what a good ACT Writing score is for you, although I definitely recommend also filling out a second sheet to figure out your target ACT composite score.
Step 2: Fill In Your Schools
On the worksheet, fill in the names of the schools you want to get into in the leftmost column. Include dream or "reach" schools, but don't include "safety schools" (schools you think you have at least a 90% chance of getting into).
Step 3: Get ACT Writing Score Data
You can try to get the data from each school's admissions website, but this is time-consuming and not always successful, as admission sites aren't laid out in a particularly standardized way.
The best source of data for ACT Writing scores is a school's Common Data Set, if the school chooses to publish it. The Common Data Set, or CDS, is a set of survey items that schools can choose to fill out and put online to give students information about the school in a standardized way. The CDS's section about First-Time, First-Year (Freshman) Admission may include information about students' 25th and 75th percentile scores on ACT Writing.
It's not mandatory for schools to fill out the CDS, and even if they do, they don't have to fill out the information about ACT Writing, so you won't always find that information, but the CDS is the most up-to-date and reliable source for ACT Writing score information.
A third option is to take to Google and search out other sources for this data; however, you should differentiate between this kind of unofficial information and official data released by the schools.
Step 4: Average Both Columns
Total up the 25th and 75th percentile scores, then find the average of each column. We recommended that you use the 75th percentile score as your target ACT Writing score since getting that score will give you a very strong chance of getting into the schools you've listed. If you're applying to humanities programs, you may even want to consider a higher target score for ACT Writing, as it may be used for placement in certain courses.
A quick refresher on what percentile scores mean: 25th percentile means that 25 percent of the students attending have a score at or below that number (below average). The 75th percentile means that 75 percent of students have a score at or below that number (above average).
For example, let's say that the 25th/75th percentile ACT Writing score range for Northwestern University is 7/10. If you score above the 75th percentile score (a 10), your Writing score will help your chances of admission; if you score below the 25th percentile (a 7-8), your Writing score might harm your chances of admission.
What If There's No ACT Writing Score Data?
Unfortunately, very few colleges actually release their ACT Writing score ranges. Rarely is the information easily accessible on the school websites (since admission sites have no standardized formats)—instead, you have to search for a school's most recent Common Data Set or rely on data provided by third parties.
If there is no data for ACT Writing scores at all, you can take a look at the school's composite ACT score ranges to get a rough idea of where your ACT Writing score should be.
Because it requires exceptional skill to get 6 in all domains (or a 12/12) on the ACT Writing, even the most competitive schools will accept a 9/12 on the essay (which puts you in the 96th percentile for ACT Writing), even if the school's ACT composite range is 32-35.
We've created a chart below that compares percentiles for ACT composite scores and ACT Writing scores. You can use this chart to help you figure out roughly where your Writing score should fall, based on your composite score.
| | | |
| --- | --- | --- |
| Percentile | Composite Score (1-36) | Writing Score (2-12) |
| 100 | 36 | 12 |
| 99 | 32-35 | 11 |
| 99 | 32-35 | 10 |
| 96 | 29-32 | 9 |
| 90 | 23-29 | 8 |
| 66 | 20-23 | 7 |
| 51 | 16-20 | 6 |
| 28 | 14-16 | 5 |
| 15 | 12-14 | 4 |
| 5 | 11-12 | 3 |
| 2 | 1-11 | 2 |
source: two different ACT.org pages
As an example, Northwestern's 25/75 range for ACT composite scores is 33-35, so you should aim for an overall ACT Writing score of between 10 and 11 out of 12.
In general, as long as your Writing score percentile is in the general ballpark (within 20-30 percentile points) of your composite score percentile, you'll be fine.
Summary: How to Decide What a Good ACT Writing Score Is
First, look up whether the schools you wish to apply to require ACT Writing scores.
Next, figure out the ACT Writing score ranges of those schools that do require ACT Writing scores be submitted. To do this, you can:


Check the school's admissions site or Common Data Set (if published) to see if there is data for ACT Writing, OR
Estimate the Writing score range based on the school's ACT composite score range

Then, sum up the ACT Writing score ranges for the 25th and 75th percentiles, average the 25th and 75th percentile scores, and choose a target ACT Writing score (75th percentile average score is recommended as a target).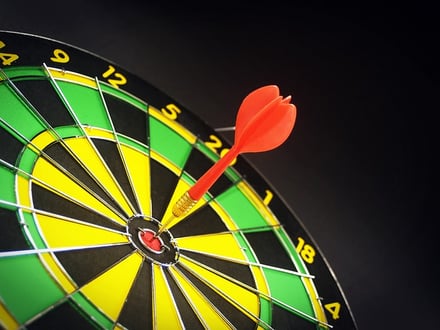 What's Next?
Now that you've stuck your toe in the waters of ACT Writing scoring, are you ready for more? Of course you are. Get into the depths of ACT Writing with this full analysis of the ACT essay grading rubric.
Is a longer essay always better? Find out how essay length affects your ACT Writing score here.
Completely confused about how the ACT Writing test is scored? You're not alone. Dispel your confusion with our complete guide to ACT essay scoring.
Curious about where your ACT Writing score stands in comparison to everyone else? Find out what an average ACT Writing score is in this article.
Want to improve your ACT score by 4 points?
Check out our best-in-class online ACT prep classes. We guarantee your money back if you don't improve your ACT score by 4 points or more.
Our classes are entirely online, and they're taught by ACT experts. If you liked this article, you'll love our classes. Along with expert-led classes, you'll get personalized homework with thousands of practice problems organized by individual skills so you learn most effectively. We'll also give you a step-by-step, custom program to follow so you'll never be confused about what to study next.
Try it risk-free today:
Have friends who also need help with test prep?
Share this article!
About the Author
Laura graduated magna cum laude from Wellesley College with a BA in Music and Psychology, and earned a Master's degree in Composition from the Longy School of Music of Bard College. She scored 99 percentile scores on the SAT and GRE and loves advising students on how to excel in high school.
Get Free Guides
to Boost Your SAT/ACT