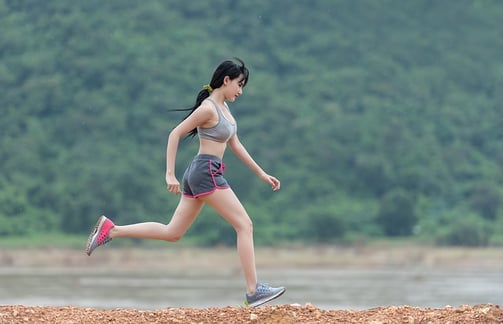 If you've never heard of it before, the word "kinesiology" can sound like another language. Kinesiology is simply the study of something we all encounter every day: movement. It's also a college major that can lead to a successful career after you graduate.
There's a lot to know about majoring in kinesiology, though. Sure, you now know what it is, but do you know the kind of pay you can expect from kinesiology jobs? Or about how long a kinesiology degree takes? It can be a little overwhelming, so we're here to walk you through:
What kinesiology is
What being a kinesiology major is like
Which schools have the best kinesiology programs
The types of jobs you can get with a kinesiology degree
So, what is kinesiology, exactly?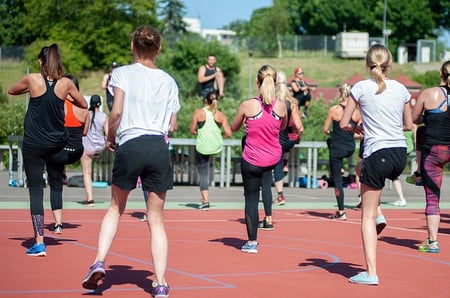 Kinesiology majors study all types of human movement, which includes aerobics!
What Is Kinesiology?
Kinesiology is made up of two Greek words, kinesis and logia, literally meaning "motion science." These words might make you think of physics, but kinesiology is focused on studying human movement in all its forms, from dancing to recovering from an injury. Kinesiology scholars are not only interested in what makes the human body move to its greatest potential, but also what makes movement unique or difficult.
A bachelor of kinesiology looks at these topics in detail, often implementing a hands-on approach so you can see mobility problems and solutions firsthand. Most kinesiology programs offer a focus in sports or training, giving you the skills you need to teach others how to take care of their bodies. There are many degrees similar to kinesiology, such as exercise physiology or sports medicine, but kinesiology covers more than simply exercise or sport-related motion, so it can be used in many different careers like physical therapy, nursing, and coaching.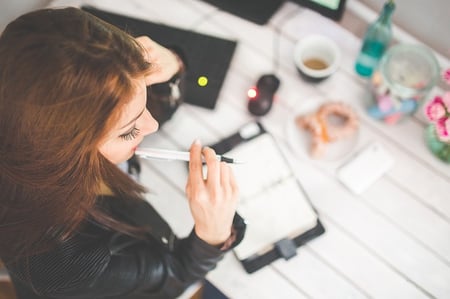 What to Expect From a Kinesiology Major
Definitions are great and all, but what is kinesiology like in college? Like most college majors, a kinesiology degree will usually take you four years to earn, which translates to about eight semesters or 120 credit hours. Kinesiology programs exist all over the country, so there's a good chance one is near (or as far as you want!) your hometown.
In general, the coursework for a kinesiology major involves a lot of science. Most of these science classes fall within the classifications of health or natural science, such as biology or medicine. For the first year, kinesiology majors take the college's prerequisite or general education classes (writing, humanities, arts appreciation, etc.). Some kinesiology programs might also require a specific mathematics class, like statistics, to be taken in the first year.
The majority of kinesiology programs allow you to choose electives to explore the deep-dive topics that interest you most, sometimes even offering classes that span departments, like Rice University's Literature and Medicine course, for instance. If you find a particular topic that interests you, most programs have specializations, which are basically certain tracks of classes within the kinesiology major that center around a certain field. Some of the most common specializations are exercise physiology, sports management, and rehabilitation. If you plan on applying for a specific job after you graduate, declaring a specialization can help you compete against other candidates.
Some kinesiology degrees require practicum courses in your senior year. In most kinesiology practicums, you'll shadow a professor or professional for class credit, while getting some experience putting to practice the things you've learned. Practicums can take place in a variety of workplaces, including sports therapy and exercise training, and give you real-world experience before you graduate.
Having said all of that, keep in mind there's a lot of variation in the coursework required for a kinesiology degree depending on which college you choose. Some universities may require more practicum hours, unique core courses, or class prerequisites. Be sure to do your research before applying!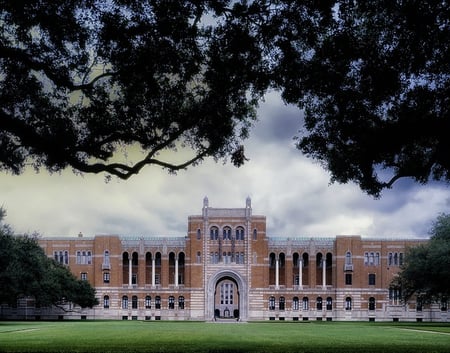 Rice University takes the top spot on our Best Schools for Kinesiology list.
The 7 Best Schools for Kinesiology
So many schools in the U.S. offer kinesiology or kinesiology-related programs that it can be hard to keep up. Which school you ultimately decide on will depend on what's most important to you, but this list includes seven of the most recognized programs for kinesiology.
There's no doubt why Rice University tops our list. Along with being a prestigious private university, Rice's kinesiology program has almost everything you could want. Every kinesiology major is required to declare a concentration in one of two fields: health sciences or sports medicine. Each path has classes that are tailored to further your career after you graduate. With classes like Understanding Cancer and Disparities in Health in America, your education can give you a larger perspective on health needs beyond the typical kinesiology basics.
Rice University also has study abroad opportunities for kinesiology majors and department-specific scholarship awards. Rice's programs in particular are focused on research and preparing its students for advanced degrees. If you're considering applying to Rice, put your best foot forward and be prepared to choose a concentration from the very beginning.
Location: Charlottesville, VA
The University of Virginia is well-known and well-regarded, and it boasts one of the best kinesiology programs in the nation. Virginia's kinesiology is a Bachelor of Science in Education degree, meaning there are classes required both in the College of Arts and Sciences and the Curry School of Education.
The program is also pretty inflexible in that it outlines the course s. General education courses must be completed by the beginning of your junior year, leaving little room to retake courses or start early on your kinesiology-required classes. The benefit to this tight time schedule is the possibility of getting your Master of Education (M.Ed.) degree with only one additional year, should you enter with some AP or dual-enrollment credit. As most M.Ed. degrees take two or more years to complete, you'll save time and money by taking this path, should you choose to pursue education.
Named as one of the top three kinesiology programs in the nation by the National Academy of Kinesiology, the University of Michigan is one of the best options for those interested in the field. What makes the Michigan kinesiology program unique is that it's in a school of its own instead of being a part of health or education departments. Students in the school of kinesiology pick one of four specialized majors: Athletic Training, Applied Exercise Science, Movement Science, and Sport Management, which allow students to customize their education to their future career goals.
Kinesiology majors at Michigan are involved in their department. With frequent events and several student organizations within the major to choose from, Michigan's kinesiology program feels collaborative and welcoming. The department even has its own magazine, Movement, that highlights research and developments from the world of health and exercise science. If you're looking to be a kinesiology major but also wanting a community of peers, University of Michigan might be right for you.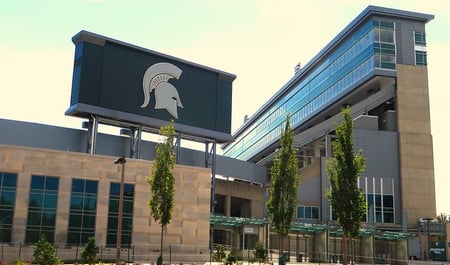 Michigan State is a great school for students interested in research.
(Ken Lund / Flickr)
Location: East Lansing, MI
Michigan State's kinesiology program heavily prioritizes student research, and the department prides itself on its cutting-edge technology and student-led innovation. MSU kinesiology also offers easy access to internships and community service, where students can put their learning to the test. There are also plenty of internal scholarships that you can apply for after you have started in the program, which can help you make a top-tier education even more affordable.
MSU has additional programs in place for kinesiology major, specifically in the form of graduate school and certifications. Kinesiology is a part of the university's College of Education, so the major has a heavy emphasis on teaching and health education, too. If you're interested in becoming a college professor in kinesiology, MSU could be the school you're looking for.
Location: Gainesville, FL
The University of Florida's official title for a kinesiology major is "Bachelor's of Science in Applied Physiology and Kinesiology." If that doesn't sound impressive enough, 33% of the department's graduates who apply to med school are accepted. In short, Florida's kinesiology program is not to be trifled with.
Majors in kinesiology can choose to add a specialization in either Exercise Physiology or Fitness and Wellness, ensuring that each semester's classes are specifically tailored to the needs of the student. There are also several study abroad opportunities for students in kinesiology, giving you the chance to experience what you've learned cross-culturally. Florida also has an esteemed master's program for kinesiology for those students interested in taking their education to the next level.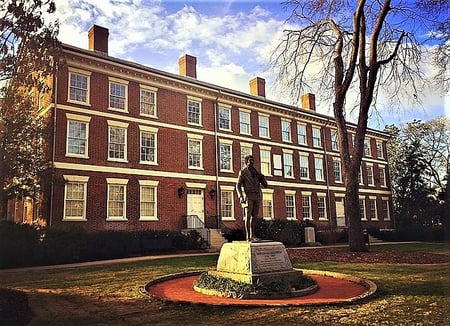 The University of Georgia offers kinesiology undergraduates the opportunity to earn a Master's degree in one year (rather than two).
(Coxonian / Wikimedia)
Georgia's Department of Kinesiology offers majors in Athletic Training, Exercise Science, Physical Education, and Sports Management. It offers something unique to those interested in Sports Management, though. Through what the university calls the "Double Dawgs" program, you can achieve a bachelor of kinesiology and have your master's degree in only one additional year. Kinesiology majors in this program move from undergraduate studies to master's level studies as part of this major, making it a natural transition.
Georgia's kinesiology degrees are unique in another way, too. The Sports Management track teaches students business principles alongside those of human movement. With the rise in interest in sports marketing and analytics, it's a great time to increase your business acumen. If you are interested in starting your health-related business or working for a sports team after graduation, this program is a must.
Texas Tech's bachelor of kinesiology is one that has a very clear purpose: developing students who know and can apply kinesiology in every aspect of life. Your core science and math courses are specially selected by the program so that your general education requirements are not irrelevant to your kinesiology degree. This program also places a strong emphasis on practical application of kinesiology throughout your time at Texas Tech.
Texas Tech's Department of Kinesiology and Sport Management has several master's programs and launched its new PhD program in 2018, making it possible for students to start as a freshman and continue all the way through the school to obtain their doctorate. But for those interested in the bachelor's degree, the capstone course in the form of a required kinesiology internship offers not only experience, but evaluation from the professors and supervisors who oversee the students' work. While many majors require a practicum as a capstone, having an internship will give you a taste of the working world, while still having opportunities to learn and grow.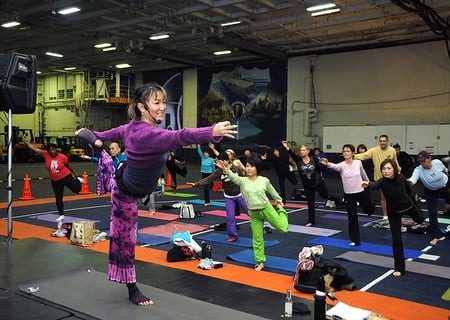 Becoming a fitness instructor is a great opportunity for kinesiology majors that want to avoid a desk job and maintain their own fitness, too.
6 Great Jobs for Kinesiology Majors
So, what can you do with a kinesiology degree? Kinesiology is a broad major, covering many different topics and the potential for concentrations within your major. In the job market, this means that kinesiology majors can do all sorts of jobs in the health industry.
While there are tons of jobs available to kinesiology graduates, we're giving you the inside scoop on six of the most popular careers for people with a kinesiology degree.
Occupational Therapist
Median salary: $84,270
Employment growth rate: 24%
There is a field of therapy for nearly every physical ailment. Therapy, especially for kinesiology majors with a specific interest, is an extremely viable career option. Occupational therapists in particular work with people who have trouble executing everyday tasks, including injured patients in recovery or disabled patients looking to improve their quality of life. Occupational therapy can be physically demanding, while also requiring you to build trust with your clients. If you prefer a quick work pace or an active work environment, occupational therapy may be for you.
As with most therapy careers, occupational therapy often requires not only a relevant master's degree, but also a license from the state in which you practice. However, with a job growth rate of 24% by 2026, the need for occupational therapy is growing. At such a higher-than-average rate, job security isn't a concern for those in this career. If you're willing to put in the work, occupational therapy can be both a relationally and financially rewarding career path.
Fitness Instructor
Median salary: $39,820
Employment growth rate: 10%
Fitness instructors take on the role of motivating and helping their clients to maintain healthy exercise habits, often by leading a class or working with people one-on-one. Fitness instructing can be done in any number of different environments, like gyms, recreation centers, camps, or privately-owned businesses. Many specializations within fitness instructing, like leading a Zumba class or setting up an exercise program for gym members, require additional training and certification.
As interest in health and well-being increases, jobs for fitness instructors also increase. Though it's not the highest paying career, fitness instructing can be a beneficial career by keeping you active and healthy. Fitness instructors use the skills learned in kinesiology in every part of their job, making it one of the most natural options for kinesiology graduates wondering what to do with a kinesiology degree.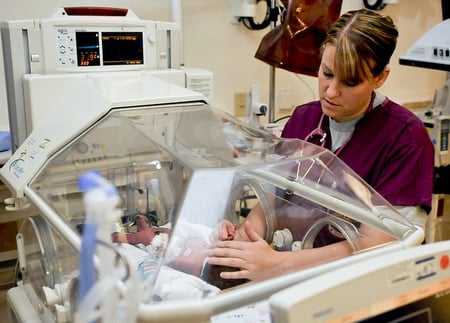 Kinesiology majors who want to work in healthcare can also become nurses!
Health Education
Median salary: $46,080
Employment growth rate: 16%
Let's be clear: most of the time, health educators more than just school teachers. Health education occurs in many places: hospitals, doctor's offices, and yes, sometimes schools. Health education's main purpose is to make others more aware of how to take care of their health on their own by giving them scientifically-supported advice and answering questions. Many health educators work with patients individually, but there is also a branch of the career where educators create programs, workshops, and meetings for large groups of people.
Your kinesiology degree will give you the knowledge you need to live a healthy lifestyle and support others in their own health journey. Many kinesiology programs are a part of the education department of your college. If this career is appealing to you, make sure your college's kinesiology major has an emphasis on education. This career path is great for those who want a less physically demanding role but still want to use their knowledge of kinesiology.
Nursing
Median salary: $71,730
Employment growth rate: 15%
Chances are, you've met a nurse. You might even know one personally! But nursing is a career path that doesn't necessarily require a bachelor's degree in nursing. Kinesiology majors often go into nursing after they graduate, usually after getting their master's degree in nursing or becoming registered through a certified nursing program. Becoming a nurse after majoring in kinesiology may take more education and preparation, but it is still one of the most common careers for kinesiology majors.
Registered nurses do much more than treating small injuries and taking your temperature. Nurses also manage psychological distress, difficult patients, and doctors' orders. Nursing is a job based on communication, so it's a great fit for outgoing people who enjoy working with others. Nurses have a passion for seeing others' wellness improve, and a degree in kinesiology would certainly give you a strong foundation in this career. Becoming registered as a nurse is just the beginning, though. Nursing is a broad field, encompassing anything from military nursing to working in the operating room, so you'll be able to choose the branch that's right for you.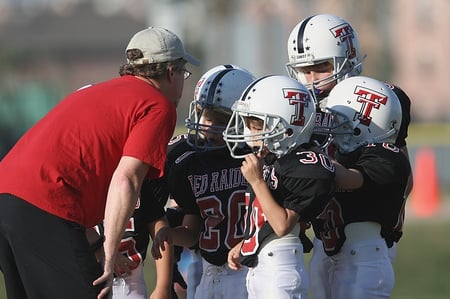 Coaches get to combine their love of sports with the joy of teaching.
Sports Program Director
Median salary: $46,168
Employment growth rate: 5%
Because kinesiology teaches you about physical health and movement, it makes you a great fit for directing a sports program. Sports directors help plan activities, schedule classes and events, create budgets, hire employees, and create educational curriculums. In other words, it's a director's job to run their sports program and make sure they're meeting participants' needs. Serving as a sports director is definitely a leadership role, so if you're looking for hands-on time with students or participants, you'd probably be happier as a trainer or coach. But if you like management and enjoy helping organizations learn and grow, then you'd excel as a sports program director. There are tons of sports programs in the United States for people of all ages, which means you'll be able to look for opportunities that fit with your own passions!
Coaching
Median salary: $33,780
Employment growth rate: 13%
Every sport at every level needs a coach. Coaching does not often require outside training other than your kinesiology degree. Jobs in coaching call for a thorough knowledge, and at least some skill, in whatever sport you are looking to coach, however. Your kinesiology degree would help you to be aware of the physical reasons behind your players' successes and mistakes and inform your decisions when a player is injured or in need of rehabilitation.
Coaching is also best for those who have a passion for mentorship, as coaches must have a genuine interest in the growth of their players in order for their teams to succeed. Coaches cannot simply love the sport—they must also love the fans and players who support it, too.
Like many kinesiology degree jobs, coaches often work unusual hours, including weekends and late evenings. Travel is also a significant part of the job, so coaching is a great fit for people who don't mind having an unusual schedule.
Like we mentioned before, there are many more career options available for a bachelor in kinesiology. Here are more common kinesiology major jobs:
Dance therapist
Sports agent
Physical therapist
Sports management
Rehabilitation therapist
Parks and recreation management
Strength and conditioning
Recreation therapist
Recreation facility manager
Sports scout
Doctor
Aquatics director
Personal trainer
Epidemiologist
Nutritionist
Exercise physiologist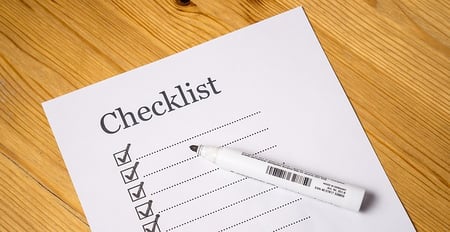 Key Takeaways: A Kinesiology Degree
So, what is kinesiology? Kinesiology is basically the study of human movement. Kinesiology programs usually attract students who enjoy hands-on work with other people, live an active lifestyle, and have an interest in the health and well-being of the general population.
There isn't one cookie-cutter answer for those of you wondering, "What can I do with a kinesiology degree?" Many career paths after a bachelor in kinesiology require graduate school, but there are plenty of options for employment that need little or no additional training. Depending on your desired career path, kinesiology may or may not be the wisest choice for your major. If you're looking into a career in exercise physiology, kinesiology would be a smart choice. However, if you would like to become a medical doctor, and your school offers pre-medicine or biology as a major, kinesiology may not be the right fit.
There are many schools available that have majors related to kinesiology, but if you're set on majoring in kinesiology specifically, make sure the schools you're applying to offer it as a separate degree. For you who are overwhelmed by looking at all the colleges out there, here are a couple of things you might want to consider:
Internship and job opportunities
Kinesiology-specific scholarships
Chances to study abroad
Classes that sound interesting or relevant to your desired career
Professors who study what you are interested in
A department with events to attend each semester
The research published by each department
Specializations, minors, or other degree options
Facilities
Notable students from the department
If you're interested in kinesiology as a major, you should take some time to research the benefits and drawbacks of the degree, both in the classroom setting and in the job world. (That way, when your parents ask, "What is kinesiology?" during your Thanksgiving trip home, you'll have a good answer!) Regardless, kinesiology as a field of study provides context for many careers and often makes for a fulfilling four years of college, so it's worth taking the time to consider if it is the right path for you.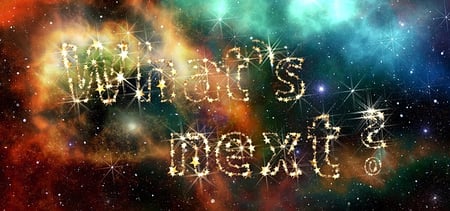 What's Next?
Are you still not sure whether a kinesiology major is right for you? If so, we recommend you check out this article on how to choose a major. We also have other major-specific guides you may be interested in, like this covering political science or this one on foreign language.
If you're ready to hit the ground running (like the kinesiology major you are!), then it's time to get serious about applying to your dream schools. Learn how to make a perfect score on the SAT (or the ACT!) to start your studying off on the right foot.
Don't forget that while test scores matter, you also need to put together a killer application packet. Here's everything you need to know about writing your application essays, and don't forget to make sure you're landing great letters of recommendation, too.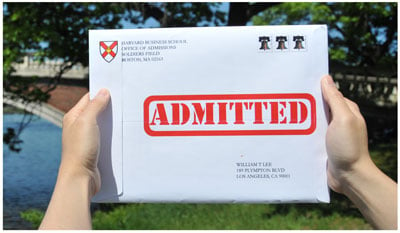 Want to build the best possible college application?
We can help. PrepScholar Admissions is the world's best admissions consulting service. We combine world-class admissions counselors with our data-driven, proprietary admissions strategies. We've overseen thousands of students get into their top choice schools, from state colleges to the Ivy League.
We know what kinds of students colleges want to admit. We want to get you admitted to your dream schools.
Learn more about PrepScholar Admissions to maximize your chance of getting in.
Have friends who also need help with test prep?
Share this article!
About the Author
Ashley Sufflé Robinson has a Ph.D. in 19th Century English Literature. As a content writer for PrepScholar, Ashley is passionate about giving college-bound students the in-depth information they need to get into the school of their dreams.
Get Free Guides
to Boost Your SAT/ACT