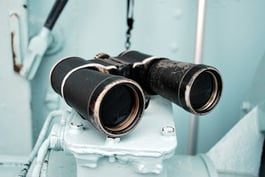 Searching for relevant scholarships is perhaps the most frustrating part of the scholarship application process. There are so many awards out there, but it's hard to know which ones are worth applying to without carefully sifting through an overwhelming amount of information.
To make your search just a little bit easier, we've compiled some of the best scholarship websites (and offline search tools!) you can use to find scholarships. Of course, some are better than others - I'll also go into the strengths and weaknesses of each scholarship search method.
At the end of the post, you'll find tips for getting the most out of these scholarship search tools. They're only helpful if you know how to use them effectively and efficiently - these strategies will help you navigate the (sometimes confusing) world of scholarship search tools.
7 Helpful Online Scholarship Search Tools
Online tools are awesome because you can access huge databases of awards from the comfort of your laptop. There's no question that there's almost an overwhelming number of scholarships listed on each of these online tools - the question is whether or not you can find scholarships that actually apply to you.
Some of these search tools are very polished, whereas others look kind of scrappy. Some keep your information private, whereas others subject you to a LOT of college spam. Ultimately, though, they all provide access to info about thousands of scholarships. Your own priorities will dictate which search tools you'll prefer. To help you figure that out, I've listed the strengths and weaknesses of each of these tools after trying them out myself.
I think it's difficult to come up with a strong scholarship application strategy without a general idea of both what awards are available and what these awards look for in student applicants. I'd encourage you to spend a few hours just exploring these databases - just to check on what's out there - before doing a more focused search (perhaps with the assistance of a guidance or college counselor).
Here's the good stuff - the most popular scholarship search tools:
This site is perhaps the most well-known scholarship search tool available. It searches for awards based on so many criteria that you may find scholarships in some unexpected places.
You can enter in as much or as little identifying or demographic information as you'd like. The scholarship search tool then lists any scholarship award you may qualify for based on the info you've entered. If you already have a specific award in mind, you can use the search function to search for it in the College Board scholarship database.
Obviously, the more information you enter, the more relevant and helpful the search results will be. Some of the information you can enter includes minority status, disability status, religious affiliation, and veteran status.
Pros
You don't have to sign up for anything, or provide any personal identifying information, in order to use the scholarship search.
The scholarship search results include basic information on eligibility requirements, award numbers/amounts, and application deadlines.
You can also select whether you'd like to search for awards based on financial need, academic achievement, or both

, which is an awesome function.
Cons
Lists sweepstake scholarships where you have to sign up for different sites (and subject yourself to spam) in order to apply.
It's the responsibility of the scholarship organization to update policies, awards, or requirements - many things may not be up to date, although the site itself updates regularly.
You can't enter in academic information (like GPA or ACT/SAT scores) to filter out awards where you may not meet these criteria. You'll have to sift through individual awards, all with varying eligibility requirements, to see which ones may be a good fit.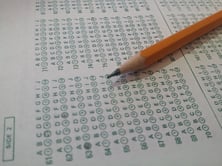 The College Board is best known as the creator of the SAT, but its scholarship search is one of the best options out there.
Scholarships.com claims to be the largest free scholarship search resource available, with over 2.7 million scholarships listed in their database. You have to make an account, but Scholarships.com promises to keep your information private.
The site lets you save, "favorite," or remove scholarship matches associated with your account.
Pros
The site claims to update daily, although just like with College Board, responsibility lies with the actual scholarship organization to provide new info.
It's easy to see how many awards are given (and how much the awards are worth) with each scholarship listing.
The save/favorite/remove functions make it easy to pare down awards you're interested in.
Their privacy policy easily allows you to opt-out of having your personal information shared.
Cons
There are scholarship "ads" at the top of your match results from sweepstake-esque scholarship programs. These awards aren't exactly illegitimate, but they're created to get you to sign up for various sites or services.
You can't search by keyword or by scholarship type.
You can enter academic info (GPA, intended major) and other helpful identifying info (ethnicity, citizenship status, military status) to get scholarship matches when you make a profile with Fastweb.
You can also enter in other relevant activities - like sports, student activities, SAT/ACT score, educational background, and career goals - to possibly get a more tailored list of awards with Fastweb. Again, the more specific you can be with personal information, the more relevant the scholarship matches will be.
Pros
The scholarship search results include basic information on eligibility requirements, award numbers/amounts, and application deadlines.
Scholarship matches are listed in order of application deadline, so you don't have to worry about checking out awards where the deadline's already passed.
Scholarships are rigorously vetted (according to Fastweb), so you won't have to worry about submitting personal information to a sketchy organization and falling prey to a scholarship scam.
Cons
You have to sign up with your email address, birthday, phone number, and address, which opens you up to spam.
Just like with the College Board, you may have to sift through awards that you find undesirable. Some of them are sweepstakes awards, whereas others are scholarship programs with clear ulterior motives and/or political agendas.
It's the responsibility of the scholarship organization to update policies, awards, or requirements - many things may not be up to date.
This scholarship tool claims to offer over 1 million scholarships, from over 4,000 sources, worth more than $3 billion. It's unclear how often they update their database, however, so it's impossible to know whether the listings are valid without checking them out yourself.
You can search for scholarships in three ways:
Setting up a profile and seeing scholarship matches
Searching by keyword (e.g. an academic or extracurricular interest)
Checking out lists of scholarships (e.g. scholarships for women, nursing scholarships, scholarships by major)
Pros
You don't need to sign up for anything or make an account to use the keyword search or the "list" search function.
In theory, the profile-matched scholarships should present better scholarship options than just randomly searching for awards.
Cons
The keyword search function isn't particularly helpful. It doesn't sort by relevance, so it's easy to miss important awards.
The scholarship preview descriptions don't tell you how much money is at stake. In order to find out what you could win, you have to click through to read more.
A lot of the links to scholarships are outdated. I got a lot of "internal server errors" or "application errors" when trying to read more about various awards. To work around this problem, you could always Google the award name to learn more.
If you make a profile to get scholarship matches, your information won't remain private unless you opt out from their standard policies upon sign-up.
With Cappex, you receive scholarship matches by completing an online profile. They don't ask you about as many personal characteristics as the College Board, but you can enter basic academic info (like your weighted and unweighted GPA). It's unclear whether this info helps match you to scholarships or whether it's just provided to colleges who may be interested in you.
You're asked a lot of questions about your college preferences, presumably to match you with scholarships available at different schools. In reality, I imagine a lot of this information is actually provided to the colleges themselves (along with your GPA).
Cappex has a special "Be Recruited" program which may help varsity athletes connect with schools to earn scholarships for sports.
Pros
Cappex seems to be fairly selective with the scholarships listed.
It's easy to sort the scholarships into "will apply/might apply/will not apply" categories for future reference.
It's easy to tell how much an award is worth, what you have to do to apply, etc., without having to jump through too many hoops.
Cons
This site seems to serve more as a college search tool than a scholarship search tool.
You're forced to provide information about your home address, which is presumably given out to third parties (you might get a lot of brochures in the mail from interested schools).
"Featured" scholarships (i.e. ads) are listed at the top of your matches.
Your Regular Old Search Engine
Using a search engine like Google gives you a lot more freedom and flexibility when you're searching for scholarships. Google is also much better at presenting relevant, legitimate results if you have specific keywords in mind.
You might find individual awards or lists of relevant scholarships that others have already put together.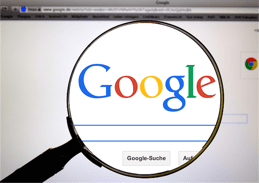 An obvious (put important) search tool for scholarship awards
Pros
You'll be directed right to scholarship organizations' pages.
You'll likely come across compilations of scholarship programs like the ones we do here at PrepScholar.
It's easier to search for scholarships based on niche interests, skills, or passions.
It's also an important tool if you plan on looking into local scholarships (which you should definitely do - they tend to be less competitive than national awards).
Cons
There's a lot more irrelevant information to sift through if you're not specific enough with your keywords.
You should be wary of ads, sweepstakes, or any scholarship program where you have to enter sensitive information (e.g. your social security number) or credit card payment.
You'll have to keep careful notes on which scholarships you're interested in.
Our blog has tons of free content on available scholarships, whether you're looking for information on popular individual awards or broader guides to scholarship applications in general.
Here are some of our most popular posts to get you started:
Bonus Offline Scholarship Search Tool: Your Guidance and/or College Counselor
Shockingly, there are places you can go besides the internet to get information about scholarship programs. If you're serious about your scholarship research, you should definitely schedule a meeting with your guidance or college counselor. They likely have insider info on scholarship programs that may be a good fit for you, especially when it comes to local awards.
If you have unique skills or needs (e.g. you're hoping to be recruited for a college sport), your counselor may also be able to help guide you through the process - this mentorship definitely isn't something you can get from an online scholarship search tool.
The Very Best Scholarships Websites
As you can see, you have a lot of options when it comes to the tools available to search for scholarships. The question of which one you should use will, like most things, come down to personal preference. I'd encourage you to at least briefly check out all of the above search tools to see which ones might appeal to you.
If you only have the time or the patience to check out one or two scholarship tools, though, I would recommend The College Board and Scholarships.com.
I like College Board for a few reasons - first, it looks the nicest. I know this isn't super important, but I really appreciate an easy-to-use and aesthetically appealing site. Perhaps more importantly, I also like that they're the most thorough in their scholarship match questionnaire, ensuring that no rock will go unturned when it comes to finding appropriate awards. Finally, it's a big plus in my book that you don't have to make an account and provide identifying information in order to use the service.
I'd recommend Scholarships.com because it's perhaps the largest scholarship search engine out there. It tends to do better than other engines (especially Fastweb) when it comes to matching students with appropriate awards. I also appreciate that you can opt out of having personal info shared with third parties.
None of these search options may be perfect, but some are better than others.
Tips for Using Online Scholarship Search Tools
You may have noticed that a lot of the cons listed above are shared among many scholarship search tools. If you want to avoid the most common drawbacks that come with using popular search tools, follow these tips and strategies.
If You Don't Want to Be Spammed With Emails or Snail Mail:
Avoid search tools that require you to provide an email address or physical address unless it's clear that they don't provide that information to third parties.
Make an email address that's dedicated only to these scholarship search engine profiles. Instead of getting overwhelmed with spam in your personal account, you'll just get emails in this throwaway account.
Opt out of having these search engines pass on your info to third parties whenever possible.
If You Want to Find Best-Fit Scholarships:
Use more than one scholarship search strategy. Some databases may be better equipped to list relevant scholarships for you based on your interests and background.
Don't just look at just big, impressive awards - they may be particularly tempting, but it's a waste of time and energy to apply to them unless you're an exceptionally good fit (competition for those scholarships is usually crazy).
Look for local scholarships. You may have more luck finding awards that are geared towards students in your area.
If You're Feeling Overwhelmed by the Number of Available Awards:
Don't let your scholarship search creep into time you spend on schoolwork and important extracurriculars. Your grades, in particular, should be your #1 priority - higher grades will help you win merit scholarships (that you don't even have to apply for!) to certain schools.
Plan on applying to 8-10 scholarship programs, and be strategic about it. Approach it like you would your college apps - a few "reach," a few "safety," and a few "target" awards.
Keep your own notes (try an excel or Google spreadsheet) with information on the scholarships you're interested in and the criteria you care about - e.g. deadlines, application components, award amounts, and eligibility criteria. It's important to have all this info consolidated, especially if you're using multiple search tools.
What's Next?
Now that you know how to find scholarships, your next step should be figuring out how to win scholarships. We have a lot of information to get you started.
Start broad with our guides on how to win a full ride scholarship or how to win a community service scholarship.
Looking at some bigger, competitive national awards? Read about how to win the Gates scholarship, the Coca-Cola scholarship, the Walmart scholarship, and the McDonald's scholarship.
Want to improve your SAT score by 160 points or your ACT score by 4 points? We've written a guide for each test about the top 5 strategies you must be using to have a shot at improving your score. Download it for free now:
Have friends who also need help with test prep?
Share this article!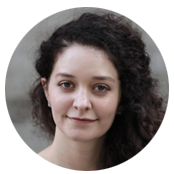 About the Author
Francesca graduated magna cum laude from Harvard and scored in the 99th percentile on the SATs. She's worked with many students on SAT prep and college counseling, and loves helping students capitalize on their strengths.
Get Free Guides
to Boost Your SAT/ACT