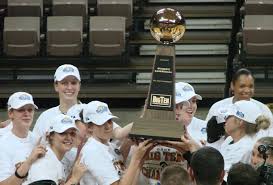 The Big Ten is one of the most prestigious intercollegiate athletic conferences in the country. It has 14 member schools, most of which are located in the Midwest. While they're all unique, Big 10 schools have many commonalities and are known for emphasizing both athletics and academics.
In this article, I'll do the following:
Give you the names of all of the Big Ten universities and provide information about each school
Describe the attributes of Big Ten colleges
Detail possible advantages and disadvantages of attending a Big Ten school
Explain how to decide if you should attend one of the Big Ten schools
What Is the Big 10?
The Big 10 is one of the premier intercollegiate athletic conferences in the country. All of its member institutions are NCAA Division I schools with FBS programs. The Big Ten sponsors 28 official sports, 14 for men and 14 for women. Big Ten schools compete in a total of 42 sports, and they have combined to win more than 450 team and 1800 individual national championships.
Confusingly, even though there were 10 schools in the Big Ten for much of its history, now there are 14 schools that are part of the Big 10. The Big Ten includes the following colleges:
University of Illinois at Urbana-Champaign
Indiana University Bloomington
University of Iowa
University of Minnesota Twin Cities
University of Michigan
Michigan State University
University of Maryland, College Park,
University of Nebraska-Lincoln
Northwestern University
The Ohio State University
Penn State University
Purdue University
Rutgers University
University of Wisconsin-Madison
Northwestern is the only private college in the Big 10. The other schools are large public universities. Maryland and Rutgers are the most recent additions to the Big Ten. They're also the only East Coast schools in the Big Ten. Rutgers is in New Brunswick, New Jersey. The rest of the Big Ten schools are in the Midwest.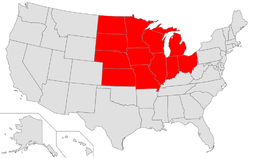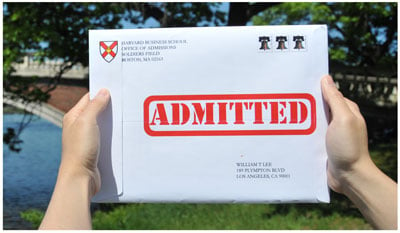 Want to build the best possible college application?
We can help. PrepScholar Admissions is the world's best admissions consulting service. We combine world-class admissions counselors with our data-driven, proprietary admissions strategies. We've overseen thousands of students get into their top choice schools, from state colleges to the Ivy League.
We know what kinds of students colleges want to admit. We want to get you admitted to your dream schools.
Learn more about PrepScholar Admissions to maximize your chance of getting in.
What Makes Big 10 Colleges Unique?
Big Ten schools offer big-time athletics at well-regarded academic institutions. Most of the Big Ten schools are in spirited college towns. The surrounding population proudly supports the school. The students, alumni, and residents of the area are generally big fans of the athletic teams and are eager to show their school pride.
With the exception of Northwestern, these are among the largest schools in their respective states and some of the biggest schools in the country.
Comparing Big Ten Schools
I created a table with the undergraduate enrollments, average standardized test scores, and the acceptance rates of the Big Ten universities. Penn State has the largest undergraduate enrollment at almost 40,600. Northwestern has the smallest at 8,494. Also, Northwestern is the most selective school with an acceptance rate of only 7%. The schools are listed in order of their acceptance rates.


| | | | | | |
| --- | --- | --- | --- | --- | --- |
| School | Location | Undergraduate Enrollment | Average SAT Score | Average ACT Score | Acceptance Rate |
| Northwestern University | Evanston, IL | 8,494 | 1510 | 34 | 7% |
| University of Michigan | Ann Arbor, MI | 32,282 | 1450 | 33 | 20% |
| University of Maryland | College Park, MD | 30,922 | 1420 | 32 | 52% |
| The Ohio State University | Columbus, OH | 47,106 | 1350 | 29 | 57% |
| Penn State University | University Park, PA | 40,600 | 1300 | 29 | 58% |
| University of Wisconsin | Madison, WI | 35,474 | 1430 | 30 | 60% |
| University of Illinois | Champaign, IL | 34,779 | 1430 | 32 | 60% |
| Rutgers University | New Brunswick, NJ | 36,152 | 1360 | 30 | 68% |
| Purdue University | West Lafayette, IN | 37,101 | 1310 | 30 | 69% |
| University of Minnesota | Minneapolis, MN | 36,209 | 1400 | 30 | 73% |
| University of Nebraska-Lincoln | Lincoln, NE | 19,552 | 1210 | 25 | 81% |
| Michigan State University | East Lansing, MI | 38,574 | 1210 | 26 | 83% |
| Indiana University | Bloomington, IN | 34,253 | 1270 | 29 | 85% |
| University of Iowa | Iowa City, IA | 21,068 | 1240 | 26 | 86% |

Possible Advantages and Disadvantages of Attending a Big Ten School
Even though most of the Big Ten schools are large public universities in the Midwest, it's difficult to generalize all Big Ten schools. For example, the environments at the University of Nebraska-Lincoln and Rutgers are quite different. Lincoln, Nebraska and New Brunswick, New Jersey are in different regions of the country. The demographics of their student bodies are strikingly different. Rutgers is 38% white while UNL is 77% white. Furthermore, 82% of Rutgers students come from New Jersey while 76% of UNL students come from Nebraska. At UNL, there are nine majors related to agriculture. At Rutgers, there is only one.
The strengths, weaknesses, majors offered, locations, acceptance rates, and student bodies vary for each Big Ten school. However, you can make some generalizations about the pros and cons of attending a Big Ten school.
Pros of Big Ten Schools
Here are some of the biggest advantages of attending a Big Ten institution.
School Spirit
Big Ten schools offer very spirited environments. Most students who attend a Big Ten school seem to love their college. You can't walk around campus or go to an off-campus bar or restaurant without seeing the college colors everywhere. During my multiple visits to the University of Illinois, I saw thousands of students wearing orange and blue and many shops selling University of Illinois apparel and souvenirs.
When I was in college competing for the gymnastics team at Stanford, we went to the University of Nebraska for NCAA Championships during my freshman year. I remember being at an off-campus Subway and seeing posters for the women's volleyball and gymnastics teams at Nebraska on the wall. Sadly, I never saw a Stanford men's gymnastics team poster in Palo Alto while I was at Stanford.
Big-Time Football
The Big Ten is one of the top football conferences in America. College football is ridiculously popular, and the Big Ten is one of the most prestigious football conferences in the country. On game days at UNL, the number of people inside of the football stadium would make it the third largest city in Nebraska. Four of the football stadiums in the Big Ten are among the 17 largest football stadiums in the country.
A few years ago, I went to a college football game at the University of Wisconsin-Madison for its homecoming game. Wisconsin wasn't playing a particularly good team, but the stadium was completely full, and people came from all over the state and country to attend and support the Badgers. There was more enthusiasm and energy there than at the handful of NFL games I've attended.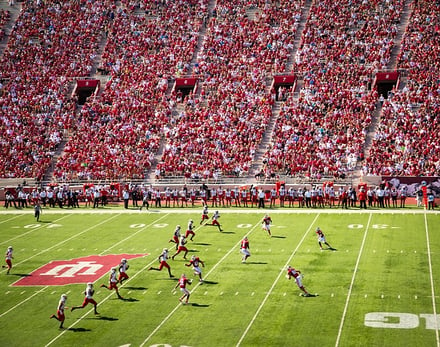 Big-Time Academics
Big Ten Schools are well-regarded academically. Northwestern is ranked as the #10 National University by US News. The other Big Ten schools are considered to be some of the best public universities in the country. US News ranks the University of Michigan as the #3 public university (#23 National University), University of Illinois and the University of Wisconsin are ranked in the top 15, and many others are ranked highly as well.
They Offer the Benefits of Large Universities
Outside of Northwestern, Big Ten schools are all large public universities, so they offer all of the advantages of attending a large state school. They offer a wider variety of degrees and programs than smaller colleges. At Penn State, there are more than 160 different possible majors. For comparison, at Amherst College, one of the best liberal arts colleges in the country, there are only 38 different majors.
At the University of Iowa, there are unique, specialized majors like actuarial science, rhetoric and composition, athletic training, and music therapy. At the University of Minnesota, you can major in construction management or apparel and textiles.
Also, there are a wide variety of extracurricular activities. Because of the quantity of students at these schools, there are tons of student organizations, clubs, and fraternities and sororities. At the University of Maryland, there are more than 70 Greek organizations and 60+ cultural organizations, including the Argentine Tango Club, the NAACP, the Pride Alliance, and the Vietnamese Student Association. At Johns Hopkins, a private college in Maryland, there are only 23 Greek organizations.
Because public colleges are subsidized by state governments, the cost of attendance for in-state residents is lower. The tuition for a Michigan resident at Michigan State University is $14,850, and it's $40,662 for an out-of-state student.
At Northwestern, the lone private college in the Big Ten, tuition is $63,468 annually. However, Northwestern does meet 100% of demonstrated financial need and provides generous financial aid packages.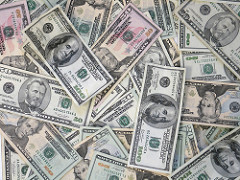 Tracy O/Flickr
Cons
While there are many advantages of attending a Big Ten school, there are some potential disadvantages.
Not Geographically Diverse
Because Big Ten schools are all state schools (with the exception of Northwestern), the majority of students are in-state residents. At private colleges, you can usually meet a greater percentage of out-of-state and international students. At private colleges, the cost of attendance is the same for in-state and out-of-state students, and many private colleges emphasize geographic diversity in their admissions and recruiting. For example, at Rutgers, 82% of students are from New Jersey. Meanwhile, at Princeton, a private Ivy League school also in New Jersey, only about 16% of students are from New Jersey.
Part of the education process in college is about learning from your peers, and you can gain a different perspective and a better understanding of others if you're surrounded by more people from different states and countries.
Large Class Sizes
Due to the size of most of the Big Ten schools, students often have to take lecture classes with hundreds of students, especially in introductory courses. At Ohio State University, the student-faculty ratio is 18:1 and 17% of classes have 50 or more students. At Kenyon College, a liberal arts college in Ohio, the student-faculty ratio is 9:1 and 72% of classes have 20 or fewer students. Many students learn better in smaller classes where there is more interaction, and students can more easily ask the professor questions.
Not Located in Urban Areas
Many Big Ten schools are in college towns that are somewhat removed from urban environments and all they have to offer. I remember driving to Penn State and there didn't seem to be any sign of civilization for two hours in any direction. Similarly, when I got off the plane in Champaign, IL for my recruiting trip to the University of Illinois, I saw corn fields and realized I was very far from LA.
While other big ten schools aren't as rural as Penn State or U of I, most are located in smaller cities. Some notable exceptions are the University of Minnesota, which is located in Minneapolis, Northwestern (which seems to be the exception to all Big Ten generalizations), which is close to Chicago, Rutgers, which is close to New York City, Ohio State University, which is in Columbus, and the University of Maryland, which is close to DC. For most other Big 10 schools you're within an hour or two of a decently-sized city, but if you're hoping for urban life right on your doorstep, you may be disappointed.
The Weather
All of the Big Ten schools are in areas with relatively harsh winters. While the weather shouldn't be the most important factor for you in choosing a college, some students enjoy attending a college in a temperate climate with year-round sunshine and 70 degree temperatures in the winter. If you're from Florida or California, you'll probably have to get some actual winter clothing before attending a Big Ten school.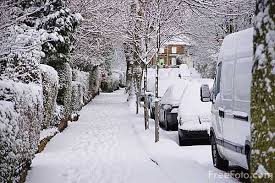 How To Decide if You Should Attend a Big Ten School
If you're trying to decide whether or not to attend a Big Ten school, go through the same process you should go through when deciding which colleges to apply to and which one to attend. Decide the factors that are important to you in a college. Think about the location, selectivity, size, and the majors offered at the school, and determine how much each factor matters to you.
Look at the school's website, and use guidebooks, college finders, search websites, and ranking lists to help you in the college selection process. If possible, consult with teachers, parents, counselors, current students, and alumni. If finances are a big concern for you, wait until you receive your financial aid packages from the schools that accept you to determine what your out-of-pocket expenses will be for each school.
Personally, I think that I would have really enjoyed attending a Big Ten school. When I was at Ohio State, Penn State, the University of Illinois, Nebraska, and the University of Wisconsin (those are the only Big Ten schools I've been able to visit), I was so impressed by and attracted to the spirited on-campus environments and the uniqueness of attending a school in a real college town.
However, some students prefer the environment at a small college, or they don't want to be at a school that places so much emphasis on athletics.
If you're interested in colleges that are similar to Big Ten schools in offering big-time athletics and quality academics at a large public university in a college town, you may also be interested in the University of Texas-Austin, Texas A&M, the University of Florida, or the University of California-Berkeley.
If you would like to attend a private college that offers big-time athletics and quality academics, then Northwestern, USC, Stanford, Duke, and the University of Notre Dame may be good options for you.
It's important to find the school that best fits your personality and has the resources and environment that will best allow you to thrive and reach your academic and professional goals.
What's Next?
To help you figure out what you're looking for in a school, learn how to do college research.
Also, read this article about whether you should go to a rural, urban, or suburban college.
Finally, if you're looking for a diverse college, check out this post about the most diverse colleges in the country.
Want to improve your SAT score by 160 points or your ACT score by 4 points? We've written a guide for each test about the top 5 strategies you must be using to have a shot at improving your score. Download it for free now:
Have friends who also need help with test prep?
Share this article!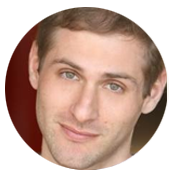 About the Author
Justin has extensive experience teaching SAT prep and guiding high school students through the college admissions and selection process. He is firmly committed to improving equity in education and helping students to reach their educational goals. Justin received an athletic scholarship for gymnastics at Stanford University and graduated with a BA in American Studies.
Get Free Guides
to Boost Your SAT/ACT