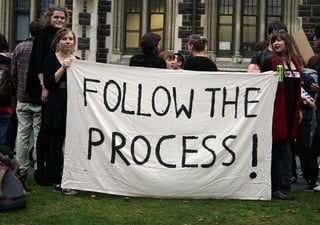 If you want to successfully complete the college application process and make yourself as competitive for college admission as possible, you'll be directly or indirectly working on your college applications well before the deadlines approach. In fact, if you have any intention of applying to selective colleges, this process can really begin as early as your freshman year.
Getting ready to apply to college can feel intimidating, but if you follow some tried-and-true advice, you'll be ready to knock your college applications out of the park! In this article, we'll describe all of the tasks you should complete to maximize your chances of getting into the best possible college, including how to do the following:
Choose the best classes to take during high school
Prioritize getting good grades
Excelling in extracurriculars
Acing standardized tests
Getting superb recommendations
We'll also explain when you should start researching colleges and complete these tasks so that you're able to stay on top of the application process.
There's a lot to cover, so let's get started!
Feature image source: Scott Savage /Flickr
Overview of the College Application Process
College applications have many moving parts. The major components of your application that will be evaluated in the admissions process are your transcript, your standardized test scores, your recommendations, your personal essay, and your extracurricular activities. We'll walk you through all the steps you need to take to strengthen each component of your application. If you follow our advice and timeline, you'll make yourself an extremely strong candidate for any college.
Read on to learn the specific things you should be doing and when to do them.
Take the Right Classes
When to start: Before freshman year
Colleges will look at the classes you took during high school to get a sense of your college readiness. The most selective schools want to admit students who have challenged themselves and are willing to push themselves academically.
You don't have to take every single honors and AP course, but if you want to get into a top college, you need to show that you can excel in some of the hardest courses that your school offers. Spend ample time considering which classes to take and whether those classes will allow you to pursue your academic interests and reach your college goals. Specifically, consider which science, math, history, foreign language, English, elective, and AP classes you should take.
In fact, you should begin thinking about which classes to take before your freshman year of high school. Now, we know: it can be tough to know what you want to study before you even start high school! A good way to decide which advanced classes to take is to look at your past grades and interests. For instance, if you made straight As in junior high math, taking honors math in high school may be a good fit for you. If you got really excited about lab days in seventh grade biology, signing up for honors biology would be the thing to do.
Additionally, the math or foreign language class you take during your freshman year will determine what level you're able to reach when you're a senior in high school. For these reasons, it's important to choose your high school classes with your plans for college in mind.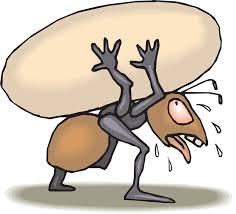 Challenging yourself makes you stronger.
Get Good Grades
When to start: Freshman year
Focusing on making good grades is also crucial to your profile as a college applicant. The majority of colleges will focus on your sophomore and junior year grades, but schools will also look at your freshman and senior year grades. Also, your high school GPA is typically calculated from your grades from all four years of high school. Colleges view your high school GPA as a strong predictor of your potential for academic success in the future.
If you take AP courses, you want to try to achieve top grades in those classes as well. Good grades in AP classes show colleges that you're capable of tackling college-level coursework.
In general, you should try to maintain the mentality that every semester counts, and do as well as you can each year of high school. For inspiration and useful information, check out our article on how to get a 4.0 GPA and better grades.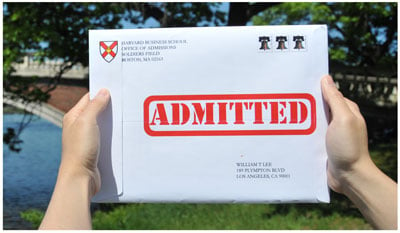 Want to build the best possible college application?
We can help. PrepScholar Admissions is the world's best admissions consulting service. We combine world-class admissions counselors with our data-driven, proprietary admissions strategies. We've overseen thousands of students get into their top choice schools, from state colleges to the Ivy League.
We know what kinds of students colleges want to admit. We want to get you admitted to your dream schools.
Learn more about PrepScholar Admissions to maximize your chance of getting in.
Excel in Extracurriculars
When to start: Freshman year
Other than your grades and test scores, your extracurricular activities probably have the biggest influence on the quality of your college application. Colleges, especially the most selective ones, want their students to have exceptional achievements outside of the classroom, and they're looking for individuals who use their leisure time to pursue their passions.
You should participate in extracurricular activities throughout high school. Colleges prefer to see a sustained commitment to your activities. It's more impressive to do one activity for four years and continue to show growth in that activity than it is to do four different activities for one year each.
Some students believe that to appear well-rounded they need to do a ton of extracurriculars. However, for college admissions, it may be more advantageous for you to develop a "spike" and exhibit excellence in a particular activity or field.
Instead of playing every sport, writing for the school newspaper, participating in speech and debate, and joining student government, you may be better served to focus your extracurricular efforts on becoming a superstar field hockey player. Or, if you're passionate about science, you may want to spend your free time creating an award-winning project for a science fair or competing in the Science Olympiad.
If you have multiple interests, it's perfectly acceptable to explore all of them. Just keep in mind that you don't have to do every possible extracurricular to get into a great college, and, generally, reaching the highest level in a given activity requires such an incredible time commitment that you won't have time to participate in many other activities outside of school.
If you're struggling to find extracurriculars, talk to your school's guidance counselor. They can help you identify your strengths and select extracurriculars that you can excel in. Also, when you're filling out your college applications, know how to write about your extracurriculars. You'll want to explain how your extracurriculars have helped prepare you for college in ways that your regular classes haven't.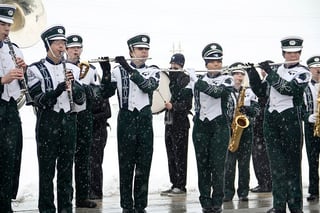 Maybe the marching band is a good extracurricular for you.
Image source: Utah Department of Transportation /Flickr
Rock Your Standardized Tests
When to start: Sophomore year
Even though some colleges have minimized the importance of standardized tests in admissions, your standardized test scores are still a crucial component of your application to most colleges. It's a good rule of thumb to start studying for the SAT/ACT during your sophomore year. Also, you may want to take the PSAT or PreACT during your sophomore year to familiarize yourself with standardized tests.
To give yourself the best chance of reaching your target score and to decrease your stress level, we recommend first taking your SAT/ACT in the fall of your junior year.
If you don't reach your target score on your first attempt, you can do more studying and retake the test in the spring of your junior year. If you achieve the score you're hoping for by the end of your junior year, you'll have more time during your senior year to focus on your schoolwork, extracurriculars, and college applications. If you're still unsatisfied with your score at the end of your junior year, you have more time to study over the summer and retake the test in the fall.
Make sure you know when is the last time you can take the SAT/ACT. Your deadline for taking the SAT/ACT is dependent upon the specific schools you apply to and whether or not you apply early.
For instance, to meet the early decision deadlines for most schools, you have to take the SAT/ACT by October or November of your senior year. For regular decision, you have to take the SAT/ACT by December of your senior year. However, there are a few colleges that will accept the January SAT or the February ACT. You'll need to carefully peruse a school's admissions website to ensure you know the correct application deadlines.
If you're considering applying to a school that requires SAT Subject Tests, I also recommend taking those by the end of your junior year.
Research Colleges
When to start: Junior year
Before you apply to college, you need to know which colleges will be the best fit for you. You can start learning about colleges as early as your freshman year, especially if you want to get an idea of what you need to do to be a competitive applicant, but you should actively research colleges starting in your junior year at the latest.
Use college search websites, finders, guidebooks, and ranking lists to help find college options. You can also use college fairs and tours to gain more exposure to different colleges and get a better idea of the types of schools that are out there.
It's also important to consider your priorities as an applicant as well as your academic strengths and interests. Doing this will help you identify schools that align with your goals as a future college student and, ultimately, narrow down your list of schools to apply to.
By the start of your senior year of high school, you should have a list of colleges to apply to. We recommend applying to reach schools, target schools, and at least a couple of safety schools.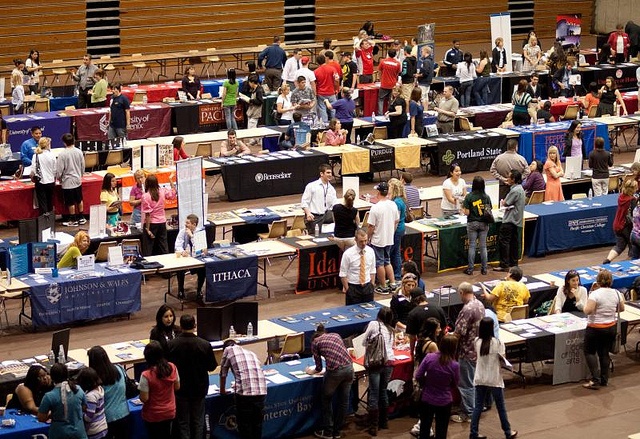 College Fair fun. Image source: Patrick Giblin /Flickr

Get Superb Recommendations
When to start: Spring of junior year
Recommendations are also an important part of your college applications. Colleges often ask for anywhere from two to three letters of recommendation from a teacher, coach, or other mentor figure who can attest to your character as a student and person. To be prepared for this part of the college application process, you'll want to research what constitutes a good recommendation and how to ask for a letter of recommendation.
It's best to ask teachers to write your recommendations in the spring of your junior year if you want to get thoughtful and well-written letters. By asking early, you'll be able to get your teachers to agree before they become inundated with requests during your senior year, and they'll have more time to think about what they're going to write.
Make sure you know whom to ask to write your letters. For instance, if you're choosing to take a spike approach as a math champ, you might ask your Calculus teacher to write one of your recommendation letters. At the beginning of your senior year, you can submit formal requests for your recommendation letters.
Also, for your reference, check out these recommendation letters that got a student admitted to Harvard and other Ivy League schools.
Write Outstanding College Essays
When to start: Summer before senior year
The personal essay, sometimes also called the personal statement or writing sample, is the most challenging and time-consuming part of the actual application process. These essays give schools a deeper view into who you are as a student and applicant, so it's crucial to dedicate time and effort to writing them.
To write excellent college essays, learn as much as you can about the college essay and how to come up with great college essay ideas. It's also important to learn about the less common types of college essays, such as supplemental essays, that are often required by selective schools in order to determine your fit with the school's culture and mission.
We recommend starting to work on all of your college essays during the summer before your senior year. This will give you ample time to polish and perfect them before application deadlines arrive.
College essays tend to take much longer than you'd anticipate, and you're less likely to be able to write good essays if you wait until the last minute to start. Because of this, the absolute latest you'd want to wait to start your college essays is the beginning of your senior year, as soon as you've finalized the list of colleges you're applying to.
As soon as you have complete drafts of your college essays, ask a trusted teacher or counselor to proofread them. Going over your essays with someone who knows your experiences and potential as a student can help you represent yourself authentically. Finally, you'll also need time to revise them. Revising your essays (once, at minimum!) before submitting them is a crucial part of the process.
So when should you have your essays completed in order to meet your application deadlines? If you're applying early, most deadlines are in early to mid-November. If you're applying regular decision, most deadlines are around January 1.
Make sure you keep track of deadlines for the schools you're applying to because deadlines will vary. For example, the application deadline for University of California schools is November 30.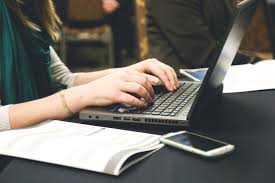 Final Thoughts and Additional Steps
For most students, the steps listed above are the major components of the college application process. However, some students may have to do extra work depending on your situation and the colleges you apply to. For example, if you're an aspiring college athlete, you may participate in the athletic recruiting process. If you're applying to an art school or program, you may have to make an art portfolio.
Also, some colleges recommend or require interviews. If you interview, research what questions to ask and prepare for. You can learn more about how the interview process works at different schools by contacting an admissions counselor.
Students seeking financial aid and scholarships will have to go through the financial aid process and complete additional applications. These add more time to the college application process and, as such, should factor into your planning and prep for applying to schools.
You should find out the status of early applications in mid-December and regular applications by late March. Then, you may find yourself with multiple options and have to face the task of choosing a college.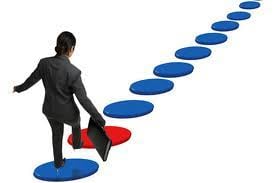 What's Next?
If you're looking for an example of what you need to do to get into the best colleges, check out this successful Harvard application.
Perhaps you've heard people reference Ivy League schools, but you're not exactly sure what they are. Learn about Ivy League colleges and read our article ranking the Ivy League schools.
Finally, you'll want to think about what you should major in! This guide can help you choose a major for your college application (and possibly even beyond).
Want to improve your SAT score by 160 points or your ACT score by 4 points? We've written a guide for each test about the top 5 strategies you must be using to have a shot at improving your score. Download it for free now:
Have friends who also need help with test prep?
Share this article!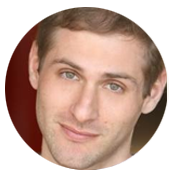 About the Author
Justin has extensive experience teaching SAT prep and guiding high school students through the college admissions and selection process. He is firmly committed to improving equity in education and helping students to reach their educational goals. Justin received an athletic scholarship for gymnastics at Stanford University and graduated with a BA in American Studies.
Get Free Guides
to Boost Your SAT/ACT