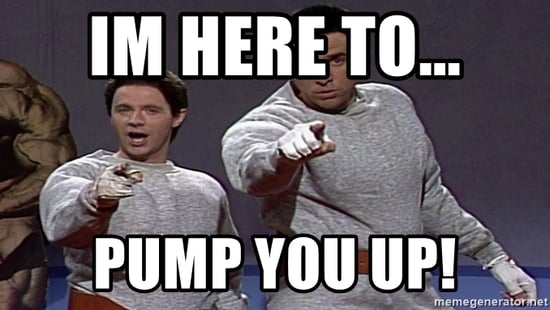 If you've ever been to a gym, you've probably seen a personal trainer at work. (You may have even worked with one yourself!) If you enjoy helping others reach their fitness goals and don't mind a flexible schedule, then you might enjoy being a physical trainer!
If you're interested in learning how to become a personal trainer, we're here to help. This article will give you a clear sense of how to become a personal trainer by answering the following questions:
What does a personal trainer do?
How long does it take to become a personal trainer?
How much do personal trainers make?
What's the employment outlook for personal trainers?
What are the steps to becoming a personal trainer, and do you need any special certifications?
Are you ready to learn more about becoming a personal trainer? Then let's get started!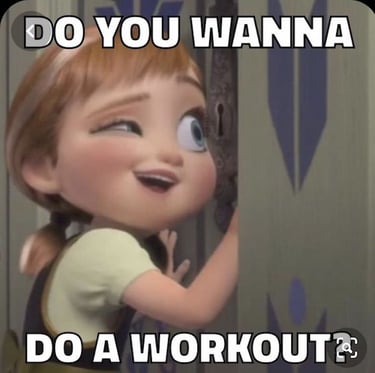 Personal trainers help their clients reach their physical fitness goals. One way they do that is through relentless encouragement!
What Does a Personal Trainer Do?
Personal trainers design fitness programs for everyone from individuals to entire fitness groups.
In addition to helping people achieve their health and fitness goals, personal trainers also sometimes serve as fitness instructors, gym program managers, and even coaches. What it boils down to is this: personal trainers use their knowledge of anatomy and physiology to create safe, effective physical training plans...and they also help people meet their fitness goals!
While reality TV would have you believe that personal training is all about wearing sleek athleisure outfits while pumping iron, there's actually a lot more to personal training than that! In fact, personal trainers have to complete professional certifications, CPR and AED training so they can do their jobs safely and effectively. These certifications are required by most employers if you want to work as a personal trainer.
Here's what personal trainers don't do: they aren't certified to give medical advice or provide any type of physical therapy. If you're interested in one of these areas of fitness, you might consider looking into becoming an occupational therapist or nutritionist instead.
But personal trainers do design customized fitness programs, provide hands-on physical training, and work to motivate and encourage their clients. Employers usually also expect personal trainers to set an example by dedicating themselves to their own fitness as well. So, in your quest to learn how to become a fitness trainer, you should start with committing to a plan to maintain your own health and wellness so that you can help others, too.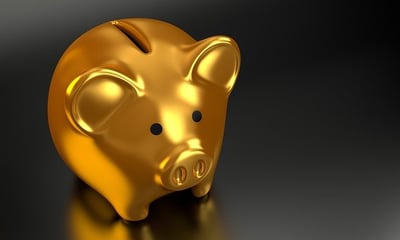 Salary and Employment Outlook for Personal Trainers
One important consideration as you learn about how to become a personal trainer is how much these professionals make and what their job opportunities look like. We'll answer the questions, "How much do personal trainers make?" and "What are the employment opportunities like for personal trainers?" below.
How Much Do Personal Trainers Make?
The potential salary for a professional trainer really can vary depending on different factors like how much experience you have, your geographical region, where you work, and what type of personal trainer you are.
Having said that, the average annual salary for personal trainers in the U.S. is over $31,000, with the top 10% of personal trainers earning $100+ per hour in certain circumstances.
Here's a breakdown of the average estimated salary for different types of personal trainers according to the U.S. Bureau of Labor Services:
Job Type

Estimated Salary

Certified personal trainer at a fitness facility or health club

$24.54/hour for full-time status
$21.31/hour for part-time status

Independent contracting as a certified personal trainer

Between $40-$60/hour on average
Upwards of $100/hour in some circumstances

Private personal trainer

Between $40-$60/hour on average
Upwards of $100/hour in some circumstances
It's also pretty easy to find the average hourly pay for personal trainers at big commercial gyms online (like Planet Fitness or Gold's Gym). Because many personal trainers decide to start their career by training at gyms, we recommend looking up salaries at gyms in your area. That way you can have a more precise idea of what you can make as a personal trainer in your community!
But keep in mind that many personal trainers are contractors or own their own businesses. If that's the route you want to pursue, your salary could be higher or lower than what you'd make as a fitness center employee. It's a good idea to talk to independent personal trainers you know or who work in your community to get a better sense of how much money they make.
What Are the Employment Opportunities Like for Personal Trainers?
According to the U.S. Department of Labor, employment of fitness trainers has grown approximately 24% between 2010 and 2020. This is much faster than the average for other occupations.
There are a few reasons for this growth. Some of the biggest ones are businesses investing in the health of their employees in order to prevent excessive sick leave, injuries on the job, and improve employees' quality of life. Businesses will sometimes offer employees free gym memberships, and some offices even offer in-house personal training! Also, with the emphasis on healthy living and self-care in popular culture and on social media, individuals of all ages have shown an increased interest in personal training as well.
So how do you land a job as a personal trainer? The personal trainers who have the best job prospects are going to be those who have formal education in personal training and accredited certifications.
But networking is also a really big part of how to become a personal trainer. To increase your employment prospects, it's also important to work out at a gym and create a network you can use to build up a client base if you choose to be an independent or private personal trainer.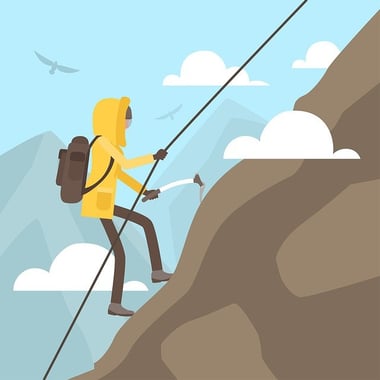 With our tips, becoming a personal trainer doesn't have to feel like an uphill climb...unless you want to train spelunkers, that is!
How to Become a Certified Personal Trainer: 4 Important Steps
The path to becoming a personal trainer is a bit more flexible than other professions, but there are a few steps you definitely need to take if you want a top-tier job.
Here are the four steps you should follow to become a certified personal trainer.
Step 1: Decide on and Pursue Your Educational Path
When thinking about how to become a fitness trainer, the first thing you should decide on is your educational path. You'll need to start by either getting a high school diploma or GED. (We'll talk about the benefits of having a college degree later, but you don't have to have one to become a personal trainer.)
After you've completed that step, it's time to decide whether you want to pursue accredited certifications for personal training, or if you want to earn a bachelor's degree and pursue certification simultaneously.
Whether you choose to get a bachelor's degree or not, you must have an accredited certification to become a personal trainer. There are different programs you can complete in order to get a certification, but whichever program you choose should be accredited by either the National Collegiate Athletic Association, the National Board of Fitness Educators, or the Distance Education Accreditation Commission. Completing an accredited personal training certification program shows clients and employers that your personal training knowledge is up to industry standards—and if you plan to work in a commercial setting, you'll definitely need certification for insurance purposes!
Step 2: Get Certified
Various organizations offer accredited personal training certification programs, and you can find these program offerings by searching online. The National Academy of Sports Medicine's (NASM) certification program is currently the most widely used by aspiring personal trainers.
Any personal training certification program you complete will be pretty similar to a course you'd take in school. These programs usually include a textbook, study guides, instructor lectures, homework, practice exams, and quizzes. At the end of a personal training certification program, you'll have to take an exam in order to receive certification.
Like we mentioned earlier, you don't have to have a bachelor's degree to become a personal trainer. If you do get a college degree, you'll still have to take and pass a certification program. But earning a college degree can be an advantage if you want to become a personal trainer! You'll qualify for commercial personal training jobs that require a bachelor's degree, and you'll be able to move into other related careers (like fitness program management or gym management) more easily.
If you do decide to get a bachelor's degree, the best majors for aspiring personal trainers are kinesiology, exercise science, health and nutrition, or physical therapy. Each of these majors is science-based and will give you a solid understanding of human health and how the body works. We'll talk more about colleges and universities that offer great kinesiology degrees in just a second!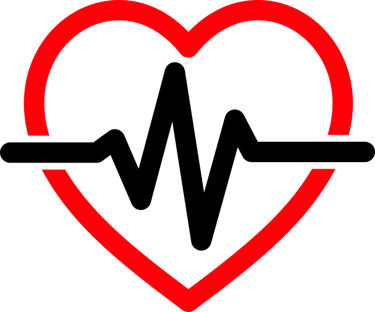 Step 3: Get CPR and AED Certified
Additionally, personal trainers need to be CPR and AED (Automated external defibrillator) certification. Most personal training certification programs require you to have CPR and AED certification before you take your personal training certification exam. Prospective employers will want to see these certifications on your resume when you apply for jobs as well.
Because personal trainers work with people who are pushing their bodies and elevating their heart rate, it is important to know what to do if a situation arises where a client becomes unconscious or incapacitated. That's why CPR and AED certification is a required step in the process of becoming a personal trainer.
There are different ways to get CPR and AED certified, but one easy way to do it is through the American Red Cross. You can find other avenues to CPR and AED certification online--just make sure the certification course you choose offers in-person training, since most employers don't honor online-only certification.
Step 4: Pick Your Niche
The final step in becoming a personal trainer is picking your niche. This is particularly important since working with certain demographics of people may require additional certifications.
For example, some personal trainers want to work with the elderly, so they'll look for jobs at senior living centers. But if you decide that personal training for the elderly is your niche, you also need to know that there may be additional training you'll need that tailors your expertise to that demographic. ISSA's Senior Fitness Certification is one example of an additional training program you'd want to consider completing if you decide you want to work with the elderly as a personal trainer.
You'll also want to make sure you consider some of the additional constraints that come with different personal training opportunities. For instance, if you decide to work as an independent contractor, you'll have to learn more about how to manage your finances, insurance, and taxes. (When you work for yourself, you won't necessarily have your taxes withheld--or even be taxed at the same rate as someone who works for a company!)
If you choose to work at a commercial gym, there will probably be very specific rules and regulations you'll have to observe—and maybe even company-specific certifications you have to earn. Every personal training niche is different, so be sure to do your research before you commit to a specific career path.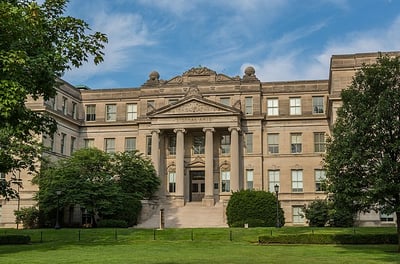 The University of Iowa is one of the best universities for aspiring personal trainers.
(Tony Webster/Wikimedia)
The 3 Best Universities for Personal Trainers
If you want to earn a bachelor's degree before you become a personal trainer, there's good news: many universities offer degrees in related fields (like kinesiology or exercise science) that will help you excel as a personal trainer.
But not all programs are created equal! We're going to highlight three of the best universities for future personal trainers below.
The University of Iowa is a large public school located in Iowa City, Iowa. This school offers four degree programs in Kinesiology and Exercise Science, but advisors specifically recommend the Exercise Science track for students who wish to become personal trainers.
Students who pursue the four-year Exercise Science degree at the University of Iowa take at least six courses tailored toward personal training. These include exercise physiology; psychological aspects of sport and physical activity; sport and exercise nutrition; exercise testing and prescription; and biomechanics. This track is specifically geared toward preparing students to become personal trainers by honing students' training skills while still in school.
Texas A&M University is a large public university in College Station, Texas. Texas A&M offers four Kinesiology and Exercise Science degrees that are well-suited for aspiring personal trainers.
The Bachelor of Science in Kinesiology degree at Texas A&M offers multiple tracks that are designed to educate you for professionalization in specific areas of health and wellness. For instance, the Exercise and Sport Science option is offered to students wishing to pursue careers in exercise and sports training—which aligns well with a career in personal training, too!
The University of Wisconsin is a public university located in Madison, Wisconsin. The university offers a unique program in Health and Wellness that's perfect for aspiring personal trainers.
In the Health & Wellness program, students will take traditional classes as well as fieldwork courses that are designed to give students hands-on experience. Students also complete a capstone project, which students can tailor to their personal training interests. Additionally, the program boasts alumni who have become successful personal trainers, especially in commercial environments!
How to Become A Certified Personal Trainer: 5 Big Takeaways
We've covered a lot of info about how to become a fitness trainer. To wrap up, we'll run back the five most important takeaways about becoming a personal trainer here:
The salary prospects for personal trainers can vary fairly widely, so give serious thought to what your professional niche will be before you get started.

You absolutely have to get an accredited certification to become a personal trainer, but you can do so totally online!

Getting a bachelor's degree is totally optional for a career as a personal trainer, but doing so definitely won't hurt your career prospects.

CPR and AED certification is required before you take your personal training certification program exam.

Spend time networking in your community and online to hunt down job opportunities and/or start building a client base.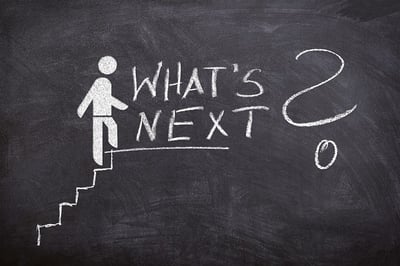 What's Next?
If you're going to college to become a personal trainer, you might be considering a degree in kinesiology. Did you know that a kinesiology degree opens up tons of career paths for you? You can learn more about the degree (and jobs you can get with it!) here.
To get into a great kinesiology or exercise science program, you'll need awesome SAT and ACT scores. Our customized study plans can help! You can find our SAT study plan here, and our ACT study plan here.
Your test scores are just one part of your college application, though. You'll also need to write killer admissions essays! Here's our guide to conquering your college essays, so you can knock all of your applications out of the park.
Have friends who also need help with test prep?
Share this article!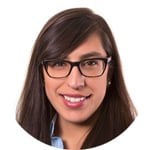 About the Author
Ashley Sufflé Robinson has a Ph.D. in 19th Century English Literature. As a content writer for PrepScholar, Ashley is passionate about giving college-bound students the in-depth information they need to get into the school of their dreams.
Get Free Guides
to Boost Your SAT/ACT