Have an ACT date coming up that you can't make or think you're not going to do well on? Learn here how to cancel ACT tests or change your ACT test date.
Additionally, we'll also cover some reasons why you might cancel your ACT registration – and help you decide if canceling is truly the best move.
How to Cancel Your ACT Registration Completely
Unfortunately, there is not really any way to flat-out cancel your ACT registration. According to the ACT's website, "If you decide you do not want to test, your basic registration fee and any additional service fees (e.g., late registration, test center change) are nonrefundable." Optional services (like additional score reports), however, are refundable.
That means your options are to change your test date (we have a how-to below), or, if you've decided not to take the ACT again or at all, to simply not show up and accept the fact you've lost money. If you do not test, your test won't be scored and no score report will be created for that test date.
This means if you haven't registered for the ACT yet, only register if you are 100% certain you will be taking the ACT at some point!
How to Change Your ACT Test Date
This is the best option if you still want to take (or re-take) the ACT, but you can't make it on the date you signed up for. (You can also do this if an emergency comes up on test day and you have to no-show.)
Log into your ACT account and select "make changes to your registration." You can do this at any point before the next ACT test you want to take. However, note that if you are doing this before the last test of the academic year (June) you won't be able to make changes until July when the tests for the next academic year open for registration. (If this is the case for you, simply don't show up for the June test, and you will be able to transfer that registration to a later test once the new dates open up.)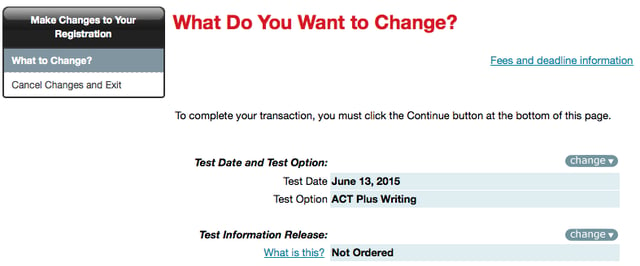 To change your test date, click the "change" button next to "Test Date and Test Option."
You will be able to sign up for a future test date, though you will have to pay the $25 test date change fee. Make sure to do this no later than the registration deadline for your new test date or else you'll also have to pay the $27.50 late registration fee.
If there is space available for your test option (either ACT or ACT Plus Writing) at your preferred test center on your new test date, you will be assigned there.
You will be charged up front when you register for your new test for the cost of taking the ACT. However, the fee for your original test will be refunded – meaning the only additional charge is the test change fee.
Can You Get a Refund?
You won't be able to get a refund for your basic registration fee or fees for late registration or test date change. Basically, once you've paid for the ACT, you're never going to see that money again, whether you end up testing or not.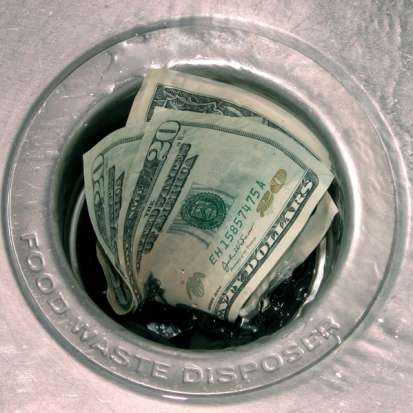 Another reason you should really think carefully before signing up for the ACT.
However, you can get some money back for optional services if you signed up for them: score reports for 5th and 6th colleges ($12 each), test information release ($20), or ACT With Writing ($16.50).
To request a refund, write "REFUND" on your unused ticket and mail it to ACT, or write a letter including your identifying information and the test date and test option for which you registered. Label your envelope "REFUND." Refunds will be issued about eight weeks after the test date. Send your refund request here:
ACT
301 ACT Drive
P.O. Box 414
Iowa City, IA 52243-0414
U.S.A.
Also note that ACT doesn't issue refunds after July 31st for the previous academic year of testing.
Are You Sure You Want to Cancel Your ACT?
Your choices for "canceling" your ACT date are either to no-show (and not register for a future ACT) or simply to change your test date. Given that you've already paid money that can't be refunded for the ACT, make sure you think carefully before no-showing.
In the vast majority of cases it makes sense to either take the test or move to a later test date rather than no-show completely. You can make a lot of progress in a short amount of time studying for the ACT, so if you're nervous about not doing well, consider an intense study regimen in the weeks before the test. And if you're certain you don't have enough time, you might as well push your registration later, rather than just skipping the ACT completely. (Even if this sign-up is for a retake, you can always improve your score, unless you are one of the rare few who got a 36.)
Possibly Acceptable Reasons to No Show on ACT Test Day
There are two cases in which it might make sense to go ahead and skip the ACT.
Scenario 1
You've already taken the ACT, created a list of schools to apply to, and done some research on their ACT statistics. Turns out your first ACT score is well within range for admission even for your top choice schools, so there is no reason to retake the ACT.
Odds are, this is not going to be the case for the majority of students. Even if your original ACT score is in range for admission at your target schools, getting a higher score can always improve your scholarship options.
Scenario 2
You've taken both an SAT and ACT practice test and determined you would do better on the SAT, so you are going to focus on preparing for the SAT instead.
This is only a good idea if you see a drastic difference between your potential SAT and ACT performance. Since you've already signed up for the ACT, unless you think you are headed for a disastrous score, it makes sense to take it anyway. If you do terribly, you can always delete your score. Furthermore, you should have made the SAT vs ACT decision before signing up for either test.
Reasons You Should Bite the Bullet and Take the ACT Anyway
Since the ACT is essentially non-refundable, you should either try to make your original date or move to a later ACT. If not, you're throwing money and the chance for a higher score away. Below is a list of scenarios where it makes more sense to take the ACT (possibly at a later date) instead of straight-out cancelling.
If you're worried you won't have enough time to study before your original test date, consider embarking on an intense, short-term study regimen, like our 10-day study plan. You can make huge strides in a few days. And for some students, pushing your test date later could encourage procrastination.
If you have an unmovable conflict on your original ACT test day – like a family event or important sports tournament – simply move your test date instead of canceling.
If you really think you will not have time to adequately study before the test date, move to a later ACT test date and commit to a study plan and start as soon as possible so you're not tempted to procrastinate. This is especially true if you haven't taken the ACT yet. If you're feeling unprepared, you can move your test date forward.
Even if you've already taken the ACT, unless you got a 33 or higher, odds are you could improve your score on a retake, opening more college and scholarship doors for yourself.
If you signed up for a retake and are frustrated with your studying progress, don't give up before you've exhausted your options. Check out some of our links below.
What's Next?
Need ACT studying resources? We've got 'em! Check out our guide to ACT vocabulary, writing the ACT essay, and specific guides for what to expect on each section – English, Math, Reading, and Science.
Not sure you can go it alone? Consider our PrepScholar ACT prep program – the only program in the business with a 4-point improvement guarantee.
Need to improve ASAP before your test date? Check out our guide for going from a 25 to a 32 in just 10 days.
Not sure if the ACT is right for you? Learn how to find out for sure whether you will be better at the ACT or the SAT.
Want to improve your ACT score by 4 points? We have the industry's leading ACT prep program. Built by Harvard grads and ACT full scorers, the program learns your strengths and weaknesses through advanced statistics, then customizes your prep program to you so you get the most effective prep possible.
Check out our 5-day free trial today:
Have friends who also need help with test prep?
Share this article!
About the Author
Halle Edwards graduated from Stanford University with honors. In high school, she earned 99th percentile ACT scores as well as 99th percentile scores on SAT subject tests. She also took nine AP classes, earning a perfect score of 5 on seven AP tests. As a graduate of a large public high school who tackled the college admission process largely on her own, she is passionate about helping high school students from different backgrounds get the knowledge they need to be successful in the college admissions process.
Get Free Guides
to Boost Your SAT/ACT