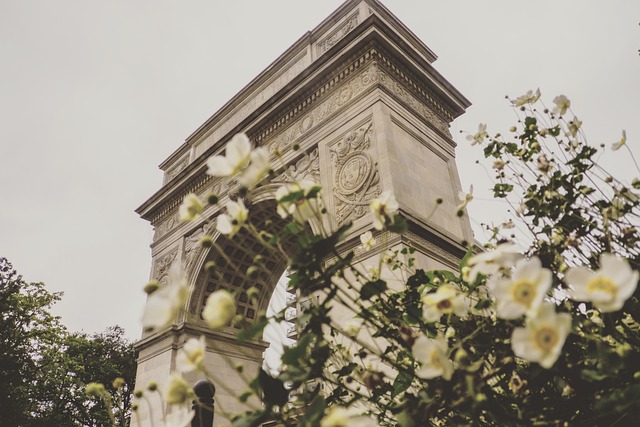 If you want to go to NYU, you'll need to make sure your application is strong enough to stand out from the crowd of other applicants. NYU's acceptance rate is falling every year, so you'll need all parts of your application to be competitive if you hope to be admitted to NYU.
In this article, we'll teach you everything you need to know to get into NYU. First, we'll talk about how hard it is to get into NYU in the first place, taking a look at the average test scores and grades of admitted applicants. Next, we'll discuss NYU's admissions requirements and essays. Finally, we'll give tips to teach you how to get into NYU.
How Hard Is It To Get Into NYU?
NYU has been getting more and more competitive over recent years. In 2022, NYU's acceptance rate was just 12.2%, its lowest on record. That means that NYU admits 12 out of every 100 applicants.
An acceptance rate of just 12% means that NYU is highly selective—and getting even more so. Just a few years ago, NYU's acceptance rate was about 35%, meaning that it has fallen by nearly half in a short time. Each subsequent year, NYU has admitted a smaller and smaller percentage of students, and the acceptance rate for the Class of 2027 may be even more competitive than 2026's was.
What Is NYU Looking for in Its Students?
NYU prizes diversity: the Class of 2025 is the school's most diverse class to date. 29% of students come from underrepresented communities, 20% are first-generation university students, and 19% are international students.
NYU has also been recognized for sending more students abroad than any other American university, so it's safe to say that the university values exposing its students to other cultures and ways of life. With satellite campuses in fourteen different countries around the world, NYU has unparalleled opportunities to broaden your horizons.
While the university prizes diversity, it's equally clear that NYU prizes strong academics and hard work. While acceptance rates reached a record low this year, the average test scores of admitted students reached a record high, meaning that incoming students are exceptionally well-qualified, too.
Can You Apply to NYU Early?
NYU offers early decision to applicants that are certain NYU is the right school for them.
If you apply for early decision admission, and are admitted under the early decision notification, you are expected to enroll at NYU. In addition, you'll have to withdraw your applications from other schools, and you cannot submit new applications.
Early decision offers to NYU are binding, unless you don't receive enough financial aid to be able to attend. If you don't get into NYU during the early decision period, you won't be able to apply again under regular decision.
NYU offers two early decision dates: November 1 and January 1. Students who apply at the November 1 deadline receive their decision on December 15; students who apply on January 1 learn on February 15.
It can pay off to apply early to NYU. Although NYU hasn't published early decision acceptance rates recently, for the Class of 2021, the overall admissions rate was roughly 28% while early decision candidates were admitted at a rate of roughly 38%. That means that you have a statistically higher chance of getting admitted to NYU early than you do as a regular decision candidate—provided, of course, that your application is strong.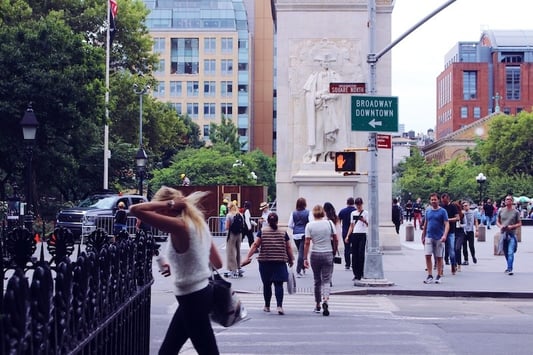 NYU Application Deadlines and Requirements
NYU has three degree-granting campuses: New York, Abu Dhabi, and Shanghai. The admissions process is the same for all three schools.
In order to apply as a first-year at NYU, you must be either:
Currently in high school, even if taking college courses, or
Participating in a dual-enrollment program, even if you're earning enough credits for an associate's degree, or
Graduated with a GED or high school diploma equivalency test and not enrolled in a degree-seeking program.
To apply, you'll need to complete the Common Application and have a recommendation from your guidance counselor and up to two teachers. NYU doesn't accept the Coalition or Universal applications. You'll also need to send in your official high school transcripts and official transcripts for any college-level work you've completed.
If you're applying to the Steinhardt School of Culture, Education, and Human Development and Tisch School of the Arts, you'll need to complete an audition or submit a portfolio of work in place of standardized testing.
Steinhardt requires an audition or portfolio for all applicants to the Music Department with the exception of Educational Theatre, and a portfolio for those applying to Studio Art.
Tisch requires an audition or portfolio for applicants to all programs with the exception of Interactive Media Arts.
Regular decisions applicants must submit their applications by January 5 and are notified on April 1.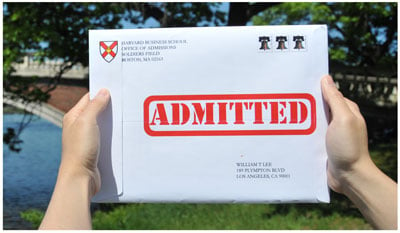 Want to get into NYU or your personal top choice college?
We can help. PrepScholar Admissions is the world's best admissions consulting service. We combine world-class admissions counselors with our data-driven, proprietary admissions strategies. We've overseen thousands of students get into their top choice schools, from state colleges to the Ivy League.
Learn more about PrepScholar Admissions to maximize your chance of getting in.
What GPA Do I Need to Get Into NYU?
Most students admitted to NYU have an unweighted GPA of 3.7 or higher, which means that you'll want to achieve at least a 3.7 to be seriously considered as an applicant.
In order to achieve a 3.7, you'll need to earn mostly A's and A-'s on your coursework. If your GPA is below 3.7, you can try to make up for that on other parts of your application, like your test scores or your portfolio, if you're applying to Tisch or Steinhardt.
What Test Scores Do I Need to Get Into NYU?
NYU requires that you submit standardized test scores unless you're applying to Steinhardt or Tisch, where your portfolio can take the place of test scores. (NOTE: Due to the coronavirus pandemic, submitting standardized tests is optional for all students applying in the 2022-2023 admissions cycle. However, NYU will still accept and review scores you send them.)
NYU accepts a wide variety of test scores, though most students submit SAT or ACT scores. Here's the full breadth of scores NYU accepts:
SAT; or
ACT; or
International Baccalaureate (IB) Diploma; or
Three (3) AP Exam scores (at least one from a Humanities exam and at least one from a Math/Science exam); or
Three (3) IB higher-level exam scores if not an IB Diploma candidate; or
Other international examinations that show you completed, or if submitting predicted results show you will complete, your secondary education. You can find more information on these international examinations here.
For this article, we'll focus mainly on SAT and ACT scores, since those are what the majority of applicants submit.
While NYU doesn't have cut offs for SAT or ACT scores, you'll need to make sure your scores are competitive with the average scores of admitted applicants. Let's take a look at those.
What SAT Scores Do I Need to Get Into NYU?
As NYU's acceptance rate lowers, the average SAT score of admitted applicants rises. The Class of 2025 had the highest average SAT composite score yet: 1540.
This means you'll need to score at (or very near) 1500 to be considered competitive with your fellow applicants.
NYU does superscore the SAT, so that means if you take the SAT multiple times, they'll use the highest score in each section across all your test dates.
What ACT Scores Do I Need to Get Into NYU?
NYU's average ACT score is also rising. The average ACT score of admitted applicants to NYU is 33.
Even though NYU says they have no minimum ACT requirement, if you apply with a 29 or below, you'll have a hard time getting in, unless you have something else very impressive in your application. There are so many applicants scoring 33 and above that a 29 will look academically weak.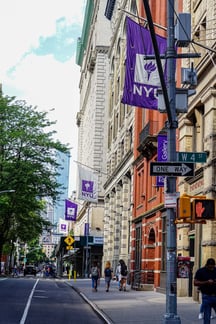 NYU Application Essays
You'll need to submit both the regular Common App materials as well as an NYU supplement, which includes a short essay, for your NYU application.
As we mentioned above, diversity is very important to NYU, and they want to know what diverse experiences/background/etc. you'll bring to campus.
Here's the text of the prompt in full:
NYU was founded on the belief that a student's identity should not dictate the ability for them to access higher education. That sense of opportunity for all students, of all backgrounds, remains a part of who we are today and a critical part of what makes us a world class university. Our community embraces diversity, in all its forms, as a cornerstone of the NYU experience. We would like to better understand how your experiences would help us to shape and grow our diverse community. Please respond in 250 words or less.
To answer this prompt, you'll need to both discuss some key experiences and explain how you'll use your own unique background/experience/views will benefit NYU and contribute to their community.
Students applying to the Tisch School of the Arts as Cinema Studies majors also need to submit two additional writing supplements:
1. An essay on a film, director, or any other film-related topic that you choose. (Page limit: 5-10 pages)
2. A statement that answers the following questions: Have you taken any cinema-related classes? What areas of cinema studies most interest you (film genres, directors, theory, etc.)? What are your career aspirations (film journalism/criticism, film curating, filmmaking, etc.)? (Page limit: 1 page)
For these, NYU is clearly interested in your own knowledge of and experience in cinema. For prompt 1, choose a film topic you're genuinely passionate about, as that'll make a stronger essay than a movie or director you think will look more impressive. Prompt 2 is pretty straightforward, just be sure to spend the most time discussing your career goals, as that's what NYU will be most interested in (and don't worry if you haven't taken any cinema-related classes yet; NYU knows not everyone has that opportunity in high school).
Tips for Getting Into NYU
It's difficult to get into NYU...and it's getting more difficult every year! If you want to be admitted to NYU this year, follow these key tips for how to get into NYU.
#1: Reflect NYU's Values
NYU values diversity and providing its students with a truly global experience. If you want your application to stand out, you can talk about a) how these values are important to you, too, and b) how you'll take advantage of this policy when you go to NYU.
You can talk about this as part of your why NYU essay. Be sure to have concrete examples of how you'll engage with this mindset—don't just say it would be fun to go party in another country! Have specific programs, classes, or experiences in mind and write meaningfully about how those opportunities are the best fit for you.
#2: Polish Your Application
As NYU gets more and more competitive, you'll need to put more and more effort into making your application equally competitive. Your test scores should meet or exceed the average scores of admitted applicants, as should your grades.
Ask for letters of recommendation from teachers who really know you and your work to give an idea of why NYU can't live without you.
#3: Wow With Your Portfolio
If you're applying to Steinhardt or Tisch, your portfolio needs to be stellar. Pick examples of your work that showcase your specific talents and individuality. Your portfolio should have a point-of-view and personality—don't submit generic work that could be attributed to anyone.
#4: Have a Spike
When you're applying to college, it's tempting to seem well-rounded and interested in all the things.
Don't do that.
Your application won't stand out if you're mediocre in band, on the track team, and on student council. It will stand out if you travel to Japan to perform with a world-class performance ensemble or qualify for the Olympic trials in shot put.
When your focus is on one thing, you'll be better at it than if you have to split your time and attention. Plus, when it comes time to submit your application to NYU, you'll be able to demonstrate your excellence and passion for the interest or activity that motivated you to apply to NYU in the first place!
What's Next?
Looking for application tips for other selective schools? Read our complete guides to the University of California system and to the Georgetown application.
Should you apply early or regular decision to college? Find out the pros and cons of early decision in this article.
College admissions get more and more competitive every year, so you want to present yourself with the best application you can. Read about how to build a versatile college application here.
Want to build the best possible college application?
We can help. PrepScholar Admissions is the world's best admissions consulting service. We combine world-class admissions counselors with our data-driven, proprietary admissions strategies. We've overseen thousands of students get into their top choice schools, from state colleges to the Ivy League.
We know what kinds of students colleges want to admit. We want to get you admitted to your dream schools.
Learn more about PrepScholar Admissions to maximize your chance of getting in.
Have friends who also need help with test prep?
Share this article!
About the Author
Hayley Milliman is a former teacher turned writer who blogs about education, history, and technology. When she was a teacher, Hayley's students regularly scored in the 99th percentile thanks to her passion for making topics digestible and accessible. In addition to her work for PrepScholar, Hayley is the author of Museum Hack's Guide to History's Fiercest Females.
Get Free Guides
to Boost Your SAT/ACT