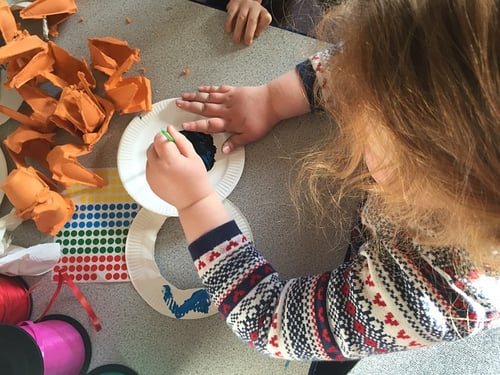 If you're raising a toddler, you're probably used to the tantrums, the nursery rhymes, the same old bedtime stories. But have you ever thought about spicing up your routine with some crafts? There are so many fun and easy crafts for toddlers, and we introduce some of the best here.
Keep reading to learn how crafts for toddlers can have tons of developmental benefits and to take a look at our list of 21 exciting preschool crafts.
What Benefits Can Crafts for Toddlers Have?
Crafts can have a ton of amazing benefits for toddlers.
For one, doing crafts can improve toddlers' early developmental skills, including dexterity, fine motor skills, hand-eye coordination, and pattern recognition. This is because making crafts is both a tactical and visually stimulating activity.
Another benefit of crafts is that they encourage toddlers to explore art and develop their own sense of creativity. Kids get to play with colors and come up with their own designs, aiding in the fostering of a more sophisticated and individual creative consciousness.
The third benefit is that tons of preschool crafts promote recycling through their application of old, used materials, such as toilet paper rolls and bottle caps. This ability to reuse things typically considered trash can instill in kids an awareness of the importance of environmental conservation.
Finally, crafts for toddlers offer an exciting opportunity for parents to bond with their kids. You not only get to enjoy coming up with cool, new toys, but you also get to spend time talking and playing with your toddler.
Basic Materials Needed for Most Preschool Crafts
The majority of crafts for toddlers will require pretty simple materials, most of which you'll likely have lying around your house.
Here's a list of some of the most common materials you'll need:
Construction paper, preferably many colors
Paper plates
Toilet paper rolls
Markers, colored pencils, and/or crayons
Nontoxic paint
Paintbrushes
Child-safe scissors
Glue
Tape
Popsicle sticks
String, yarn, and/or twine
Felt
Pipe cleaners
Accessories such as googly eyes, ribbons, beads, glitter, pom-poms, buttons, etc.
All crafts for toddlers featured in this article must be done with the help and supervision of an adult. Also, be aware that how much your child will be able to do (for example, using a pair of scissors to cut paper) can vary significantly depending on age.
21 Fun and Easy Crafts for Toddlers
In this section, we introduce 21 amazingly fun crafts for toddlers⁠—and adults!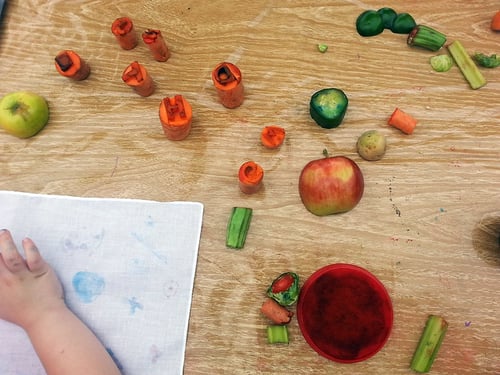 This is Awkward/Flickr
#1: DIY Stamps
There are so many creative ways you can make stamps with your toddler that it's impossible to list them all here.
One basic method is to cut out pieces of foam in various shapes. You can then glue them to the bottom of wooden sticks, corks, or bottle caps so toddlers can more easily dip them in paint.
Other options include making stamps out of buttons glued to the bottoms of corks or even making them out of cut fruits and vegetables, such as okra, apples, cauliflower, and lettuce!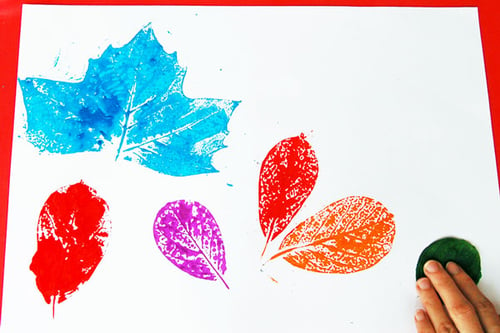 First Palette, resized from original (terms)
#2: Leaf Prints
In this nature-inspired craft from First Palette, your toddler can make a gorgeous nature collage using real leaves and paint.
First, you'll need to gather many leaves, ideally in all different shapes and sizes. Have your toddler paint one side of one leaf. Then, help them press the painted side of that leaf onto a blank canvas, sheet of paper, or piece of fabric.
Repeat with other leaves and colors until your toddler is in love with their new art piece!
Cockburn Libraries/Flickr
#3: Paper Plate Animals
Got some extra paper plates lying around? Then why not have your toddler make their own paper plate animal buddies out of them?
This craft involves cutting up a paper plate (an adult should do this part) and gluing smaller pieces of paper plate and/or construction paper to the base of the plate in order to represent the face or body of the child's desired animal. Toddlers can then use crayons, markers, and colored pencils to color their animal paper plate buddy.
Popular animals include fish, elephants, giraffes, and bears. For a longer list of adorable examples of potential animals you could make, go to I Heart Crafty Things.
#4: Paper Plate Rainbow
This craft is similar to the one above in that you'll be using a paper plate to form the base of the object—in this case, a rainbow!
Begin by cutting a paper plate in half. What you do next will depend on the type of rainbow you want to create.
One option is to cut the paper plate into an arch and have your toddler color the rainbow using crayons or nontoxic paint. Once the rainbow has been colored, you can glue cotton balls to the bottom of it to look like clouds.
Another option is to glue cotton balls all over the paper plate half and then glue a bunch of pieces of colored construction paper that have been cut into long strips (you can also use streamers) so that they hang down from the cloud.
Regardless of which method you choose, this is an excellent opportunity to teach your toddler about ROYGBIV!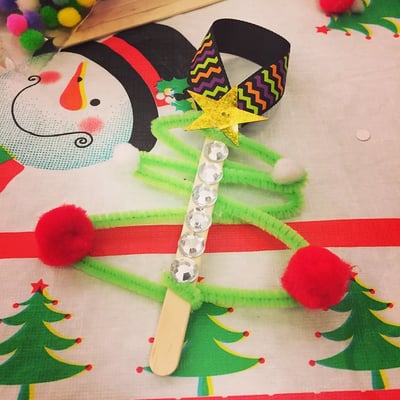 Denise Corcoran/Flickr
#5: Christmas Ornament
This is a great little craft you can do with your toddler to celebrate Christmas. Because there are so many ways you can make ornaments, there's really no one correct method for doing this craft.
One option includes gluing Popsicle sticks together in the shape of popular Christmas images, such as a snowflake, a Christmas tree, Santa Claus, an elf, or a snowman.
You can also encourage your little one to decorate their ornament with pom-poms, glitter glue, paint, or beads (you'll want to use caution with smaller objects, as these could be potential choking hazards).
Once your toddler is finished making their unique ornament, tie a ribbon to the top and then hang it on your Christmas tree for all to admire.
#6: Sponge Painting
It can be difficult to get toddlers to work with paintbrushes, which is why sponges can be such a great alternative. Sponge painting is a fun and simple craft that improves toddlers' fine motor skills and hand-eye coordination, as well as introducing them to color mixing.
To prepare, cut up several kitchen sponges into small pieces (quarters work best, according to Busy Toddler) and then attach a clothespin to each piece of sponge; this will make it easier for toddlers to pick up the sponges and paint with them.
Be sure to cover the painting area with a large sheet of Kraft paper to reduce the risk of making a huge mess (this is also what you'll be painting on). Be sure to use nontoxic paint that is safe for toddlers.
#7: Toilet Paper Roll Parrot
You'd be surprised by how many cute (and often kooky) creatures you can make with toilet paper rolls. In this craft, your toddler gets to make their own "pinchy parrot," as JB Mum of One calls it.
You'll need a toilet paper roll, colored tissue paper, a small piece of construction paper (diamond-shaped to look like a beak), googly eyes, and different colored feathers.
Cover the toilet paper roll in colored tissue paper and then tape it down, making sure to tuck the ends of the paper inside the roll. Next, glue the googly eyes and beak to the outside of the roll to form the parrot's face. Finally, glue the feathers to the sides of the parrot's face and at the top of its head to make the plume.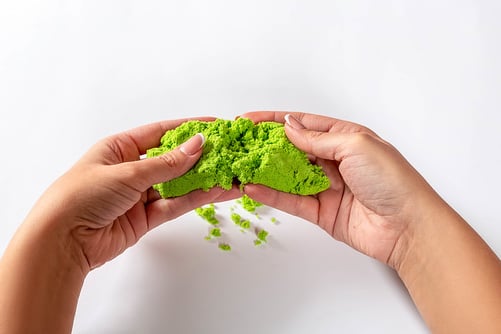 Marco Verch Professional Photographer and Speaker/Flickr
#8: Moon Sand
Miss building sandcastles at the beach? Well, never fear, because now you can build your very own sandy creations at home using a peculiar substance called "moon sand."
Moon sand can be molded into different shapes using your hands. The texture is similar to that of wet sand at a beach. It's a lot like kinetic sand, actually, which you can buy online.
Fortunately, it's a really simple process to make some of your own moon sand. All you have to do is combine flour and baby oil—and that's it! Happy Mothering has the full tutorial.
#9: Egg Carton Snails
Now this is one adorable (and eco-friendly!) craft. Egg carton snails are friendly little snail friends made entirely out of the "cups" from an egg carton.
To make your own cute snails, start by cutting out all the cups in an egg carton—these will act as the shells for the snails. Next, have your toddler paint the shell with a paintbrush using whatever colors they like (be sure to use nontoxic paint).
Once the shell has dried, twist together two pipe cleaners in a "Y" shape, leaving the bottom of the "Y" long. Attach two googly eyes to the upper ends of the "Y" and then glue the entire "Y" along the bottom of the snail shell so that your snail has two eyes sticking up from the front of its shell and a tail running out the back (you'll have to bend the pipe cleaners to achieve this look).
Head on over to The Spruce Crafts to see the full tutorial.
#10: Sidewalk Chalk Paint
If you want a vibrant activity that'll also get your toddler outdoors, sidewalk chalk paint will do the trick. The following recipe comes from Mom Wife Busy Life.
Mix together 1 cup of corn starch, 1 cup of water, and approximately 10 drops of food coloring. Be aware that the more food coloring you add, the higher the chance the paint could potentially stain your driveway, so take caution and do a stain test on your property first.
Next, pour the liquid into a plastic squeeze bottle and watch your toddlers have a go at it! You can also put your sidewalk chalk paint in a muffin tin to make it easier for your toddler to dip their paintbrush in it.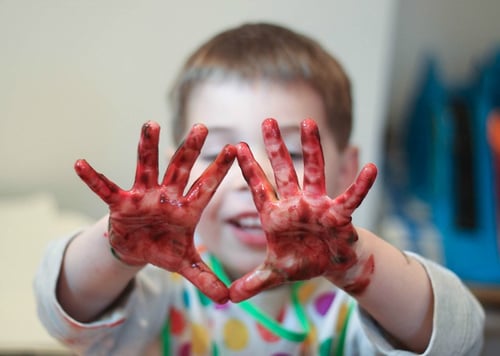 maura collins/Flickr
#11: Edible Yogurt Finger Paint
You might love the idea of getting your toddler to paint, but the reality is that young kids are more likely to stick paint straight into their mouths than they are to create the Mona Lisa—which is why using an edible finger paint made from yummy, colorful yogurt is the perfect solution!
Edible paint gives toddlers a wholly sensory experience that includes sight, touch, and taste.
To make some, buy plain or vanilla-flavored yogurt. Separate the yogurt into different scoops and mix in food coloring. This will give the illusion of having different colors of "paint" you can use.
Next, give your toddler a sheet of paper and let them have a go at creating their own masterpiece!
#12: Cheerio Bird Feeder
Get a lot of feathered visitors each day? Then you should definitely consider making an adorably delicious Cheerio bird feeder with your toddler. You'll need some pipe cleaners, lots of Cheerios, and a piece of ribbon, string, or rope to use to hang up the finished project outside.
Making the bird feeder mainly consists of threading Cheerios onto a pipe cleaner (this is the part a toddler can do) until it's nearly full of the Cheerios. After, bend and twist the pipe cleaner into any shape you want, such as a heart or circle. Lastly, tie a ribbon to the top of the feeder and hang it up outside in your yard for the birds to enjoy!
Examples of this cute, toddler-friendly craft are available at Red Ted Art and Happy Hooligans.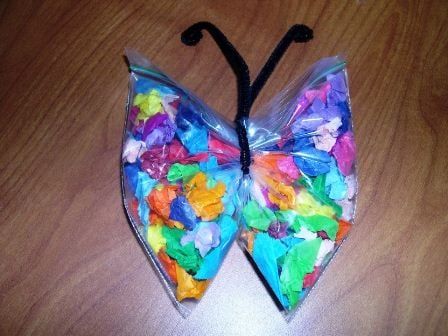 The Pointe at Kilpatrick/Flickr
#13: Butterfly Baggie
This is one of the simpler preschool crafts that involves making a beautiful butterfly out of just three materials: a plastic baggie, construction paper, and a pipe cleaner.
Start by cutting up tiny squares of various colors of construction paper; this is what you'll use to fill the baggie and make the vibrant wings of your butterfly. Once you've filled up the baggie, squeeze all the air out of the bag and seal it off.
Next, use your hands to squeeze the center of the baggie. Quickly wrap a pipe cleaner around this squeezed center. The ends of the pipe cleaner can be positioned upward to look like antennae.
You can view all the steps with pictures at Busy Bee Kids Crafts.
#14: Paper Cup Flowers
If you're looking for an elegant but easy Mother's Day activity, this craft by How Wee Learn is an excellent one that any toddler can do. Using plain paper cups, you'll make beautiful, blossomed flowers. All you need is a paper cup, paint, scissors, and a small rock.
Drizzle some paint around the inside of the cup and place a small rock in it. Next, turn the cup over so that the rock is still inside and let your toddler move the cup in quick circles (without lifting it!) to swirl the paint and make it splatter all over the inside of the cup. (You'll want to put the cup on a paper plate or other area you don't mind getting messy.)
Once your toddler has finished swirling the paint around and the cup has dried, use scissors to cut strips about half an inch wide all the way around the cup; these will be the petals. Spread open the petal strips to reveal your pretty painted flower.
You can also add pipe cleaners for stems, or embellishments such as buttons, glitter, and stickers.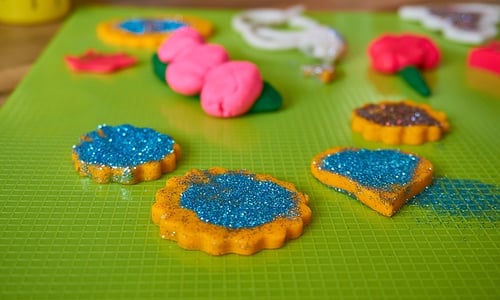 #15: Homemade Play-Doh
Play-Doh is a favorite among toddlers, but have you ever made your own from scratch? And did you know that all it takes to do this are a few cheap, simple supplies?
One of the best recipes for homemade Play-Doh comes from I Heart Nap Time. You'll need flour, salt, cream of tartar, water, vegetable oil, and some food coloring to make the different colors of dough.
Though most of the Play-Doh-making process will be done by an adult, your toddler can lend you a hand (or two!) by kneading the food coloring into the dough. What's great about making your own Play-Doh is that you can choose whichever colors you want—and even add glitter to it!
#16: Paper Bag Jellyfish
If your toddler loves sea creatures, they'll adore this paper bag jellyfish craft by No Time for Flash Cards. To make this craft, you'll need a brown paper bag, paint, a paintbrush, glitter glue, scissors, googly eyes, and embellishments such as stickers and small beads.
Let your child paint the brown paper bag. Once the paint has dried, cut the bottom of the bag into strips so that they look like jellyfish legs. Have your toddler glue two googly eyes to the bag for the face, and you're all set to jump straight into the sea with your new jellyfish buddy!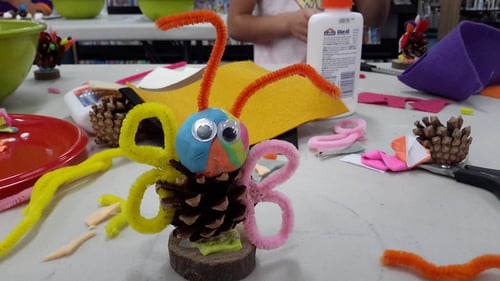 Cockburn Libraries/Flickr
#17: Pine Cone Animals
Sure, your toddler could just go around collecting pine cones, but why not allow them to decorate their findings, too? In case you didn't know, you can turn pine cones into a number of animals, including owls, bears, rabbits, and bats, by gluing things such as googly eyes, colorful pieces of construction paper, and felt to them.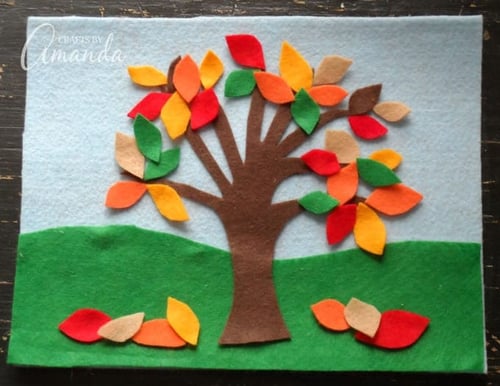 Crafts by Amanda, resized from original
#18: Felt Board Tree
Felt makes for wonderful, soft toys your toddler will definitely want to play with for a long time. In this nature-inspired craft, your toddler will use a felt tree to create various outdoor scenes and learn about the differences between the seasons.
To make a felt board tree, you'll need a large piece of cardboard, scissors, and several colors of felt, including light blue, green, white, and brown. You can make an array of things often seen in nature, from clouds and snow to flowers, autumn leaves, and even birds or other animals.
Get the full step-by-step guide at Crafts by Amanda.
#19: Glow-in-the-Dark Rainbow Rice
This preschool craft by Growing a Jeweled Rose is all about color and sensory play. To make your own glow-in-the-dark rainbow rice, you'll need uncooked white rice, Ziploc baggies, neon paint, and water.
In a large plastic baggie, combine 1 cup of uncooked rice with 1 tablespoon of neon paint and 2-3 tablespoons of water. Shake the bag to mix the ingredients (until the rice has been evenly coated) and then leave the rice out to dry. Repeat the process to make more colors of rice.
Once the rainbow rice is ready to be played with, take it into a dark room (ideally, a room that uses a black light, as this will make the rice glow a lot brighter!) and let your toddlers have a go at mixing it around with their hands. You could also throw in glow-in-the-dark cups and glow sticks for added fun.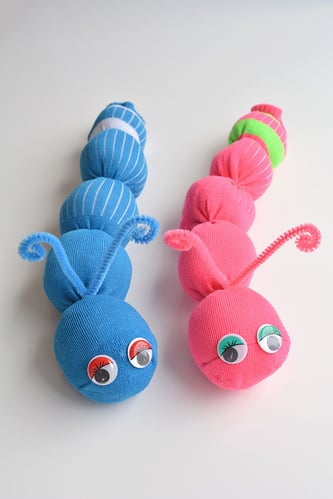 One Little Project, resized from original (permissions)
#20: No-Sew Sock Worm
Sock puppets are old news—and stuffed sock worms are in. This delightful craft consists of turning socks into fun stuffed toys. And the best part is that no sewing is required, so a toddler can make one of their own!
What you'll need is a long sock (preferably one that has a vibrant color or pattern on it), glue, small elastics, stuffing, pipe cleaners, and googly eyes. Check out One Little Project's how-to guide to get all the steps you need to make this.
#21: Pipe Cleaner Flower Rings
Making jewelry can be great fun for toddlers, especially when it's as charming as these simple pipe cleaner flower rings.
You'll need one green pipe cleaner and three pipe cleaners that are all the same color (though you may mix and match colors if you'd like a more eclectic flower!). An adult can help toddlers with the bending of the pipe cleaners in order to form the petals and leaves on their rings.
One Little Project has all the information you need to learn this captivating craft.
Recap: Fun and Easy Crafts for Toddlers
Having a toddler around might seem like a challenge—and there's no denying it is one—but it can also be a ton of fun if you're the crafty type and want something both entertaining and creative to do with your little one.
Preschool crafts aren't just about fun and games, though—in fact, arts and crafts can have a lot of benefits for toddlers, from improving fine motor skills and dexterity to encouraging creativity and bonding time with parents.
Most crafts for toddlers require the same basic types of materials, such as paper, glue, scissors, string, crayons and markers, nontoxic paint, pipe cleaners, felt, and Popsicle sticks. You're likely to have the vast majority of these items lying around your house. (And if not, they're generally cheap to buy!)
Our list above of fun and easy crafts for toddlers is really just a starting point. Use these ideas to jump off into other new and exciting crafts you can make with your toddler. And always remember the cardinal rule: have as much fun as possible!
What's Next?
Want more ideas for crafts for toddlers? Then check out our extensive list of more than 30 easy craft ideas for kids of all ages.
Enjoy working with pipe cleaners? Get more awesome ideas for cool pipe cleaner crafts you can do with your kids in our in-depth guide.
Looking for educational games instead of crafts? Our compilations of great learning games for toddlers and learning games for kids in elementary school are guaranteed to give you tons of ideas.
Have friends who also need help with test prep?
Share this article!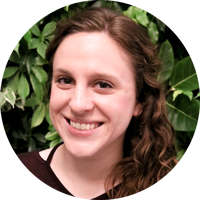 About the Author
Hannah received her MA in Japanese Studies from the University of Michigan and holds a bachelor's degree from the University of Southern California. From 2013 to 2015, she taught English in Japan via the JET Program. She is passionate about education, writing, and travel.
Get Free Guides
to Boost Your SAT/ACT