If you're looking for PSAT practice materials, you've come to the right place. This guide contains all free PSAT materials, which you can download—including 10 PSAT practice test PDFs.
Unfortunately, since the PSAT's 2015 makeover, the College Board hasn't released a ton of practice tests. Luckily, though, you can still use old PSAT practice tests effectively to prepare. Before getting to the practice questions, we'll go over some of the changes made to the PSAT in 2015. If you care about your PSAT score, read carefully so you don't waste your time studying the wrong things!
How Did the PSAT Change in 2015?
Let's start by going over some of the main changes to the PSAT so you'll be able to use older PSAT practice tests with a critical eye.
In 2015 the College Board changed the PSAT in an attempt to make it more relevant and useful to students. It's possible they were also trying to address criticisms of inequity and find a way to stay competitive with the increasingly popular ACT.
The content on both the PSAT and SAT is meant to be evidence-based and grounded in real-world situations. Rather than testing obscure vocabulary and rarely used concepts, the PSAT now reflects the skills and abilities you'll need to succeed in both college and your career.
Below, we'll take a closer look at the content and skills changes on each of the three PSAT sections:
Reading
Writing and Language
Math
If you're using old PSAT practice questions, it's important to be aware of these changes so that you can ultimately study the right material!
PSAT Reading Changes
Here is a brief overview of the major changes to the PSAT Reading section:
The current PSAT does not have isolated Sentence Completion questions. Instead, it tests more commonly used vocabulary words within the context of passages.
Reading passages often include charts, graphs, and/or pictures. You will be asked about the relationship between a passage and the data being represented.
You are expected to practice evidence-based reading. You will have to find a specific line in a passage that demonstrates style, tone, point of view, theme, etc. You will also be asked to identify the one or two lines in a passage that helped you answer a previous question.
The following official sample question shows how the PSAT will ask about your understanding of a relatively common vocabulary word in the context of a larger passage (passage not shown):
PSAT Writing and Language Changes
The PSAT Writing and Language section has changed in two key ways:
The PSAT now asks you to edit the grammar of sentences within passages, rather than that of stand-alone sentences.
Passages on PSAT Writing often include graphs, pictures, and/or tables.
Here's an example of a PSAT Writing question that deals with data (graph not shown):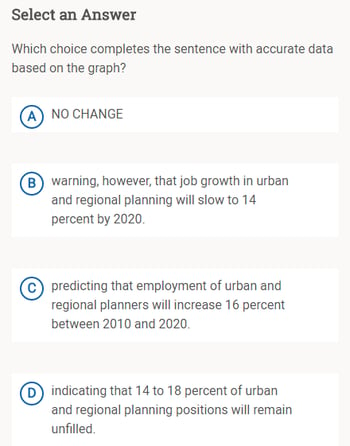 PSAT Math Changes
Here are some of the main ways the PSAT Math section has changed:
PSAT Math questions now relate far more to real-life situations in areas such as business, science, and the social sciences.
The Math section focuses far more on algebra and data analysis than it does on geometry.
Here's a sample PSAT Math question from the College Board:
Now that you're aware of these major changes, you can adapt your approach as you prepare with practice materials from the last few years. Read on to see the PSAT practice tests, and learn how to use these tests to get a high PSAT score.
How Will the PSAT Change in 2023
The College Board is changing the PSAT format. Starting in 2023, the PSAT/NMSQT and PSAT 8/9 will become a digital test, not a paper-and-pencil test. Additionally, the PSAT 10 will go digital in 2024.
Right now, it's not clear how much the PSAT test content will change. If you're planning on taking the PSAT in 2023 or beyond, be sure to check this article regularly. We'll update it with information as the College Board releases it.
Bonus: Aiming for a National Merit Scholarship? If you're not sure you can self-study your way to a qualifying PSAT score, you'll love our PSAT prep program, PrepScholar.
We designed our program to learn your strengths and weaknesses through advanced statistics and customize your prep to be as effective as possible for you. When you start with PrepScholar, you'll take a diagnostic that will determine your weaknesses in over forty PSAT skills. PrepScholar then creates a study program specifically customized for you.
To improve each skill, you'll take focused lessons dedicated to each skill, with over 20 practice questions per skill. This will train you for your specific area weaknesses, so your time is always spent most effectively to raise your score.
We also force you to focus on understanding your mistakes and learning from them. If you make the same mistake over and over again, we'll call you out on it.
There's no other prep system out there that does it this way, which is why we get better score results than any other program on the market.
Check it out today with a 5-day free trial:
Official PSAT Practice Tests (Current Version)
The College Board has released both online sample PSAT questions and two PSAT practice tests with answer keys. You can download both tests as PDFs along with the scoring guides and answer explanations to use after you finish your practice testing:
(The two PSAT 10 tests on the College Board website are identical to these two.)
In addition, the College Board created an online prep program in partnership with Khan Academy. While this program is geared specifically toward the SAT, it can help you prepare for the PSAT, too, since the two tests are so similar.
Although free practice materials for the current version of the PSAT are rather limited, you can still find a large number of practice test PDFs for the old version of the PSAT. Find the tests below, and then read on for some tips on how to make the most of both new and old practice tests.
Official PSAT Practice Tests (Pre-2015, Old Version)
We've compiled eight old official PSAT practice test PDFs for you to practice with. Download them here (note that the answer keys are included in the last few pages of each PDF):
You can also find decent-quality PSAT questions from Peterson's, which offers two practice PSAT tests if you create a free account with them.
As you know, these older PSAT materials don't reflect the format or content of the current version of the PSAT. However, most still test the same fundamental skills and knowledge. So how can you use these old PSAT questions to get ready for the PSAT?
How to Use PSAT Practice Tests Effectively: 3 Key Tips
Regardless of whether you're using current or old PSAT practice tests, it's important you know how to use them effectively. Our three tips below can help you make the most of PSAT practice tests in your prep.
#1: Take the Test in a Realistic Environment
Part of getting the most out of PSAT practice tests is making them feel like the real deal.
On test day, you'll take the PSAT in a quiet classroom with other test takers; therefore, you'll want to find a similar environment to take your practice tests in, such as a library.
If you try to take a practice test at a park or at the same time your family's watching TV, you'll likely find it difficult to focus, thereby lowering your score. This score will not be an accurate snapshot of your strengths since you didn't take the test in a realistic environment.
Additionally, it's best to take each test in one sitting instead of spread up over several days. This way, you'll not only get a realistic testing experience but can also get used to the length of the test by building up your test-taking endurance.
#2: Abide by Official Time Limits
While it's important to take each PSAT practice test in one sitting, it's also important to take the test in accordance with official PSAT time limits. What do I mean by this? Basically, never give yourself more time on any section, as doing so can dramatically raise your score and give you an inflated sense of how you're actually scoring on the PSAT.
To help you out, here are the time limits on each section of the PSAT, along with the approximate time you'll have per question:
| | | | |
| --- | --- | --- | --- |
| PSAT Section | Total Time | # of Questions | Time per Question |
| Reading | 60 minutes | 47 | 77 seconds |
| Writing and Language | 35 minutes | 44 | 48 seconds |
| Math No Calculator | 25 minutes | 17 | 88 seconds |
| Math Calculator | 45 minutes | 31 | 87 seconds |
The Reading section offers the most time and also has the most questions. Meanwhile, despite the differences in total time and number of questions in the two Math sections, you'll still have around 87-88 seconds per math question (No Calculator and Calculator).
The Writing and Language section has the second-highest number of questions (44) but gives you the least amount of time per question (48 seconds), so be sure to work fairly quickly here.
Note that it'll be more difficult to replicate these time frames on old PSAT tests since the sections and questions are so different. (We'll talk more about how to use old tests in the following section.)
#3: Review Your Answers
Once you finish taking a PSAT practice test, it's time to check your answers and score your test. But don't just look at your score and call it a day—take some time to go through all the mistakes you made and figure out what your biggest weaknesses are.
The best way to review your mistakes is to record the types of questions you got wrong, as well as the specific mistakes you made, in a "mistakes" journal. For example, if you missed an algebra problem, you'd write "algebra" as the question type and the specific reason you think you got the question wrong, such as "forgot formula." Make sure to use your test's answer guide to help you figure out why you might've missed certain questions.
After you've gone through your test, look at your mistakes journal to determine whether there are any patterns to your mistakes. For instance, do you typically struggle with evidence-based Reading questions? Math word problems? Writing questions dealing with fragments and run-on sentences?
Once you know what your weaknesses are, you can then customize your PSAT prep to focus more on honing the skills that are most challenging for you.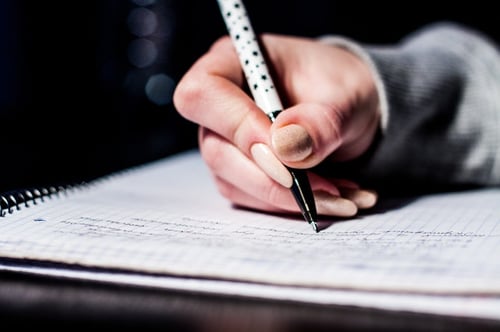 How to Make the Most Of Old PSAT Practice Tests
Although many official PSAT tests are outdated, they're certainly not useless. In fact, these old ones test many of the same reading comprehension, grammar, and math problem-solving skills you'll need for the current PSAT.
To make the most of these older official practice tests, you just have to shift your focus toward the skills that are still relevant while ignoring questions that no longer matter. Here are our seven tips for doing this effectively:
Focus on evidence-based Reading: The current PSAT is all about using evidence and context to find an answer. If a set of passage-based Reading questions asks you about tone, style, or argument, don't just try to look for the right answer among the options you're given. Instead, find the specific line in the reading passage that proves your answer is right.
Ignore Sentence Completion questions: You'll no longer encounter these questions on the PSAT, so just skip them entirely.
Shift gears with vocabulary: Practice determining meaning through context, and make sure you understand subtleties of connotation.
Focus on structure and organization: The current PSAT tests your understanding of the structure and organization of whole passages rather than that of stand-alone sentences. Therefore, as you're reading a passage, take notes on its organization and make sure you understand its main and supporting ideas.
Pay attention to graphs, tables, and charts: Try to understand the data and information represented in graphs. If there's no accompanying passage, try writing your own paragraph to describe the information. On the flip side, consider how the data presented in a passage could be represented visually. For practice, use problems from your math/science classes, as well as data interpretation questions from the ACT Science section.
Choose your math problems: Focus on algebra, data analysis, and word problems, and spend far less time on geometry. Since the current PSAT involves multi-step grid-in problems, be sure to write out all the steps you take to answer a question. Also, remember the age-old adage: show your work.
Learn the grammar rules tested: Both the old and current PSAT test similar grammar rules. Be sure to learn these, as you'll need to be able to recognize grammatical errors in context.
How Else Can You Prepare for the PSAT?
Since the PSAT is so similar to the SAT, materials for the SAT are good practice. In fact, the sample questions on the College Board's website for the PSAT are the exact same sample questions as for the SAT. The PSAT is also very similar to the ACT, so ACT prep can be helpful as well.
Another tip is to challenge yourself in your classes. Develop advanced reading and writing skills by reading a variety of genres and writing frequently. In your math and science classes, focus on data analysis and work on your ability to interpret or represent data in graphs, charts, tables, etc.
All of this preparation will not only help you get a high PSAT score, but will also help you get ready for the SAT. Since both exams are meant to test and sharpen your real-world reasoning skills, this kind of preparation should be helpful for all kinds of problem-solving in your day-to-day life.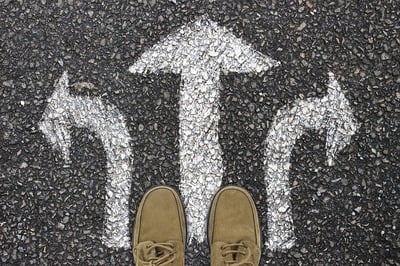 What's Next?
High scorers on the PSAT might qualify for National Merit. Learn what it takes to become a National Merit Semifinalist and National Merit Finalist, as well as how to win the scholarship.
Are you wondering whether to take the PSAT before your junior year? Check out these guides to consider whether you should take the PSAT as a freshman or sophomore.
Are you curious about how the PSAT compares with the SAT? Read this complete guide to the SAT and learn all about the test.
Want to improve your SAT score by 160 points?
Check out our best-in-class online SAT prep program. We guarantee your money back if you don't improve your SAT score by 160 points or more.
Our program is entirely online, and it customizes your prep program to your strengths and weaknesses. We also feature thousands of practice questions, 10 official SAT practice tests, and personal feedback on your essays from an expert instructor.
Check out our 5-day free trial:
Have friends who also need help with test prep?
Share this article!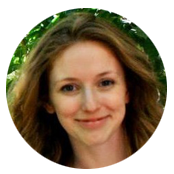 About the Author
Rebecca graduated with her Master's in Adolescent Counseling from the Harvard Graduate School of Education. She has years of teaching and college counseling experience and is passionate about helping students achieve their goals and improve their well-being. She graduated magna cum laude from Tufts University and scored in the 99th percentile on the SAT.
Get Free Guides
to Boost Your SAT/ACT