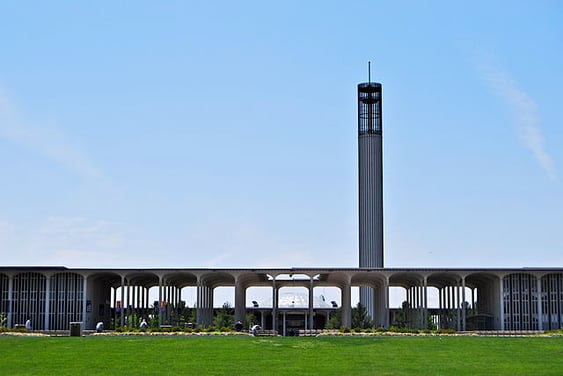 The State University of New York system of colleges—commonly known as SUNY—encompasses some 64 different campuses throughout New York. These campuses include research universities, community colleges, and even specific programs housed at other universities like Cornell.
Though this means that students who want to attend SUNY schools have plenty of choices, it also means that the SUNY application can feel something like a maze of options. Which school do you need? Which application should you fill out? Are you applying to one school or many?
If you're thinking of attending one of these 64 schools and need assistance filling out the SUNY application, this guide is here to help. We'll be covering admissions requirements, which schools require supplemental essays, and some helpful information for filling out your application.
Feature Image: CC-BY-SA-3.0/Matt H. Wade at Wikipedia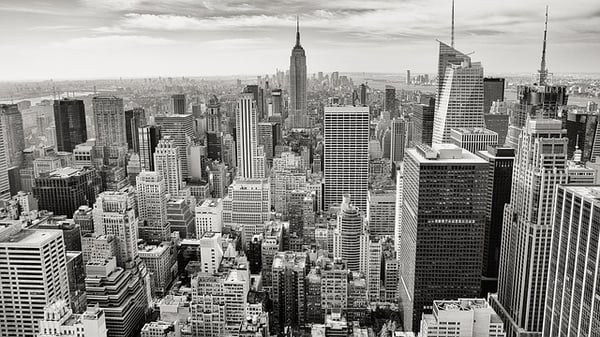 SUNY has so many campuses that there's probably a few in this picture.
Despite having 64 different campuses, the SUNY system's application is fairly straightforward. Most students who apply to schools in the system use applySUNY, a proprietary application developed specifically for SUNY. You can use applySUNY to apply to almost any college within the SUNY system.
However, there are a few schools that require their own applications:
If you're applying to any of those, be sure that you look up application deadlines, supplemental requirements, additional expectations, and other information in advance. Their requirements may differ substantially from the applySUNY requirements, so get started early.
Other schools accept the Common Application in addition to applySUNY. So if you already have your Common Application filled out, you a second option if you're also applying to schools that aren't in the SUNY system. Schools in the SUNY system that accept the Common Application include:
Purchase College, SUNY
SUNY Alfred State College of Technology
SUNY Binghamton University
SUNY Buffalo State
SUNY Cobleskill
SUNY College at Brockport
SUNY College at Geneseo
SUNY College at Old Westbury
SUNY College at Oneonta
SUNY College of Environmental Science & Forestry
SUNY College of Technology at Canton
SUNY Cortland
SUNY Delhi
SUNY Farmingdale State College
SUNY Fredonia
SUNY Maritime College
SUNY Morrisville State College
SUNY New Paltz
SUNY Oswego
SUNY Plattsburgh
SUNY Polytechnic Institute
SUNY Potsdam
SUNY Stony Brook University
SUNY University at Buffalo
SUNY University at Albany Keep an eye on deadlines to make sure you're always on target!
When Is the SUNY Application Due?
Now that you know which application you'll be filling out, it's time to get into logistics.
The applySUNY application is available online and in a paper version. Electronic applications are generally faster and easier for both students and colleges, but if you have limited internet access or other concerns, it's totally fine to submit a paper application instead. Regardless of which one you choose, be sure that you include all required material!
The SUNY system is somewhat atypical in that there is no official deadline for general applications; they're accepted on a rolling basis as long as a program has openings. However, applications will close as soon as a program is full, so the sooner you can apply, the better. It's always wise to double-check the website of the campus you're applying to see if they have more specific deadlines. And though there is no official deadline, SUNY still recommends that you get your application in by December 1.
For students applying Early Decision, application dates vary. Early Decision students applying to the NYS College of Ceramics at Alfred University or Maritime have a deadline of November 1, while students applying to Geneseo and ESF have a deadline of November 15. Keep in mind that you can only apply Early Decision to one SUNY school, so choose wisely. If you're accepted Early Decision, you have to make a tuition deposit by January 15 and withdraw your application from all other universities.
For Early Action, a non-binding early application, students hoping to attend Binghamton should apply by November 1. Oswego and Albany hopefuls should apply by December 1. All other Early Action applications must be received by November 15. For all Early Action students, the deadline to finalize their enrollment decision is May 1.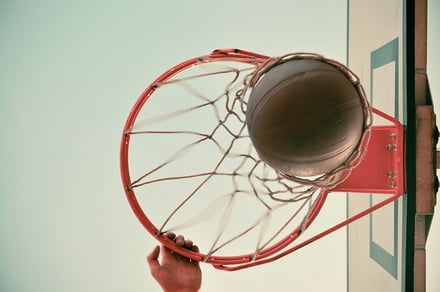 Good grades will make your application a slam dunk.
What Test Scores and GPA Do You Need for SUNY Schools?
The variety of schools within the SUNY system means that there's no hard and fast GPA and test scores guidelines for the entire system. Aim high and work hard to get the best score possible, but if you're looking to flesh out your college list with some SUNY schools, these are the average test scores and GPAs of accepted students: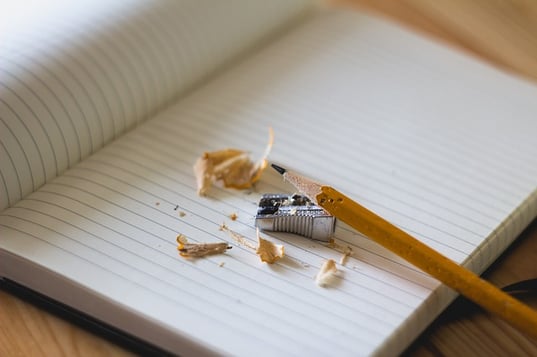 Sharpen your pencils for SUNY's essay requirements.
What Should You Know About SUNY Essays?
Both the applySUNY application and the Common Application use the same prompts. You have seven choices, with just one required essay of 250 to 650 words.
However, some colleges require or accept a supplemental essay for freshmen and transfer students. Unless otherwise stated, the colleges listed below may require or recommend the following supplemental prompt as part of the applySUNY supplement:


Please provide additional information (up to 250 words) that will help us better understand your academic performance. You may also use this space to explain any chronological gaps in your academic history (e.g. a period of time after high school graduation before applying to college).
Always double-check with each individual school to be sure of their requirements. Additional information may be required after submitting your essay, so check in regularly to be sure you don't miss it.
Schools That Require or Recommend Supplemental Essays for Freshmen
Many of the SUNY schools require that you submit a supplemental essay with your application packet. We've listed those schools below and linked to supplement forms (if the supplement isn't available through the Common App or ApplySUNY).
| | |
| --- | --- |
| SUNY Albany | Required |
| Alfred State College | Recommended |
| SUNY Binghamton | Required |
| SUNY at Brockport | Required |
| Buffalo State College | Required |
| SUNY at Buffalo | Required |
| College of Agriculture & Technology at Cobleskill | Recommended |
| SUNY Cortland | Required |
| College of Technology at Delhi | Required for Adult Learners (Supplemental Form) |
| Empire State College | Required |
| Farmingdale State College | Required |
| Fashion Institute of Technology | Required (Supplemental Form) |
| SUNY Fredonia | Required |
| SUNY Geneseo | Required |
| Maritime College | Required |
| Morrisville State College | Required |
| SUNY New Paltz | Required |
| SUNY Old Westbury | Required |
| SUNY Oneonta | Required |
| SUNY Oswego | Required |
| SUNY Plattsburgh | Recommended |
| SUNY Potsdam | Required |
| SUNY Purchase | Required (Supplemental Form) |
| Stony Brook University | Required |
| SUNY Polytechnic | Required |
Schools That Require or Recommend Additional Essays for Transfer Students
Some schools require different supplemental essays for transfer students. We've listed those below.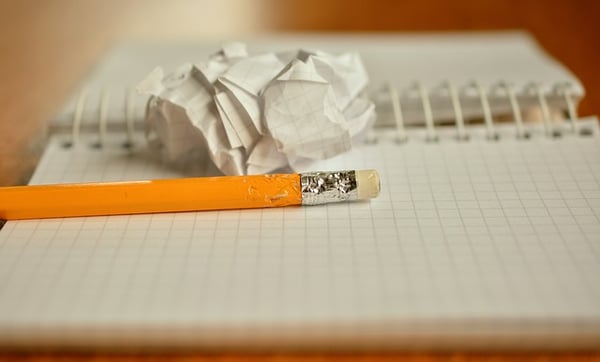 Spend some time planning to avoid chewing your pencil this much.
How to Answer the SUNY Essay Prompts
Since most of SUNY's required essays are the same as the Common Application, you can follow all the best practices for writing impressive Common App essays. However, there are some additional things to keep in mind when you're answering the prompts specifically for SUNY.
Don't answer the same prompt twice, unless you have a radically different answer the second time. Really put the effort in to ensure that your essays stand out from one another. Remember: admissions counselors want to learn about you and your future goals.
Second, tie your SUNY essay into SUNY itself. Your Common Application essays can be more general because they'll be sent to every school that you apply to, but your college-specific essays should be tied to the college your applying to.
To do this, consider making a visit to campus or browsing their course catalog and club lists. You want SUNY to know that you're not applying just because of proximity or reputation—you want to go to a SUNY school because it matters to you, not because you've heard its good.
Third, be sure that your essay is personal and unique. You may share some features with other students, including your good grades and extracurriculars, but no student is exactly the same as you. Your essay should reflect that! A good SUNY essay will be so unique that nobody else could possibly have written the same thing.
Our last tip is to dig deep into what makes you you as you write your essay. Don't just present yourself as a collection of grades and time invested in extracurriculars. What does your time spent in cooking club say about you? Is it that you love creating delicious foods that feed your hungry friends? Is it that you understand the reward of simmering something all day to bring out its innate flavors? Is it the thrill of perfecting a recipe you invented yourself?
The more specific and personal your essays are, the better off you'll be. Fill them with context and personality and you'll be on the way to a successful SUNY application.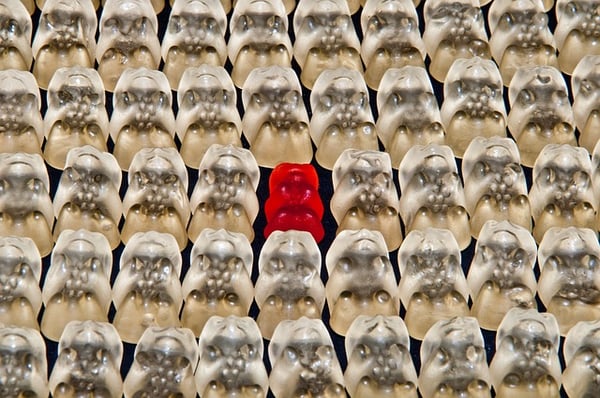 Be the red gummy bear in a sea of clear ones.
What Does SUNY Look for in Students?
Your essay is just one part of your SUNY application. SUNY is looking for a comprehensive picture of your strengths as a student, so keep all these things in mind as you're working on your application:
Strong Academics
Grades are extremely important to a successful college application. Use the table above to find out the average admitted GPA for the schools you're applying to in order to figure out if your grades are on target. If not, start working now to improve your grades. A guide like this one can help you start making an academic plan to get your application into shape, no matter where you're at in your education
Passion
You could have the best grades in the world, but if you don't demonstrate any interest or passion for the things you do, you're not likely to be a successful college student. That doesn't mean you have to be in love with every subject, but rather that your application shows that you have interests and pursuits that you're passionate about. Let your application, and especially your essays, show that you're a person with varied passions and interests.
You can even use a "spike" approach to your application, which showcases that you're not only a good student, but that you have a particular passion that you're dedicated to honing at your chosen school. Say you're very into journalism—if you weight your application with English courses, journalism courses, time spent working on your school newspaper, and maybe even a few published works outside of school, you're showing SUNY that you're serious about what you do and that you're ready to put in the work to pursue it.
Leadership
Investment in activities is great, but leadership is even better. Colleges like SUNY want to see that you're serious about your commitments, and a leadership position shows that you're confident and capable of inspiring others. If you've acted as a team captain, an editor, a group leader, or any other position of authority related to your field, it's worth including in your application and essay.
Leadership positions not only demonstrate your passion, but also your trustworthiness and ability to inspire. These are important features on a college campus, where you'll be participating in campus culture, not just being an individual in a sea of unfamiliar faces. Show that you can lead others and you'll show SUNY that you're a good person to have on campus.
Diversity
Students can easily get hung up on diversity, which is often used to mean difference in race, gender, sexuality, or socioeconomic status. But even if those things don't apply to you—or if they don't feel like they're relevant to your experience—that doesn't mean that you're not a good fit.
The word "diversity" can also be applied to diversity of experience and thought. Think about your upbringing and how it's set you apart from others. Things like the size of your hometown, the number of siblings you have, or where you live can impact your thinking and experiences, too. Don't be afraid to include how your environment has shaped the person you are, including how you relate to others.
Understanding of Mission and Goals
One of the strongest ways to connect with the school you're applying to is to understand what they want to accomplish as a college. Consult their mission statement and academic goals, and even read a little deeper into the essay prompts to understand exactly what they're looking for.
Though individual SUNY schools may have their own mission statements, you can learn a lot about the system by consulting the general SUNY mission.
For example, SUNY uses words like "diversity," "access," and "traditional and non-traditional students," throughout. From that, we can deduce that SUNY is interested in providing opportunities and education to all kinds of students, not just those who are wealthy, privileged, or from the state of New York.
Keep this in mind as you're working on your application. How can you align yourself with these values, or the other values expressed in SUNY's mission statement? Do these ideas apply to you? If not, how can you demonstrate that you're committed to helping maintain and grow that mission?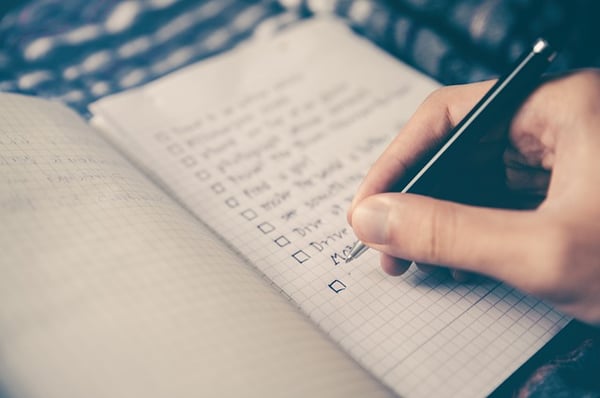 Make a list, check it twice.
SUNY Application Checklist
Applying to SUNY—let alone applying to multiple schools at once—requires a lot of forms, essays, and documents coming together. If you're struggling to stay on top of everything you need to do to apply, this checklist will help get you started.
#1: Decide Which Schools You're Applying To
Make a list of schools you'll be applying to and the deadlines for each to help keep you on track.
#2: Pay the Application Fee or Request a Waiver
SUNY has a $50 application fee. If you qualify, get the fee waiver ahead of time and get it filled out so you're ready to submit it with your application
#3: Collect Letters of Recommendation
If you're submitting letters of recommendation, they should be ready to go along with your application. Ask your teachers, counselors, coaches, and so on early to be sure that you get a letter that's of good quality and that's ready on time.
#4: Complete the SUNY Application
Depending on which SUNY school you're applying to and whether or not you'll be applying Early Decision or Early Action, you may or may not have a deadline. Research your school early so you can keep track of when you need to apply! Also keep in mind it's still best to get your application in as soon as possible.
#5: Submit Supplemental Portfolio and Essays
Some SUNY schools require or allow supplemental portfolios or other materials. If you'll be submitting them, they should already be ready to go by the time you submit your application. SUNY will give you the due dates for any supplemental materials when you complete your application.
#6: Retrieve School Counselor Forms
SUNY requires a special form from your school counselor. Your counselor is responsible for submitting this form, but be sure to give them plenty of time to do so.
#7: Submit International Student Forms
If you're an international student, determine which forms you need in advance so you have plenty of time to fill them out and turn them in.
#8: Submit Academic Record
SUNY requests transcripts from freshmen and transfer applicants. You can request that your school send them electronically or by mail, but be sure you ask for them to be sent as soon as possible to ensure they arrive on time.
#9: Submit FAFSA
Submit your FAFSA application by June 30—but keep in mind that the earlier you submit, the better!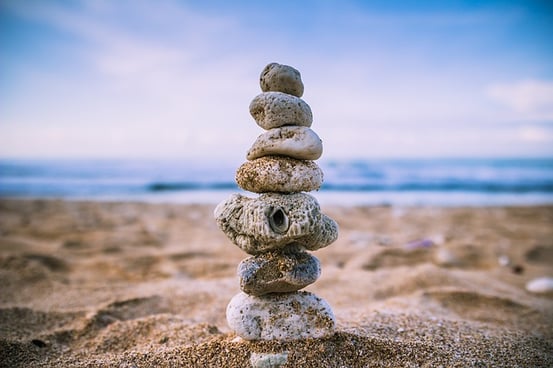 Stay on top of your application and you'll be feeling as calm and balanced as these rocks.
SUNY Application Tips
This is a lot of information, but don't panic. There are some simple things to keep in mind as you're working on your SUNY application. Following these steps will help you be stress-free as you're applying.
Plan Early
You're guaranteed to get stressed if you're trying to cram the entire college application process into just one month. Start early.
The best time to start thinking about college applications is freshman year. The second best time is right now. No matter where you're at, take a moment to draft a concrete plan to follow, including deadlines, and stick to it.
The earlier you get started, the better. Don't wait until deadlines are already looming—give yourself lots of time and avoid stressing.
Focus on Either the SAT or ACT
Is the ACT or SAT more important? That depends on a few different factors.
But as you're getting ready to apply for colleges, don't worry too much about excelling on both. Pick one or the other to be your focus, and hone your score on that test.
Don't try to divide your attention. As long as your chosen school accepts the test you choose, it doesn't matter which test you take. Do your best on one of them and you'll be good to go.
Strive for Depth Over Breadth in Extracurriculars
You don't need a thousand extracurriculars to impress SUNY. You don't even need ten extracurriculars. What you need is depth, meaning that you've spent time cultivating an interest in something rather than doing a whole bunch of activities for the sole purpose of fleshing out your application.
Having a variety is good, but not if you've only spent a minimum amount of time on them. Chase your passions and dive deep into them rather than dipping your toes into a whole bunch of fields.
It's better to have a couple of strong interests than tons of shallow ones. If you have time, try out lots of things, but don't waste time you could spend on your passions doing soccer, baseball, piano lessons, volunteer work, tutoring, acrobatics, beekeeping, woodworking, photography, journalism, and Mathletes if only one or two of them are at all interesting to you.
Seek Strong Letters of Recommendation
Many SUNY schools allow or require letters of recommendation, but not all letters are created equal. You should be asking people in positions of authority who know you and your academic strengths to write your letters. Ask early, and don't be offended if you get a "no" in response—it could be that the person you ask already has quite a few letters to write.
Give the person you ask as much information as possible about where you're applying and what programs you're applying to; that will help them write an even better letter. Also, don't forget to say thank you—though teachers expect to write letters of recommendation, you should always express gratitude for them going above and beyond their job duties.
Keep Your Momentum Up Senior Year
Once your application is in and your transcripts are submitted, it might be tempting to take a little break from your hard work and start slacking off in school. Don't do it!
Some schools require a mid-year report, which could hurt your chances. You've worked hard to get where you are, so keep up that positive momentum to carry you forward into college and beyond!
What's Next?
Knowing what a college admissions committee is and what it does can help you write an even better application.
There's lots of advice out there about how to write an impressive college application. But what really looks good on your app?
Understanding the college application process can ease some of the stress of applying to colleges. This guide covers everything you need to know about applying!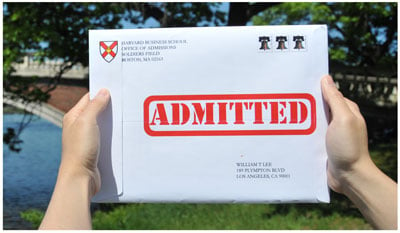 Want to build the best possible college application?
We can help. PrepScholar Admissions is the world's best admissions consulting service. We combine world-class admissions counselors with our data-driven, proprietary admissions strategies. We've overseen thousands of students get into their top choice schools, from state colleges to the Ivy League.
We know what kinds of students colleges want to admit. We want to get you admitted to your dream schools.
Learn more about PrepScholar Admissions to maximize your chance of getting in.
Have friends who also need help with test prep?
Share this article!
About the Author
Melissa Brinks graduated from the University of Washington in 2014 with a Bachelor's in English with a creative writing emphasis. She has spent several years tutoring K-12 students in many subjects, including in SAT prep, to help them prepare for their college education.
Get Free Guides
to Boost Your SAT/ACT