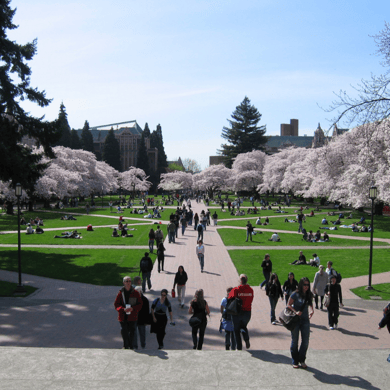 The University of Washington is often ranked among public Ivy Leagues—that is, public schools with the academic clout and selectivity to elevate their reputations. So if you want to be a Husky, it's not just about good grades and test scores. You'll also need to prove yourself with a good University of Washington essay, combining your technical skill with your knowledge of the school and your reasons for wanting to attend to attract attention from admissions officers.
But to do that, you need to know how to write great UW essays. The University of Washington uses the Coalition Application, which can be submitted to multiple schools and includes an essay section with several different prompts. The supplemental UW essay prompts are pretty standard, but we have all the helpful tips you need to make sure your application is set to impress.
What's Included in the University of Washington Essay Section?
There are two required essays you need to write for the University of Washington, along with an optional third essay. These essays are:
Coalition essay (650 words)
Short response (300 words)
Additional information (optional, 200 words)
Part of the Coalition app includes answering an essay prompt in 650 words or less. While there are five Coalition app essay prompts, the University of Washington doesn't allow you to choose which prompt to answer; all applicants must answer the same prompt. This essay (along with the other essays) will be submitted in the UW section of the application, not the Coalition Essay section.
The University of Washington application also includes a required short response question of 300 words and an optional short essay of 200 words.
Additional space is available, but it's recommended that you don't take it unless you absolutely need it. Show restraint when responding to UW essay prompts; it shows that you can be concise and follow directions, and you won't run the risk of volunteering too much information or making yourself memorable for the wrong reasons. That said, we'll cover some exceptions below!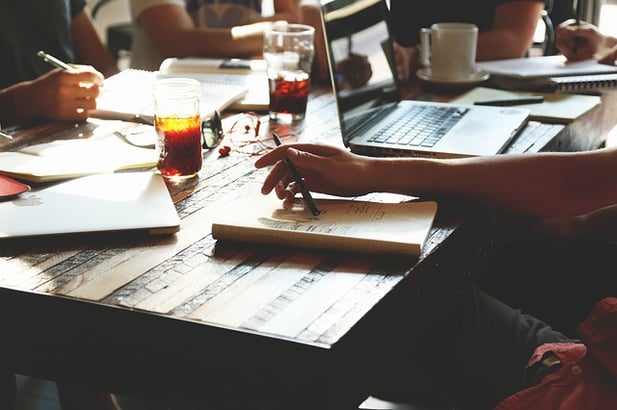 Set aside plenty of time to write and rewrite your essay.
What Is the Coalition Essay Prompt?
Although there are five Coalition essay prompts, the University of Washington requires you to answer a specific prompt; you don't get to choose. The maximum length of this essay is 650 words, but the University of Washington recommends the essay be closer to 300-400 words.
Also note this guideline from the University of Washington's admission website: "Please note: applicants will submit their essay and short responses in the UW section of the Coalition application (not in the new "Coalition Essay" section of the Profile, screenshot below for reference only)." So be sure to submit this essay in the proper place.
This is the Coalition essay prompt you must answer:
Tell a story from your life, describing an experience that either demonstrates your character or helped to shape it.
This essay prompt is pretty broad; it allows you to focus on any significant experience in your life. To answer it effectively, you'll want to relate a specific anecdote or event that had a strong impact on you as a person and how you define yourself today.
When answering this prompt, you'll want to choose a particularly significant experience. It doesn't need to be super rare, but the experience should hold deep meaning for you. Ask yourself: what defines you? What do you find important? Can you connect a key part of your personality or a goal you have to a specific event in your life?
You should also focus on only one experience. Don't try to cram in as many stories as possible—concentrate on the one incident that's most important to you, and use this essay as a chance to really delve into the specifics of it. How did the experience make you feel at the time? Why did it have such an impact on you?
If you decide to write about a negative experience, try to put a positive spin on it. You don't need to stick with a happy-go-lucky story—maybe you lost a friend because of a heated argument, or forgot to pick up your little brother from school one day. Regardless of the incident, keep the focus on how this situation ultimately taught you something important about life, such as the value of responsibility or the meaning of maturity.
If you're struggling to come up with an experience to write about, try these brainstorming ideas:
A time you helped someone in need, such as a friend, a classmate, or a sibling, and how your assistance revealed to you the value of cooperation or compassion. For example, did you tutor a peer in math? Help your sibling recover from a bullying incident?
A time you made a mistake or acted against your true character and what this taught you about morality and being true to yourself. Perhaps you lied about a grade you got to your parents or said something out of anger to a friend and later regretted it.
An incident that emphasizes a particular skill or ability you have. For example, you could write about the time you organized a winter holiday food drive at your high school and how it highlights your leadership skills and passion for social work.
A time you faced a challenge and how you ultimately overcame it. Maybe you struggled severely with geometry and were about to fail your math class, but because of a great friend who encouraged you to keep trying, you eventually raised your grade from a D- to a B.
When writing this essay, make sure to avoid pretending something is more important or unique than it actually is. Don't tell a story the admissions committee has likely heard hundreds of times. Choose an event that speaks to your life and has had a large impact on how you see yourself. Basically, don't write about what you think the admissions committee wants to read. For example, instead of discussing how you've been in Honor Society since 9th grade, it'll be a lot more interesting if you wrote about somebody you met through Honor Society or why you decided to drop out of it.
Also, don't focus too much on the negative part of the story. While it's OK to write about a time when you made a mistake, did something wrong, or faced a challenge, try to avoid writing only about the bad parts. Your story should overall be optimistic and reveal something positive about yourself.
What Is the Short Answer Prompt?
Once you've finished the Coalition Application essay, the University of Washington has an additional requirement for you—a short response question with a 300 word limit.
The University of Washington suggests that concise writing is particularly valuable, and recommends that the Coalition essay be between 300 and 400 words rather than 500. Though they don't offer word count recommendations for the other prompts, it's best to assume they're looking for short answers. Cutting out 100 words might feel excessive, but do try to leave some breathing room within your essay rather than squeaking in right under the allotted 300 words.
Additionally, the University of Washington states that students tend to answer this essay more informally than the longer essay. However, they expect formal, polished essays for both prompts, so don't slack off on proofreading or editing this essay.
For the UW short response essay, here is the required prompt:
Our families and communities often define us and our individual worlds. Community might refer to your cultural group, extended family, religious group, neighborhood or school, sports team or club, co-workers, etc. Describe the world you come from and how you, as a product of it, might add to the diversity of the UW.
UW offers a helpful tip right below the prompt: "Keep in mind that the UW strives to create a community of students richly diverse in cultural backgrounds, experiences, values and viewpoints." What this means is that UW wants to see students who are going to be right at home in that diverse student body. When answering this question, consider specifically what you might add to the community. What perspective do you bring? What traits make you a good fit?
Some students might struggle with this, because it's easy to assume that UW means they're only looking for students from diverse backgrounds, such as students of color, LGBTQ+ students, or students of other marginalized identities. But the prompt doesn't at all mean that you have no chance if you don't belong to one of those communities. Students who fit into those groups may have an easier time of identifying what diversity they bring to the school, but belonging to a marginalized group doesn't in any way guarantee admission.
The University of Washington is looking for students who foster and embrace diversity, so be sure to think on those terms. Consider, for example, how your rambunctious family Thanksgiving taught you to embrace chaos, and how your ability to stop Great Aunt Kathy from throwing mashed potatoes at your cousin for bringing up a sensitive political issue translates to a college campus. Think about how having several different friend groups in high school—nerds and jocks, for example—taught you to move between spaces while always being your authentic self.
For students who are of marginalized backgrounds, the same advice still applies. You likely have different lived experiences than other students, but UW wants to know exactly what you're going to bring to the student community. You can discuss advocacy work, for example, or how your less advantageous upbringing taught you to work hard for everything you want. Always come back to that request to "Describe the world you come from and how you, as a product of it, might add to the diversity of the UW."
Embracing diversity isn't just about being a member of a marginalized community; think about how you participate in your social groups and how your experiences before college will help you have and, more importantly, create a good experience for others. Again, it's not about what identity you do or do not have, but rather about how you build communities and support others. UW is a big school, but you'll still be interacting with people from all walks of life on a daily basis—how will you navigate difference and fit into a student body made up of so many different people?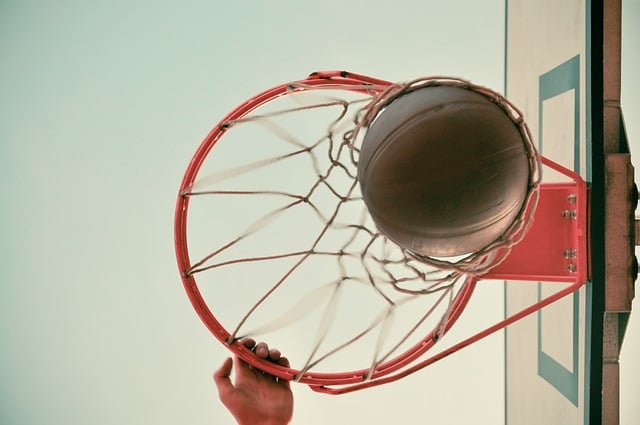 Let UW know exactly how they're going to help you make a slam dunk.
What Should You Add in the Additional Information Section?
The University of Washington essay prompt offers an additional 200 words for you to talk about yourself and your unique circumstances. This section is optional, and UW advises that the following types of students may benefit from taking the opportunity to expand on their application:
You have experienced personal hardships in attaining your education
Your activities have been limited because of work or family obligations
You have experienced unusual limitations or opportunities unique to the schools you attended
Even if you don't fall into one of these groups, it's wise to take advantage of this additional space. Everyone has a goal that's important to them, after all, which is explicitly included in the second bullet point. However, you only have 200 words, so you'll need to make them count.
Again, UW mentions earlier in their guidelines for the writing section that they value brevity. Don't try to hit that 200 word mark just because it's there—use only the space that you need. Be succinct and clear about any obstacles you've overcome, what draws you to your major, and what makes you want to attend UW specifically.
For example, say you, like many prospective UW students, are interested in becoming a doctor. The University of Washington is highly ranked among medical schools, so saying you want to go there because it's a good medical program isn't doing any legwork in setting you apart from other students. Instead, use this space to talk about why your major is important to you, and why placement at UW is going to help you achieve more.
Following the medical school example, maybe your primary care doctor was a UW grad, and the depth of care they gave you convinced you it wasn't just what you know as a doctor that matters, but also how you deploy that knowledge. Because you want to make the same difference in somebody's life, you're applying to UW to have access to the same information and instruction that your doctor did. In essence, use this space to explain something you didn't have space to explain elsewhere, but make it count.
Be careful not to retread the same ground! This is an opportunity to flesh out your application, not to hammer something home. If you haven't had a chance to discuss that your grades slipped sophomore year because of a family illness or that your local library has a special box for you because of all the engineering books you keep checking out, now's the time to mention it. Keep it short, direct, and original—the admissions office is reading this supplemental section in the context of your application, so you don't need to revisit anything.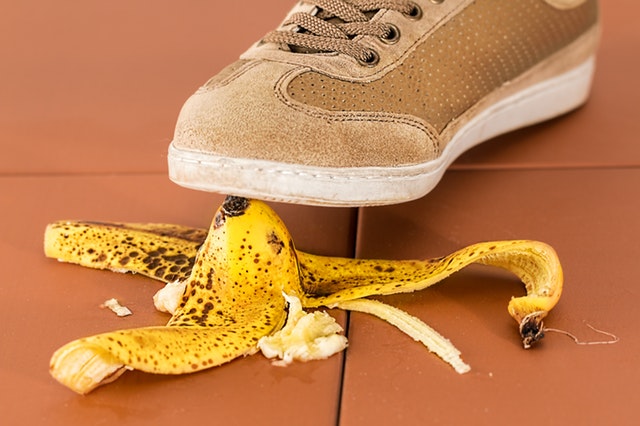 Careful not to fall into the trap of using more space than you need.
Should You Use the Additional Space? How?
It can be tempting to use UW's provided additional space to squeeze a few more words into your application, but resist it. Those word counts are there for a reason, and you should aim to get under, not exceed them.
That said, there are legitimate reasons to use this additional space. The University of Washington mentions clarifying answers from elsewhere on the application or providing extra information to the admissions office.
If you have special considerations as a student that you want to be sure the office is aware of, but that you didn't discuss in the previous additional information section, you could include that here. You could also include relevant awards or distinguishing recognition you've received. If your high school had an unusual grading system, it might be useful to explain how to interpret your grades.
But don't take the lack of a word requirement to mean that you can talk about whatever you want, or that you should use this space to expand on one of your earlier essays. Use only what you need, no more. Try to keep it under 200 words. Brevity is important!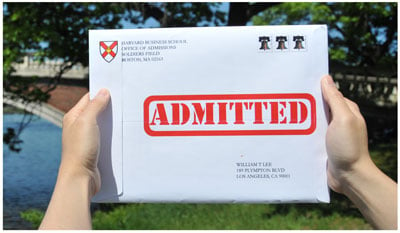 Want to build the best possible college application?
We can help. PrepScholar Admissions is the world's best admissions consulting service. We combine world-class admissions counselors with our data-driven, proprietary admissions strategies. We've overseen thousands of students get into their top choice schools, from state colleges to the Ivy League.
We know what kinds of students colleges want to admit. We want to get you admitted to your dream schools.
Learn more about PrepScholar Admissions to maximize your chance of getting in.
Tips and Advice for the University of Washington Essays
Specific advice for each prompt will help you craft a better essay, but there are some general things to keep in mind, too!
Proofread Your UW Essays
It's a small space, so there should be fewer mistakes, right? Nope. You still need to proofread. Consider writing your essays by hand and then transcribing the drafts—it feels like more work, but turning written words into typed words is a great way to spot mistakes. Go through multiple drafts, and read your essay out loud before you submit it.
Don't let typos get through; no matter how good the rest of your essay is, a typo will make it look as though you didn't edit it at all, suggesting you didn't take your time. Do everything you can to avoid the perception that you wrote it up without thinking!
Get Editing Help
Seek feedback from those you trust, not just those who are going to tell you your essays are great. You want your essays to be as good as possible, so let people who are going to be truthful with you make suggestions. They'll help you write a better essay, and a fresh pair of eyes can spot holes in your logic and errors you might miss after repeated revisions.
Think about going to teachers or counselors rather than friends or family. Though they undoubtedly want to help you, they might also be worried about hurting your feelings. Someone who's a little more objective but still wants to see you succeed is the kind of editor you want.
Be Specific
Always remember that you're applying to the University of Washington. Don't just write an essay that could impress any college (that's what the Coalition Application essay is for!); write one that ties into UW's core values. Their vision includes an emphasis on discovery, research, community, optimism, and even celebrating the natural beauty of the Pacific Northwest. All of these are angles ripe for exploration in your essays. If one of your answers is lacking, try folding a little of this vision into it by finding parts of your essay that match the mission and making them stand out more.
Read Essays That Got Students Into UW
It can be tricky finding essays that got applicants into UW, but it can also be a great indicator of what the school values in an application. Take these essays by Issa Rice. Though written for a different set of prompts, it's not hard to see why Rice was accepted.
Notice how his essays could only come from him; they're so tied to personal experience that it's unlikely anyone else would have the same essay. That's the kind of personalization you want to strive for. Your essay should speak about your own unique experience and leave the admissions office with a clearer picture of who you are as a person, not just as a collection of grades and test scores.
What's Next?
Crafting a perfect essay is just one part of the admissions process to the University of Washington. Because UW is a moderately selective school, you need to be aware of all admissions requirements before applying to be sure that your application is up to snuff.
As you're writing and rewriting your UW essay, be sure that it meets all the guidelines of a good college essay in addition to the UW requirements. A little extra polish will go a long way to cementing your application in the admission office's memory!
If you're struggling to understand why UW uses the Coalition App and what that means, never fear! We have all the information on what distinguishes one application system from another, helping you plan your college applications with less stress.

Want to write the perfect college application essay? Get professional help from PrepScholar.
Your dedicated PrepScholar Admissions counselor will craft your perfect college essay, from the ground up. We'll learn your background and interests, brainstorm essay topics, and walk you through the essay drafting process, step-by-step. At the end, you'll have a unique essay that you'll proudly submit to your top choice colleges.
Don't leave your college application to chance. Find out more about PrepScholar Admissions now:
Have friends who also need help with test prep?
Share this article!
About the Author
Melissa Brinks graduated from the University of Washington in 2014 with a Bachelor's in English with a creative writing emphasis. She has spent several years tutoring K-12 students in many subjects, including in SAT prep, to help them prepare for their college education.
Get Free Guides
to Boost Your SAT/ACT