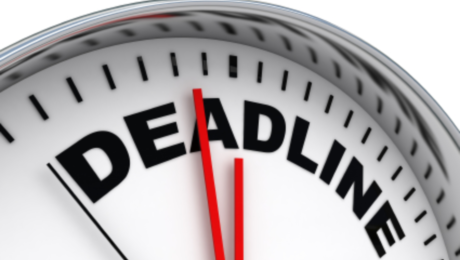 When's the latest you can take the SAT or ACT if you're submitting an early decision college application? You might be surprised by how late some colleges accept SAT and ACT scores—and how early others require them!
Read on to find out the latest dates on which you can take the SAT and ACT, and get specific dates for top colleges.
What Is Early Decision and When Are Applications Due?
Early decision gives you the chance to apply to your first-choice college early and get an admission decision before winter break.
Early decision application deadlines tend to be on or around November 1. Schools with early decision typically promise to have results sent to applicants between December 1 and December 15. Some early decision deadlines are even earlier in October, meaning that your application will be evaluated during a pretty narrow window in November.
As a result, usually the last ACT date you can take for early decision is in October and the last SAT date is in November. Scores from these test dates should arrive in November, just in time for early decision.
For the 2022-2023 school year, this means you can take either the ACT on October 22 or the SAT on November 5. This is just a general rule, however, so don't automatically assume that these dates will work for the school you're applying to early decision!
For some colleges, the last possible dates that can work for early decision are even earlier: the September ACT or the October SAT. (In other words, you can take, at latest, either the ACT on September 10, 2022 or the SAT on October 1, 2022.)
If you're taking the last possible ACT or SAT and applying early decision, make sure to mark that school down to receive your test scores when you sign up for the test. Don't wait to see your scores first before sending them, as they won't arrive in time to be considered!
If there's a problem with your SAT/ACT score reports (for example, they get delayed), colleges will sometimes accept a screenshot or printout of the report sent from your guidance counselor as a provisional result. That said, they will still want the official report eventually.
Once again, don't assume this will be the case for your particular school, so always plan to get your SAT/ACT scores in by the application deadline—if not earlier!
General Advice for Applying Early Decision

If you're reading this as a junior or younger and you're planning to apply early somewhere, aim to have your testing done before senior year—ideally by June.
Remember that if you're applying early decision, you'll need to work on your college applications earlier than normal. And studying for the ACT/SAT while applying to college can be stressful. (The College Board says that October should be your last possible SAT date but recommends taking the test by June.)
Getting your testing done by June will free up the whole summer before your senior year—and also free up your senior fall to give you time to work on your early decision application. With this time, you can write your best possible college essays, come up with astute answers for smaller application questions, and decide who will write you the most effective letters of recommendation.
As you can see, if you also had to study for the SAT or ACT, you'd waste valuable time that would be arguably better spent improving your college applications.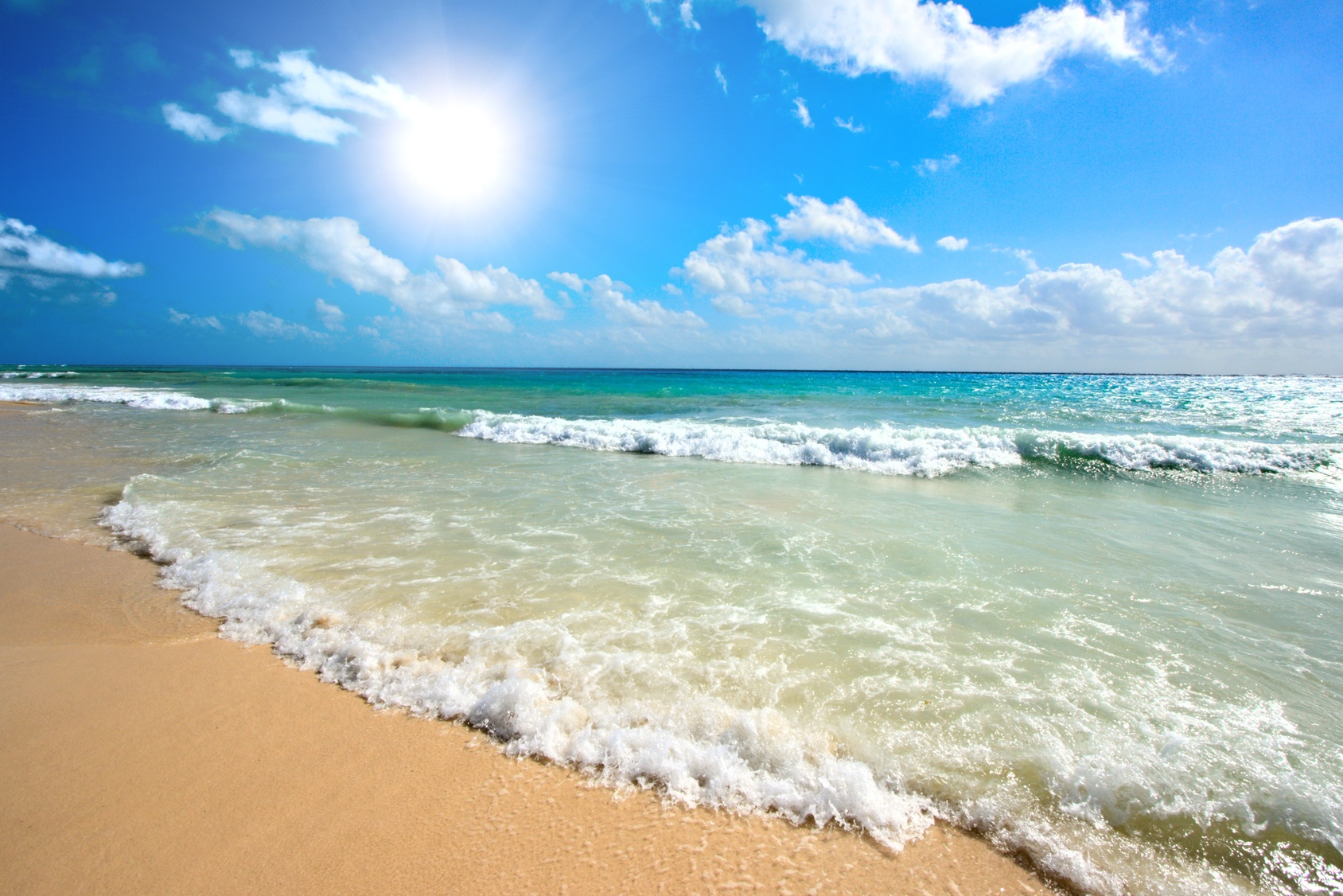 Summer means sun, sand, surf ... and college application essays.
Plus, if you're sending scores from the last possible test date, you're taking a pretty big risk. If it's your first SAT/ACT and your scores aren't within the school's average scores range, your chances of admission could be compromised. If it's a retake and your score drops, that won't look great either. Though most colleges focus on your highest scores, some schools require all SAT scores or all ACT scores and will evaluate every test result they receive, high or low.
Ideally, you should have already achieved scores within your school's score ranges by your senior year. Taking the ACT or SAT during your junior year or summer before your senior year (the December, March, May, June, or August SATs or the December, February, April, June, or July ACTs) is best. Waiting until the September/October ACTs or October/November SATs your senior fall will only create a serious time crunch.
Nevertheless, if you do need to take the SAT or ACT during your senior fall (either for the first time or as a retake), don't stress out. You can still study enough to get a high score and put together a great application—just be prepared to be busy during the fall!
Latest Early Decision ACT/SAT Test Dates for Top Schools
In this section, we take a look at the ACT and SAT dates and deadlines for popular schools' early decision plans. We also show you how to look up this info at any school you might be applying to in case your college didn't make our list.
NOTE: As a result of the coronavirus, many schools have temporarily suspended their standardized test score requirement. However, nearly all schools are still accepting SAT or ACT scores, and, if you do submit them, you still need to submit them by the school's deadline.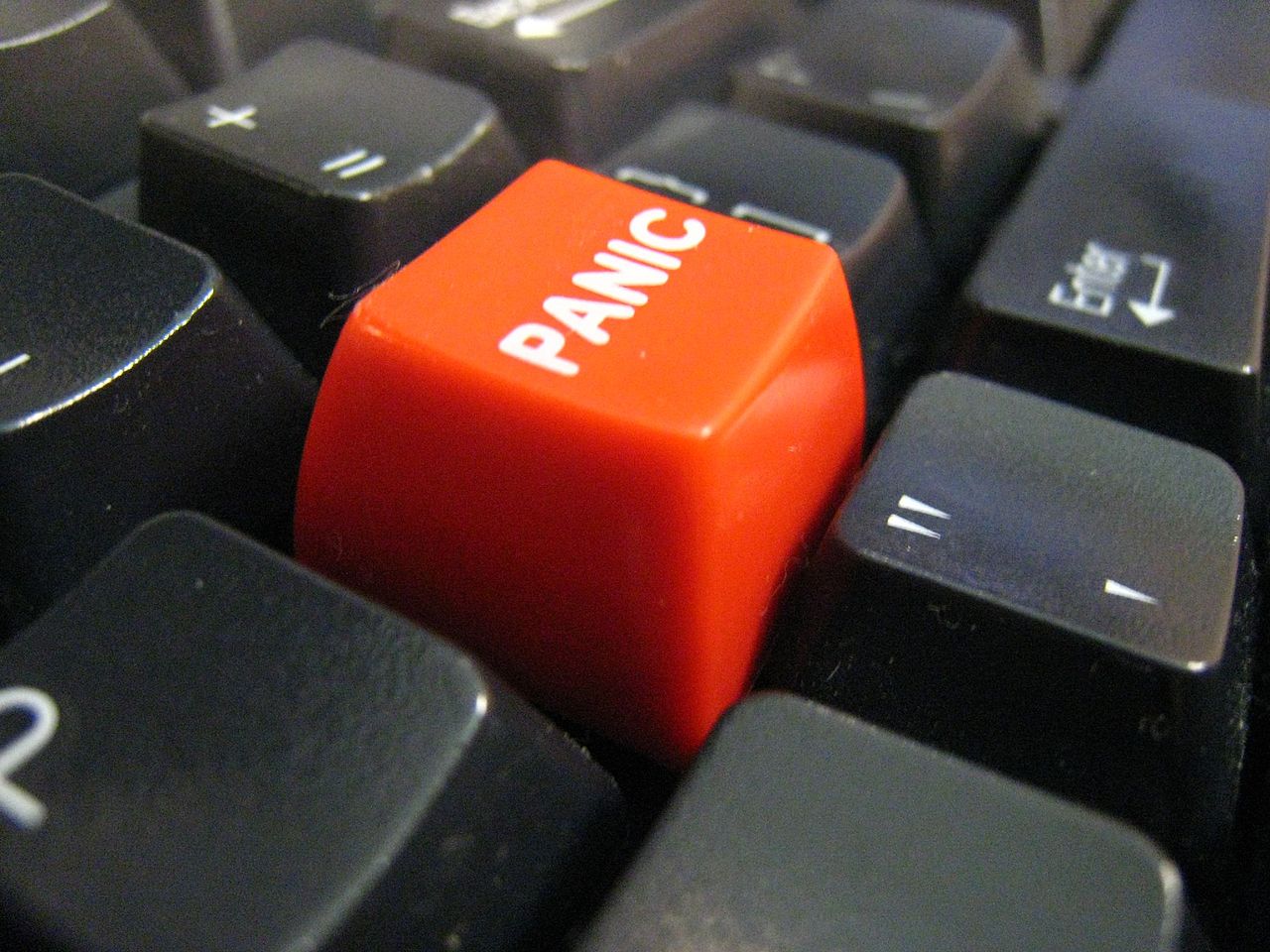 You don't have to panic if your top school is on this list. But you should plan ahead!
Schools With Earlier Than Usual SAT/ACT Deadlines
The following colleges have SAT/ACT deadlines that are earlier than the common November SAT/October ACT rule discussed above. If you're applying to any of these schools early decision, try extra hard to complete your standardized testing as early as possible.
Caltech
Caltech's standardized testing deadline for early action applicants is October for both tests. This means you can take the SAT or ACT in October of your senior year, but no later.
Georgetown
Here's what Georgetown says regarding early action deadlines (bold emphasis mine):
"While we recommend that Early Action applicants complete testing requirements in their junior year, scores from the September and October test dates will typically arrive in time for consideration at Early Action. Students should make certain to request that scores be sent to Georgetown well in advance of the deadline to ensure timely receipt."
Princeton
Here's how Princeton handles early action deadlines (bold emphasis mine):
"You are strongly encouraged to complete your standardized testing before the Nov. 1 deadline. If you take standardized tests in November, you should have your scores sent directly to Princeton."
This means that they likely won't get scores from the November SAT in time to consider you for admission. So to be safe, submit test scores from October of your senior year or earlier.
Stanford
According to Stanford's undergraduate admission website, its last ACT date is in September and last SAT date is in October for restrictive early action.
Vanderbilt
Vanderbilt's preferred test deadlines for early decision applicants are October for both the SAT and ACT.
Washington University in St. Louis
Here's what Washington University's FAQ page says about early decision deadlines (bold emphasis mine):
"The last [SAT] test date accepted will be the December testing (October if applying Early Decision)."
Note that this October deadline is for the SAT, not ACT. Because the Early Decision application deadline is November 1, you should aim to take the ACT by September.
Williams College
Williams requires applicants to take the ACT or SAT by October.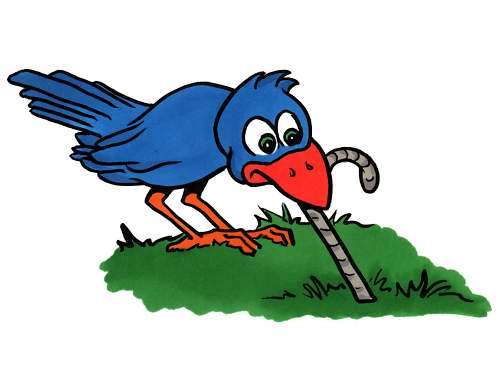 The early bird gets the ... early application review?
Schools That Follow the October ACT/November SAT Rule
These next schools stick to the October ACT/November SAT rule we found when researching early decision testing deadlines. Still, whenever possible, try to submit scores from earlier test dates to ensure that your application is reviewed on time.
Brown
Here is an overview of Brown's standardized test deadlines for early action applicants (bold emphasis mine):
"Early Decision applicants should complete all required testing by the October test date and arrange for results to be sent directly to Brown on or before the November 1 Early Decision deadline. You may also submit additional test scores from the November administration of the SAT; however, we cannot guarantee that these test scores will be received in time to be reviewed with your application. All applicants should have a complete set of test scores sent to Brown prior to the November 1 deadline."
Note that while Brown will accept the October ACT and/or November SAT, they prefer to have at least one set of scores before the November 1 deadline. So do your best to have scores in before this date!
Columbia
Here's what Columbia says about early decision deadlines for the SAT/ACT:
"You must have all standardized testing completed by the November test date."
This means that scores from both the October ACT and November SAT would arrive in time to be considered for early decision admission.
Cornell
Here is Cornell's description of its standardized test deadlines for early decision applicants (bold emphasis mine):
"You should plan to take the SAT before November of your senior year, or the ACT no later than October."
Dartmouth
Dartmouth's admissions website says that the last test date for the SAT is in November, and the last date for the ACT is in October for all early decision applicants.
Harvard
Harvard says the following about early action testing deadlines (bold emphasis mine):
"If you are applying Early Action, we would like your testing results by the end of October; however, you may submit the November series if needed. Those results will arrive in time for consideration without the need and expense of 'rush reporting.'"
Keep in mind that even though you can submit November tests, you should aim to complete your testing earlier so that your application can be evaluated sooner.
MIT
MIT says the following on its admissions website in regard to early action SAT/ACT deadlines:
"In order to apply for first-year admission, you must take the required tests before November 30 for Early Action,"
This means you can submit scores from the October ACT or November SAT at the latest.
Northwestern
Northwestern requires applicants to submit standardized test scores by November 1, meaning you can take the October SAT or ACT at latest.
University of Chicago
Here is UChicago's policy on SAT/ACT test deadlines for early action and early decision applicants (bold emphasis mine):
"While we would, if possible, like to receive your scores before the appropriate deadline, we will accept October ACT and November SAT scores for Early Action and Early Decision I."
University of Pennsylvania
For those applying early decision to Penn, the last SAT date is in November and the last ACT date is in October.
Yale
Yale recommends the last test scores early action applicants submit come from the October SAT and ACT.
How to Find Early Decision Testing Dates for Any School
Although we've gone over the early decision policies of many top colleges, you might be wondering about the last possible SAT/ACT dates for different schools not mentioned above.
To find your school's SAT/ACT testing deadlines, start by searching for "[School Name] early decision" on Google. Here's an example: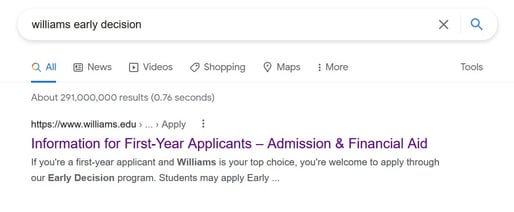 You can see here that I'm searching for Williams College's last possible SAT/ACT dates. Click the first link.
Many colleges have separate sections or pages for early decision/early action applications. This page might list special deadlines for early decision, including the last ACT or SAT test date. If you can't find the deadlines on this page, however, you might instead be able to find a page with overall application dates and deadlines, or an FAQ page with an answer to this question.
Check out the page I found for Williams below:

As the screenshot shows, Williams has clearly laid out its testing deadlines. According to this table, the last possible test dates for Early Decision are those in October.
If you still can't find information about a school's last SAT/ACT dates on either an "Early Decision" or "Dates and Deadlines" page, check its FAQ page; you might run across a question about SAT and/or ACT tests. As you skim it, look for common phrases, such as "last time to take the ACT or SAT" or "how long it takes SAT/ACT scores to arrive."
If you can't find a precise date on any of the above pages, call or email your school's admissions office. (Keep in mind that testing information should definitely be on the admissions site, even if it's buried in an unlikely place!)
Ask the admissions representative, "When is the last possible date I can take the SAT/ACT for early admission?" Hopefully, you'll get the answer you want!
What's Next?
Not sure when to take the ACT or SAT for the first time? Read more about optimizing your ACT and SAT test dates.
How high does your ACT/SAT score need to be for your Early Decision school? Find out so you can decide whether you should retake the ACT/SAT before your applications are due.
Still have to make serious changes to improve your SAT/ACT scores? Get the latest strategies for each section: SAT Reading, Writing, and Math; and ACT English, Math, Reading, and Science.
Want to improve your SAT score by 160 points or your ACT score by 4 points?
Check out our best-in-class online SAT and ACT prep classes. We guarantee your money back if you don't improve your SAT score by 160+ points or your ACT score by 4+ points.
Our classes are entirely online, and they're taught by experts. If you liked this article, you'll love our classes. Along with expert-led classes, you'll get personalized homework with thousands of practice problems organized by individual skills so you learn most effectively. We'll also give you a step-by-step, custom program to follow so you'll never be confused about what to study next.
Try it risk-free today:
Have friends who also need help with test prep?
Share this article!
About the Author
Halle Edwards graduated from Stanford University with honors. In high school, she earned 99th percentile ACT scores as well as 99th percentile scores on SAT subject tests. She also took nine AP classes, earning a perfect score of 5 on seven AP tests. As a graduate of a large public high school who tackled the college admission process largely on her own, she is passionate about helping high school students from different backgrounds get the knowledge they need to be successful in the college admissions process.
Get Free Guides
to Boost Your SAT/ACT