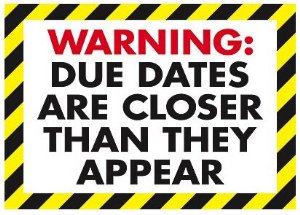 When is the very latest you can take the SAT or ACT for your college applications? If you're putting off the ACT/SAT, or hoping to retake either test, you need to know about these deadlines.
Read on to find out when you can still take the SAT or ACT—and when you would be too late. You may be surprised by how little time you have!
General Info and Trends
College application deadlines tend to be around January 1st—though some are in mid to late December, and some are as late as mid-January. But you should keep New Year's in mind as the general date your college applications will be due.
The standard date you find out your admission decision is April 1st (though some colleges release results earlier in March). But while admissions decisions are finalized in March, applications are being read and evaluated long before then. Typically applications are read for the first time in January and maybe February, and decisions are made in February and March. This is why having your entire application submitted by the deadline, including your SAT/ACT scores, is so crucial.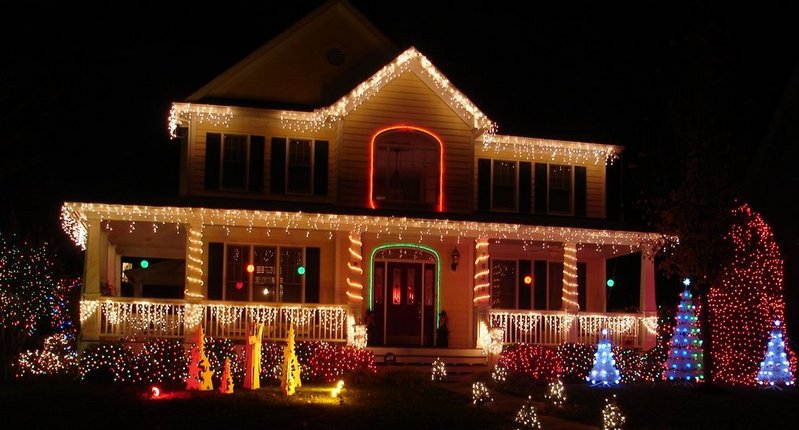 In many cases, your application could be read before your parents get around to taking down the holiday decorations....
In order for scores to arrive in time to be considered in January, the last ACT and SAT dates are usually in December. (For the 2017-18 school year, this means the December 2 SAT and the December 9 ACT.) These December scores will usually arrive in time to be considered during the initial application reads in January and February. However, if you take the tests in February or March, they won't arrive until March or April—which is typically well after when your application is read for the first time. (For the 2017-18 school year, this means the February 10 ACT and the March 10 SAT.)
Starting in 2018, there's no more January SAT test date, which means December really is your last chance for the SAT for almost all schools. A handful of schools do accept the February ACT. However, these policies aren't the norm, and ideally, you want your SAT/ACT testing done before senior year so you can focus on applications exclusively.
However, if you're taking any of the final test dates, you have to make sure you put your colleges down to receive your scores when you're signing up for the last available test—don't wait to see your scores before you send them, or else it will be too late!
If there is a problem with your score reports, or they get delayed, sometimes colleges will accept a screenshot or printed version of your test reports sent from your guidance counselor as a provisional result. But this won't replace an official score report from the testing agency, which needs to be sent along eventually.
Advice for Your College Applications
If you're reading this as a junior or younger, you should aim to have your standardized testing done before senior year—or at the very least by the October ACT/November SAT dates (this means the October 28 ACT and the November 4 SAT for the 2017-18 school year). This will make the application process less stressful for you since you will only have to focus on applications, not testing. Studying for the ACT and SAT while also working on an your applications in December would stress you out and result in sub-par applications!
Also, keep in mind that if you're sending the last possible test date, you're also taking a risk—if it's your first score, and it's not within the school's score ranges, it won't help your chances of admission. If it's a retake, and your score goes down, that won't look good either. (While most schools focus on your highest test scores, some require all SAT scores or all ACT scores, and will take all scores, high or low, into consideration.) This is why we recommend, whenever possible, to have your testing done by senior year—including retakes.
But if you do need to take one of the last possible ACT or SAT dates, try to plan ahead as much as possible so you have plenty of time to both study and work on your applications. Keep reading for the last ACT/SAT dates at top colleges, and a guide for how to look this info up yourself.
The Last ACT/SAT Dates for Top Schools

Schools Whose Final Testing Date Is in December
The majority of schools we researched will accept the December ACT and December SAT, but no later SATs or ACTs. If any of your top schools are on this list, do your best to complete your testing as soon as possible!
You'll need to have your standardized tests completed by winter break if you're applying to any of these schools!
Amherst
For regular decision, Amherst requires all materials to be recieved by January 1. This means you should aim for the December ACT or December SAT at the latest.
Brown
"Regular Decision applicants should complete all required testing by the December test date and arrange for results to be sent directly to Brown on or before the January 1 Regular Decision deadline," states the Brown Admissions webiste.
Caltech
Caltech lists December as their standardized testing deadline, meaning you can take the December ACT or SAT.
Columbia
The Columbia Admissions FAQ says, "Scores for January tests are generally received in time for consideration, but it is strongly advisable to take testing no later than December. Testing taken in February or later cannot be considered." However, the January SAT test date is being eliminated in 2018, so that means December is your last opportunity!
Cornell
Everything has to be submitted by Jan 2 for Regular Admission for Cornell, which means your last chance dates for the SAT and ACT are December.
Dartmouth
According to Dartmouth's admissions website, the last SAT date is in January and the last ACT date is in December. However, there will be no January SAT date in 2018, so December is your last chance.
Duke
Duke's last test date is December, for both the ACT and SAT. However, they will accept the scores from the February 11 ACT as additional scores in your file.
Georgetown
Georgetown's deadline is slightly later in January than many other schools: "Regular Decision applicants should have all application materials postmarked by January 10." However, the December ACT and SAT are still the last test dates that will arrive before that deadline.
Harvard
Harvard accepts test "taken as late as January." Since there are no more test dates in January (SAT or ACT) starting in 2018, this means December is your last chance for either test! But they also say, "we advise you to complete and submit at least one component of the required tests (SAT or ACT with Writing or two College Board Subject Tests) by the end of November. This will allow us to begin our evaluation process for those submitting applications by December 15." So even though you can submit December tests, the earlier you can submit scores, the better!
MIT
"In order to apply for freshman admission, you must take the required tests on or before the November test date for Early Action or the December test date for Regular Action," says MIT Admissions. "These are the latest scores that will reach the Admissions Committee in time for review."
Northwestern
The latest tests you can take for Northwestern are the December ACT or SAT.
University of Pennsylvania
According to their admissions website, at Penn, the last SAT date is in January and the last ACT date is in December. However, because the January SAT date is going away, December will be your last chance on the SAT next year!
Princeton
The Princeton website currently says, "Regular decision applicants must complete all SAT testing by the January test date. All ACT testing must be completed by the December test date. If you currently live outside the United States or Canada, try to complete all testing by the December test date, if possible." However, because the January SAT is being eliminated next year, December wil be your last chance to take the SAT.
Stanford
For regular admission, Stanford's last test date is in December for both the ACT and the SAT.
Vanderbilt
Vanderbilt's website says, "For students applying under Early Decision II or Regular Decision (submission deadline January 1), the last opportunity to take the exam is the December administration."
Washington University in Saint Louis
"The last test date accepted will be the December testing," according to the Washington University website. At the latest, you can take the December SAT or ACT for Regular Decision, or the October SAT or ACT for Early Decision.
Williams
You have to take the ACT and/or SAT by December for it to be added to your file at Williams.
Schools That Accept Testing Through February
Some schools have even later testing deadlines, and will accept the early February ACT. Again, these schools are in the minority, so do your best to complete your testing much earlier than February of your senior year!
University of Chicago
UChicago says they will accept January SAT scores and February ACT scores. Of course, there will be no more January SAT in 2018, but you'll still have the February ACT!
Yale
Yale's website currently says the last testing dates they will accept are the January SAT and the February ACT. That means next year your last chances will be the December SAT and the February ACT.
How to Look Up the Last ACT/SAT Date at Any School
We couldn't include the final SAT/ACT date for every single college in the country! Use this guide to learn how to look this info up anywhere you're applying. First, Search "[Name of College/University] Regular Decision Deadline."
I'm searching for Wellesley College's last possible SAT and ACT dates. The first link, "Decision Plans and Deadlines," looks promising, so I'll start there.
This should pull up the page on their admissions sites with regular decision dates and deadlines. This page will typically list the last SAT and ACT dates that they will accept for consideration. For Wellesley, the first link led to the following page with info about dates and deadlines, including for standardized tests: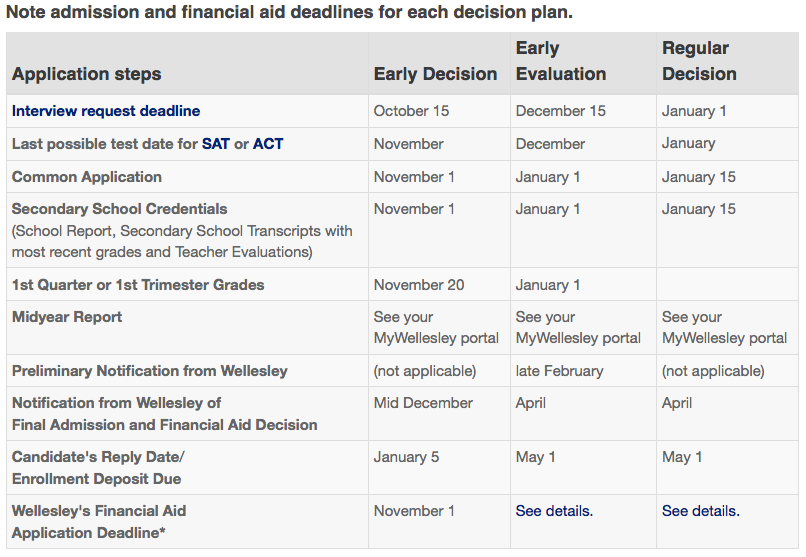 For Regular Decision, they list the "Last possible test date for SAT or ACT" as January, which means for next year, the December SAT or the December ACT are the last possible tests you could take.
If you're looking up a school and can't find a deadline page that lists SAT/ACT dates, check the FAQ—there is often a question about SAT and ACT testing. Look for questions like "when's the latest I can take the SAT/ACT" or "how long does it take for SAT/ACT scores to arrive."
If there's no info about the last ACT/SAT date on either the deadlines page or the FAQ page (which is unlikely!), call the admissions office and ask about the last ACT/SAT test date you can take for regular decision.
What's Next?
Read more about optimizing your ACT and SAT test dates for your senior fall schedule.
How high does your ACT/SAT score need to be for your top school? Find out to make sure you're on track for admission.
Still have to make serious changes to improve your SAT/ACT scores? Get strategies for each section: SAT Reading, Writing, and Math, or ACT English, Math, Reading, and Science.
Want to improve your SAT score by 160 points or your ACT score by 4 points? We've written a guide for each test about the top 5 strategies you must be using to have a shot at improving your score. Download it for free now:
Have friends who also need help with test prep?
Share this article!
About the Author
Halle Edwards graduated from Stanford University with honors. In high school, she earned 99th percentile ACT scores as well as 99th percentile scores on SAT subject tests. She also took nine AP classes, earning a perfect score of 5 on seven AP tests. As a graduate of a large public high school who tackled the college admission process largely on her own, she is passionate about helping high school students from different backgrounds get the knowledge they need to be successful in the college admissions process.
Get Free Guides
to Boost Your SAT/ACT