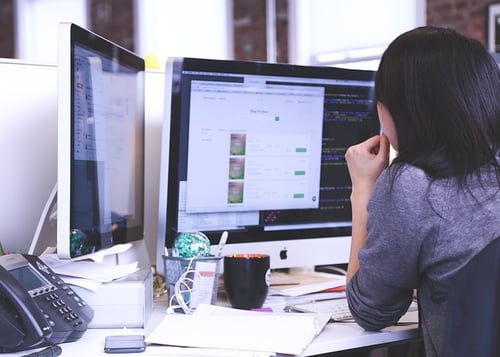 Information technology is a growing field, with more and more students looking to major in IT or a related subject. If you're thinking of an IT major or maybe even a master's degree, it's vital that you know what the best information technology schools are.
In this guide, we explain what an information technology school is and what kinds of jobs you can get with a degree in IT before presenting the 14 top information technology schools, including the best online schools for information technology. We'll then wrap up with some tips on how to find the best information technology school for you.
What Are Information Technology Schools?
Information technology, or IT, schools are any institutions that offer majors in IT and/or IT-related topics such as informatics, information systems, networking and cybersecurity, computer science, etc.
One thing to be aware of is how IT differs from computer science, though the two are similar. The gist of it is this: whereas computer science focuses on the creation and theories behind computer applications and programs, IT is about using computer programs to send, retrieve, and store information for businesses. For more details, check out Rasmussen College's handy infographic, which gives a comprehensive overview of the differences between the two fields.
While some colleges offer an actual information technology major, others offer majors in topics that fall under the umbrella of IT as a whole. Indeed, IT covers a wide range of computer- and technology-related topics:
Computer forensics
Computer networking and telecommunications
Computer programming
Computer science
Database administration
Database management
Game design
Information science
Information technology management
Management information systems
Network engineering
Network management
Software engineering
System administration
Video game programming
Web development
Information technology schools typically offer an array of IT degrees, most often Bachelor of Science (BS) and Master of Science (MS) degrees, though occasionally some will offer associate degrees and PhDs in IT as well.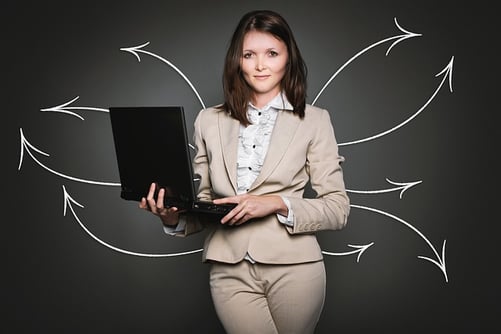 What Kinds of Jobs Can You Get With an IT Degree?
IT degrees are generally quite flexible and can prepare you for numerous careers in fields such as technology, business management, networking, website development, etc.
Here are some common positions people with IT degrees hold:
Cloud architect
Computer and information research scientist
Computer forensic analyst
Computer network architect
Computer support specialist
Cybersecurity consultant
Database administrator
Information security analyst
IT consultant
Mobile application developer
Network engineer
Web developer
Below are some sample IT jobs; each job includes information about the degree typically needed, its median annual salary, and its employment growth rate for 2021-2031. All data is from the US Bureau of Labor Statistics, and jobs are listed in order of highest median salary to lowest.
Note that the average employment growth rate for 2021-2031 is about 6%, so any percentage above this means that the job is growing faster than average.
| | | | |
| --- | --- | --- | --- |
| Job Title | Minimum Degree Required | Median Annual Salary (2021) | Job Outlook (2021-2031) |
| Computer and information systems managers | Bachelor's degree | $159,010 | 16% |
| Computer and information research scientists | Master's degree | $131,490 | 21% |
| Computer network architects | Bachelor's degree | $120,520 | 4% |
| Software developers | Bachelor's degree | $109,020 | 25% |
| Information security analysts | Bachelor's degree | $102,600 | 35% |
| Database administrators | Bachelor's degree | $101,000 | 9% |
| Computer systems analysts | Bachelor's degree | $99,270 | 9% |
| Computer programmers | Bachelor's degree | $93,000 | -10% |
| Network and computer systems administrators | Bachelor's degree | $80,600 | 3% |
| Web developers | Associates or Bachelor's degree | $78,300 | 23% |
| Computer support specialists | Associate or bachelor's degree | $57,910 | 6% |

As the chart indicates, in general, the higher your degree, the higher your salary will likely be. You can also see that the vast majority of IT-related jobs are experiencing growth, which means it should be somewhat easier for you to get a job in the field in the coming years (nice!).
Now that we've covered what information technology schools are and what jobs you can get with an IT degree, let's take a look at the best information technology schools and how we determined which ones were worth including on our list.
Top Information Technology Schools: Ranking Methodology
To come up with our list below of the best information technology schools, we took into consideration six main factors:
The school's overall ranking by US News
The IT program's ranking by Niche
The IT program's ranking by College Choice
The breadth of IT majors, degrees, and classes offered (including whether there are online options)
Class size (the smaller the class, the higher the school ranked)
Acceptance rate (the lower the rate, the higher the school ranked)
Each school was assigned points based on how they met these criteria. The higher the score, the higher that school ranked on our list of the best information technology schools.
The 14 Top Information Technology Schools
Without further delay, here are the 14 best information technology schools for those seeking an undergraduate, graduate, or online degree in IT.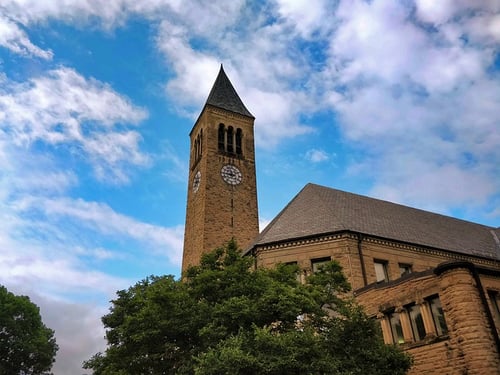 Cornell University
A top-ranked national research university and prestigious Ivy League member, Cornell is home to one of the best information technology programs.
Three IT bachelor's degree programs are available, each at a different college:
BA in Information Science (College of Arts and Sciences)
BS in Information Science (College of Agriculture and Life Sciences)
BS in Information Systems and Technology (College of Engineering)
There are also two graduate programs in IT:
Master of Professional Studies in Information Science
PhD in Information Science
Students benefit from small class sizes, the opportunity to conduct independent research under the supervision of renowned faculty, and an array of IT-geared student organizations, including the Information Science Student Association and Women in Computing at Cornell.

Finally, Cornell offers a handful of online professional certificate programs in IT-related fields, such as website design and digital leadership.

NYU is an excellent choice for pursuing an education in IT and related fields at the undergraduate and graduate levels. IT majors at this highly-ranked private institution include the following:

Students learn in small class environments and take a diverse breadth of classes, from math and economics to networking and database design. Many IT graduate programs are also available at NYU, including the following (some of which have an online option):

MS in Information Systems
MS in Computer Science
MS in Computing, Entrepreneurship, and Innovation
MS in Management of Technology (on-campus or online)
MS in Cybersecurity (on-campus or online)
PhD in Information Systems
World-renowned for its interdisciplinary research, CMU is currently ranked #1 by Niche for best information technology schools, though its key strengths are more geared toward graduate students than they are undergraduates.
CMU has also been ranked #2 by US News on its best computer science graduate schools list.
Undergraduates can pursue a BS in Computer Science. At CMU's Heinz College graduate school, students have several IT grad programs to choose from, and some of these are available entirely online (noted below):
Master of Information Systems Management
MS in Information Security Policy and Management
MS in Information Technology Management (online)
MS in Information Security and Assurance (online)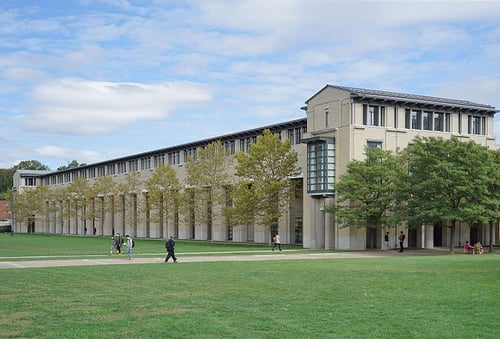 Jared L. Cohon University Center at Carnegie Mellon (Dllu/Wikimedia Commons)
A renowned technological research university, RPI takes a unique interdisciplinary approach to the field of IT.
At RPI's School of Science, undergraduates have the option to earn a BS in Information Technology and Web Science, whereas graduate-level programs include the MS in Information Technology and the PhD in Multidisciplinary Science (with an IT track).
In both the bachelor's and master's IT programs, students can choose an area of specialization from a list of more than 20 concentrations, which include the following:
Arts
Medicine
Psychology
Law
Communication
Finance
Economics
Data Science
Information Security
Students in these programs learn about security/privacy issues, the ethical and legal impacts of technology, and how to communicate effectively with technology.
A highly competitive, premier research university and home to more than 7,000 students, Lehigh offers several rigorous programs in information systems and technology.
At Lehigh's College of Business and Economics, students can enter the BS in Business Information Systems program, which requires them to take courses on management information systems and business data management. Students can also take classes on risk management, cloud computing, and software ventures.
Additionally, Lehigh offers a BA in Science, Technology, and Society through its College of Arts and Sciences. This program focuses on the social aspect of technological innovation and scientific research. (Note that this program is currently not accepting new majors or minors.)
If you're interested in the educational application of technology, Lehigh has an MS in Instructional Technology as well as a PhD in Teaching, Learning, and Technology.
Those looking to study IT in a more traditional and openly Christian environment will enjoy BYU's top-notch IT program.
At BYU, students can choose between two IT-related majors: a BS in Information Technology and a BS in Cybersecurity. Six areas of concentration are available for both majors:
User Experience Design (UXD)
Mobile and Web Development
System and Network Administration
Internet of Things (IOT)
Penetration Testing
Digital Forensics
IT students must complete a year-long capstone project, which involves meeting the technical needs of a client who sponsors the project. Elective topics include cyber-physical systems, digital forensics, database administration, and web technologies.
In addition to undergraduate IT programs, BYU offers an MS in Technology and Cybersecurity.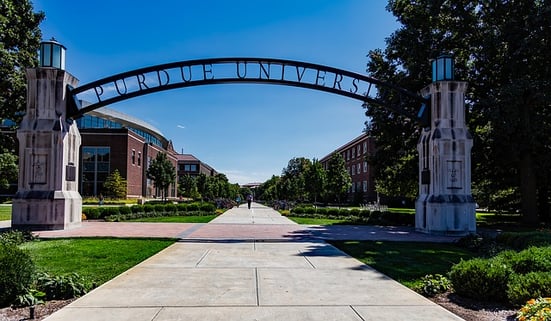 Purdue University
A top-20 computer science school and home for more than 30,000 undergrads, Purdue is a great choice for those wanting to study information technology and related fields.
At Purdue's Polytechnic Institute, students have many options for information technology majors in the Computer and Information Technology Program:
Computer and Information Technology
Cybersecurity
Computing Infrastructure and Network Engineering Technology
Systems Analysis and Design
Furthermore, Purdue offers an MS in Computer and Information Technology with specializations ranging from bioinformatics to cyber learning to information security. Some master's programs in IT are even available online, such as the MS in Information Technology Project Management and the MS in Information Technology Business Analysis.
One of the top public research universities in the US, UW is currently ranked #2 by US News for its information systems program, making it a great option for IT students.
At the Seattle campus, students can earn a BS in Informatics (which is similar to IT and draws upon various fields, including computer science, sociology, design, psychology, and information science).
Several areas of concentration are available in the Informatics major, including data science, cybersecurity, human-computer interaction, and so on. In addition, there are six core areas of the Informatics major curriculum:
Foundations
Data
Design
Development
Organizations
Society
Students in this program must take courses on research methods, databases and data modeling, and design methods, in addition to completing a capstone project.
Undergraduates at UW also have the option to get a BA in Business Administration via the Foster School of Business where they can incorporate into their major the study of information systems and operations management.
Lastly, UW offers highly ranked master's and doctoral programs in information systems.
Illinois Tech is a small, private institution mainly known for its impressive range of engineering and tech programs, including a top Information Technology and Management Program.
In total, seven career-oriented specializations are available in this program:
Data Management
IT Entrepreneurship and Management
Networking and Communications
Software Development
System Administration
Systems Security
As part of the IT program here, students work with faculty on cutting-edge projects, examples of which can be viewed on the official website.
Moreover, Illinois Tech has several online information technology and management courses (both undergraduate and graduate).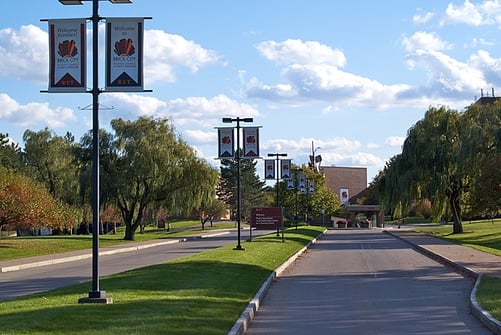 Lomb Memorial Drive at RIT (atlexplorer/Wikimedia Commons)
A pioneer in computer science and technological education, RIT is a reputable private institution based in New York. At RIT's B. Thomas Golisano College of Computing and Information Sciences, students have several options for IT degrees, including the following:
BS in Computer Science
BS in Computer and Information Technologies
BS in Computing Security
BS in Web and Mobile Computing
As part of RIT's value of experiential learning, most of these IT programs have a cooperative education component, in which students get paid to work full-time in technological corporate settings.
RIT also has several graduate degrees available in IT, from an MS in Computing Security to a PhD in Computing and Information Sciences.
Finally, many IT courses are available online through RIT's online learning platform, allowing students to have a degree of flexibility in their schedules.
FSU is a renowned public institution known for having a strong IT program.
At FSU's School of Information, students can get a bachelor's degree in information technology or information, communication, and technology. Whereas the former degree program focuses more on project management, networking, security, and informatics, the latter program is geared more toward social networking, PR, and promotion.
Courses teach a wide range of skills, including website and graphic design, information literacy, technical communication, and applications development. FSU also offers a graduate program: an MS in Information Technology.
In terms of online IT options, undergrads who have already completed at least 60 semester hours of credit can take classes online at FSU to earn a BA or BS in Computer Science.
There are also several graduate degree programs in IT available online, including the MS in Information Technology and the MS in Instructional Systems and Learning Technologies.
Founded in 1855, Penn State is a highly ranked public university with a renowned information technology program and—perhaps most impressive—tons of online options for studying IT.
Penn State's College of Information Sciences and Technology offers many IT degrees:
AS in Information Sciences and Technology
BS in Information Sciences and Technology
BS in Security and Risk Analysis
BS in Data Sciences
BS in Cybersecurity Analytics and Operations
You can also earn a BS and MS in IT (or related fields) at the same time through Penn State's Integrated Undergraduate Graduate program. Here are the possible degree combinations:
BS/MS in Information Sciences and Technology
BS in Security and Risk Analysis/MS in Information Sciences and Technology
As I mentioned above, Penn State offers a superb array of online options for IT studies, from certificates to undergraduate and graduate degrees, in majors such as information systems and cybersecurity.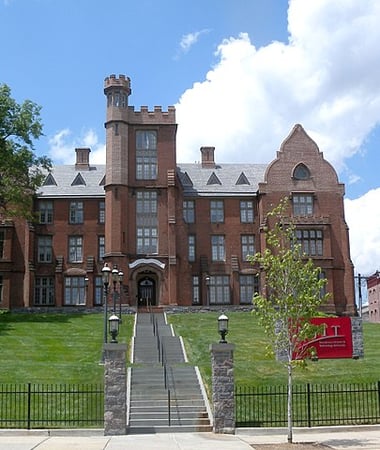 Eberhardt Hall at NJIT
NJIT is a premier technological university with lots of options for those who wish to study IT at the undergraduate or graduate level. Available IT and related degrees include the following:
BS in Information Technology
BA in Information Systems
BS in Business and Information Systems
BS in Human-Computer Interaction
BS in Web Information Systems
BS in Computer Science
BS in Computing and Business
MS in Cybersecurity and Privacy
MS in Computing and Business
MS in Computer Science
PhD in Computer Science
The BS in Information Technology is one of NJIT's most flexible majors, allowing students to choose a concentration from a number of potential specializations:
Criminal Justice and Law
Management Information Systems
Game Development
Multimedia
Network and Information Security
Web Applications
Class offerings in this IT program include Introduction to Network Technology, Information Design Techniques, Internet and Applications, and Technical Writing, as well as a capstone project that must be completed in the fourth year of study.
For aspiring grad students, NJIT offers some online master's degrees and graduate certificate programs, including an MS in IT Administration and Security, an MS in Information Systems, and a graduate certificate in IT Administration.
A private institution based in Chicago, DePaul is well known for its incorporation of experiential learning into its academic programs, including its IT program.
The College of Computing and Digital Media—where IT majors are housed at DePaul—is located in the heart of Chicago, offering students numerous opportunities to work alongside tech companies and apply their skills to real-world situations.
Students can earn the following IT-related undergraduate degrees at DePaul:
BS in Information Technology
BS in Information Systems
BS in Cybersecurity
BS in Computer Science
BS/BA in Data Science
BS in Network Engineering and Security
BS in User Experience Design
For the bachelor's programs in IT and computer science, an online option is available for the final two years of the programs, letting students finish up their degrees entirely online.
In addition, DePaul offers several graduate degrees in IT, including the MS in Business Information Technology, the MS in Cybersecurity, and the MS in Information Systems, all of which are available in online formats as well.
Honorable Mention: ECPI University — Multiple Locations
Lastly, I'd like to bring some attention to ECPI, a private, for-profit institution based in Virginia Beach, Virginia.
Although we don't normally recommend for-profit schools (which are notorious for churning out graduates with useless credentials and a ton of debt), ECPI's slightly better reputation compared with that of other for-profit institutions and its great variety of online information technology programs make it a solid option to consider for studying IT.
Here is an overview of ECPI's IT degree programs, available through its College of Technology:
BS in Computer and Information Science, with concentrations in the following:

Cloud Computing
Cybersecurity
Cyber and Information Security Technology
Data Analytics
Mobile Development
Software Development
Web Design and Development

MS in Cybersecurity
MS in Information Systems
Many of these programs are available in multiple ECPI locations throughout Virginia, North Carolina, and South Carolina, as well as online. Online bachelor's degree programs at ECPI can be completed in as little as 2.5 years, saving you both money and time on your degree.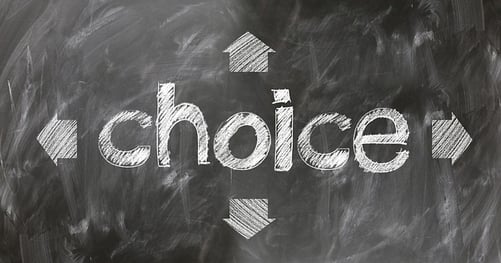 Choosing the Right IT School for You: 4 Factors
With so many people now looking to get a degree in IT, it's important to know how to find the best information technology school for you based on what you're hoping to gain out of a program.
Here are four questions to ask yourself before you apply to an IT school.


#1: Does It Offer the Specific Topic You Want to Study?
Information technology is a broad field, with an array of potential concentrations and career paths. As a result, you'll need to ensure that the information technology schools you are applying to offer exactly what you're interested in studying.
For example, if you really want to learn more about cybersecurity, it'll be a good idea to apply to information technology schools that offer an IT major in cybersecurity or a closely related topic, such as BYU, Purdue, or UW. This way, you can rest assured that you'll be focusing on the topics and skills you actually want to study and will (most likely) use in your future career.
If you're not sure what concentration to choose—maybe you're just interested in IT as a whole—consider looking at information technology schools that offer a lot of flexibility in concentrations and course options so you can take your time exploring and developing a rich foundation.
#2: Do You Like the Location?
Location is a big factor when choosing an information technology school because so many degree programs require students to do a capstone project or internship with a real business in the area. This is why most students will likely consider larger cities, such as New York City and Chicago, better locations for IT degrees than suburban or rural areas.
Nevertheless, if you're not the city type and prefer to live outside metropolises, then perhaps an IT school located in a smaller city or town would be a better fit.
If possible, try to visit the campuses of the IT schools you're considering attending so you can get a better feel for their respective environments and what kind of atmosphere might suit you.
This tip applies to those considering online IT programs, too. Whether you have a job or don't want to move to a new location, it'll probably be best for you to apply only to local and online schools for information technology.
#3: Can You Afford the Program?
No matter what you major in, cost pretty much always plays a big role in deciding whether or not you'll attend a particular college.
As you probably assumed, not all information technology schools are created equal in terms of cost. In general, you'll spend less on online programs and public, in-state schools than you will on private, out-of-state schools.
The following chart offers an overview of the typical costs for an IT bachelor's degree at the top information technology schools above (ordered from most to least expensive):
IT School
Location
Private or Public?
Avg. Annual Tuition
Carnegie Mellon
Pennsylvania
Private
$61,344
RPI
New York
Private
$60,051
Cornell
New York
Private
$63,200
Lehigh
Pennsylvania
Private
$59,930
NYU
New York
Private
$58,168
Illinois Tech
Illinois
Private
$50,640
RIT
New York
Private
$54,518
DePaul
Illinois
Private
$42,840
UW Seattle
Washington
Public
$40,740 (out-of-state)
$12,042 (in-state)
Penn State
Pennsylvania
Public
$36,476 (out-of-state)
$18,898 (in-state)
NJIT
New Jersey
Public
$34,034 (out-of-state)
$18,016 (in-state)
Purdue
Indiana
Public
$28,794 (out-of-state)
$9,992 (in-state)
Florida State
Florida
Public
$21,683 (out-of-state)
$6,517 (in-state)
ECPI
Virginia
Private, for-profit
$16,639
BYU
Utah
Private
$11,940 (non-LDS)
$6,304 (LDS members)
If you're set on attending a more expensive information technology school, then I advise you to make every effort you can to win some scholarship money. Read our expert guides to learn about the best scholarships for high school seniors and 12 full-ride scholarships you could win.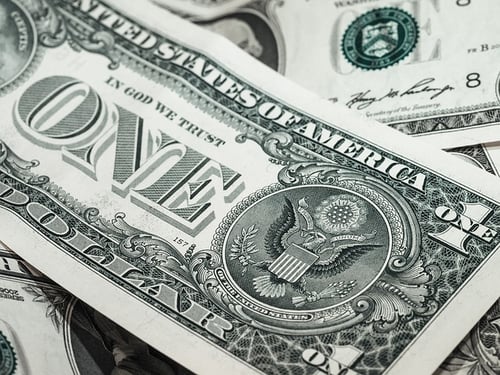 It's important to consider tuition costs before committing to a college.
#4: How Competitive Is the School?
The last factor to think about is how selective an information technology school is.
Some universities, such as Cornell and Carnegie Mellon, have pretty low acceptance rates (9% and 14%, respectively), so even if the IT program at a particular school is exactly what you want, there's a strong chance you won't get in, especially if your GPA and SAT/ACT scores aren't up to par.
The takeaway? Make sure you're applying to a breadth of IT schools that includes both some reach schools and safety schools.
Recap: The Best Information Technology Schools
Information technology is a burgeoning technological field that's drawing more and more students each year. For this article, we have defined information technology schools as schools that offer IT and/or related majors, such as computer science, information systems, informatics, etc.
Most IT degrees offered at schools are bachelor's and master's degrees, though some schools offer associate degrees, certificates, and PhDs, too. There are many jobs available to those with an IT degree; popular fields include consulting, networking, security, and database administration.
For our ranking list of the top information technology schools, including the best online schools for information technology, we looked primarily at six factors:
The school's overall US News ranking
The IT program's ranking by Niche
The IT program's ranking by College Choice
The variety of IT majors, degrees, and class options offered
Class size
Acceptance rate
Once again, here are the 14 best information technology schools, per our rankings:

Cornell
NYU
Carnegie Mellon
RPI
Lehigh
BYU
Purdue
UW Seattle
Illinois Tech
RIT
Florida State
Penn State
NJIT
DePaul
Honorable Mention: ECPI University
When it comes to choosing the best information technology school for you, be sure to consider the following four factors:

What kinds of IT programs and concentrations the school offers
Where the school is located
How much tuition and fees will cost for the school
How competitive the school is
Asking yourself these questions should give you a clearer idea of which information technology school will ultimately help you achieve your dreams.
What's Next?
Maybe the concentration in IT you want to study is graphic design. If so, you'll get lots of help with our rankings of the best graphic design schools in the US.
Not that into technology and more interested in the arts? Then perhaps you'll want to take a look at our picks for the best performing arts schools and the best creative writing programs.
Need help making your college application the absolute best it can be? Get expert tips with our guides to writing a college essay and scoring high on the SAT.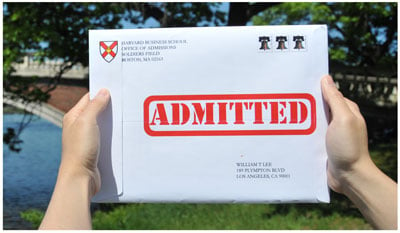 Want to build the best possible college application?
We can help. PrepScholar Admissions is the world's best admissions consulting service. We combine world-class admissions counselors with our data-driven, proprietary admissions strategies. We've overseen thousands of students get into their top choice schools, from state colleges to the Ivy League.
We know what kinds of students colleges want to admit. We want to get you admitted to your dream schools.
Learn more about PrepScholar Admissions to maximize your chance of getting in.
Have friends who also need help with test prep?
Share this article!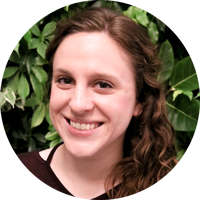 About the Author
Hannah received her MA in Japanese Studies from the University of Michigan and holds a bachelor's degree from the University of Southern California. From 2013 to 2015, she taught English in Japan via the JET Program. She is passionate about education, writing, and travel.
Get Free Guides
to Boost Your SAT/ACT