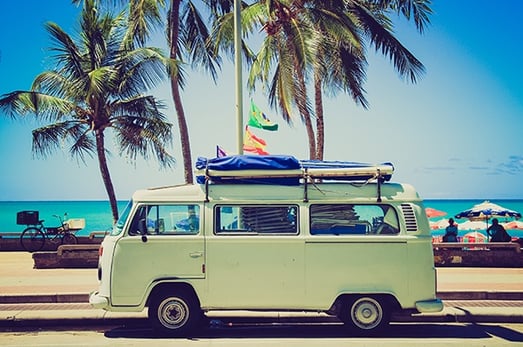 If you're hoping to be far from home for college but are worried about the cost of an out-of-state school, you might run into some issues in the application process. How do you find out-of-state schools that still offer relatively cheap tuition?
In this article, I've compiled a list of schools that offer the lowest tuition rates and highest rates of institutional aid to out-of-state students. Keep reading to learn what these schools are!
What Are Cheap Out-of-State Colleges?
First off, it's important to keep in mind that public colleges are the only schools where the moniker "out-of-state" will have any meaning for you tuition-wise. Public colleges usually offer far higher tuition rates for out-of-state students than they do for in-state students, whereas private colleges aren't concerned with students' residential statuses.
Therefore, you'll only see public colleges on this list (in other words, schools whose tuition price would be affected based on whether or not you live in the state).
I decided that the cutoff for "cheap" colleges would be schools with net prices lower than $15,000. Currently, the average public school tuition and fees for out-of-state residents is $22,953, and I wanted to pick schools that cost less than average for students hoping to attend from out of state.
I've included the cost for room and board at each of these schools because tuition is often less than the price of room and board. I'm hoping this will give you a better idea of the real cost of attending these colleges. (School fees, which can range from several hundred to a few thousand dollars a year, weren't included in these calculations as they can vary by student.)
I'll also provide statistics on how much aid is typically offered to students at each college so you can see how generous these schools are in helping out students who can't afford to pay full tuition.
Finally, I've included stats for admission rates and enrollment to help you get a better idea of the size and competitiveness of these schools. I did not include schools with open enrollment, so these colleges all have some degree of competitiveness (even if their acceptance rates are 90%+).
The 17 Cheapest Out-of-State Colleges
These schools are listed in order of net cost from lowest to highest (based on out-of-state tuition + room and board - average annual institutional aid). Though some schools might have higher tuition prices, they make up for it by offering generous financial aid to students.
All data below comes from the College Board, and all costs are for fall 2022.
| | | | | | | |
| --- | --- | --- | --- | --- | --- | --- |
| | | | | | | |
| | $7,842 | $8,030 | $11,707 | $4,165 | 69% | 4,089 |
| | $6,892 | $8,163 | $9,949 | $5,106 | 67% | 2,248 |
| | $8,190 | $8,317 | $11,199 | $5,308 | 94% | 1,718 |
| | $12,450 | $7,050 | $12,815 | $6,685 | 65% | 2,795 |
| | $7,176 | $10,900 | $10,000 | $8,076 | 57% | 6,017 |
| | $7,290 | $10,255 | $8,907 | $8,638 | 58% | 2,635 |
| | $11,230 | $10,447 | $11,996 | $9,681 | 97% | 10,625 |
| | $9,672 | $9,450 | $8,812 | $10,310 | 52% | 1,383 |
| | $10,770 | $10,016 | $10,136 | $10,659 | 67% | 8,362 |
| | $11,937 | $7,464 | $8,361 | $11,040 | 77% | 1,910 |
| | $13,650 | $10,944 | $13,162 | $11,432 | 85% | 4,289 |
| | $6,928 | $8,342 | $3,065 | $12,205 | 65% | 1,546 |
| | $13,695 | $6,930 | $8,387 | $12,238 | 91% | 3,554 |
| | $16,712 | $9,935 | $14,288 | $12,359 | 63% | 3,318 |
| | $13,050 | $8,975 | $8,868 | $13,157 | 89% | 2,620 |
| | $14,550 | $9,157 | $10,225 | $13,482 | 95% | 6,467 |
| | $15,473 | $12,568 | $13,504 | $14,537 | 48% | 32,297 |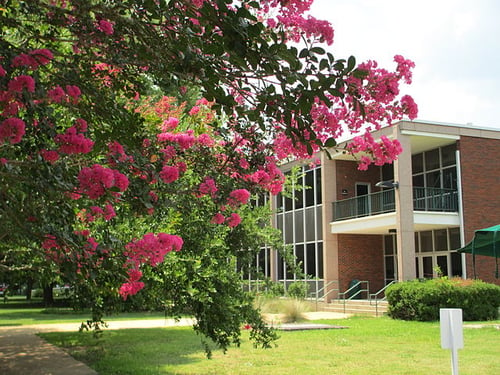 LSU Alexandria looking pretty. (Lsuaexpert/Wikimedia Commons)
Why Are These Colleges So Cheap for Out-of-State Students?
Why are the tuition prices on this list so low? With the increasing level of competitiveness in higher education, less well-known schools are using low prices to entice students to attend.
The affordability of a college education has become a huge concern as tuition prices continue to rise at most schools. The best way for more obscure schools to increase their viability in the higher education market is to lower their price tags. This gets them on lists of "best value" schools (like this one!) and leads to a strong reputation for caring about the financial struggles of students.
Some of these schools are simply dedicated to reducing the impact of financial concerns on those who choose to attend their college, whether they're in state or out of state. For example, Delta State University charges the same tuition rate for all students regardless of their residential status, stating that, "These rates are established to increase financial equity, reduce the impact of financial considerations on educational policy and increase uniformity across the university."
A Final Word: Remember, It's Not All About Cost
After seeing the low price tags on all these schools, you might be tempted to forgo your other priorities in favor of a loan-free future. However, there are many factors to consider besides cost in the college search process.
Even if you know it will be difficult for you to pay for college, many schools offer generous financial aid packages to those with demonstrated need. Avoid sacrificing your preferences for location, academic programs, and campus life just so you can spend less money on college.
Before you make a decision based on how expensive a school is, think about the following:
How big the school is and whether you think you'll prefer a large or small environment
Where the school is located in the country and whether it lines up with how far away from home you want to be
The school's program strengths and whether they align with your own interests—what opportunities do you want to have available to you in college?
The social scene—do you want to be at a party school or one that caters toward smaller gatherings? Are you interested in Greek life at all?
Overall quality of academics based on its admissions rate and student feedback
The environment beyond the campus—do you prefer a large city or a small town?
Once you've made up your mind about these key factors, you can move on to comparing schools based on financial criteria. It's OK to compromise on some things, but be sure you know what's most important to you so you end up with the best possible college experience.
If you're not sure where to start and need more specific advice, read our step-by-step guide to the college search process. You can also look at some highly reviewed college search websites to learn more information about schools that interest you.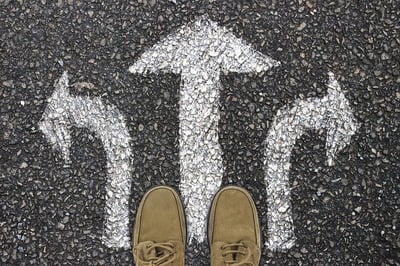 What's Next?
Still not sure what you're looking for in a college? Read our articles on whether you should go to a school close to home and whether you should attend a large or small college.
Application fees are the first hurdle you'll have to overcome when paying for college. Take a look at this list of colleges that don't charge any application fees to see whether you might be able to save some money in the application process.
Many of the schools on this list have fairly small student bodies. Read this article to learn what you should expect from a small college environment and to figure out whether it's really the best choice for you.
Want to improve your SAT score by 160 points or your ACT score by 4 points? We've written a guide for each test about the top 5 strategies you must be using to have a shot at improving your score. Download it for free now:
Have friends who also need help with test prep?
Share this article!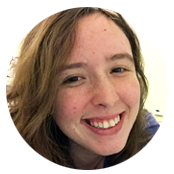 About the Author
Samantha is a blog content writer for PrepScholar. Her goal is to help students adopt a less stressful view of standardized testing and other academic challenges through her articles. Samantha is also passionate about art and graduated with honors from Dartmouth College as a Studio Art major in 2014. In high school, she earned a 2400 on the SAT, 5's on all seven of her AP tests, and was named a National Merit Scholar.
Get Free Guides
to Boost Your SAT/ACT