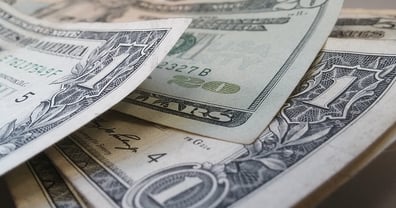 The question of how to pay for college is usually one with a complicated answer. Your own unique financial situation, interests, strengths, weaknesses, and preferences all come into play. Some of the most important factors that come up center around your ability and willingness to take out student loans.
In this guide, I'll thoroughly cover how to pay for college without loans. This can help you pay for college without going broke, or at least graduating without a load of student debt.
Maybe taking out loans for college isn't a good financial option for you. Maybe your parents can't or won't co-sign on the necessary loans. Maybe you just hate the thought of having student debt. Whatever your reasons, choosing to pay for college without loans is a completely valid decision. I won't sugarcoat this - it might make paying for college more difficult, especially if you don't have many other financial aid options available. That isn't to say, however, that there aren't some viable options available for almost any student who wants to avoid taking on debt.
Before going through all these options, I'll briefly talk about college expenses and the reasons why some people choose to take out loans. Then, I'll give non-loan aid options for students based on whether they demonstrate high or low financial need. I'll finish off with info on how much aid you can expect to receive without having to take on debt.
What Does College Cost? Why Do People Take Out Loans?
The first expense you probably think of when calculating colleges costs will probably be tuition. Average tuition rates vary by the type of school you attend:
$31,231 average tuition for private colleges
$9,139 average tuition for in-state residents at public colleges
$22,958 average tuition for out-of-state residents at public colleges
Tuition is expensive enough on its own, but it's not the only major expense associated with attending college. You're also responsible for room, board, transportation, books, and personal expenses. The cost of room and board also varies by school type, although not as widely as tuition costs:
$11,188 average room & board at private colleges
$9,804 average room & board at public colleges
If we add tuition, room, board, and other expenses, the average cost of attending college in the US ranges from $19,000 - $42,419. This is a pretty huge annual expense when we consider that the average US household income is about $50,000.
So how does the average student afford these huge expenses?
As it turns out, most students don't end up paying full sticker price for college. As of a few years ago, the average student received about $7,000 in non-loan financial aid per year - the rest of college costs would be covered by family contributions or (as we'll talk more about shortly), loans. A financial aid award of $7,000 makes a significant dent in total college expenses, especially if you're attending a less expensive school, but it would rarely cover all tuition, room, and board costs.
If non-loan aid and family contributions don't add up to students' total college costs, they'll need help making up the difference. The average US student has about $28,400 in loans after graduation.
In my experience, most students anticipate having to take out loans unless they're in one of two situations:
They demonstrate very high financial need, thereby qualifying for many need-based aid programs. If they attend a school that meets all financial need, their families may not have to pay a cent to send them to college.
They come from wealthy families who are able to cover all college expenses, even if they don't qualify for any need-based financial aid.
Most students are somewhere in the middle, with a gap between what they have (savings, grants, scholarships) and what they need (total cost). This is where loans traditionally come in. There's nothing inherently bad about taking out student loans, but if you're striving to avoid student debt, the next section will outline all viable options and strategies.
Financial Aid Options: How to Pay for School Without Student Loans
Want to say no to student loans? This section will outline realistic financial strategies to help you do that.
Your options for paying for school without loans largely depend on your financial status. Many non-loan financial aid options are need-based, so students who demonstrate high financial need tend to have more aid opportunities. There are some merit-only aid options that don't take financial need into account - if you don't demonstrate much financial need, those options will be a good place to start.
Before you start considering non-loan payment strategies, you may find it helpful to estimate your own financial need. This way, you'll have a better idea of what aid options (merit-based only, or merit- and need-based) are available to you. Unfortunately, the amount you believe your family can afford doesn't always match up with the amount that aid sources (schools, government, and private scholarship funds) determine you can afford.
To get a realistic idea of what many need-based aid sources will expect your family to contribute, check out the FAFSA4caster:
Enter in relevant financial information to get an unofficial EFC, or Expected Family Contribution
The federal government, schools, and some need-based aid sources use this number to make an assessment of your family's financial need
The lower your EFC, the more aid you're likely to be eligible for
Once you make this estimate, you'll know whether you should focus on the need-based aid options.
High Financial Need: Need-Based Aid
A lot of non-loan financial aid options are available for students from low-income families. Many of these aid sources are based on financial need or a combination of merit and financial need.
Grants
Federal grants

: The Pell Grant is awarded to students with low EFCs. Check out Pell Grant eligibility requirements and application instructions.

Institutional grants

: Many top schools have exceptional need-based financial aid programs. Some even claim to meet 100% of unmet need without using loans - that is, anything that you can't afford to pay after getting federal grants or scholarships.
Scholarships
Many top scholarships are need-based and provide very generous awards. If they cover all unmet need, they'll pay for all expenses that aren't covered by grants or other scholarships.
Some awards give you a set amount every semester or every year; others are nonrenewable, one-time awards. It's not easy to budget around scholarships because they're unpredictable, and the best ones tend to be very competitive.
To start your scholarship search, check out our guides to the top scholarship programs for high school seniors and high school juniors.
The Perkins Loan
I know this is supposed to be a post on non-loan financial aid options only, but hear me out - if you plan on pursuing certain service careers, you could be eligible for 100% loan cancellation if you take out a Perkins loan. If you get your loan canceled or forgiven, it essentially functions as a grant - that is, it's free money to pay for school.
The Perkins loan is meant for students with exceptional financial need. Read more about the Perkins loan program, its eligibility requirements, and the forgiveness process.
Schools
You may be able to avoid student loans just by applying to the right schools. Some schools, particularly top private colleges, tend to offer generous financial aid packages. Like I mentioned earlier, some of them even commit to covering all unmet financial need - the schools with the best financial aid programs don't ask students to take out loans in order to cover costs, either.
If you're interested in public schools, stay in-state - resident tuitions and costs are usually much lower for than those for non-residents.
Low Financial Need: Merit-Based Aid
There are fewer non-loan aid options for students who come from higher-income families, but they're still out there! Keep in mind that you don't have to be higher-income to qualify for merit-based aid - anyone could theoretically benefit from the aid options listed below.
Scholarships
There are a ton of merit-based scholarships out there. You'll have to make sure to carefully read all eligibility requirements because some scholarship programs also take financial need into account.
To get started with your scholarship search, check out our guides to the top awards for high school seniors and juniors. The Coca-Cola Scholarship is a particularly large merit-based scholarship award.
Schools
Even if your family has a relatively high income, you may still qualify for institutional grants at certain schools. Some private schools with top financial aid programs award aid to families who make well into six figures - for example, Harvard doesn't ask families to contribute more than 10% of their adjusted gross income.
If you're interested in public schools, apply to college and universities in-state - your tuition will be much cheaper, on average, than if you attended an out-of-state public school.
If you ultimately won't qualify for much need-based aid but have other academic, athletic, or artistic strengths that make you a competitive applicant, you could qualify for merit-based aid. Start by checking out this list of schools that award the most merit-based aid - all the schools listed awarded merit aid to at least 40% of their students last year.
How Much Can You Get Without Loans?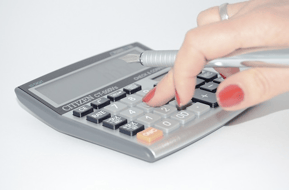 You don't need a fountain pen to do these calculations, although you're welcome to use one.
In this section, I'll run through realistic expectations of how much money you can earn through different aid options. I'll run through realistic example situations at the end.
Grants and Other School-Based Aid
This aid will vary widely (not unsurprisingly) by school. Schools' net price calculators will give you a good idea of how much money they could offer you if you were accepted. You'll have to enter relevant financial info (e.g. income, assets) for both you and your parents in order to get an accurate estimate. If a school awards merit-based aid, they might also ask about things like GPA and SAT/ACT scores.
To access a particular institution's net price calculator, just google "[school name] net price calculator."
Scholarships
Unfortunately, there's no good rule of thumb to estimate how much money you could get from scholarships that you apply to. Many scholarships are pretty competitive, so the more programs you apply to, the better your chances of getting funding. If you start looking at scholarships earlier in your high school career, you can get a head start in targeting better scholarships.
Examples
I'll run through two different financial aid scenarios here to show you how you can cover your college costs without taking out any loans. In the first example, the student is attending a public school and has low financial need; in the second example, the student is attending a private school and has high financial need.
Public School + Low Need
Student A is a high achiever who comes from a relatively wealthy family in Arizona. I plugged some general academic and financial information into Arizona State University's net price calculator to come up with her Cost of Attendance. Here's her background information:
Current high school senior in Arizona
National Merit Program Finalist
Ranked #5 in a class of 150, 3.8 GPA
730 on SAT critical reading and math sections
Combined family income: $150,000
And here's her financial aid output: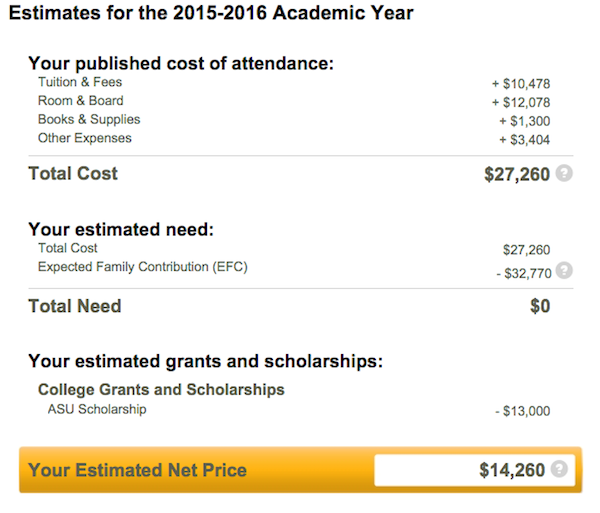 There are a few things you should notice about this output:
She's saving money right off the bat because she's applying to an in-state public school. Her tuition costs are $10,478, but tuition for an out-of-state resident at ASU comes to $25,042.
Her expected family contribution (EFC) is pretty high - ASU expects her family to be able to afford $32,770 a year, which more than covers her costs.
She isn't offered any need-based aid, but she is offered a merit-based scholarship of $13,000. She wouldn't be offered this scholarship if she wasn't a high-achiever. With this scholarship, her total out-of-pocket costs for the year come to $14,260.
Since Student A's parents make $150,000 a year, ASU assumes that they can more than afford a bill of about $14,260 a semester - they wouldn't have to take out any loans to cover these expenses (although they could if they wanted to). Sometimes, though, families are unwilling or unable to make such a contribution. If this is the case for Student A, she could help mitigate these costs by applying to scholarship programs.
Private School + High Need
Student B is a California resident who's applied to Stanford. He comes from a family of 4 with high financial need. I plugged in some general demographic and financial information (no academic or merit information) into Stanford's net price calculator. Here's his background info:
Current high school senior in California
One 15-year-old sibling
Combined family income: $40,000
And here's his financial aid output: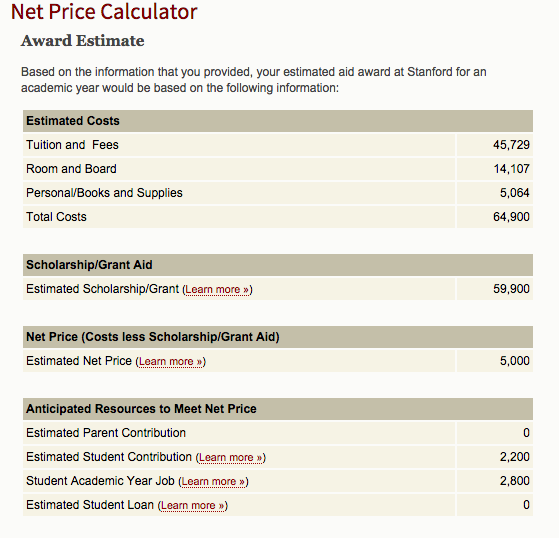 Here's what you should notice about this output:
Unlike for Student A, Student B has been offered financial aid based only on financial need - not on merit (although keep in mind that Student B would have to be a high achiever in order to get into Stanford in the first place).
Student B's total costs ($64,900) are higher than those of Student A ($27,260), but Student B was offered way more in scholarship & grant money ($59,900)
Stanford doesn't expect Student B's family to make any financial contribution to these costs. Stanford does, however, expect Student B to contribute a small amount ($5,000) through a student job and/or savings.
$5,000 a year is a significant, but manageable, bill for a college student. Student B could pay this bill in a number of ways without taking out loans - he could get a work study job during the school year and/or summer, for example. He could also apply to different scholarship programs to see if he could cover some or all of the cost with outside funding.
What's Next?
We've covered thoroughly how to pay for college without loans. Now you have a shot at paying for college without going broke.
Financial aid comes in many forms and from many sources. Get clear, simple instructions on applying for financial aid.
Whether you have high or low financial need, you should definitely submit a Free Application for Federal Student Aid. Learn more about the FAFSA and how to submit one.
Want to improve your SAT score by 160 points or your ACT score by 4 points? We've written a guide for each test about the top 5 strategies you must be using to have a shot at improving your score. Download it for free now:
Have friends who also need help with test prep?
Share this article!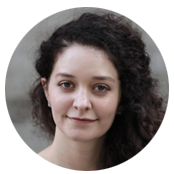 About the Author
Francesca graduated magna cum laude from Harvard and scored in the 99th percentile on the SATs. She's worked with many students on SAT prep and college counseling, and loves helping students capitalize on their strengths.
Get Free Guides
to Boost Your SAT/ACT