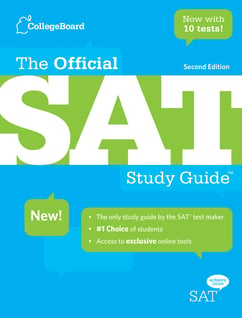 Are you studying for the SAT? Chances are you've heard of, or maybe even already purchased, The Official SAT Study Guide. It's the #1 best-selling test prep and study guide book on Amazon.com, and used by thousands of students around the country to prepare for the SAT.
But before you dive into The Official SAT Study Guide, you need to make sure you're using it correctly. Read our guide to getting the most out of the nation's most popular SAT study guide.
What is The Official Guide?
The Official SAT Study Guide is an SAT prep book written by College Board, the makers of the SAT. Since the book is made by the people who make the test, it contains some of the best quality practice problems and practice tests you can find.
The Official Guide also contains an overview of each of the three sections of the SAT (Critical Reading, Math, and Writing), including practice problems. It also contains 10 full SAT practice tests. That is a ton of practice!
In short, The Official SAT Study Guide can be an excellent resource, if you use it wisely. But if you run through the tests quickly without decent studying or analysis of your performance, you'll waste them. And if you skip content review entirely in favor of practice, you'll miss out on your highest score. Here's the best way to use both sections of the guide.
Part 1 of The Official SAT Study Guide: Section Guides
The Official SAT Study Guide provides overviews and practice problems for the Critical Reading, Math, and Writing sections. These sections provide a detailed overview of topics covered on the SAT, strategies to approach the questions, and relevant practice questions. We recommend reading through each section guide so you know exactly what you are going to be tested on, even if you think you already know.
That said, you're not going to get super deep, conceptual learning of concepts like plane geometry or English grammar rules from The Official Guide. For example, in the Math review section, The Official Guide says the SAT covers three types of factoring: difference of squares, finding common factors, and factoring quadratics. If you already know how to factor, this is helpful because it shows exactly what you need to know. However, if you're fuzzy on your Algebra and can't remember how to go about factoring a quadratic, this guide won't help you learn how.
So if there is a subject you are really struggling with, you should also seek out resources (including other prep books) that give more in-depth coverage. For example, you can get prep books that focus on just one SAT section, including Erica Meltzer's guide to Critical Reading and Steve Warner's 28 SAT Math Lessons. We also have an article about the best prep books for SAT math.
You can also read our detailed guides on SAT Math, SAT Reading, and SAT Writing.
Part 2 of The Official Guide: 10 Full-Length SAT Practice Tests
The 10 practice tests are the meat of The Official SAT Study Guide. Written by College Board themselves, these tests are an excellent way to practice not only your content knowledge, but your timing and test-taking strategy. They're the best way to practice for the SAT before you sit down and take it for real on test day.
Some students get The Official SAT Study Guide just for the 10 practice tests, and get their content review and strategy guides elsewhere.
However, as we recommend above, it's best to at least read over College Board's review of the main subjects, as you can get insight into what they are testing and helpful tips to break down the problems.
The Best Way To Use The Official SAT Study Guide
The key to getting the most out of The Official Guide is, paradoxically, to not just rely on the practice tests. Or to be more precise, don't just take all 10 practice tests without properly analyzing your mistakes and working to correct them in between practice tests.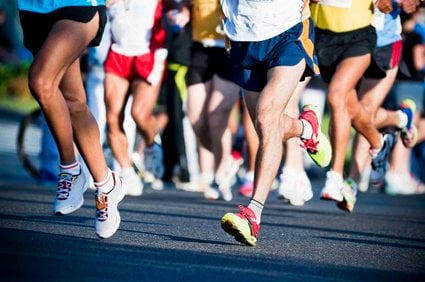 You wouldn't run 10 races in a row without training in between. Similarly, don't run through all 10 SAT practice tests without taking time to analyze your mistakes and practice.
First, take one practice test to see where you stand. How you take advantage of The Official SAT Study Guide varies based on how much you need to improve and which sections of the test you struggle on.
We will walk through two example students based on their practice test scores to show what we mean.
Student A, Practice Score 2100 (CR = 750, M = 600, W = 750)
This is a high achieving student, who even on a practice test is already getting a strong composite. That said, this student is likely going for an even higher score. If they score 2300 or higher they will have a good SAT score for the Ivy League.
To accomplish that, they need to do the most work in math, filling some content gaps as well as improving test-taking strategy.
After the first practice test, they should analyze their mistakes, particularly on the math section. To keep track of what they did wrong, they should log those mistakes in a notebook. For example, if they missed a math problem because they misunderstood how exponents work, they should note that. If they missed a problem because they went to fast and botched the arithmetic, they would write that down too.
Once they have completed the analysis of their mistakes, they should gather resources to fix them. This should include reading through The Official Guide's content guide chapters. While they might move pretty quickly through the Critical Reading and Writing chapters, they should read the Math chapters closely and do all of the related Math practice problems.
They could also consider buying a guide specifically for SAT Math, checking out SAT math prep sites like Erik the Red, or other online SAT resources.
After they have taken between two or three weeks to study content and do practice problems, they should attempt another full practice test. After this practice test, again, they should carefully log their mistakes in their notebook, this time noting where they have improved and where they are still faltering.
For example, if they still aren't getting exponent questions right, they should use a resource like Khan Academy or even ask a teacher or friend to make sure they conceptually understand exponents. Next, they should continue to drill SAT math practice problems.
After another two to three weeks, they can try another practice test, and repeat this process as necessary. They could also consider just doing the math sections of a few of the practice tests, though keep in mind if you start breaking up the practice tests by section, you can't use them for full run-throughs.
As you get closer to your test date and are making fewer mistakes, you can lessen the time between practice tests. We recommend taking at least three practice tests before the real thing.
Student B, Practice Score 1500 (M = 450, CR = 550, W = 500)
This student should start the same way as Student A – that is, they should analyze their mistakes on the practice test. By carefully correcting the test and logging their mistakes, they can create a study guide to help them prepare.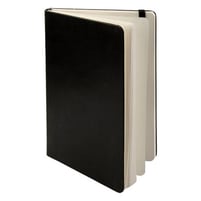 Don't underestimate the importance of this simple study tool.
This student's practice score puts them at an average (50th percentile) SAT score. If they can hit 1800, that would put them in the 80th percentile. If they get to 2000 they would be above the 90th!
To accomplish that, they need to fill content gaps in all areas, particularly math. They should start by going through each of The Official Guide's content-review chapters and doing all of the practice problems.
If they find a particular concept they struggle with or a section that still seems difficult, they should use an additional resource before hitting the practice tests. For example, say they're struggling with sentence-completion questions on CR. While The Official SAT Study Guide gives strategies for answering these questions, it doesn't provide a vocab list or ways to study vocabulary. The student should find outside SAT vocabulary resources to help them with sentence completion (for example our list of the Best SAT Vocab lists on the web).
Once they feel more confident about the SAT content, they can move onto practice tests. If timing is an issue, they can start by giving themselves time and a half for the first practice tests and then working their way up to strict timing.
After each practice test, they should log all of their mistakes in a notebook and study for an additional two to three weeks, focusing on drilling their weak spots.
FAQs About The Official SAT Study Guide
Is it important for me to do all 10 tests?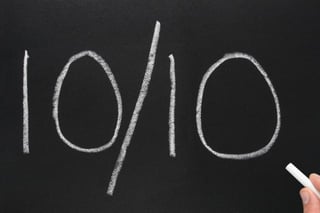 That depends on your goals. If you get a 1900 on your practice test and your goal is to break a 2000 composite, you probably won't need to take all 10 practice tests to make that 100-point improvement.
However, if you start with a 1900 but your goal is to score 2300 or higher, you have many more improvements to make and likely will take more practice tests.
We recommend studying for at least two weeks in between practice tests, and continuing the process of studying and taking a practice test until you feel confident you'll reach your target score. The larger a point improvement you need to take, the more likely it is you'll need all of the tests.
However, finishing all 10 tests is certainly not a requirement or necessity to do well. Try to focus in on your weak spots and carefully monitor your studying progress, rather than just going through all 10 tests quickly. Taking 5 tests but analyzing your mistakes and studying carefully in between is more effective than just taking 10 practice tests in a row.
How many tests should I do before the real test?
We recommend taking at least three practice tests before the real SAT. Take the first before you begin studying to gauge your strengths and weaknesses, take one after you've studied for two or three weeks to measure your progress, and take one close to test day to continue to build your stamina and accuracy.
But again, how many tests you take depends on how much you need your score to improve by. For some students, three could be plenty. For others, they may need closer to eight or nine under their belt. It all depends on what your target score is and whether you're hitting it in practice or not.
What resources should I use to drill subject skills?
Your first stop will probably be a more specific prep book. This will give you access to more targeted practice questions in skills you are still building.
There are also tons of online resources. Here at PrepScholar, we have articles for everything from how to read SAT reading passages to how to stop running out of time on SAT math. See a complete collection of our posts here. You can also check out good SAT studying websites and online SAT vocab lists.
Finally, you can consider PrepScholar's online test-prep program. We provide targeted practice questions based on your weaknesses to help you drill subject skills.
Where do I find answer explanations?
Unfortunately, The Official Guide tests do not come with answer explanations. However, if you own The Official Guide, you will be able to use the College Board's Book Owner Area. It includes a feature that allows you to enter your practice test answers online, and then College Board analyzes your results, giving you a score estimate and saying which areas you still need to improve in. It also provides sample essays for each of the essay questions in the practice tests.
Where can I get more practice tests?
Just keep bubbling, just keep bubbling...
If you're still looking to improve after taking the 10 practice tests, check out our links to free, official SAT practice tests online. Many prep books also contain their own practice tests, though be aware since they're not made by College Board, they're not as high-quality as the tests in The Official Guide.
Should I work through the practice tests with a timer, or give myself as much time as I need?
Once again, this depends on your needs. If you find yourself running out of time on the practice tests, you might experiment with giving yourself time-and-half, time-and-a-quarter, and then strict timing on practice tests, to build up your speed. If you don't run out of time often, then use strict timing for all practice tests.
In any case, every time you take the SAT you should time it carefully, even if you're giving yourself extra time. A huge part of the challenge of the SAT is pacing. It won't matter if you're capable of getting most of the questions right if you can't answer half of them on test day.
We recommend wearing a watch when you practice so you can get used to timing yourself and even check how long you're spending on each question. (You won't be able to bring your cell phone with you to the SAT.)
The Bottom Line
The Official SAT Study Guide is a great resource because of the high quality of the practice tests. But taking those tests alone won't magically improve your score. Make sure your time reviewing practice tests is meaningful – don't just rush through scoring and ignore what you did wrong. Log your mistakes, drill your weaknesses, and keep practicing until you're confident you will get your target score on test day.
What's Next?
Wondering how to make the most of your time reviewing practice problems? Read our guide to an SAT 1600 by our full-scorer. Even if you're not going for a 1600, Allen lays out how to best analyze and correct your weaknesses.
Getting sick of prep books? Check out the best SAT prep websites around!
So how exactly do you know what your SAT target score is? Learn how to calculate it based on your dream schools. Also read more in-depth about how the SAT is scored.
Want to improve your SAT score by 160 points?
Check out our best-in-class online SAT prep program. We guarantee your money back if you don't improve your SAT score by 160 points or more.
Our program is entirely online, and it customizes your prep program to your strengths and weaknesses. We also feature thousands of practice questions, 10 official SAT practice tests, and personal feedback on your essays from an expert instructor.
Check out our 5-day free trial:
Have friends who also need help with test prep?
Share this article!
About the Author
Halle Edwards graduated from Stanford University with honors. In high school, she earned 99th percentile ACT scores as well as 99th percentile scores on SAT subject tests. She also took nine AP classes, earning a perfect score of 5 on seven AP tests. As a graduate of a large public high school who tackled the college admission process largely on her own, she is passionate about helping high school students from different backgrounds get the knowledge they need to be successful in the college admissions process.
Get Free Guides
to Boost Your SAT/ACT