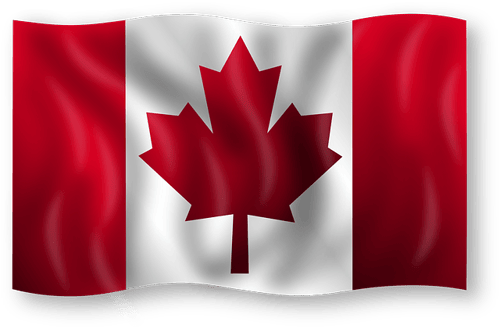 Whether you're preparing for a geography exam or simply want to learn more about your friendly neighbor to the north, we've got you covered. In this guide, we'll answer an important question everyone should know the answer to: what is the capital of Canada? In addition, we'll explain how this place came to be the capital city of Canada and what all the capital cities of the Canadian provinces and territories are currently.
What Is the Capital of Canada?
The capital of Canada is Ottawa, which is located in Ontario—that is, the province directly above the Great Lakes and the US states of Minnesota, Wisconsin, Michigan, Ohio, and (part of) New York. Ottawa lies on the south bank of the Ottawa River, which runs between and defines the borders of the provinces Ontario and Quebec.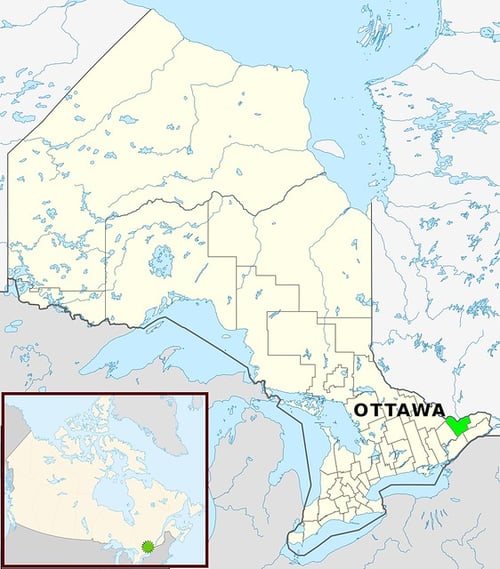 Opus Penguin/Flickr
Together, Ottawa and the city of Gatineau, which is located directly across from Ottawa in Quebec, make up the National Capital Region called Ottawa-Gatineau. This specially designated region refers to not only the cities themselves but also their surrounding Census Metropolitan Areas.
Due to Ottawa's placement between the primarily English-speaking Ontario and the mostly French-speaking Quebec, it is one of the most bilingual cities in Canada.
Below are some quick facts to know about Ottawa, the capital city of Canada:
Location: Southeastern Ontario
Original Settlers: Odawa tribe ("Odawa" is said to mean "traders") in the mid-17th century
Population (2016): 989,567 (Ottawa-Gatineau)
Population Rank (2016): Sixth-largest city in Canada (Ottawa-Gatineau)
Year Established: 1850 as town of Bytown, 1855 as city of Ottawa
Climate: Continental, with warm summers (70℉) and cold winters (15℉)
Major Employer: Federal government
Landmarks: Parliament Hall, ByWard Market, National Gallery of Canada, Rideau Canal, University of Ottawa
Closest US State: New York
Closest Big City: Montreal in Quebec
A Brief History of the Capital of Canada
Ottawa has been the capital city of Canada ever since Canada became a self-governing country. But how exactly did it manage to become the capital of Canada—and why?
In 1841, what was originally called the Province of Canada (the present-day provinces of Ontario and Quebec) came under British colonial control. The next 16 years witnessed ongoing disputes over what the capital of the new province should be; contenders included Quebec City, Toronto, Montreal, Kingston, and finally Ottawa.
Each of these cities held the title of capital of Canada for varying lengths of time. Here is a chronology of exactly how the capital city of Canada changed in just two and a half decades:
Kingston (1841-1844)
Montreal (1844-1849)
Toronto (1849-1851)
Quebec City (1851-1855)
Toronto (1855-1859)
Quebec City (1859-1865)
Ottawa (1866-present)
It was clear already by 1857 that the decision of where to place the capital of Canada was going to be difficult and time-consuming. At this time, Queen Victoria was asked to select the capital city of Canada. Her choice of Ottawa—a fairly small and newly incorporated city—surprised many.
Still, Ottawa had a lot of promise: it was starting to experience economic growth and was home to an impressive railway system; it also had a long history of trade due to its location near several rivers. But not everyone agreed with the queen's pick, which led Toronto to remain the capital for another two years followed by Quebec City for another six years.
It wasn't until 1866 that Ottawa was officially designated the capital city of the Province of Canada and began to hold Parliament. In 1867, the Province of Canada became the Dominion of Canada, making it an official, self-governing colony of the British empire. This also meant that Ottawa was the first (and so far only) official capital of Canada as we know it.
What Are the Capital Cities of Canada?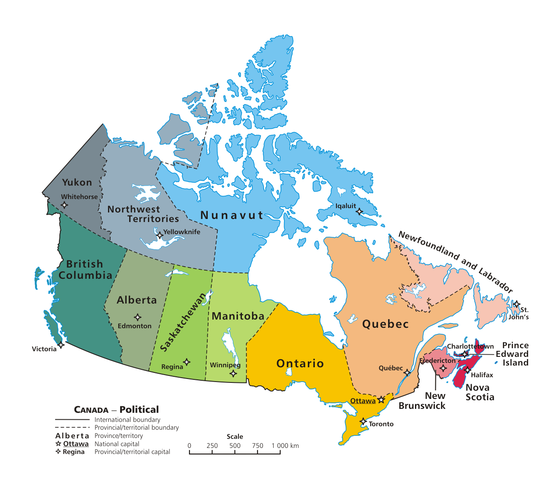 We now know that Ottawa is the capital city of Canada, but what about the capital cities of all the provinces and territories within Canada? Similar to the United States, where there is a capital city for each state, Canada has capital cities for all 13 of its provinces and territories.
The following chart depicts the capital city of each Canadian province/territory and its population from the 2016 census. Provinces and territories are listed alphabetically.
| | | |
| --- | --- | --- |
| Province/Territory | Capital City | Capital City Population (2016) |
| Provinces | — | — |
| Alberta | Edmonton | 932,546 |
| British Columbia | Victoria | 85,792 |
| Manitoba | Winnipeg | 705,244 |
| New Brunswick | Fredericton | 58,220 |
| Newfoundland and Labrador | St. John's | 108,860 |
| Nova Scotia | Halifax | 403,131 |
| Ontario | Toronto | 2,731,571 |
| Prince Edward Island | Charlottetown | 36,094 |
| Quebec | Quebec City | 531,902 |
| Saskatchewan | Regina | 215,106 |
| Territories | — | — |
| Northwest Territories | Yellowknife | 19,569 |
| Nunavut | Iqaluit | 7,740 |
| Yukon | Whitehorse | 25,085 |

Note that while the capital city of Canada (Ottawa) is located in Ontario, it is not the capital of Ontario itself—this status belongs to Toronto.
For most provinces/territories in Canada, the capital city is also the most populated city, but this isn't always the case. Here are the biggest cities for the Canadian provinces for which the capital city is not the most highly populated:
| | | |
| --- | --- | --- |
| Province | Biggest City | City Population (2016) |
| Alberta | Calgary | 1,239,220 |
| British Columbia | Vancouver | 631,486 |
| New Brunswick | Saint John | 67,575 |
| Quebec | Montreal | 1,704,694 |
| Saskatchewan | Saskatoon | 246,376 |
What's Next?
Are you taking the IB geography class? Then you might want some tips and resources with our comprehensive guide.
Preparing for the AP Human Geography exam? Get an overview of what's on the test and then learn the best ways to study for it. You can also check out our expert picks for the best AP Human Geography prep books.
Have friends who also need help with test prep?
Share this article!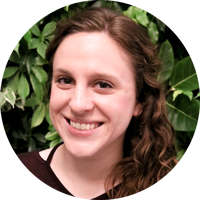 About the Author
Hannah received her MA in Japanese Studies from the University of Michigan and holds a bachelor's degree from the University of Southern California. From 2013 to 2015, she taught English in Japan via the JET Program. She is passionate about education, writing, and travel.
Get Free Guides
to Boost Your SAT/ACT