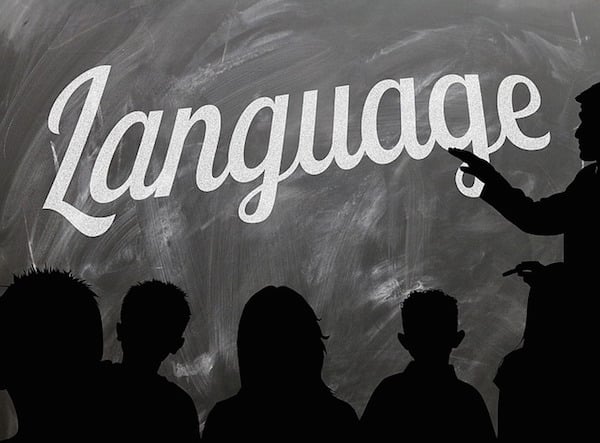 If you're an international student or non-native English speaker applying to college in the United States, then this guide is for you! To get into college, you'll likely have to take two admissions tests: the TOEFL and the ACT.
This guide is specifically geared toward students interested in taking the TOEFL and ACT (if you're taking the SAT, then check out this guide instead!). Read on to learn what colleges require, how the TOEFL and ACT compare, and what you can do to prepare for both.
What Tests Do Colleges Require?
U.S. colleges require two tests for admission from non-native English speakers. One is the TOEFL, which demonstrates your English language skills. The other is the ACT, which demonstrates your reasoning and problem-solving skills.
It's important to note that you always have options. Instead of the TOEFL, you could take the IELTS, and instead of the ACT, you could take the SAT. This guide, as mentioned above, is focused on the TOEFL and ACT.
Colleges vary in their policies, and some will waive the TOEFL if you've taken English classes throughout high school or achieved a certain score on the English and Reading sections of the ACT.
Before you take any unnecessary tests, make sure you understand college requirements. Read on for advice on where to find admission test requirements.
How to Find Colleges' Testing Requirements
If you're a non-native English speaker applying to college, chances are that you'll take both the TOEFL and the ACT. Colleges vary in their policies, though, so you should do your research before registering for any tests.
Typically, you'll find the information you need on the admissions section of a college's official website. More specifically, you should go to the section for international applicants. Even if you're a U.S. citizen, this international applicant section is usually where colleges publicize their TOEFL policies.
To give you one example, let's say you go to Boston University's page for "Freshman Applicants - International." There you'll find this message:
"BU requires the SAT or ACT with writing. The TOEFL or IELTS is also required if your first language or the primary language spoken in your home is not English."
On BU's website, you see that you'll need to take both the ACT and the TOEFL. If you go to a college's website and can't find these details, you should definitely contact the admissions office via phone or email.
Whether you're researching a college's website or talking to its admissions office directly, you should ask three main questions.
1. Which Tests Are Required?
First, you need to research the admissions testing requirements of your school. What tests do they want to see from non-native English speakers? Do they require the ACT, or are they a test-optional or test-flexible school that will let you send AP scores instead?
Don't assume that all colleges are the same. They might all have different policies! Check the requirements of each college that you're interested in individually.
2. Do You Require a Minimum TOEFL Score?
Many schools require a minimum TOEFL score from applicants. A TOEFL cutoff is an essential piece of information. Even if the rest of your application's great, it won't matter if you don't have the requisite TOEFL score.
To give a few examples, Northeastern and UMass Boston want to see at least a 79 to 80 on the TOEFL iBT. More selective schools, like NYU, American University, and Harvard, want to see at least 100.
As you research colleges of interest, find out if they post a TOEFL cutoff, again by visiting the website or calling up the admissions office. Then set your target TOEFL score at least ten points higher than the minimum to present yourself as a competitive candidate.
3. Will You Waive the TOEFL If I Get High Verbal Scores on the ACT?
Finally, the last piece of information you should seek is whether there are any circumstances when a college waives its TOEFL requirement. There are some schools that will consider a high score on the ACT English and Reading sections sufficient evidence of your English language skills. Since these sections test your reading comprehension and grammar skills, they can sometimes act as a stand-in for TOEFL scores.
Columbia, for example, will waive the TOEFL requirement if you score a 29 on the verbal sections of the ACT. Johns Hopkins eliminates its TOEFL requirement if you score a 30 on ACT English and Reading.
You might notice that some schools publicize an SAT minimum, but not an ACT minimum in relation to the TOEFL. This doesn't necessarily mean that they won't waive the TOEFL with a certain ACT score; it just reflects the fact that the SAT was a more popular test with international applicants in past years (and that colleges don't update their websites often enough!).
If you see that a college of interest posted an SAT cutoff but not an ACT one, definitely give the admissions office a call to ask about this. Since colleges accept the SAT and ACT equally, they should have a similar policy for both tests.
Once you've figured out all the answers to all of these questions (whether or not a school requires the TOEFL, if it calls for a minimum score, and if it waives the TOEFL in the case of high ACT verbal scores), then you can go on to plan your test dates and prep schedule. Read on to learn more about both admissions tests, starting with the TOEFL.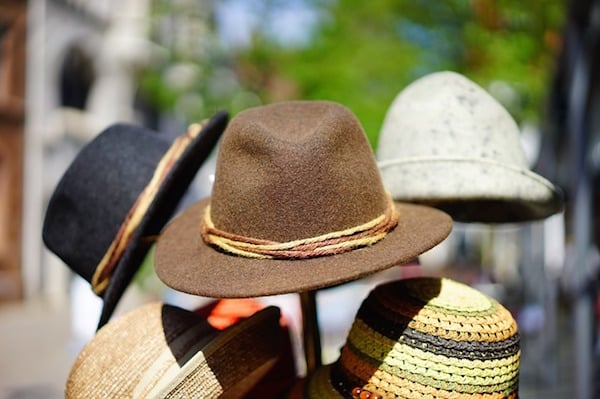 Throw on your thinking cap. It's time to learn about both tests.
TOEFL and ACT: Learn About Both Tests
If you're taking the TOEFL and ACT to apply to college, then your first step in preparing should be learning about both tests. Below you'll find an overview of each in terms of its structure and skills tested.
While the two tests have some overlap, they're largely unique exams that require their own individual approach. Let's start with the TOEFL and go over its structure and content, along with tips on how to prepare.
TOEFL: Structure, Content, and Prep
The TOEFL is a test of your English language skills. Most students will take the TOEFL iBT, or internet-based test, on the computer. The score range for the TOEFL iBT is from 0 to 120.
A few countries offer it on paper. The TOEFL PBT, or paper-based test, has a score range from 310 to 677. Regardless of the test type, it will contain four main sections: Reading, Listening, Speaking, and Writing. Below is the full structure of the test.
TOEFL Structure
The TOEFL tests the four main skill areas of English language: Reading, Listening, Speaking, and Writing, in that order. The length of the first two sections, Reading and Listening, actually varies depending on whether or not you get extra experimental questions. These extra questions won't be scored, but you won't know which ones they are, so you'll have to treat every question equally.
This chart shows the length of the TOEFL sections, along with a brief description of the tasks in each.


Order
Section
Time Limit
Questions
Tasks
1
Reading
60–80 minutes
36–56 questions
Read 3 or 4 passages from academic texts and answer questions.
2
Listening
60–90 minutes
34–51 questions
Listen to lectures, classroom discussions and conversations, then answer questions.
Break
10 minutes
—
—
3
Speaking
20 minutes
6 tasks
Express an opinion on a familiar topic; speak based on reading and listening tasks.
4
Writing
50 minutes
2 tasks
Write essay responses based on reading and listening tasks; support an opinion in writing.
Total:
3 hours, 20 min - 4 hours, 10 min (break included)
Each section is scored between 0 and 30 points. Your total score is the sum of your section scores, so the maximum possible score is 120.
While the chart has a brief description of tasks in each section, let's take a closer look at the content in each, along with a few official sample questions!
TOEFL Content
As you read above, the TOEFL tests your English language across four main skill areas. You'll find that some sections integrate more than one skill. For instance, the Speaking section features a reading and a listening task. Let's delve into each section in the same order that they appear on the test, starting with Reading.
TOEFL Reading
The Reading section of the TOEFL features three to four short passages, most of which are taken from college-level textbooks. The passages may be expository, argument-based, or historical; you won't find any fictional prose.
Each passage is followed by questions about elements like the main point, key details, relationships between ideas, and vocabulary. The questions fall into three types: multiple choice, sentence insertions, and Reading to Learn questions.
The multiple choice tend to be straightforward reading comprehension questions, about you about the meaning of a passage or details or vocabulary words within it. Here are two examples that refer to a preceding passage (not pictured here). The first example question asks about a vocabulary word, while the second asks you to make an inference.
The word "perspective" on line 46 is closest in meaning to
sense of values
point of view
calculation
complication


Which of the following can be inferred from paragraph 3 about the location of the meteorite impact in Mexico?
The location of the impact site in Mexico was kept secret by geologists from 1980 to 1990.
It was a well-known fact that the impact had occurred in the Yucatán region.
Geologists knew that there had been an impact before they knew where it had occurred.
The Yucatán region was chosen by geologists as the most probable impact site because of its climate.
The second question type, sentence insertions, ask you to add a sentence to a paragraph and indicate where it would fit best. Your goal is to clarify the meaning or organization of the selected passage.
Reading to Learn questions are the most involved of the three types. They ask you to sort given information into a chart. You might place it into certain categories or put it in chronological order. Since these questions are multi-part, they may grant partial credit.
Once you learn about the ACT, you'll notice some similarities between the TOEFL Reading and ACT Reading and English. Reading comprehension questions are similar, and the sentence insertions resemble similar questions on the ACT English section.
The next section on the TOEFL, though, is completely unique, as you'll see below.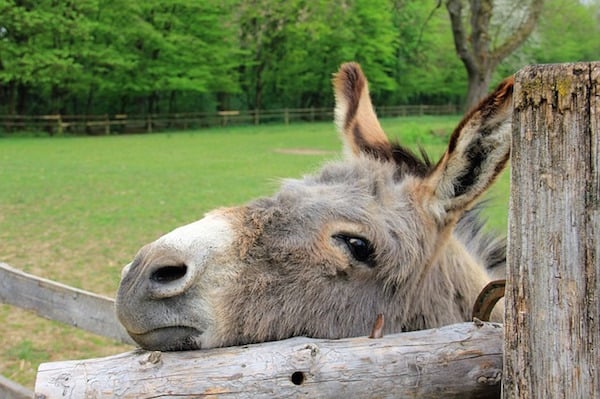 Listening's next, you say? I'm all ears.
TOEFL Listening
As its name indicates, this section is meant to measure your listening comprehension of the English language. You'll listen to selections from academic lectures or conversations. The conversations usually take place between students or between a professor or coach and a student.
You can take notes throughout listening to the recordings. Then you'll answer questions about what you heard. Multiple choice questions, like those in the Reading section, ask about main points, key details, vocabulary words, and cause and effect. You'll also get a few questions that ask you to list events in order.
Here are a couple examples of Listening section questions that are based on a conversation between a player and a coach.
Who is buying new jackets for the team?
The coach
The captain of the team
A former player
A group of basketball fans


There are two answers for the next question. Mark two answers. Why is the woman surprised to learn that she has been chosen as the new team captain?
She is not the best player on the team.
Her teammates did not tell her about the decision.
She does not have many friends on the team.
She has missed a lot of practices.
Note that the second example asks you to mark two answers, meaning you need to pay attention to directions when answering each question type. After the Reading and Listening sections, you'll get a ten-minute break to stretch and reenergize. Then it's on to the Speaking section.
TOEFL Speaking
This section will get you talking. While the other sections are focused on your receptive skills, this one's aimed at your productive skills. You'll record your oral responses on the computer.
This section contains two independent speaking tasks and four integrated speaking tasks.
Independent speaking tasks ask you to speak for 45 seconds on a familiar topic. Here, you can talk about your own ideas, opinions, observations, or experiences. You'll have 15 seconds to prepare your answer.
The following is an example of an independent speaking task:
Independent speaking task: Some people think it is more fun to spend time with friends in restaurants or cafés. Others think it is more fun to spend time with friends at home. Which do you think is better? Explain why.
Integrated speaking tasks are based on a passage and/or a recording. You'll read and/or listen and then answer a question. The question might ask you to summarize the selection or suggest solutions to a featured problem.
For your first two integrated speaking tasks, you'll have 45 seconds to speak and 30 seconds to prepare. For your next two integrated speaking tasks, you'll get 60 seconds to speak and just 20 seconds to prepare.
The following example is based on both a short passage and a listening task about a student association and its purchase of a new sound system.
Integrated speaking task: The man expresses his opinion of the Student Association's recent purchase. State his opinion and explain the reasons he gives for holding that opinion.
Your responses should be structured and thoughtful, almost like giving an oral essay. As for written essays, they'll be your task in the next and final section of the TOEFL, the Writing section.

The TOEFL Writing section ties several skills together, including writing, reading, and listening.
TOEFL Writing
This last section on the TOEFL shares some similarities with the Speaking section, in that it presents you with an integrated writing task and an independent writing task.
The integrated task asks you to read a passage and listen to a lecture or conversation. Then you'll get 20 minutes to summarize the two selections and perhaps compare and contrast them. Here's an example of an integrated task that refers to a lecture and a reading passage.
Integrated writing task: Summarize the points made in the lecture, being sure to explain how they oppose specific points made in the reading passage.
The independent task asks you to present your opinion and support it with examples. You'll get 30 minutes to write your response. Here's a typical example of an independent task in the Writing section.
Independent writing task: Do you agree or disagree with the following statement?
A teacher's ability to relate well with students is more important than excellent knowledge of the subject being taught.
Use specific reasons and examples to support your answer.
You'll see a word counter beneath each text box that tells you how many words you've written. Your responses will be graded on organization, grammar, usage, and accuracy.
This section, along with the others, is challenging, even for students with an advanced grasp of or even fluency in English. Like the ACT and any other college admissions test, the TOEFL calls for a lot of preparation to do well. To help you start planning your approach, let's go over some strategies for prepping for the TOEFL.
Prepping for the TOEFL
First and foremost, the TOEFL requires a certain level of English. Testmakers suggest that you've studied English for at least two years before taking the test.
Even if you're fluent, you should still take time to prep for this unusual test. You can use TOEFL books, as well as online sample questions from the test-makers.
To improve your reading comprehension skills, try reading passages from college-level textbooks. A lot of students particularly have a tough time with the Speaking section, which asks you to give structured responses in 45 to 60 seconds. As you practice for this section, check out the rubric and evaluate your efforts.
You should give yourself plenty of time to prepare, starting perhaps at least three months before your test date. You might start even earlier to give yourself additional test dates in case you want to retake the TOEFL to improve your scores.
As you prep, take timed practice tests under simulated testing conditions to measure your progress. Analyze your results to figure out your strong points and weak areas and learn how to improve.
At the same time as you prep for the TOEFL, you may also be studying for the ACT. While there's some overlap between the TOEFL and the verbal sections of the ACT, the two tests still require their own approach, as you'll see below. Before discussing some ACT study strategies, let's go over the structure and content of the test.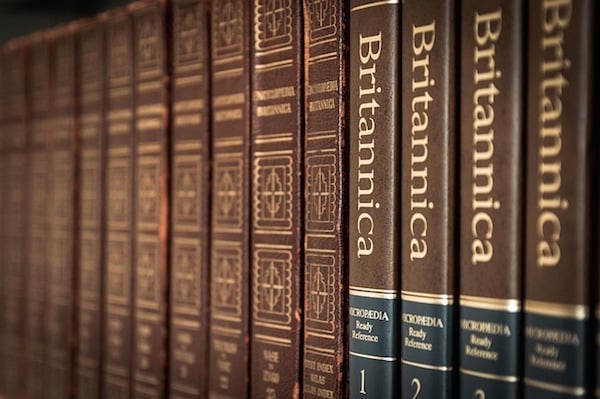 While the TOEFL tests your English language skills, the ACT brings other subjects into play, like math and science.
ACT: Structure, Content, and Prep
While the TOEFL is a test of your English language skills, the ACT is more geared toward academic skills and college readiness. It has two verbal sections, the Reading and English, but it additionally has a math and a science section.
The ACT has had increasing popularity with international students in recent years largely because of its Science section. The SAT tends to be more verbal, so many non-native English speakers appreciate the ACT's emphasis on math and science.
Below you'll find the full structure of the ACT.
ACT Structure
The ACT has four main sections, English, Math, Reading, and Science, in that order. It also features an optional fifth section, Writing, that asks students to write an essay.
Each section is scored between 1 and 36, and your total score that takes into account all the sections will also range between 1 and 36. The chart below shows the structure of the entire test and number of questions in each section:
| | | | |
| --- | --- | --- | --- |
| Order | Section | Time in Minutes | # of Questions |
| 1 | Reading | 65 | 52 |
| 2 | Writing and Language | 35 | 44 |
| 3 | Math No Calculator | 25 | 20 |
| 4 | Math Calculator | 55 | 38 |
| 5 | Essay (optional) | 50 | 1 |
| | Total: | 3 hours, 50 minutes (3 hours without essay) | 154 (+ 1 essay prompt) |
Now that you know the overall format of the ACT, let's take a closer look at each section of the test.
ACT Content
The test has four or five main sections, depending on whether or not you take the ACT with Writing. Your decision about whether to include the Writing section should mainly be based on colleges' requirements. If you're not sure what colleges you're applying to, you might as well include the Writing section so you don't prematurely limit your options.
Unlike the TOEFL, the ACT is a paper-based test. There aren't any options to take it on the computer. Your first section will be English, so let's take a closer look at the skills it tests and question types.
ACT English
The ACT English section will give you five passages alongside multiple choice questions. These questions test your understanding of English grammar and usage. They might test grammar rules like parallel structure or verb tense, along with your understanding of punctuation, word choice, paragraph structure, or rearranging sentences and paragraphs for the best organization.
All of the questions are passage-based and in context. You won't be asked explicitly about a grammar rule, but rather asked to demonstrate your understanding by fixing an error in the passage.
Here's an example taken from an official ACT practice test.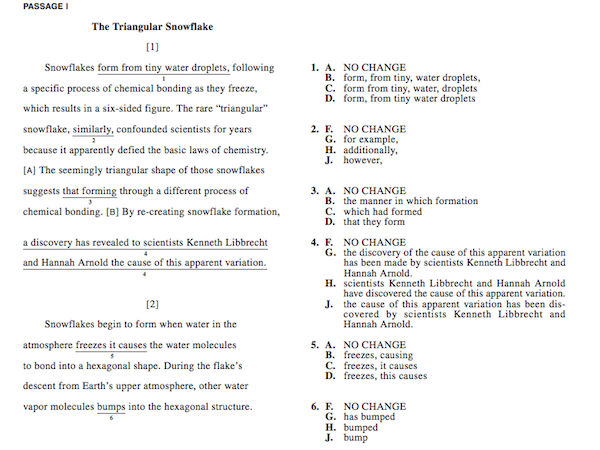 The questions above ask about word choice, usage, commas, and verb tense. Note that questions give you the option of No Change, as not all of the selections will actually contain an error.
After showing your grammar skills, you'll move onto math.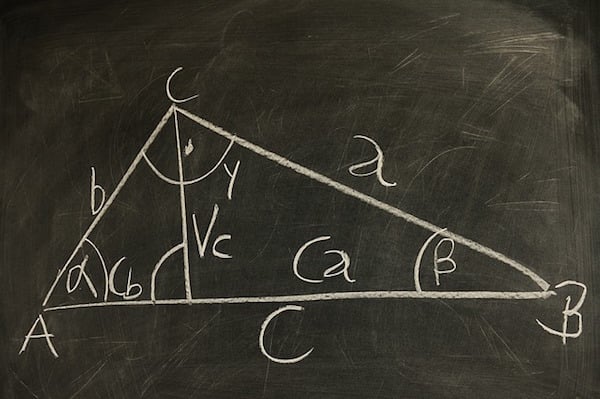 Hopefully, you've been paying attention in math class! The ACT tests geometry, algebra, and trigonometry.
ACT Math
ACT Math is a time-intensive section, asking you 60 questions in 60 minutes. Math questions ask about pre-algebra, algebra, geometry, trigonometry, complex numbers, and data analysis.
You won't get any formulas, so you'll have to show up with a working knowledge of any formulas you might need. Here are a few examples of ACT math problems:
As you can see, some of these questions are word problems, meaning that your English reading comprehension skills will need to come into play. It's a good warm-up for the next section, which is all about your reading comprehension.
ACT Reading
The ACT Reading section will give you four passages, one of which may involve a set of paired passages, followed by ten questions each.
The passages will be taken from prose fiction, social science, humanities, and natural science. The prose fiction passage, by the way, is unique to the ACT; you won't get any prose on the TOEFL.
The multiple choice questions might ask about main idea, details, vocabulary, function, development, or inferences. Here are a few example questions that are based on a preceding passage.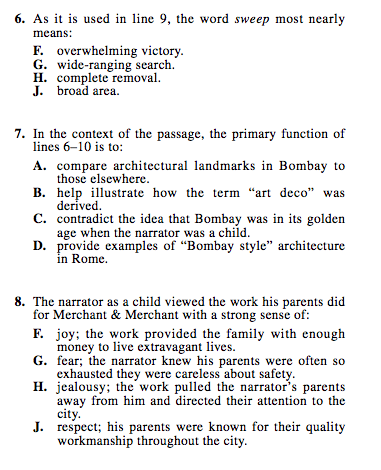 This section requires you to comprehend the passage in a detailed way while also reading quickly under time constraints. After Reading, you'll move onto ACT Science. The Science section is actually more similar to the Reading section than you might think. Read on to learn about their similarities.
ACT Science
You don't have to show up to the ACT with a lot of scientific knowledge. This section is more about testing your scientific skills. Rather than demonstrating preexisting knowledge, you'll have to show that you can read scientific passages, interpret data from graphics, and evaluate experimental designs.
So how is this Science section similar to Reading? It will give you seven passages, and you'll be asked to interpret them and make predictions. Three of the passages involve data representation, three are research summaries, and one presents conflicting viewpoints.
You'll interpret graphs and data trends, compare scientific opinions, and evaluate the design of experiments. In the example below, the questions ask you to read selections, interpret hypotheses, and represent information in a graph.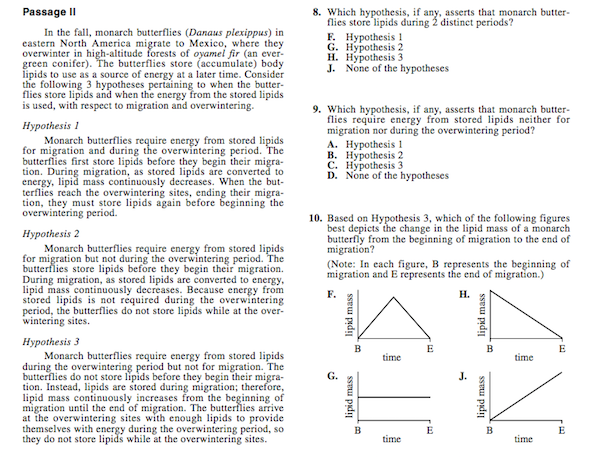 The various excerpts and graphs in the ACT Science section may be related to biology, earth science, chemistry, physics, or basic math.
After the Science section, you might be all done with the ACT. If you registered for the ACT with Writing, though, then you have one last section to complete.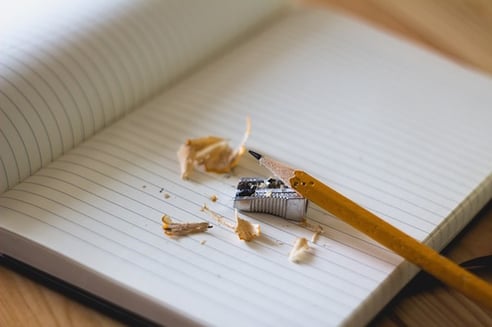 The optional ACT Writing section asks you to write an essay in 40 minutes.
ACT Writing (Optional)
As you read above, the TOEFL Writing section asks you to complete two writing tasks. In ACT Writing, you'll just write one essay, and you'll have 40 minutes to do so.
Your writing prompt will ask you to evaluate multiple perspectives on an issue and present your own stance. You'll support your opinion with examples.
Here's an example of an ACT Writing prompt that's based on a short passage and three different perspectives about public health.
Essay task: Write a unified, coherent essay in which you evaluate multiple perspectives on the conflict between public health and individual freedom. In your essay, be sure to
Analyze and evaluate the perspectives given
State and develop your own perspective on the issue
Explain the relationship between your perspective and those given
Your perspective may be in full agreement with any of the others, in partial agreement, or wholly different. Whatever the case, support your ideas with logical reasoning and detailed, persuasive examples.
As with your TOEFL Speaking and Writing tasks, you can study the rubric that graders use to score your ACT essay. Read on for a few other strategies for preparing for the ACT.
Prepping for the ACT
As with the TOEFL, you should start prepping at least three months before the ACT. If you take it early, then you'll have extra test dates in case you want to improve your scores.
Your first step in preparing for the ACT should be learning all about the structure and content of the test in detail. Then you might take a diagnostic practice test to measure your starting level. Analyze your results and figure out which sections, question types, and concepts you should study most to improve.
Like the TOEFL, the ACT requires a strong working knowledge of English. It also tests your math and science skills. Make sure that you use high-quality, ACT-specific materials that break down each and every concept you need to know.
In addition to setting your own personal goals, you should also research colleges to figure out what scores they expect from applicants. While colleges don't usually have a cutoff ACT score, the way they do with the TOEFL, they do publicize the average ACT scores of accepted students.
In closing, let's review the main similarities and differences of these two admission tests, the TOEFL and the ACT.
TOEFL and ACT: Similarities and Differences
The TOEFL and ACT are largely different tests, with the TOEFL meant to test your English language level and the ACT focused on reasoning and problem-solving skills. One especially big difference is that the ACT has a math and science section, while the TOEFL is completely focused on English language.
The tests do have some overlap, especially between the TOEFL Reading section and ACT Reading and English section. Because the ACT verbal sections require a strong level of English, some colleges will waive the TOEFL requirement with high ACT verbal scores. Unlike the TOEFL, the ACT has a math and science section that requires you to manipulate numbers and interpret data.
Both tests require you to have a strong grasp of the English language, whether you're recording an oral essay during the TOEFL Speaking section or interpreting a scientific passage on the ACT Science. As timed tests, both also require you to practice time management strategies and your ability to work efficiently under pressure.
Before you start exploring prep materials to learn more about both tests, let's review the main points you should remember about the ACT and the TOEFL.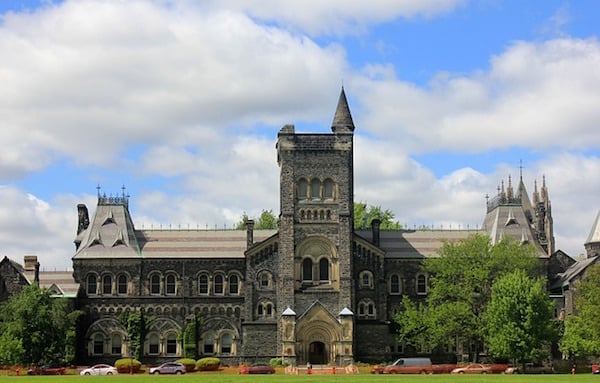 If your sights are set on a U.S. college, then you'll need to take the TOEFL and ACT to get there.
ACT and TOEFL: Key Points
Most U.S. colleges require the ACT (or SAT) from all applicants. Non-native English speakers must additionally take the TOEFL (or IELTS) to demonstrate their English language skills. These tests are meant to show that the applicant has the language and academic skills to succeed in college-level classes.
Before you start signing up for any tests, make sure to research college requirements. Every college sets its own policy, and there are some that will waive the TOEFL with a high ACT verbal score.
At the same time, your college planning might not line up exactly with your test prep. You should start prepping early, like in 10th grade, to leave yourself plenty of time to improve and take the test again if necessary.
At this point, you might not know exactly what colleges you want to apply to. If you're set on studying in the US, then it's a good idea to take these admissions tests so you don't limit your options. For the most part, it's safe to assume that colleges want you to send TOEFL and ACT scores with your application.
Start early, study smart, and work toward achieving your target TOEFL and ACT scores. Then you'll be able to apply to any college you want!
What's Next?
Are you an international student preparing for the ACT or SAT? Check out our guide for international students taking either of these admissions tests. You can also find the full list of international test dates here!
Is the ACT your admissions test of choice? To help you prepare, we've put together comprehensive study guides for each section of the ACT. Check out our study guides for ACT English, ACT Math, ACT Reading, ACT Science, and ACT Writing!
Are you figuring out where to apply? This in-depth guide will help you choose colleges for your college list.
Want to improve your ACT score by 4+ points? Download our free guide to the top 5 strategies you need in your prep to improve your ACT score dramatically.
Have friends who also need help with test prep?
Share this article!
About the Author
Rebecca graduated with her Master's in Adolescent Counseling from the Harvard Graduate School of Education. She has years of teaching and college counseling experience and is passionate about helping students achieve their goals and improve their well-being. She graduated magna cum laude from Tufts University and scored in the 99th percentile on the SAT.
Get Free Guides
to Boost Your SAT/ACT