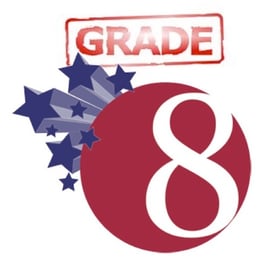 Are you an 8th grader curious about the SAT and ACT? You might be surprised that you already have a lot of the skills you'll need to do well on these tests, and you're capable of picking up many more.
Whether you're prepping to get a headstart for high school or taking the SAT/ACT to qualify for talent competitions, read on for some compelling reasons why you would benefit from prepping in 8th grade. First, why would you take these tests in the first place?
Why Would You Take the SAT/ACT?
There are a number of reasons why students take the SAT or ACT. The most obvious one would be to get into colleges and universities. Perhaps more immediate for many middle schoolers are the talent competitions and special programs that require the SAT/ACT as part of their application processes.
But what if the SAT/ACT is not required for you yet? Is there any reason to start preparing if you don't really have to? Absolutely. Below I'll discuss a bunch of other strong reasons to start prepping for these important tests. First, when are these tests required?
For College
Most 4-year colleges require the SAT or ACT as part of a student's application, along with a personal essay, teacher recommendations, high school transcript, and other records. Since admissions are so competitive, a strong SAT/ACT score can go a long way to making your application stand out.
Prepping for these tests is key to performing well and achieving your target scores. The SAT and ACT are different from most tests you'll take in school, and they require you to be strategic, work efficiently, and demonstrate a variety of skills in a limited, often stressful, amount of time.
Because prep is such a significant part of the SAT/ACT experience, many students take the tests several times to gauge their level, identify and overcome their weaknesses, and improve their scores the next time. Some students even build up their overall scores section by section, by focusing intensively on math on one test date and reading on another (to give just one example). Plus gaining familiarity with the test helps students breathe easier and feel less stressed out on test day.
So once you understand the power of prep for the SAT/ACT, imagine if you started prepping even before you got to high school. If you devoted just an hour or two weekly or biweekly to learning concepts and applying them to sample test questions in the 8th grade, you'd be well-versed, maybe even an expert, by the time you take the tests. You might even finish taking the tests before junior or senior year, when your friends are scrambling to balance the SAT/ACT, finals, clubs, sports, and college applications. Getting these tests done early could be a welcome relief once you reach junior or senior year.
If you're applying to a 4-year college, you're very likely to be taking the SAT or ACT at least once in high school, if not several times to build up your score. The other type of program that might require the SAT/ACT in 8th grade is a talent competition or special academic program.
For Talent Competitions
The other circumstance where the SAT/ACT is required is when applying for talent competitions. Some special programs for academically gifted and motivated students have application processes similar to those you'd undertake for college. And just like with college applications, you'll want to achieve a strong score to be a competitive candidate for these programs. Some of the programs for middle schoolers are
If you're interested in any of these programs, then you'll want to prep and take the SAT or ACT to qualify. If you choose the SAT and want to preserve your scores, you'll have to contact College Board so they don't delete your score reports. With both the SAT and ACT, students applying to these programs can choose a one-step registration option.
So applying to college and talent competitions are the main reasons why the SAT or ACT are absolutely necessary tests to realize your goals. But what about all the other advantages and benefits that come from prepping for the SAT or ACT?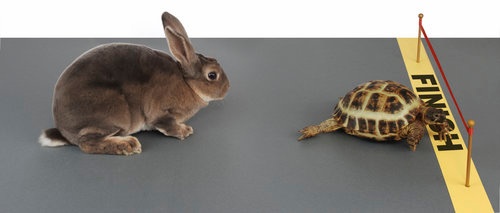 Slow and steady wins the race! Also, I would love to watch this race.
Reasons to Prep for the SAT/ACT in 8th Grade
Prepping for the SAT or ACT in 8th grade will not just help you become an expert on the tests, it may also help you prep for other tests like ACT Aspire and the PSAT, as well as develop other academic and organization skills. First, what do I mean about becoming an SAT/ACT "expert"?
Boost Your SAT/ACT Scores
As I talked about above, prep is extremely important for doing well on the SAT or ACT. Doing well in math class does not necessarily equate to a high SAT/ACT math score, nor does being a lifelong reader guarantee you a high score on the reading sections. That's because these tests are unique in the way they require strategy and time management skills.
They also ask strangely worded questions designed to distract you from the correct answers. Luckily, the way they do this stays the same year after year. This means that with careful studying, you can avoid the pitfalls and arm yourself against these tricky maneuvers. Does this sound like a tall order? It may require effort and focus, but every student is capable of improving their scores on these tests. And because all of this careful studying takes time, starting early, like in 8th grade, may be the best way to reach your goals.
If you devote just a few hours every one or two weeks over the school year to SAT or ACT prep, then this studying will really accumulate over time. You'll see a great deal of improvement without having to stress about running out of time or having to study a ton of material all at the same time. As the tortoise and the hare taught us, slow and steady wins the race.
Prepping will also help you on tests like the ACT Aspire and the PSAT, which you may choose to take earlier than junior year, when it counts for National Merit distinctions and scholarships.
Get Ready for the ACT Aspire and PSAT
The ACT Aspire, formerly the ACT Explore, is a computer-based ACT test that, like taking an official practice test, can help gauge your progress and give you a sense of where you need to improve. Since it's so similar to the ACT, prepping for the ACT can help you perform well on this test, as well. Since it's still a relatively new test, keep in mind that there are several variables that might not make it the most accurate predictor of how you'll score on the ACT.
All 11th grade students in high school also take the PSAT, which is used to determine National Merit distinctions and scholarships. If you're looking to improve your scores on the PSAT and qualify for National Merit, then you might want to consider taking the PSAT even earlier, like in 9th or 10 grade. Since the new PSAT is so closely aligned to the new SAT, your prep will help you a great deal on both tests. This is another consideration if you're still deciding between the SAT and ACT and want to determine which one will better reflect your abilities and help you get a high score for your college applications.
Apart from applying to college, enhancing your study skills and academic knowledge will help you in general in your 8th grade classes and as you make the transition into high school. Prepping for the SAT or ACT in 8th grade can be hugely beneficial for your academic understanding and performance in school.
Get a Headstart on High School
By studying SAT/ACT math, reading, and vocabulary, for instance, you can reinforce what you've learned in school. Timing yourself might have the added benefit of allowing you get more homework done in a shorter amount of time.
Since the SAT and ACT are meant for high schoolers, you probably haven't learned all of the concepts that appear on these tests yet, like geometry or certain high-level reading. That doesn't necessarily mean that these concepts are out of reach, though. By prepping now, you can get a headstart on material you'll learn in high school. Not only will the SAT and ACT lose some of their mystique and become totally within your reach, but your high school classes won't seem so unknown, either. Instead, you can learn and become more confident in your knowledge by studying independently of your classes in school.
Prepping for the SAT or ACT in 8th grade can have beneficial effects on your test scores, learning, time management, and study skills. If you agree that these are all worthy goals, then you're probably now wondering, how can I go about prepping for the SAT/ACT?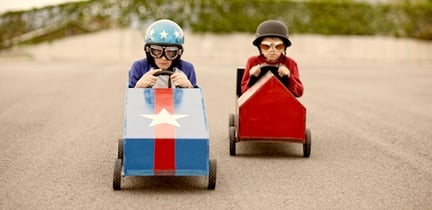 Give yourself a headstart on high school.
How Can You Prep for the SAT/ACT in 8th Grade?
While there are lots of resources to help you prep for the SAT and ACT, the ones that you should never leave out are the official practice tests from the testmakers themselves. Official practice questions are the gold standard when it comes to studying, since they are the truest representation of the types of questions and format you will encounter when you take the test yourself.
PrepScholar's online test prep can also be exceptionally helpful for 8th grade students. Unlike other test prep programs and books, PrepScholar doesn't assume you're already a high school student. Instead, it meets you at your level, determines what you know and what you need to learn, and helps you keep track of your progress with a planned out schedule and progress reports. Plus since it's an online program, it can further help you develop the skills you'll need for computer-based tests like the ACT Aspire.
Test prep books are also good resources that cover a lot of material, but you've got to be discerning about their quality. They also require a lot of independence and discipline from you to make the time to study, score your own practice tests, and analyze your incorrect answers.
One great place to start small and gradually build your test prep is with SAT Questions of the Day and ACT Questions of the Day. You can also find a limited number of practice questions on the College Board and ACT websites. Whiie these resources will offer you direct practice for the SAT or ACT, you can also integrate prep with your studies in school to ensure that you're covering the concepts you'll need. Let's briefly break down what's on the SAT and ACT so you can see how each section connects to your classes. These sections are Math, Critical Reading, and Writing on the SAT, or Math, Reading, English, and Science on the ACT.
Math
The math section of the SAT covers numbers and operations, statistics and probability, algebra, and geometry. The ACT goes one step further and covers some trigonometry. The major emphasis on both tests is on algebra, with a substantial emphasis on geometry, as well.
If you're in 8th grade, you probably haven't studied too much geometry yet, and may have only just started studying algebra. To get more practice, you could introduce yourself to a new concept every couple of weeks and practice it. You could also take the math you're learning in school, whether it's probability or algebra, for example, and seek out related SAT/ACT practice problems. While some of the math section on the SAT/ACT may be new, you likely have a lot of the foundational skills you'll need to do well on the SAT Critical Reading and ACT Reading.
Critical Reading / Reading
Both the Critical Reading section of the SAT and Reading section of the ACT ask you to read passages and answer questions that demonstrate your understanding and interpretation. Unlike your English classes (probably), these questions are not subjective or open to debate. Instead, there is only one 100% correct answer - the rest have some error or logical flaw in them.
Your reading comprehension skills may be less easy to quantify than your understanding of specific math concepts. However, reading widely and practicing with SAT or ACT passages can help you become a more advanced reader over time. Plus you can study vocabulary and get a sense of how the same words may be used differently in various contexts, an important skill for both the SAT and ACT.
If you like reading, then practicing these questions may not seem like so much of a chore. The random excerpts can actually have really interesting, unique information, and being a critical reader is a great skill to have for the tests, school, and life in general. The other sections that overlap between the SAT and ACT are the Writing and English section.
Writing / English
The Writing section of the SAT and English section of the ACT also relate to the skills you develop in your English classes. They test your understanding of grammar and word choice. You may also write the essay, which is meant to be a persuasive essay with a 5 paragraph structure.
Paying attention to these skills in your English classes will be beneficial for your SAT/ACT prep. Conversely, practicing with sample questions can help you improve your writing skills, which will help you in 8th grade and all four years of high school. Plus you might get a whole lot speedier at producing essays for class.
Finally, the last section that you need to prep for only applies to the ACT: the Science section.
Science
You might be relieved to hear that the Science section of the ACT doesn't actually test very advanced scientific concepts or require too much specific recall of facts and figures. Instead, the science section is similar to Reading, in that you need to have the skills to comprehend excerpts, data, and graphs. All of this is in the context of biology, chemistry, and earth sciences.
As an 8th grader, you can not only develop your science and lab skills with prep, but you can also take an SAT and ACT practice test and determine which one is better for you. That way you can focus all your prep on the test that will allow you to get the highest scores for your college applications.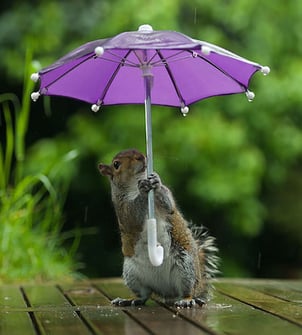 We should all be as prepared as this guy.
To Sum Up...
If you're starting to think about the SAT or ACT, prepping in the 8th grade can be very valuable. Not only can it help you get prepared for the SAT/ACT and PSAT, but it can also benefit your learning in school. Getting a headstart can also be a great challenge, ease the pressure once you get to high school, and put ahead of the curve in math, English, and maybe even science, if you're taking the ACT.
Since you'll have years to prepare, you can start slowly and gradually become an expert on the tests. When you finally sit for the official tests, you'll now exactly what to expect and how to achieve your scores. Plus all your dedication and studying will pay off in a huge way once you get to high school and eventually, to college.
What's Next?
Are you planning to take the official SAT or ACT in 8th grade? Read about what makes a good score on the SAT and ACT for 8th graders and how you can boost your scores even higher the next time you take the test.
Are you prepping for the PSAT, too? These are some good reasons you might consider taking it as a freshman.
As you know by now, the best way to prep for the SAT and ACT are with official practice questions from the testmakers themselves. Download free pdfs of SAT practice tests and ACT practice tests here.
Want to improve your SAT score by 160 points? We've written a guide about the top 5 strategies you must be using to have a shot at improving your score. Download it for free now:
Have friends who also need help with test prep?
Share this article!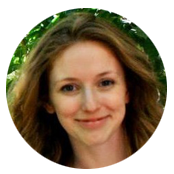 About the Author
Rebecca graduated with her Master's in Adolescent Counseling from the Harvard Graduate School of Education. She has years of teaching and college counseling experience and is passionate about helping students achieve their goals and improve their well-being. She graduated magna cum laude from Tufts University and scored in the 99th percentile on the SAT.
Get Free Guides
to Boost Your SAT/ACT