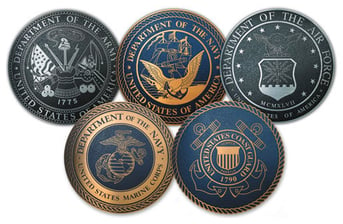 Are you applying to a military academy like West Point, Naval Academy, or Air Force Academy? While military academy applications are relatively complex (what with having to get nominated by a Congressperson), their requirements for SAT/ACT scores are straightforward. Your challenge is to achieve the SAT/ACT scores you need to stand out among the fierce competition.
This article reviews the SAT/ACT requirements for future cadets and how you can gain the scores you need to attend a training academy in the "Five-Pointed Star." First, let's quickly go over your options.
What Are the U.S. Military Academies?
There are five military training academies in the U.S., known together as the Five-Pointed Star. If you gain acceptance, then your tuition is free (with the exception of some minimal fees of around $1,000 for the Merchant Marine Academy). Following graduation, cadets will complete 5 years of active duty service.
In order to apply to one of these academies, you must be at least 17 and no older than 23. Admissions are very competitive, so how important are SAT/ACT scores for getting accepted?
How Important Are SAT/ACT Scores?
As mentioned above, the military academies are very selective. Most applicants are in the top 25% of their high school class, and SAT/ACT scores are required for all of these schools. Both your grades and SAT/ACT scores are very important to admissions officers to demonstrate your academic readiness and commitment.
Either exam is accepted, though students who choose the ACT should take the ACT with Writing. Most of the academies don't emphasize the Writing multiple choice section on the SAT as much as they do the Critical Reading and Math.While this means you can focus your prep on Reading and Math, you should still take the Writing seriously and avoid having a low outlier score in this section. If you're taking the new SAT in 2016 or after, then this point isn't relevant - the Critical Reading and Writing sections will be scored together on a scale of 200 to 800.
Other requirements include an official nomination from a U.S. Congressperson, physical fitness assessments, and, as described by the official White House website, a demonstration of "dedication, desire to serve others, ability to accept discipline, sense of duty, and morality, and the enjoyment of challenge." Thus your grades, along with your recommendations and high school activities, are important for telling your story and demonstrating that you possess these essential qualities.
Every aspect of your application takes time and effort to address well, and your SAT/ACT scores are no different. To achieve the scores you need, you should start early, put in significant preparation, and plan to take the test more than once. Since score reports take about 3 weeks to reach schools, you want to make sure you're aware of your deadlines and leave yourself enough opportunities to take the SAT/ACT several times. Before reviewing the scores you need for each academy, what are their application deadlines?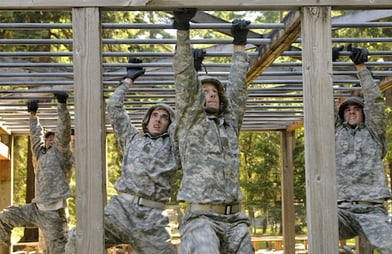 Hang in there - you got this.
Deadlines for Military Academies
Most deadlines are in January, February, or March of senior year, but that doesn't mean you should wait until senior year to take the SAT/ACT. Typically, students take their first SAT/ACT in the fall of junior year, then again in the spring, and finally in the fall of senior year. If you're applying to a military academy, you have probably started planning and gathering your application materials earlier than many other students.
Usually the academies want you to fill out a preliminary application in junior year. If you have a sense of your plans and goals, then you can push this SAT/ACT schedule back and start preparing even earlier. Before delving into planning your test prep and schedule, these are the deadlines for each academy for the 2014-15 application cycle (and similar deadlines will likely apply for future years).
| | |
| --- | --- |
| | Application Deadline |
| West Point | 2/28/2015 |
| Navy | 1/31/2015 |
| Air Force | 12/31/2014 |
| Coast Guard | 3/1/2015 |
| Merchant Marine Academy | 2/1/2015 |
Based on these deadlines, you want to have your SAT/ACT scores completed by November or December of senior year, if not earlier. What scores will make you a competitive candidate?
What SAT/ACT Scores Do You Need?
At the very minimum, you need at least a 500 Verbal and 500 math on the SAT. In terms of the ACT, you need at least a 21 English, 19 Reading, 24 Math, and 24 Science.
The average scores for all the academies fall between 540 and 620 for SAT Verbal and 630 and 710 for SAT Math. The following chart breaks down the average scores of the incoming class of 2015 for each academy. The Naval Academy has a slightly higher bar for test scores, and expectations for math are higher than for verbal across the board.
| | | | | | | |
| --- | --- | --- | --- | --- | --- | --- |
| | SAT Verbal | SAT Math | ACT English | ACT Reading | ACT Math | ACT Science |
| West Point | 627 | 646 | 29 | 30 | 29 | 28 |
| Navy | 600-650 | 630-680 | 25-32 | | 26-32 | |
| Air Force | 633 | 663 | 30 | 30 | 30 | 30 |
| Coast Guard | 620 | 650 | * | | | |
| Merchant Marine Academy | 632 | 652 | * | | | |
*Data not reported, but average composite ACT score for Coast Guard and Merchant Marine Academy is 28.
These are strong scores, and you may be aiming for higher than average to really strengthen your application. So how can you best prepare yourself to achieve your target scores?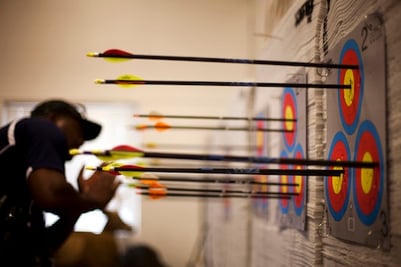 SAT/ACT prep is a different kind of target practice.
How Can You Reach Your Target Scores?
Once you have a sense of what scores you need for your school of interest, what can you do to ensure you achieve them? Preparation is key for doing well, but you want to make sure you're studying efficiently and not wasting time with ineffective study habits or low quality practice questions. Read on for some tips for how to make the most out of your test prep and where to find the best resources for SAT/ACT strategies and practice questions.
First, hopefully you have a good amount of time before your application deadlines, because starting early will give you the time you need to prepare and take your test more than once.
Start Early
The process of applying to military school starts even earlier than most college applications, as you should fill out a preliminary application in junior year, along with communicating with a Congressperson to obtain his/her official recommendation. Since most students planning on a military academy are aware of this goal relatively early in high school, they should start to think about work towards this goal by prepping for and taking the SAT/ACT early. Sophomore year is a good time to take your first test, or if you feel that 3 opportunities to test is sufficient, then you might take your first offical SAT/ACT in the fall of junior year.
If you start studying for the SAT/ACT by sophomore year, then you can identify your strengths and weaknesses and fill in any gaps in knowledge. After taking a diagnostic practice test, you can do some boot camp-style studying and train yourself to conquer the SAT/ACT. Like any good training session, you should approach it with a plan.
Prep With a Plan
Start out with basic training. Get to know how long each section of your test is, how many questions you'll answer, and what exactly you need to bring to test day. Read about what's actually tested on the Critical Reading, Writing, and Math sections of the SAT and the Reading, English, Math, and Science sections of the ACT.
Once you've gotten to know the structure and content of the test, try taking a diagnostic practice test to see how you are scoring now. This is just a baseline score. With practice and training, you will be able to improve your scores in all sections. After getting your score, go back and examine which practice questions were easy and which tripped you up. Analyze your mistakes and thoroughly read the explanations.
If you're having trouble answering all the questions in time, continue to train yourself with timed practice tests. Review and try out time-saving strategies, like how to read the Critical Reading passages on the SAT and Reading passages on the ACT.
Break down your test prep into small manageable goals. One week, focus on probability and word problems. The next, drill your understanding of commonly tested grammar rules. Breaking down your studying into small, manageable goals over time will help you learn, accumulate knowledge and skills, and gradually build up your scores. Below is an estimate of how many hours you should put in to see real improvement.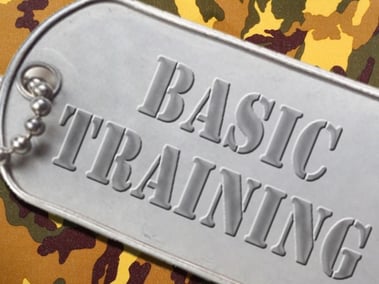 Start with basic training. Then get more specialized.
Put In the Time
While the amount of study input and score improvement output differs for each student, the following is a rough estimate for how many hours you need to study to bring your scores up.


SAT Composite Point Improvement
0-50 points - 10 hours
50-100

points

- 20 hours
100-200 points - 40 hours
200-300 points - 80 hours
300-500 points - 150 hours+
ACT Composite Point Improvement
0-1 points - 10 hours
1-2

points

- 20 hours
2-4 points - 40 hours
4-6 points - 80 hours
6-9 points - 150 hours+
The best way to put in the hours to really see improvement is to write down a schedule and stick to it. If you can set aside a specific time for test prep every week and make it part of your routine, then the hours and effort you put in will really add up over time. Just as you want to reflect on your strengths and weaknesses and root out your errors, you also will see the most effective results if you use high quality test prep resources.
Use High Quality Resources
The truest representation of the SAT/ACT comes from official practice questions. You can download official practice tests, as well as find practice questions on the College Board and ACT websites. Since these are actual questions written by the testmakers, many from previously administered test, they are the best samples of what you will encounter on test day.
Unfortunately, there aren't a huge amount of resources out there to practice for the redesigned SAT. Your best bet so far is to make an account with Khan Academy and find the practice questions they are offering in conjunction with College Board. You can also familiarize yourself with the changes and try to focus specifically on those skills when prepping with older practice materials.
Apart from official questions, you can use online test prep programs (like PrepScholar), various books, and SAT or ACT Question of the Day. Along with studying, you want to familiarize yourself with and practice the best strategies for enhancing your understanding, saving time, and writing a strong essay in only 25 minutes on the SAT or 40 minutes on the ACT.
Invest in yourself and reap the benefits when you get into your military academy of choice. I've mentioned a few times that you should plan to take the SAT/ACT more than once. Here's why.
Take the SAT/ACT More Than Once
Just as you want to take control of your test preparation, you also want to have a strategy for tackling your testing schedule. The typical schedule is to take the SAT or ACT in the fall of junior year and then again in the spring of senior year. Then if you still see room for improvement, you have all summer to prep and take it again in the fall of senior year.
Students almost always improve their scores when they retake the SAT/ACT, and you can use the time in between tests to focus on your weak spots. If you want even more opportunities to test - in case of a fluke testing day or issue with your score report - you could push this schedule back. This will shield you from any issues that may arise, as well as take off some of the pressure since you won't feel like you could run out of time.
You can use those qualities of determination and discipline desired by the military academies to hit your target scores. If you're aiming to attend a military academy, then you must be someone who welcomes challenge. Use those same standards of rigor and motivation you hold yourself to to prep for the SAT/ACT. Not only will you further gain mastery of yourself through discipline and hard work, you'll achieve your purpose of gaining the scores you need for admission into one of the competitive military academies of the Five-Pointed Star.
What's Next?
How many times should you take the SAT/ACT? Get advice about registering and choosing your test dates, specific to the SAT and ACT.
Are you a sophomore or junior designing your study plan? Read the full guide to your study plan here.
Are you aiming for perfection on the SAT or ACT, or just curious how people achieve this feat? Read how this full scorer approached the tests to score a perfect 2400 on the SAT and full 36 on the ACT.
Want to improve your SAT score by 160 points or your ACT score by 4 points? We've written a guide for each test about the top 5 strategies you must be using to have a shot at improving your score. Download it for free now:
Have friends who also need help with test prep?
Share this article!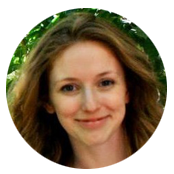 About the Author
Rebecca graduated with her Master's in Adolescent Counseling from the Harvard Graduate School of Education. She has years of teaching and college counseling experience and is passionate about helping students achieve their goals and improve their well-being. She graduated magna cum laude from Tufts University and scored in the 99th percentile on the SAT.
Get Free Guides
to Boost Your SAT/ACT