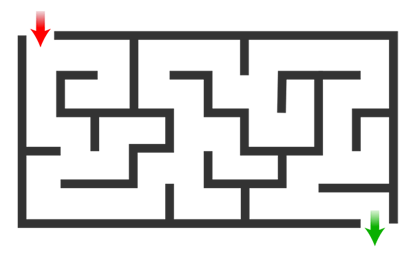 So you just took the SAT, and you're eager (or terrified) to see your scores. Especially if this is your first time taking the test, the score report can be confusing. But reading it correctly will help you to identify weak spots and do better on the test next time and get real SAT results.
I'll go over how to get your SAT score report and read it so you're getting the most out of the information the College Board gives you.
How Do I Get My SAT Score Report?
Your scores will be available to you online about three weeks after you take the SAT. To see your scores, log into your College Board account. If the scores for your test date are available, they should show up right away on the dashboard, like this: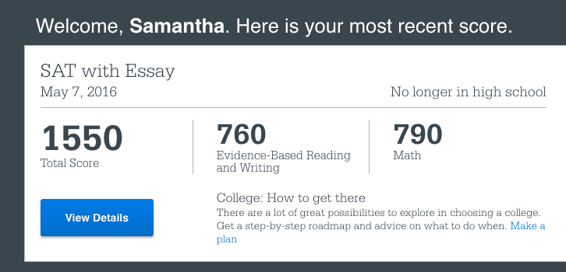 Just click "View Details" and you'll be able to see your full score report. You can easily download a PDF of the report by clicking "Download Report" in the top right corner of the screen.
If your scores haven't come out yet, there is no way to speed up the scoring process. You can, however, get your scores sent to colleges faster than normal after they are released. This is called rush reporting, and it will get your scores sent to schools within two business days. Rush reporting comes with a fee of $31 for the first report and $11.25 for each additional report.

What Will Be on My Score Report?
Your score report will give you a lot of information about the types of questions you answered correctly and incorrectly and their difficulty levels. You'll notice that the score report has four tabs: Report Details, Essay Details (if you took the test with the essay), Skills Insight, and Score Sends. Here's some information about what's included in each section and how to interpret it.
Report Details
This tab lists all of your scores in one place. First, it includes the score you got for each section along with a score range of around 40-60 points. This is shows you the range of scores you might end up with for that section if you took the test again assuming the same level of preparation. You'll also see where you fall in the national percentile range: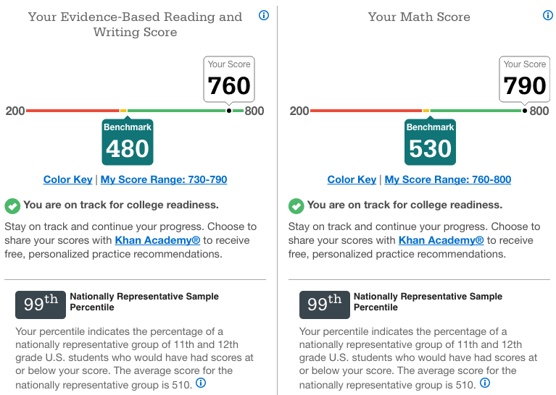 The Report Details tab also shows you your subscores for Reading, Writing, and Math, each out of 40 points. These are accompanied by statistics on the total number of questions for each section and the number that you got correct, incorrect, or omitted.

These are followed by your two cross-test scores, which are also out of forty points:

Finally, you'll see your seven subscores, each out of fifteen points. These help to identify more specific areas of strength and weakness: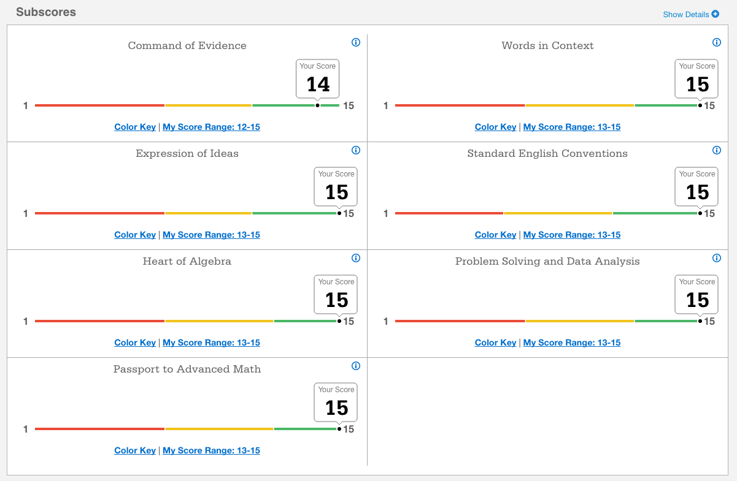 If you took the essay, your essay scores will also be at the bottom of this page:

Notice that there are little "i" icons in the corner of the boxes for each of these scores. If you click on them, you'll get an explanation of which skills are incorporated into that score. At the top right of all the score boxes (except for the essay scores) you'll also be able to click "show details" to see your national percentile ranking for each subscore.
Essay Details
In the next tab, Essay Details, you'll see the prompt you answered on the test reproduced along with a scanned copy of your essay. You can print your essay using the button in the top right corner of the box with the prompt. The Skills Insight tab will give you more information on what you essay scores actually mean.
Skills Insight
The Skills Insight tab includes pages for each of the three main testing categories (reading, writing and language, and math) plus the essay if you took it. This part of your report is intended to help you see which academic skills you need to work on and which you've mastered already.

You can also link your report to Khan Academy from within this tab - more on that option later.
Score Sends
This last tab provides information on how to send your scores to colleges. If you chose to send any of the four free score reports when you registered for the test, the information for the schools or scholarship programs you indicated should be listed in this tab. If you haven't sent any scores yet, you won't see any schools listed. Just click on the "Send Additional Score Reports" button to send score reports to more colleges and scholarship programs for a fee.
What Do I Do With All This Information?
You may feel like just ignoring the details in your score report and obsessing over the final numbers, but if you do that you're abandoning an opportunity to see where your weaknesses lie and how you can prepare better for the next test date. Take a look at each section individually and find out where you had the most trouble so you can decide where to focus your studying efforts.
The easiest way to use these scores to study for your next test is to link your report to the Khan Academy site, which will then give you individually tailored practice materials. You'll see an option to do this at the top of the Skills Insight tab. Khan Academy is not a cure-all, however, and you may need to strike out on your own to address some deeper issues.
Here are some examples how you could respond to different scenarios:
Your Weaknesses Were Command of Evidence and Expression of Ideas
Practice your passage reading skills, and find out what works for you. Usually, on the Reading section, it saves time to skim the passage and then go through the questions before you do any closer reading.
If you omitted lots of Reading and Writing questions, you might be running out of time, which is probably because you are spending too much time reading closely before you get to the questions. Practice timing yourself with real SAT passages and questions.
You should also make sure you're not making assumptions about the passages and confusing yourself. Sometimes students make the mistake of inferring too much information from SAT passages. Stick to answering questions based on the specific evidence given in the passage.
You Struggled with Advanced Math Topics

You don't have trouble with dumb mistakes on easy questions, so that's good news. Your problem is most likely content-based, which is more fixable. Look for any patterns in the categories of questions that might point to specific gaps in knowledge. Study up on the formulas you'll need for the SAT, and make sure you know how to use them.
This could also be an issue related to time management. If you notice that you omitted a lot of questions, this might apply to you. Remember that you shouldn't linger for more than a minute on each question in the math sections. Move on when you find yourself stumped so that you don't waste too much time on any one question.
You can also employ some of the general strategies outlined in our articles on raising low math SAT scores and getting an 800 on the math section.
You Did Well on the Multiple Choice Writing Questions, but You Got a Low Essay Score

If you did well on the multiple choice writing questions, then your problem is probably not grammar and sentence structure. You might just need to work on the holistic organization of your essay and use of examples from the passage.
Take a look at these tips for improving your score and this step-by-step guide to writing a great essay. Remember to make your essay long enough so that your ideas are fully developed. Include at least two or three body paragraphs that address specific examples of how the author develops his or her argument.
A Final Word on Score Reports
The information on your score report gives you an opportunity to be honest with yourself about the areas where you struggle on the SAT. After reviewing your score report, you can infer the reasons for your mistakes and tailor your study strategy to those areas so you won't have the same problems in the future!
You can also consider ordering one of the services the SAT offers for you to review your scores in more detail, the Question and Answer Service or Student Answer Service (read more about these services here). You can order them up to five months after your original test date.
What's Next?
Are you looking to take the SAT again now that you've reviewed your scores? Take a look at this guide to choosing the right date for you and this list of upcoming test dates.
If you're trying to formulate a study plan for the next time you take the test, take a look at these plans for Sophomore and Junior year and the summer before Senior year, as well as our Complete Plan for the SAT.
Frustrated with your score? Learn from our perfect SAT scorer.
Want to improve your SAT score by 160 points?
Check out our best-in-class online SAT prep program. We guarantee your money back if you don't improve your SAT score by 160 points or more.
Our program is entirely online, and it customizes your prep program to your strengths and weaknesses. We also feature thousands of practice questions, 10 official SAT practice tests, and personal feedback on your essays from an expert instructor.
Check out our 5-day free trial:
Have friends who also need help with test prep?
Share this article!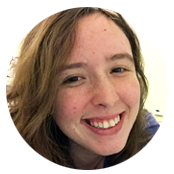 About the Author
Samantha is a blog content writer for PrepScholar. Her goal is to help students adopt a less stressful view of standardized testing and other academic challenges through her articles. Samantha is also passionate about art and graduated with honors from Dartmouth College as a Studio Art major in 2014. In high school, she earned a 2400 on the SAT, 5's on all seven of her AP tests, and was named a National Merit Scholar.
Get Free Guides
to Boost Your SAT/ACT