If you know you'll need to get financial aid to make college more affordable (most students do, by the way), then you should definitely learn everything you can about grants. They happen to be some of the best forms of financial aid you can get.
Here, I'll tell you exactly why grants are so great and why you should seek them out. Then, I'll get to the important stuff: where and how you can get your own grant awards.
Let's get started!
What Are Grants for College?
Grants are sometimes called "gift aid." Grant money is funding that you don't have to work for (like work study) and that you don't have to pay back (like loans).
At this point, you may be thinking that college grants sound pretty similar to scholarships. And you're right - they generally work in the same way in that you don't have to pay back either type of funding. The major difference between grants and scholarships is that grants are usually primarily based on financial need, whereas scholarships are often merit-based or need- and merit-based.
Why Are Grants so Great?
College grants are awesome forms of financial aid because they lower your college costs immediately and forever. Other forms of financial aid - loans, specifically - are helpful when you don't have the money to pay for college, but they can become a burden after you graduate because you have to pay them back (plus interest).
Loans are band-aids that cost you money in the long run - this doesn't mean that they can't be helpful and important forms of financial aid, but grants are superior to loans because you get the money up front and are under no obligation to pay back the funds later on.
Another reason why grants are so great? Because they tend to be need-based, they're often awarded to students who need them the most. Although there are definitely financial aid opportunities out there for students who come from more privileged backgrounds, grants are primarily awarded to students with very limited financial resources.
Where Can You Get Grants for College?
There are a few major sources of grants for college students. Because there's no standardized application, protocol, or eligibility criteria for all grants available to college students, things can seem a bit complicated at first.
Not to worry, though - things aren't as complicated if you're able to break down grants by funding source. Here are the most important places to find grant funding, along with basic eligibility criteria for each funding source.
Federal Government - Eligibility requirements for federal grants are laid out in our Pell Grant guide. Overall, the requirements are pretty lax - the major ones are that you need a high school diploma or GED, and you need to be enrolled (or accepted to enroll) in a college or career school.
State Government - Eligibility requirements for state-based grants will, unsurprisingly, vary by state. At the very least you should meet all federal requirements in addition to being a state resident. Get more detailed information about state financial aid programs.
Your School - In the context of this post, I'm defining a grant as an award that's strictly need-based. Schools may award grants or "scholarships" that are based on financial need, not merit, to students who have been accepted and need help paying the full Cost of Attendance. Eligibility reqs will vary by school, but some schools tend to be more generous than others.
If you only take away one piece of information from this section, it should be this: the most well-known grants are the ones offered through the federal government. The application process and eligibility requirements are very standardized, so the grants are very predictable. Predictability means you can estimate a budget for your grant awards before you even apply!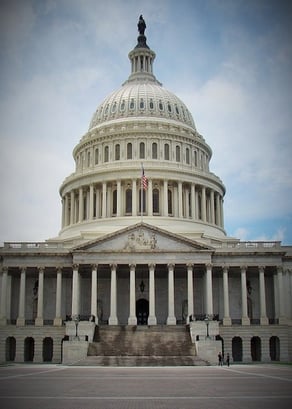 Federal sources should be your first consideration when you start looking into grant opportunities.
Federal Grants for College
There are many different federal grant options, each with their own requirements and award amounts. Here, I'll cover the main federal grants and what you should know about them.
Pell Grants - These are for students who haven't yet earned a bachelor's or professional degree. The maximum award for 2016-2017 is $5,815, although the amount you get is determined by your financial need. This is the largest and most important federal grant program.
FSEOG (Federal Supplemental Educational Opportunity Grant) - These are for undergraduate students with exceptional financial need. They're administered directly by the financial aid offices at participating schools, and are therefore called "campus-based" aid. Recipients get between $100-$4,000 per year depending on financial need.
TEACH Grants (Teacher Education Assistance for College and Higher Education) - These are different from most other grants because they have some strings attached. The awards are meant to help students pay for college if they plan on becoming a teacher in a high-need field in a low-income area. To keep the grant from becoming a loan, you need to take certain kinds of classes and get a certain kind of job. Students can get up to $4,000 per year.
Iraq and Afghanistan Service Grants - Students whose parent or guardian died as a result of military service in Iraq or Afghanistan may be eligible for these grants. The grant maximum is the same as that of the Pell Grant, which is $5,815 for 2016-2017.
These awards can cover a pretty significant chunk of your college expenses, especially if you're also getting aid from other sources, like outside scholarships or school-based financial aid.
State Grants for College
State grant amounts and eligibility will vary based on where you live. Sometimes you just need to fill out a FAFSA to be considered for state grant aid, whereas other times you'll need to fill out a separate financial aid application.
The good news is that almost every state education agency has at least one grant or scholarship available to residents. For more information, look into grant availability for your state.
Grants from Your College or University
Just like with state grants, institutional grant aid availability and eligibility will vary based on the school you attend. Many highly ranked schools offer relatively large amounts of grant aid based on financial need. Some schools offer impressive amounts of merit aid in order to attract competitive applicants.
There are a couple of ways you can get more info about typical grant aid at a particular school:
Check out that school's net price calculator (almost every school has one on its admissions and/or financial aid website). You enter in your financial and sometimes academic information, and the tool spits out an estimate of the amount of aid you'd receive if you attended that school.
Google "[school name] PrepScholar tuition" for our page on that school's grant, scholarship, and loan availability. The page will walk you through estimating your own aid eligibility at that school.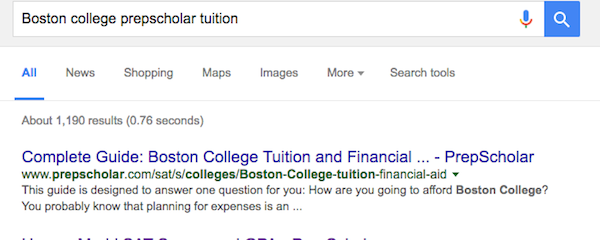 Example: The first search result link here is the one you want.
How Do You Apply for Grants?
Now that you have a better idea of why grants are awesome and how much money you can actually get, the next step would be to submit those grant applications. So where do you start?
Again, the process for applying for college grants depends on where the money comes from. Here, I'll break down application processes for the major sources of grant funding.
Federal Government
You may not have expected this, but the federal government actually makes it pretty easy to apply for grant funding (and all federal funding, really). You just have to submit one application: the FAFSA.
You'll need to gather quite a bit of financial information for both yourself and your parents before you start, but once you have that paperwork the actual application shouldn't take long. Get step-by-step instructions on how to complete your FAFSA.
To estimate the amount of aid you'll be eligible for before you even submit your FAFSA, read about how to use the FASFA4caster.
State Government
Unfortunately, some states don't make it quite as easy to apply for grants. You'll have to do your own research on what your state of residency requires. Learn more about specific state aid availability and application processes.
Your School
Oftentimes, your application for grant money (at least for your freshman year) is your college application - you may not need to submit any additional paperwork, which really streamlines the whole process.
To double-check that you're not missing out on any grant opportunities at a specific school, just Google "[school name] grants and scholarships." There should be a page on that school's financial aid website with more information on available aid - just make sure you're only looking at awards for undergraduate students at the grade level you're entering.
For more information on school grant aid, check out these posts:
Other Options for Financial Aid
If you're on the lookout for need-based aid, there are other options out there besides grant funding.
Scholarships
Many private and nonprofit organizations offer scholarships (remember, scholarships often include merit requirements) with strict financial need qualifications. Scholarships from private organizations may be offered on a local, state, national, or even international level - as you might expect, then, there's no single consolidated database with information on all available grants from private sources. But that doesn't mean that there aren't good resources out there for you to start your research!
Each private scholarship or grant organization will have its own deadline, eligibility requirements, and application process. The good news is that this means more chances to win money; the bad news is that you'll have to keep track of a lot of moving parts, especially if you apply to several grant or scholarship programs.
Step one is actually finding grant/scholarship programs you think may be a good fit. I personally think this is the hardest part of the process. Then, you just have to be organized about submitting all parts of your applications in a polished and timely fashion.
Read more about how to win a full ride scholarship for more information on getting grant aid. You can also check out our guides to individual scholarship programs, like the Gates Millennium and Coca-Cola scholarships, for tips and strategies for winning competitive awards.
Check out these guides to learn more about private grants and scholarships: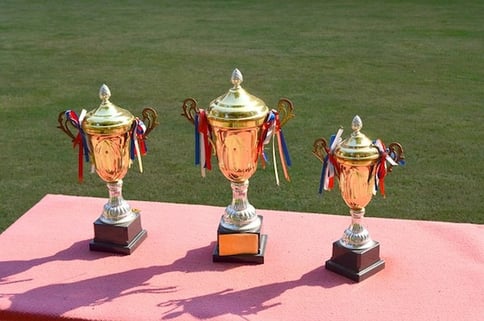 Most of these scholarship programs consider both merit and financial need when awarding funds.
Federal Work Study
The Federal Work Study Program encourages employers to hire students with federal work study awards, which opens up job opportunities for you while you're in college. This isn't a grant, loan, or scholarship - you earn a wage like with any other job, but you're able to use the money as you see fit.
You're considered for a Work Study award when you submit your FAFSA, so you don't have any extra paperwork to fill out if you're interested in this need-based program. Read more about Federal Work Study for more information.
Summary: How Grants Can Help You
Grants - which are available from all sorts of sources - are a great way to make college more affordable, especially if your family is relatively low-income (this increases your chances of qualifying for grant aid).
To optimize the amount of grant money you receive, you should check out funding from federal, state, institutional, and private sources. This may mean that you juggle several deadlines and applications, but I promise that if you do your due diligence ahead of time, the money you save will prove worth it in the long run.
What's Next?
There are so many other things to learn if you're interested in budgeting smart for college. Start off by getting the basics on by learning about the four different types of financial aid. Then, read more about reducing your dependence on loans - this means less debt to worry about once you graduate.
If you won't be getting much (or any) financial support from family, you may want to learn more about how to pay for college without your parents.
Want to improve your SAT score by 160 points or your ACT score by 4 points? We've written a guide for each test about the top 5 strategies you must be using to have a shot at improving your score. Download it for free now:
Have friends who also need help with test prep?
Share this article!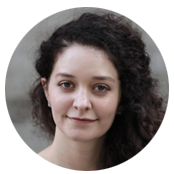 About the Author
Francesca graduated magna cum laude from Harvard and scored in the 99th percentile on the SATs. She's worked with many students on SAT prep and college counseling, and loves helping students capitalize on their strengths.
Get Free Guides
to Boost Your SAT/ACT